Press Releases
FESPA launches FESPA Direct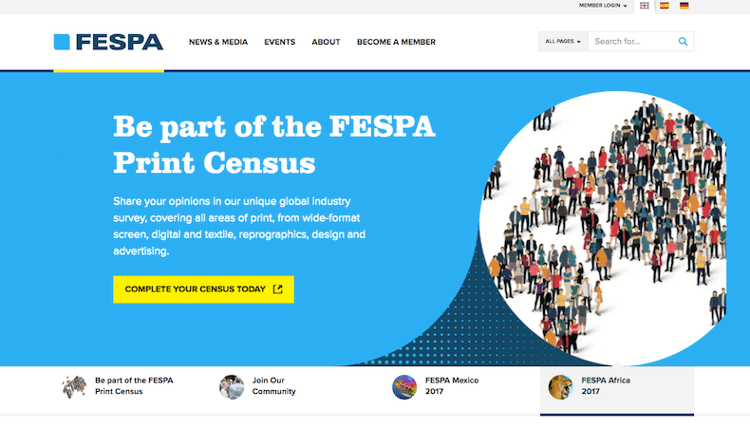 Print service providers (PSPs) who are not located in one of FESPA's 37 association countries can now join FESPA as a direct member, with the launch of FESPA Direct.
Historically, PSPs outside an existing FESPA association country have not been able to enjoy the benefits of being a member of FESPA. Sean Holt, General Secretary, FESPA comments:
"Over the years we've had requests from PSPs, who are not located in FESPA's existing association countries, to be part of FESPA, so we are delighted that with this launch we can offer them support directly. By being a member of FESPA Direct, PSPs can benefit from insight, useful tools and networking opportunities to support and grow their businesses."
FESPA Direct members will be eligible to receive a range of member benefits such as access to a range of resources including: FESPA Technical Guides, FESPA's Planet Friendly Guides and the FESPA Print Census report, as well as discounted access to FESPA events and conferences, access to Club FESPA benefits at FESPA exhibitions and online networking opportunities.
New products are in development to ensure ongoing value for all FESPA members. Membership to FESPA Direct is annual and costs €250. For more information on signing up visit www.fespa.com/direct.
The new FESPA Direct membership service is hosted on FESPA's new website, which has been designed to improve the visitor experience for all FESPA stakeholders. The refreshed website includes improved navigation and search, and a members only area.
The site also includes a wealth of content, including industry news, blogs, features, overviews of FESPA's event portfolio and hosts video content that can be watched directly on the site, or visitors can click through to the FESPA TV YouTube channel.
Sarah Farrell, Head of Marketing at FESPA notes: "The main aim of the new fespa.com site was to add value for visitors. Whether an association member, exhibition visitor or exhibitor, or someone who is part of our wider speciality print community, we wanted to make sure that everyone visiting our site can easily find what they are looking for.
Our previous site didn't provide our associations with a way of accessing resources or to network, therefore the members area on the new site was one of the main focuses during development, along with the FESPA Direct capability.
Visitors to the website will be able to view a range of content that is curated by our in-house content producer, who works with a global team of contributors including technical experts, commentators and specialist journalists in order to provide interesting and informative content covering all of FESPA's key industry sectors."
For view the new website and to find out more about becoming a FESPA Direct member visit: www.fespa.com.
Interested in joining our community?
Enquire today about joining your local FESPA Association or FESPA Direct