Press Releases
FESPA Awards 2017 winners revealed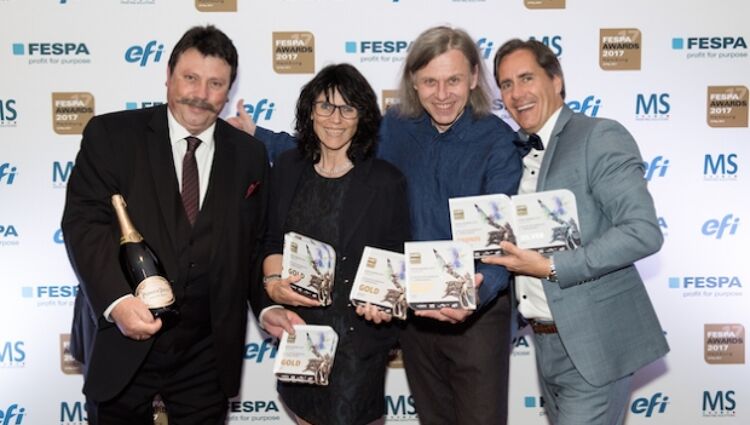 FESPA announced the winners of its 2017 Awards at a celebration dinner held at the Grand Elysée Hotel in Hamburg, on Wednesday 10 May, mid-week highlight of FESPA 2017.
The 2017 Awards attracted entries from across 37 countries, with the top prizes being given to entrants from across Europe, Asia and Australasia.
This year's winning pieces included innovative entries across all categories, 3D printed shoes and more than 30 t-shirt entries. The Special Effect (31 submitted) and Point of Purchase Products - Paper and Board (26 submitted) categories proved to be the most popular among entrants.
Following 4 weeks of voting online, the 2017 People's Choice Award was presented to Australia-based 3D printing company OMUS for the stunning Louis Vuitton pop-up store that was created using 3D printing technology.
The dome-shaped structure was 3D printed in 48 sections which were then assembled and wrapped in film. Because stocks were limited, additional material had to be air freighted in to complete the project. In total, the team went through about 900 kilograms of gel printing material.
The Best in Show Award went to Atelier fuer Siebdruck Lorenz Boegli, Switzerland, for its entry in the Special Effect category, 'Le Monde des Effects'. This entry – a newspaper which combined a variety of different screen printing techniques – was universally considered the most outstanding example of innovation, grabbing the attention of every judge across the 14 categories.
Screen printing consultant Josep Tobella Soler who was member of the judging panel commented: "People could be of the opinion that screen printing is an industry in decline, however the innovation that we are seeing across all Award categories highlights that this is certainly not the case."
"Screen printing is here to stay as it's an irreplaceable technique for multiple applications. Conventional screen printing is a special craft and keeps surprising me. The special effects that can be achieved in graphics and posters are breathtaking."
The Young Star Award went to Sandra Zomer from the Netherlands, for her entry 'Illusive Mind'. This fashion collection focuses on playfully distorting the communication in order to reveal the boundaries between reality and individual perception.
"Surrendering to an illusion in which given materials, appearances, shapes and prints create a motion that exists only in our mind", commented the designer. She has won € 1,000 and the recognition of the global printing community.
The winners in the application categories are as follows:
Point of Purchase Products - Paper & board: Augustus Martin, United Kingdom
Point of Purchase Products – Plastic: HQ Print Daniel Ries, Germany
Posters: Atelier fuer Siebdruck Lorenz Boegli, Switzerland
Serigraphy's and Fine Art: Atelier fuer Siebdruck Lorenz Boegli, Switzerland
Decals and Printed Labels: Signbox Ltd, United Kingdom
Special effect: Atelier fuer Siebdruck Lorenz Boegli, Switzerland
Special effect on t-shirts, garments and other textiles: MIDI Print, Russian Federation
T-shirts and other garments: MIDI Print, Russian Federation
Roll-to-roll printed textile: The Look Company, Qatar
Glass, Ceramic, metal and wood products: Digital Plus, United Kingdom
Direct printing on three dimensional products: P&P Promotion SRL, Italy
Non-Printed Signage: HNS Sign, United Kingdom
Functional Printing: Classic Stripes PVT, India
The FESPA Awards celebrate print excellence, inviting printers from FESPA's global print community to demonstrate their most creative and inspiring work.
This year, the Awards were judged at the FESPA's new offices in Dorking over the 1st and 2nd March by an independent panel of industry experts.
With such a broad selection of high-quality entries to preside over this year, the judging process wasn't easy.
Graeme Richardson Locke, sales and operations director at Vektor, who served as a judge for this year's FESPA Awards commented: "As so many submissions were of such a high quality it made for a very difficult job for the judging panel to differentiate on technical execution alone. Fortunately with a range of criteria to be scored we managed in all cases to reach a consensus without too much argument."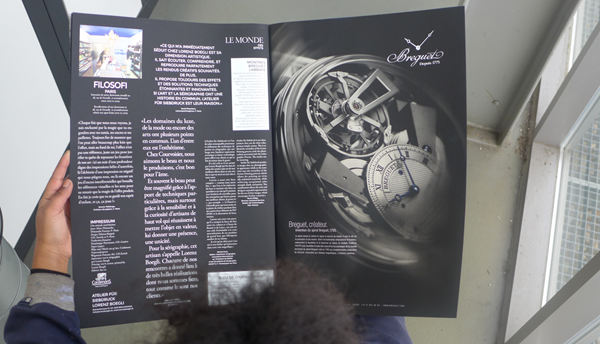 Atelier für Siebdruck is a screen printers specialized on creating print effects on print products for the Swiss watch industry.
"With 14 categories and hundreds of entries the sheer volume of entries to be evaluated was challenging we certainly needed the two full days to review everything. Even with more than 30 years of printing experience the scope of techniques employed presents difficulty in appreciating the methods used."
"However, by working together the five judges could pool of a great deal of knowledge to ensure the rightful winners won their place in the awards. It is also an enormous privilege to be asked to judge and the process is hard work but very rewarding," Graeme added.
The judges, who FESPA hand-picked based on their specialist knowledge and experience within their own print fields, highlighted the amazing range of creative applications of both, screen and wide format digital print, seen in the entries.
"Print service providers are pushing better quality and performance at every stage of design and production. Whilst screen maintains it hold in terms of durability and the use of spot colour and special pigments, digital is being selected for shorter runs and higher levels of complexity in image resolution and finishing."
Since then, the Awards have been showcased online for people to vote for their favourite to win People's Choice of the Year. And all shortlisted entries are also on display at FESPA 2017, which is taking place from 8-12 May at the Hamburg Messe in Germany.
The winning work will also be showcased at www.fespa.com/awards.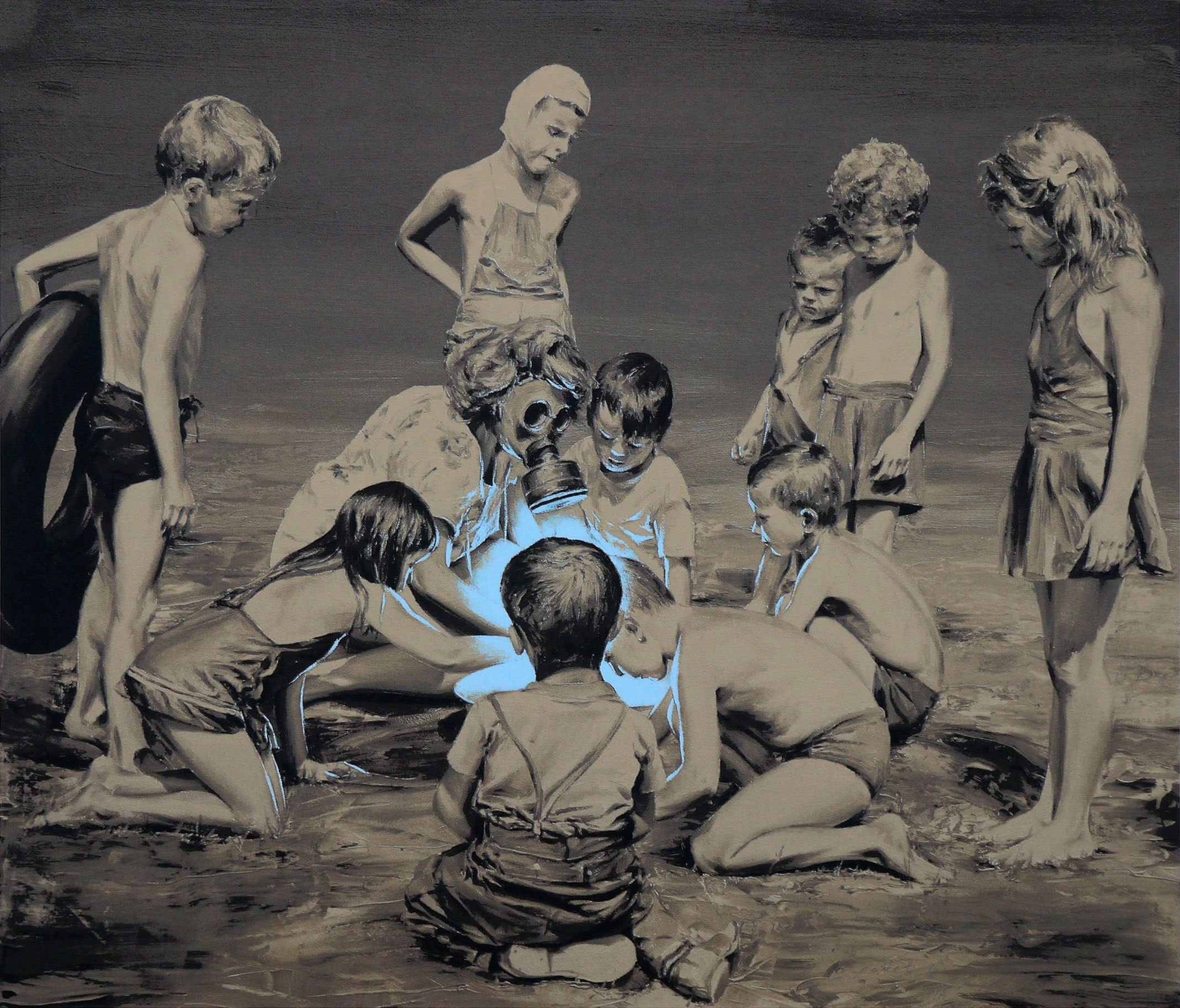 The third prize in the Serigraphy's and Fine Art category went for Christian Walter for its entry: 'Habia una vez'.
FESPA Head of Events Duncan MacOwan commented: "Congratulations go to all our winners and finalists from this year's Awards. The entries have shown the power of print to create impact across all types of brief."
"It's great to have been able to share these shining examples of creativity and best practice, which mirror the FESPA 2017 'Dare to Print Different' theme, showing the diverse range of applications made possible by wide format print."
"The aim of the Awards is to recognise the talent of our global print community and to inspire others. From the quality and breadth of entries I'm sure that this has been the case!"
The full results of the FESPA 2017 Awards can be found here. If you wish to submit an entry for the FESPA Awards 2018 please click here.
The search for the best projects in print has come to an exciting close and we are pleased to share some exclusive moments of the Awards ceremony that took place last night.
---
Organised as part of FESPA's Profit for Purpose programme of events around the globe, the largest international print trade awards seeks to recognise the best printers in different areas of our technically diverse and creative industry.
Interested in joining our community?
Enquire today about joining your local FESPA Association or FESPA Direct