Press Releases
FESPA announces expanded 2023 global events calendar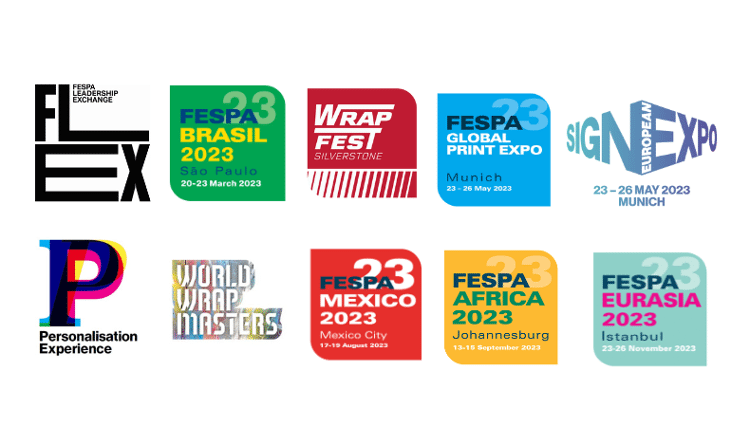 FESPA has confirmed the dates of all its global events in 2023, including FESPA Global Print Expo and European Sign Expo, the all-new WrapFest and Personalisation Experience, and regional events in Africa, Brazil, Dubai, Mexico and Eurasia.
Kickstarting the year is the new FESPA Leadership Exchange (FLEX) event. Taking place in Dubai from 1 – 2 March 2023, FLEX will welcome senior figures from leading print businesses in the Middle East to connect with their peers to facilitate business growth and inter-regional knowledge exchange.

FESPA Brasil then returns to Expo Center Norte in São Paulo from 20 – 23 March 2023. Jointly organised with APS Feiras & Eventos Corporativos, FESPA Brasil will offer a range of educational and inspirational features, including: the FESPA Digital Textile Conference; the Inteligência Gráfica conference; 'the Maker', a new initiative exploring the creativity and durability of acrylics and plastics in visual communications; the Sublimation Island lecture space; and CAMBEA, the Brazilian Automotive Wrapping Championship. The winner of CAMBEA will go on to compete in the World Wrap Masters Series Final in Munich.

WrapFest, FESPA's new event experience for the vehicle wrapping, vinyl installation and detailing community, will take place from 26 – 27 April 2023 at Silverstone racing circuit in Northamptonshire, UK. WrapFest will feature an exhibition space, educational conference and hands-on demonstrations, welcoming automotive professionals in wrapping, fleet graphics and car detailing, as well as printers and sign-makers. On site, visitors can also watch the first-ever UK and Ireland regional World Wrap Masters competition.

The industry-leading FESPA Global Print Expo and co-located European Sign Expo will be back at Messe Munich, Germany, from 23 – 26 May 2023. To date over 390 exhibitors are already contracted for the exhibition and the popular FESPA Awards, World Wrap Masters (European competition from 23 – 24 May and Series Final from 25 – 26 May) and Sustainability Spotlight features will be returning. Also in Munich, Personalisation Experience, FESPA's brand-new conference and experiential showcase of personalisation in action, will open its doors.

Supported by FESPA's Mexican association, Canagraf, FESPA Mexico will be hosted at Centro Citibanamex in Mexico City from 17 – 19 August. Celebrating its 15-year anniversary, the event invites professionals from Mexico and Central America to see the latest developments in digital, textile, 3D and screen printing, sublimation and signage. At the event, wrapping professionals will compete in the World Wrap Masters Mexico competition for the chance to qualify for the World Wrap Masters Series Final 2024 in Amsterdam.

For the first time since 2019, FESPA Africa will return to Johannesburg alongside its co-located events, Sign Africa and the Modern Marketing Expo. Hosted in conjunction with FESPA Partner, Practical Publishing, and FESPA member association Printing SA, the exhibition will open from 13 – 15 September 2023 at the Gallagher Convention Centre, connecting visitors with over 150 exhibitors.

The final event of 2023 is FESPA Eurasia, which will run from 23 – 26 November at IFM - Istanbul Expo Center, Turkey.

"We're delighted to have concrete plans for all our global events in 2023, including the long-awaited return of FESPA Africa, and we're excited to be innovating again, with the launch of three new focused events to ignite new possibilities for businesses," comments Neil Felton, FESPA CEO.

"After the disruption of 2020 and 2021, the market's enthusiastic response to the return of our events has reaffirmed the value of making real, in-person connections, and the need to see, touch and try when making technology investments. We're confident that 2023 will continue this momentum and we look forward to sharing new perspectives on speciality print and visual communications with our community throughout the year."

FESPA also previously announced that FESPA Global Print Expo, European Sign Expo, Personalisation Experience and Sportswear Pro will take place from 19 to 22 March 2024, at the RAI Exhibition Centre in Amsterdam, The Netherlands.

To find out more about FESPA's events, visit: https://www.fespa.com/en/events
Interested in joining our community?
Enquire today about joining your local FESPA Association or FESPA Direct