Press Releases
FESPA 2024 event straplines unveiled – and it's all about opportunities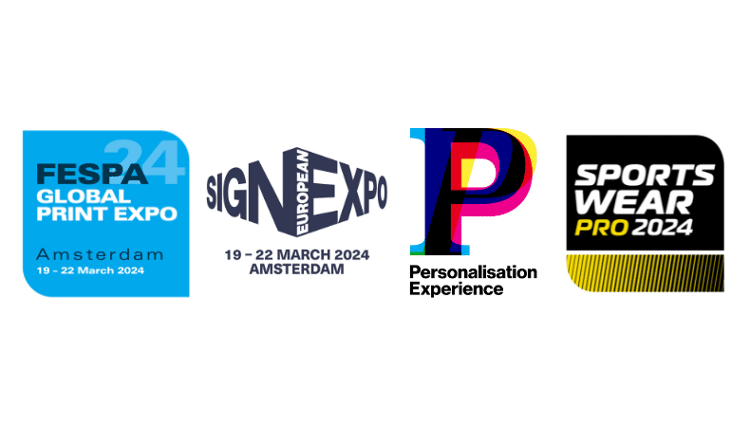 Michael Ryan, Head of FESPA Global Print Expo shares the new strapline for the upcoming FESPA 2024 events and the new opportunities for delegates at the upcoming events.
Our 2024 events in Amsterdam (19-22 March 2024) are centred around helping visitors discover new opportunities. The event straplines are a natural progression from our 2023 events, where we invited visitors to explore 'New Perspectives'. This year, we're encouraging delegates to find the many new opportunities surrounding them at the event.

While FESPA Global Print Expo, European Sign Expo, Personalisation Experience and Sportswear Pro are all running in parallel at the RAI, the events each cater to specific audiences and focus on different vertical markets, so we've introduced four event straplines to differentiate them.
FESPA Global Print Expo: 'Opportunities, Revealed'
The FESPA Global Print Expo 2024 strapline, 'Opportunities, Revealed', highlights that there's always something new to learn and fresh opportunities to be discovered, whether you're a FESPA regular or visiting for the first time.

Attending a FESPA event isn't just about seeing new technologies, there's so much more to discover. Visitors will witness new applications, hardware and software solutions, materials and inks, sustainable processes and trends, all revealed by new and returning suppliers.

As well as what exhibitors have to show, this year's Sustainability Spotlight feature will present new opportunities in sustainable production and environmentally-conscious material alternatives. Delegates interested in vehicle wrapping can explore the latest trends with our World Wrap Masters competition and live, expert demonstrations.
European Sign Expo: 'Opportunities, Illuminated'
'Opportunities, Illuminated' expresses how European Sign Expo shines a light on an array of solutions for the signage and visual communications industry. The event is set to inspire our visitors by highlighting new technologies and solutions, materials and applications, as well as the latest trends in the sector.

The show will present a range of sign-making solutions, covering channel lettering, digital and dimensional signage, engraving and etching, out-of-home media, LED and sign tools.
There has been a focus on recycled, recyclable and reusable substrates for more sustainable signage applications for some time now, and it's clear that customer demand for sustainably produced signage has accelerated, so delegates can expect exhibitors to showcase opportunities to capitalise on these trends.
Personalisation Experience: 'Opportunities, Reimagined'
The Personalisation Experience strapline, 'Opportunities, Reimagined' invites visitors to reimagine the personalisation trend and the production opportunities.

With the launch of Personalisation Experience in 2023, we helped businesses grasp the commercial value of personalisation by showing real-life business cases from industry experts and new customisation-enabling products and solutions from global suppliers.

This year, we encourage visitors to think about how they can capitalise on the customisation trend. Tailoring a product opens up a host of new opportunities to add value. When people think of personalisation, they often consider the basics, such as adding a name to a product, however, the scope is much broader than that.
Sportswear Pro: 'Opportunities, Created'
We're pleased to finally stage our Sportswear Pro event in 2024. The strapline 'Opportunities, Created' looks at how the production capabilities in fashion and sportswear are much broader than retailers and manufacturers may realise. At the event, visitors can identify new opportunities for their business, by exploring different ways of producing and decorating sportswear and connecting with industry experts to put this knowledge into practice.

We encourage delegates to look at the opportunities in garment manufacturing and embellishment, including new sustainable materials and processes, smart wearables and 'just-in-time' production, and consider how to capitalise on these to stimulate growth.

So whether you're looking for innovative technologies, solutions, media and inks; a springboard for expansion into new vertical markets and applications; or inspiration for growth, you're bound to find opportunities at FESPA Global Print Expo, European Sign Expo, Personalisation Experience and Sportswear Pro 2024 in Amsterdam.

For more information and to register to visit the event, visit here. Use code FESM407 before 19th January to save €50 on your entrance ticket.

We look forward to seeing you in Amsterdam next March!

Interested in joining our community?
Enquire today about joining your local FESPA Association or FESPA Direct