Industry
Visitors set for Royal welcome at FESPA 2017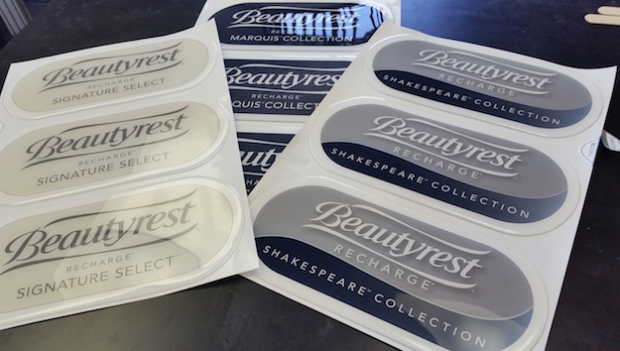 Chemical products manufacturer Royal Adhesives & Sealants has announced that it will use FESPA 2017 to demonstrate the benefits of Mercury-Free resin in doming work.
The company will be in attendance on Stand B40 in Hall B3L at the show in May to carry out a series of live demonstrations of how a Mercury-Free resin system can work in doming.
Royal Adhesives & Sealants will use its two-component Mercury Free 8E-450 fast curing resin system on its streamlined 3400 XYZ, micro/macro doming machine. The setup can be used to create applications such as signage, POP displays, apparel, bottle labels, wall stickers and vehicle graphics.
Speaking on behalf of the company, Darlene Baird said that such technology will become increasingly important in the European market as mercury will soon be completely banned across the continent, with doming companies needing to change to an Hg-free resin system.
"Most doming companies are apprehensive about switching to Hg-free resins because it requires strict monitoring of the temperature and humidity in the doming environment," Baird said.
"It also needs very expensive vacuum tanks to remove any moisture form the resin before moving onto the mixing and dispensing part of the operation. Some components even require heating so that they will mix properly. This is on top of all the potential bubble, striation and uncured resin issues, to name just a few.
"Our E-DOME 8E-450 is not predisposed to any of these requirements and issues associated with traditional Mercury free doming."
Baird said the E-DOME 8E-450 does not require vacuum degassing, adding it is not as sensitive to moisture as traditional mercury free doming resins systems. In addition, it can be tack-free in as little as five minutes, can be fully cured in one-and-a-half hours at 50C and is automotive approved.
Baird added: "Every doming company operation wants to dome, cure and ship as soon as possible. Our 8E-450 makes this possible on almost any existing doming machine while doing so at a competitive price.
"FESPA should be considered a must attend event on any corporate calendar that is any way associated with printing since new, unique or must have technologies will be showcased here.
"We have attended this exhibition many times before and it has always been a successful investment, since it easily facilitates our team meeting with both our valued existing customers, and potential new clients from all over the world.
"We want them all to know that we continue to develop new systems required for today's ever evolving and changing market place."
Register for free to visit FESPA 2017
Royal Adhesives & Sealants will feature on Stand B40 in Hall B3L at FESPA 2017, which runs from May 8-12 at the Hamburg Messe in Germany. To find out more about the event, visit the official FESPA 2017 website: www.fespa2017.com
Delegates can save 70€ entry fee to the exhibition by registering via the website and quoting reference code: FESG702. Discover how a visit to FESPA 2017 can benefit your business and register today.
Interested in joining our community?
Enquire today about joining your local FESPA Association or FESPA Direct