Industry
Smurfit Kappa sets new Guinness World Record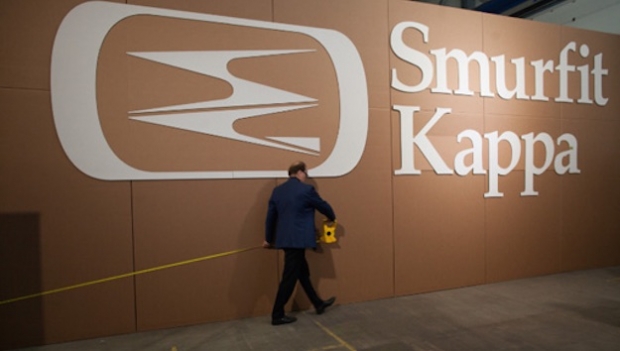 Packaging giant Smurfit Kappa has entered the Guinness World Record books by making the world's largest cardboard box.
Measuring a staggering 40 metres by 20 metres, it was designed and manufactured by a team of creative thinkers in the Smurfit Kappa van Dam plant in the Netherlands.
The challenge was to make a box big enough to eclipse the previous world record set in 2014 in the US. The enormous cardboard construction, which was a feat of design and engineering, was unveiled at a special event for staff and customers at the plant in Helmond.
Speaking at the event, general manager of Smurfit Kappa van Dam plant Wim Peeters said: "It's not every day that you set a world record so there was a lot of excitement when it was confirmed by Guinness. We're used to making extra-large boxes every day but this one was in a league of its own!
"It was great to see it come together after all the hard work and planning that went into the design and manufacture. We'd like to thank everyone who came along and got behind our world record challenge. We're looking forward to hanging our official Guinness World Record certificate on the wall!"
The record-breaking box has already gone on to be recycled and will be turned into new packaging for one of Smurfit Kappa's customers in just 14 days.
The Smurfit Kappa van Dam plant designs, manufactures and supplies corrugated cardboard packaging and specialises in extra large, heavy duty packaging for a range of sectors including food, automotive and logistics.
World's Biggest Box in Numbers
Weight – 1400kg
Number of staples used – 3000
Circumference – 120 metres
Height – 20 metres
Width -40 metres
Length of double-sided tape – 100 metres
FESPA's Summit
Last week FESPA UK Association held a Digital Corrugated Summit at the Williams F1 racing team's Conference Centre in Oxfordshire. This was sponsored by HP and included speakers from packaging software and cutting table supplier Esko, brand agency Studio Minerva, corrugated converter Swanline Print Group (which uses HP FB1000 UV flatbeds for digital work) and Smurfit Kappa.
The event attracted around 100 sponsors, exhibitors and delegates to a busy programme of inspirational presentations from industry experts, printing demonstrations and networking.
It was organised by Peter Kiddell, a consultant and director of FESPA UK. Digital lets corrugated producers addresses changing markets, he says. "Retailing is changing. Customers are making decisions on the net and then coming to them and saying 'this is nice.' It's a change of the way people look at packaging and we're reflecting that in the event.
"Also, say you order a widget over the web. If the box it arrives in looks particularly attractive, it's not just for protection, it's actually bringing some excitement to the product.
"Runs are getting shorter and the needs of producing specific information is increasing. And the way to deal with it is with digital print technology and the ancillary processes."
Interested in joining our community?
Enquire today about joining your local FESPA Association or FESPA Direct