Industry
Signscript expands into new markets with Mimaki UJV55-320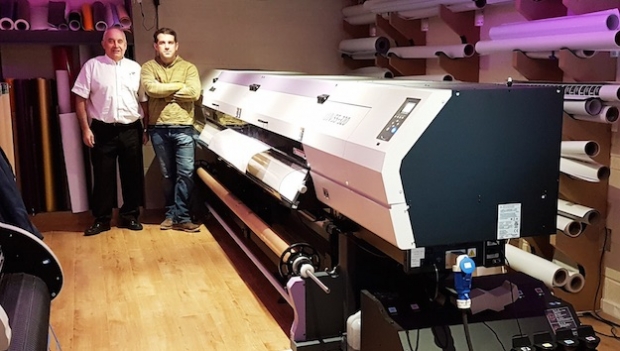 Northern Irish company Signscript has cited its investment in a Mimaki UJV55-320 as the main reason behind its expansion into new market sectors.
Based in Carrickfergus, the firm has established itself as a leading provider of signage and grand-format print, utilising various technology from Mimaki to build its business over the past 15 years.
However, Brendan Nugent, managing director was keen for the company to take the next step, purchasing a Mimaki UJV55-320 LED UV roll-fed printer to enable the firm to boost production capacity for the retail and exhibition industries.
"We invested in the new 3.2m UV Mimaki printer because we knew it would give us quality, performance and reliability," Nugent said. "After 15 years of using Mimaki printers they have proven to be the best performing printers in the market, with year on year advancement in production speeds."
Launched in April of last year, the Mimaki UJV55-320 offers super wide-format printing up to 3.2m, as well as operating speeds as fast as 110sq m/hr. Features include a new LUS-120 high performance UV curing ink, including white, as well as a special high density print mode for front and backlit applications.
The machine also has a simultaneous twin-roll print facility, which Mimaki said will further boost production and output, as well as the ability to support media rolls in weight of up to 100kg, meaning the device is able to take on a wide range of work.
"Having the capacity to print up to 3.2m wide is essential for winning bigger contracts in the retail PoS and exhibition sectors," Nugent said. "UV inks give vibrant colours and high blockout which is perfect for customers looking for backlit signage."
Signscript purchased the machine from GPMI Reprocentre, a specialist reseller of Mimaki kit that has installed a whole range of technology from the manufacturer at sites across Ireland.
Bill Forde, general manager for GPMI Reprocentre in Northern Ireland, said: "We started providing Signscript with service support and inks five years ago and we've seen them make terrific progress. Their investment in a Mimaki UJV55-320 will give them the tools and production capacity to make a big impact on sectors such as retail and exhibitions and take the company to the next level."
This year, Mimaki will exhibit at a number of FESPA events as it aims to educate people around the world about the benefits of its technology.
The manufacturer will be in attendance at exhibitions including FESPA Asia 2017, which runs from February 15-17 in Bangkok, China; FESPA Brasil, due to take place in São Paulo, Brazil, from March 15-18; as well as the main FESPA 2017 event in Hamburg, Germany, from May 8-12.
The return of FESPA Asia 2017 is expected to attract leading printers from the Indian subcontinent, Australasia and the Middle East.
Bangkok itself has a population of 14 million in its Metropolitan Area, while the AEC (ASEAN Economic Community) represents a combined population of almost 700 million. In 2014, the AEC was collectively the third largest economy in Asia and the seventh largest in the world.
Bangkok's status as the region's major hub means that air, road and rail links to the city are excellent, and visitors are well catered for with a vast selection of accommodation to suit all budgets.
For more information on FESPA Asia 2017 visit: www.fespa-asia.com. Visitors can get free entry to the exhibition by registering to attend via the FESPA Asia 2017 website, quoting reference code: ASAJ701.
Interested in joining our community?
Enquire today about joining your local FESPA Association or FESPA Direct