Industry
Roland DG to show new vinyl cutter range at FESPA 2017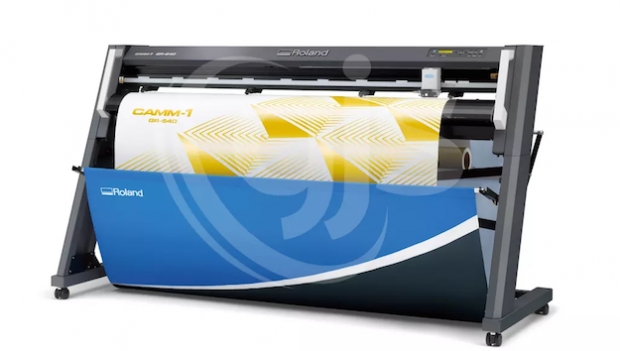 Roland DG is inviting FESPA 2017 delegates to visit its booth and discover why many print professionals choose Roland technology to power their businesses.
At FESPA 2017, Roland will be showcasing products from across its extensive portfolio; including digital wide format printers, UV-LED flatbed printers, dye-sublimation solutions and integrated print & cut devices including its recently launched Camm-1 GR series of vinyl cutters.
"A key benefit of investing in a Roland is that you're buying into a solution which delivers so much more than just a digital device,"commented Roland DG head of marketing EMEA Gillian Montanaro.
"It's true that our technology is reliable and durable but beyond this, we provide an integrated quality offering which encompasses hardware, software, inks, training, service and support. This holistic approach helps our users to get the very best return on their investment and, in turn, to provide the very best service to their customers."
"It's one of the reasons why customers who buy a , stay with Roland. At FESPA we'll be demonstrating how users can best integrate our technologies into their businesses and take full advantage of the comprehensive package we provide," Montanaro added.
At FESPA 2017, which takes place from 8-12 May in Hamburg, Germany, there is an added incentive for visitors to head to the Roland booth and check out the new Camm-1 GR cutter series; the chance to enter a competition to win their very own GR-640 cutter.
Launched on 7 March, the GR series supercedes the GX series and has been redesigned "from the ground up", according to the manufacturer, with improved speed and accuracy, increased media options and additional cutting features.
The GR models, available in 42", 54" and 64" widths, can cut at a top speed of 1,485mm/s with up to 600g of downforce and they feature electronically adjustable pinch-rollers with 10 variable pressure settings to deal with different substrate types.
The GR series is a complete overhaul of the GX series, incorporating a new cutting carriage and blade holder design, amongst other core functions, and features a new L-shape stand design creating a more stable structure.
The cutters can read crop marks on pre-printed data to align graphics accurately while the overlap cutting function allows for up to ten times overlap cutting for difficult-to-cut substrates.
Roland will also be showcasing its TrueVIS next-generation integrated print & cut range, including the latest addition to the TrueVIS family; the SG series.
The TrueVIS range delivers the highest levels of print quality in terms of vibrancy, colour gamut and intricate detail, according to the manufacturer. Print service providers at FESPA 2017 should head to the Roland booth where the team will be demonstrating the stunning quality of print output which is possible with both the TrueVIS VG and SG series.
Discover profit-making opportunities with Roland's instant personalisation solutions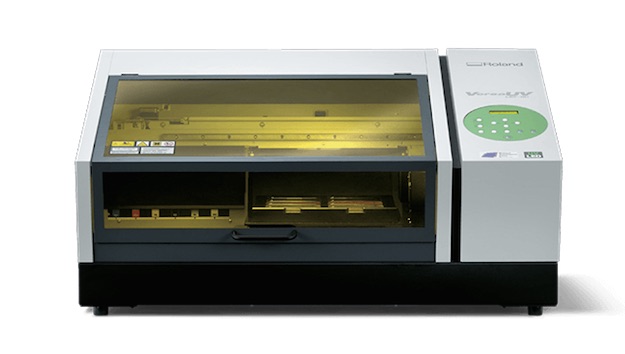 The new VersaUV LEF-200 has a print bed of 508x330mm and can also print on 3D objects at thicknesses of up to 100mm.
Customisation and personalisation are key consumer trends and entrepreneurial print service providers looking to differentiate themselves from their competitors will be able to see Roland's innovative instant personalisation solutions in action on the booth.
Featuring Roland's VersaUV range of UV-LED flatbed printers which print directly onto virtually any object or substrate and including a customer-friendly software interface.
This unique solution enables consumers to personalise a huge range of items including phone accessories, technology items, photo gifts, trophies, souvenirs, sportswear, fashion and much more. Visitors to the Roland booth will have the chance to try out this dynamic technology for themselves and take home a unique personalised memento.
"Our aim is that visiting the Roland booth is a memorable experience and it will be packed with innovative applications and eye-catching samples which we hope will inspire and fire the imaginations of visitors. We look forward to welcoming all FESPA delegates to the booth and demonstrating why Roland is the right choice for them," concluded Montanaro.
Register today to visit Roland DG at FESPA 2017
Industry members that are keen to learn more about the latest printing solutions from Roland DG can visit the manufacturer on the stand E20 in the Hall B7 at FESPA 2017.
Taking place from May 8-12 at the Hamburg Messe, in Hamburg, Germany, the exhibition will play host to many major brands from across the global market.
For more information on the event, the companies that will exhibit and to sign up to attend as a visitor, please visit: www.fespa2017.com.
Delegates can save 70€ entry fee to the exhibition by registering via the website and quoting reference code: FESG702. Discover how a visit to FESPA 2017 can benefit your business and register today.
Interested in joining our community?
Enquire today about joining your local FESPA Association or FESPA Direct