Industry
Kornit to unveil new direct-to-garment printer at FESPA Digital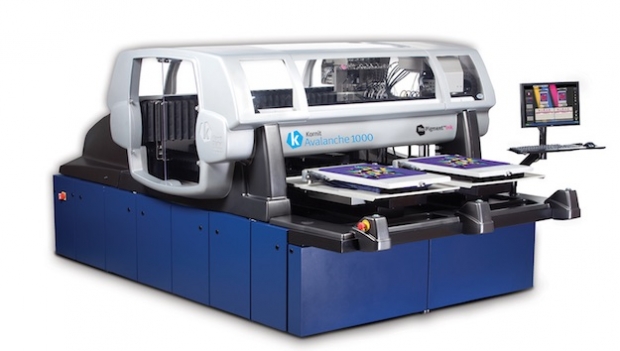 Digital textile specialist Kornit Digital will showcase a broad range of applications and live system demos at this year's FESPA Digital in Amsterdam.
Taking place from March 8 to 11, Europe's leading tradeshow dedicated to textile printing innovation will be held at Amsterdam's RAI exhibition center. Kornit Digital has been a long-standing sponsoring partner of FESPA and will support this year's show as the FESPA Textile Corporate Partner.
Two industrial-grade direct-to-garment printing systems will form the core of Kornit Digital's presence in Hall 5, stand M20. These both emphasise the company's policy of a one-step multi-fabric process without pre-treatment using its NeoPigment Pure ink.
To be announced by Kornit at FESPA Textile is an innovative direct-to-garment printing system which is a member of a new industrial-grade product family.
Guy Zimmerman, Kornit's VP of Marketing and Business Development, comments: "As the textile printing market moves towards online business models and fast fashion, our customers are requesting powerful industrial systems in flexible configurations."
"The new systems we will launch in Amsterdam have been designed for higher effective throughput and an even more attractive ROI while offering first-class print quality and process efficiency." Kornit will disclose more details of the new systems during the show."
Also demonstrating Kornit Digital's improved efficiency and industry-leading color and quality, the proven Kornit Avalanche 1000 is considered Kornit's flagship model.
Its 24 Spectra Polaris heads, together with all other Avalanche efficiency features make it the 'productivity' configuration of the Avalanche platform which is also available in a six-color and in a digital discharge version. Kornit will demonstrate large-format cut piece printing and optimized prints made with the recently launched NeoPigment Pure ink.
Kornit's presence will be completed by a host of high-quality samples produced on Kornit's systems, be it garments made from a variety of fabrics or Allegro prints that were turned into home textile or fashion examples.
Oliver Luedtke, Director, Marketing EMEA at Kornit, explains: "FESPA Textile is the largest and most significant event for digital textile printing today, and we're delighted to be Corporate Textile Partner once again. One area where FESPA excels is in educating other print sectors - be that digital or analogue – on the opportunities digital textile printing presents."
He continues: "In today's market, vendors are still making progress in expanding the range of potential applications for digital textile, and at FESPA Textile we're expecting to see solutions providing end users with expanded colour gamuts and more flexibility in terms of garments, for example, as well as the very important integration into the workflow, enabling more automation and the possibilities of e-commerce applications."
"We can't wait to be part of this year's event in our partner status, as textile printing undergoes this change and larger volumes are fulfilled via digital printing. These are very exciting times."
Last year, Israel-based Kornit, which has customers in more than 100 countries, souped-up performance of another of its machines, the Allegro roll-to-roll textile printing system, with recirculating print heads from Fuji Dimatix to improve reliability.
For more information and for live demonstrations of Kornit's latest technology, please visit the Kornit Digital stand in Hall 4, M20. To find out more about the different companies exhibiting at the show and to view the full seminar programme for this year's event, visit www.fespadigital.com.
For FREE entry don't forget to use code: ADOZ0117. Your ticket will include access to FESPA Digital, European Sign Expo, FESPA Textile and Printeriors 2016. Online registration will close on the 7th of March and tickets on the door will be charged at €40.
Interested in joining our community?
Enquire today about joining your local FESPA Association or FESPA Direct