Industry
James Hamilton achieves Screen world first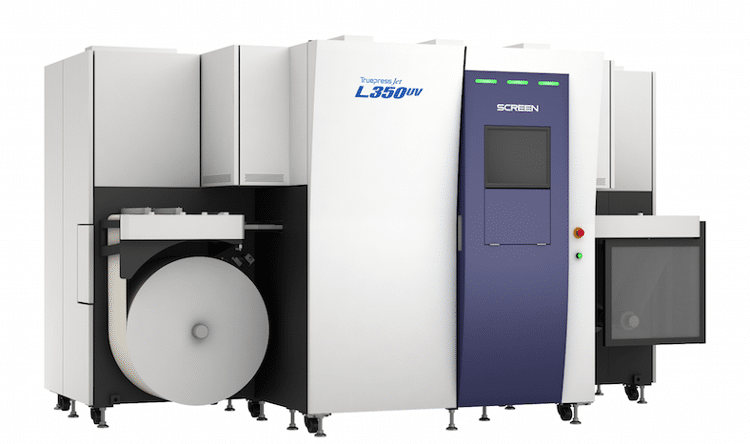 The James Hamilton Group has become the first company in the world to install a Screen Truepress Jet L350UV+ press for its labels division.
Based in Lurgan, Northern Ireland, James Hamilton Group will use the UV inkjet press to produce food, beverage and chemical product packaging labels.
The family-run company wanted a digital solution to complement its existing flexo label lines in order to respond to increasing requirements for shorter run lengths. Following a near nine-month process of due diligence travelling throughout Europe to visit different manufacturers, it chose the Screen Truepress Jet L350UV+ press for its combination of efficiency and quality with a top speed of 60m/min.
"The business needed more capacity and we knew right at the start we were looking for a digital solution to complement our existing flexo press lines in order to respond to the ever-increasing requirements for shorter run lengths and increased SKUs," commented James Hamilton group managing director Keith Hamilton.
"The Screen Truepress Jet L350UV+ was a clear choice for us because it ticked so many boxes; Screen's UV inkjet technology delivers tried and tested quality, it has an excellent reputation for reliability and with the 60m/min speed, it's becoming a real rival to flexo production."
The Jet L350UV+ features proprietary screening technology with one of the smallest droplet technologies commercially available. Colour gradations, image and text detail are achieved by the system's high-resolution screening and ink spread compensation software functionality.
It has a wide-gamut proprietary inkset and Vivid Color Mode printing, while a stable transport mechanism controls paper feeding to prevent meandering and maintain optimal transfer conditions for registration accuracy.
"Our customers expect premium quality print," said general manager David Hedley. "With the new Screen press we'll be able to offer something different in the extended orange color gamut, which in turn will meet their stringent quality requirements, in addition to providing a faster service. I believe our customers will be very happy with our choice."
Named for its founder when established in the 1920s, the James Hamilton Group began as a supplier of wrapping papers and twine. Today, overseen by James Hamilton's great grandson Keith, the group is made up of divisions including label solutions, print, packaging, and office supplies.
Interested in joining our community?
Enquire today about joining your local FESPA Association or FESPA Direct