Industry
Getting started with lenticular printing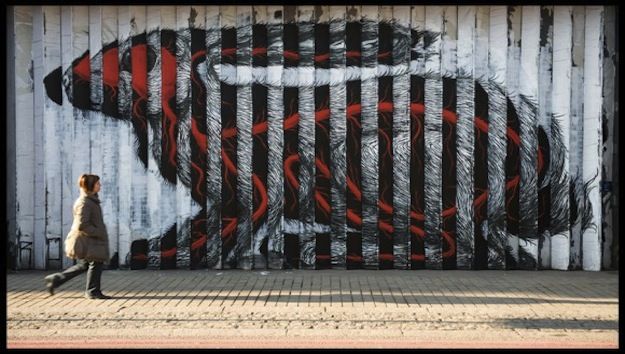 Lenticular (3D effect) billboards should see significant adoption (or growth) in 2013 in the Gulf market, according to Haris Munif of Samsung at the FESPA Global Summit 2013. So here is an article on getting started with lenticular printing.
Texas Chainsaw Massacre 3D, the seventh film in the slasher movie franchise, may not have generated rave reviews, but the film's innovative poster campaign has certainly created a stir on film blogs and forums.
The attention-grabbing (and pretty scary!) lenticular posters feature the chainsaw-wielding serial killer in a moving, 3D image. This campaign is a great example of this particular printing technique – which is produced by covering a plastic sheet with many rows of tiny lenses to create an optical illusion.
Lenticular printing is a growth area, driven by advertisers seeking to make their messages stand out from the many thousands that consumers are bombarded with on an average day.
The benefit to printers of adding a specialised technique such as lenticular printing to their product offering is that - as a higher end production process - it is not subject to the same overcapacity and cut-throat price competition that is prevalent in so many other areas of print. Margins on this type of value added work are extremely healthy.
Until relatively recently, the printing of lenticular images was, predominantly performed by specialist companies which would print the images on to paper before laminating them to a lenticular plastic sheet.
As technology such as UV printing and inkjet solutions have become more advanced, lenticular printing has become more accessible for printers, and is no longer a technique which requires outsourcing to a specialist. These new developments have made it much more cost-effective to produce lenticular products in-house, even for small print runs.
So it has profit potential and is technologically more feasible than ever. But printers wishing to capitalise on the growing demand for lenticular effects, will need to invest in specialised equipment and ensure that their staff have the necessary skills and expertise to be able to deliver high quality lenticular products that meet the exacting standards of brand owners and agency clients.
The first steps
Lenticular printing experts agree that, while there are many benefits to adding lenticular printing services, there are also a number of basic steps that businesses should work through before taking the plunge.
1. Review your business
Conduct a thorough review of your business to make sure you have all of the resources necessary to add lenticular printing, or to identify what extra resources are required. It's wise to consider which of your existing applications you can combine with a new lenticular offering. Some of the most popular areas for lenticular printing include outdoor advertising, posters and packaging, but don't overlook other potential product areas include specialised folders and business cards.
2. Identify your customers
As with any new business venture, and before investing in any equipment, research the potential demand for lenticular services and identify which existing clients could benefit Explain what lenticular is and the applications where it can add impact, and offer examples that are relevant to the client in question.
3. Check out new technology developments
If lenticular looks like a good fit with your existing services, and clients are enthusiastic, the next step is to brush up on your knowledge and understanding of lenticular printing equipment, and investigate a range of machines from different suppliers.
There are a number of different printing techniques that are suitable for producing high quality lenticular images, and the most appropriate type of technology will depend on the application, size and desired effect.
Here are some of the most popular applications for the production of lenticular prints:


Offset printing
Offset printing is still the mainstream solution for printing high quality lenticular images and can be used to cost effectively produce small to medium print runs in a variety of sizes. UV curing systems will often be used to rapidly cure the ink, enabling lenticular images to be printed at high speeds.
High resolution inkjet printing
The latest UV curable ink flatbed presses offer very small drop sizes, which means they are capable of producing high resolution prints of a quality comparable to high-end printers. This high print quality and accuracy makes the these new generation printers very well suited to lenticular printing, which is often achieved working with special lenticular sheets using fast drying UV inks.
Flexographic printing
Printing lenticular images on flexographic presses has traditionally been difficult due to problems with drop sizes and registration. However, the latest high resolution flexographic plates and lenticular roll stock has made flexographic lenticular printing a much more viable option. This method is often used for producing packaging and labels due to its flexibility and high speed.
There are many other considerations for companies who wish to offer lenticular printing services, including whether there is a need for special lenticular software to help maximise efficiency and the smooth functioning of the workflow.
Lenticular may not be the most straightforward of applications to add to your portfolio, but the stunning 3D effects will definitely make you stand out from rivals for graphics and promotional work for high end clients. It's certainly worth looking at the lenticular opportunity from all angles...
---

Interested in joining our community?
Enquire today about joining your local FESPA Association or FESPA Direct