Industry
Elitron to show a different approach to the printing workflow at FESPA 2017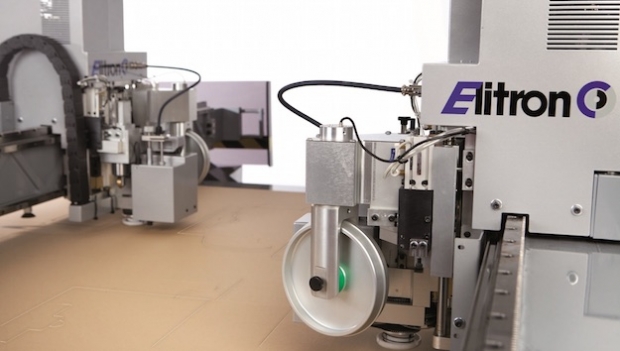 In accordance with FESPA 2017's 'Dare to print different, Elitron will showcase a range of innovative solutions that embrace the entire workflow from preprint to finishing.
Digital technologies have risen to maturity, driven by large investments in technology and communication from the top players and by the industry dynamics, to draw increasingly strong interest from the digital printing providers.
In a context where the general statements of innovation are in continuous evolution, Italian manufacturer Elitron couldn't miss its innovative drive.
The upcoming FESPA 2017 payoff is "Dare to Print Different" and, in accordance with that vision, the solutions that Elitron will showcase during the event, in a large booth of over 200sqm in Hall A1 at Stand D55, will embrace the entire workflow from pre-print to the finishing.
We spoke exclusively with Elitron's general manager Daniele Galluci to find out more about the machinery and technologies that will be on display, as well as what the future of the business looks like.
What is Elitron's focus for the show?
In our vision, "dare to print different" must be interpreted as a call to entirely rethink and re-design the way printers handle their operations. This framework doesn't have to take into account just printing but rather include also logistics, operations, finishing and delivery.
We aim at making digital printing providers start thinking at the processes that are taking place inside their premises in a different way: eliminating bottlenecks, taking advantage of automation and devoting human resources only at true value adding assignments.
This is why Elitron will showcase solutions that will have an impact on each of the afore mentioned phases with, of course, a special focus on automatic digital finishing.
Which new technology or products you will have on display?
We will present our newborn of the Kombo SD series of digital cutting systems: Kombo SDC+ 3.2. Designed for operating on both, large format materials for wallpapers and digitally printed signage or displays, and rolls of textiles, Kombo SDC+ 3.2 is characterized by a conveyor working area 2.1m long and 3.2m wide.
Since our vision is to deliver integrated systems instead of just single standalone products, throughout the entire show Kombo SDC+3.2 will be integrated with the automatic smart feeder Heleva to show that a non-stop productivity of the cutting department can actually be achieved and a bottleneck removed.
What else have you got up your sleeve in terms of product offering?
Along with a newly developed digital cutting solution as Kombo SDC + 3.2, the attendees will have the chance to see on display the Kombo TH system.
Characterized by double independent beam, an established technology which Elitron masters since 5 years, the Kombo TH ensures a reduction in overall throughput thanks to Twin Cut software which automatically balances workload of each cutting head.
Elitron will feature its solutions with the innovative patented technology Seeker System for the automatic detection of printed images. Thanks to Seeker System, in case of small dimensions sheets, the operator can load the entire working area time in and time out instead of loading/unloading a single sheet after the other thus reducing his supervision to the machine.
The video projection system, available as an add-on feature, allows to project virtual dies on the material and place the shape wherever the operator wants; thus allowing for fast prototyping and to recover scrap materials.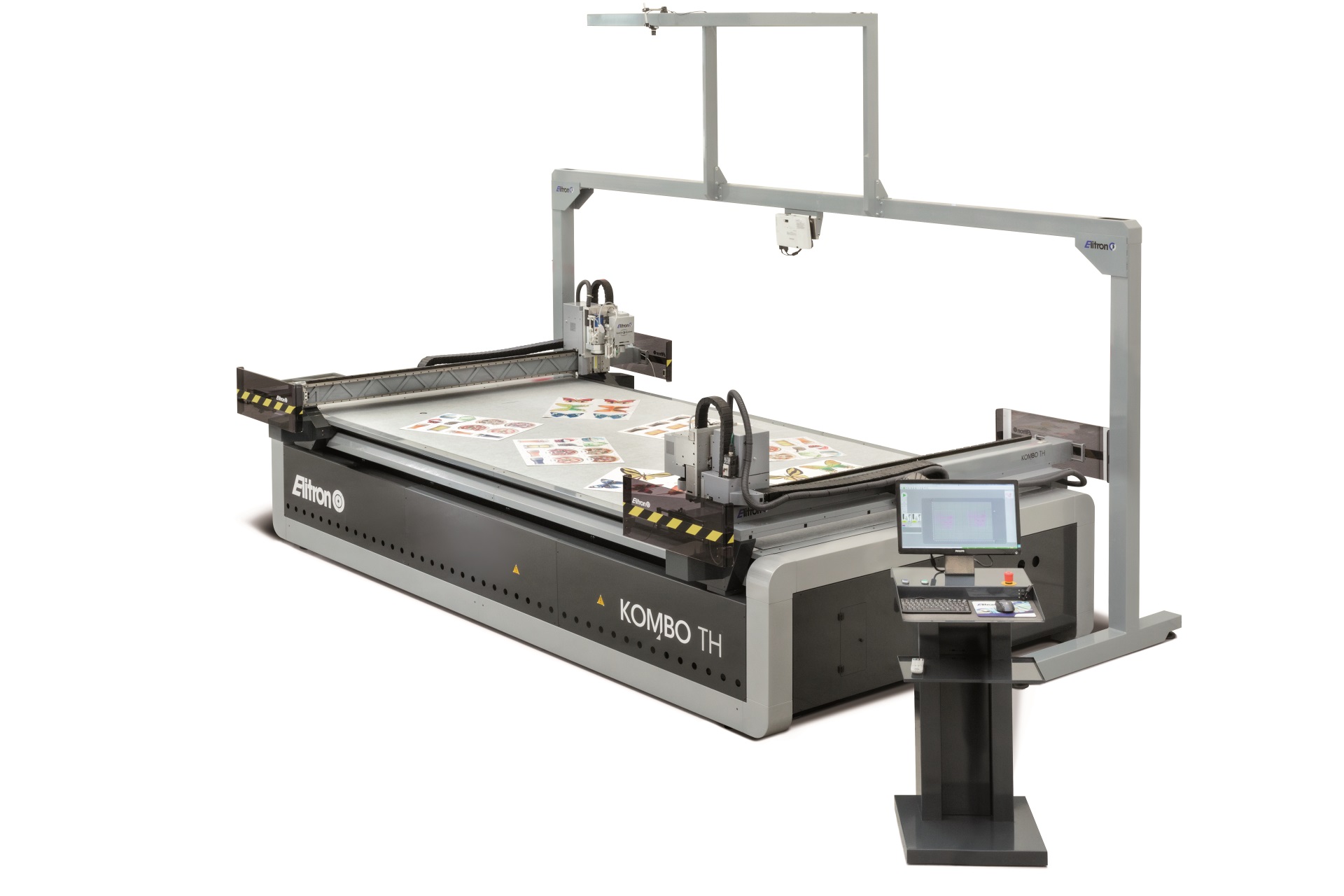 Elitron's innovative twin-head cutting system, the Kombo TH, drew the crowds at FESPA Digital 2016.
Why would you recommend printers attend FESPA 2017?
As we see it, FESPA 2017 will be the event that will shake things up in the digital printing industry because it will awake what everyone has superficially seen last year at other shows with a huge difference: what last year was perceived as a trend is now become an urging need.
To make a difference in an industry such as digital printing, tools and technologies that enable the users to take new roads and experiment with new concepts are essential and prerequisites to make these ideas take shape. Therefore we do not see any other stage as ideal as FESPA to match offer and demand of those kind of technologies.
What would you say sets Elitron apart from the competition?
To be fair, Elitron is the only automatic digital cutting provider which has a complete range of cutting solutions that are effectively adding value across several industries: leather goods, general industry, upholstery, visual communications and packaging.
This cross-industry product portfolio comes from our market approach of delivering integrated systems rather than single products.
By working closely together with our customers and providing them with value adding solutions designed for their specific needs, we have been capable of developing technologies that are out of range for other players in the industry.
What does the future hold for Elitron looking forward?
Over the last years, Elitron has focused its business development to consolidate its presence in the EU area. We are now looking with great deal of interest to expand our market shares in both Asia Pacific and USA for what concerns the visual communication and packaging product lines.
Register for free to visit FESPA 2017
Industry members that are keen to learn more about the the cutting-edge solutions and technologies from Elitron can visit the manufacturer on the stand D55 in the Hall A1 at FESPA 2017.
Taking place from May 8-12 at the Hamburg Messe, in Hamburg, Germany, the exhibition will play host to many major brands from across the global market.
For more information on FESPA 2017, the companies that will exhibit and to sign up to attend as a visitor, please visit: www.fespa2017.com
Delegates can save 70€ entry fee to the exhibition by registering via the website and quoting reference code: FESG702. Discover how a visit to FESPA 2017 can benefit your business and register today.
Interested in joining our community?
Enquire today about joining your local FESPA Association or FESPA Direct