Industry
DTG Digital releases new M3 direct to garment printer at FESPA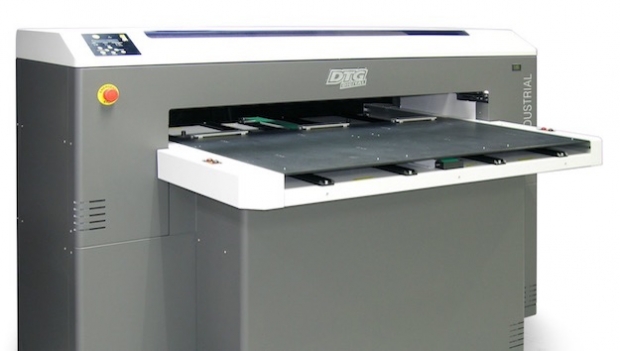 Impression Technology Europe and DTG will unveil a range of new products at FESPA Digital 2016 covering label printing/finishing and direct to garment printing.
This year at FESPA Digital, visitors to stand M70 in Hall 5 will be spoilt for choice where new equipment is concerned. Those looking to enter the digital label market will be particularly excited at the range of digital equipment on display.
Digital printing and finishing machines give users that flexibility of being able to handle small or bulk orders with equal ease and with the same level of overhead.
DTG Digital is a manufacturer of direct to garment printers with over 8000 installations to date. Now the legacy continues with the release of the New M3 garment printer. The new addition to the M-series range offers more productive garment printing workflows with an average 30% productivity increase yet at only a marginally higher capital investment.
Steve Richardson, CEO of Impression Technology, manufacturers of the DTG digital range, commented: "We wanted to increase the speed and simplify the user interface to make the new M3 into something that printers will find far easier to maintain and operate."
"With a rise in volume digital print demands from our customer base, we felt we needed to respond and offer more efficient equipment within a large capital investment bracket."
"Without a doubt, FESPA is the leading digital printing trade show in the industry. As you can tell from our announcements, this event is crucial for us, and we have two world premieres scheduled to demonstrate the capabilities of our systems."
"Customers want to print volume orders reliably. We have worked hard to bring about what we believe is the most rugged printer with far less maintenance at a better price point in the market.
Our DTG manufacturing team have developed from a progression of building many machines over the years."
The M3 brings new features that complement the demand for volume printing. An all new Garment platen system made up of 3 sets of 4-2-1 platens allows prints to 3x XXXXL oversized garments, x standard garments or 12 x smaller garments in one system thus reducing the need for multiple platens in production and utilising the maximum field space of 1150mm x 650mm to its full capacity.
"Our company is small but extremely innovative. In the last twelve months, we have had major announcements and launches in the direct-to-textile, direct-to-garment and UV printing market spaces. These announcements were not incremental but were significant strides forward. Not bad for a small Australian company playing in the global print market."
"Later this year we will announce a new division which is going to offer incredible new products in the sublimation space. Additionally, there will be major announcements later from our direct-to-textile division. We have some real innovative ideas which others are not doing," Richardson concludes.
The M3 is a new printer by DTG Digital and will be available for limited release through its registered dealer channel.
The Impression Technology stand is at M70 in Hall 5. To find out more about the different companies exhibiting at the show and to view the full seminar programme for this year's event, visit www.fespadigital.com.
Interested in joining our community?
Enquire today about joining your local FESPA Association or FESPA Direct