Industry
CMYUK's VUTEk FabriVu gives Colour Graphics a tenfold increase in print speed and the flexibility t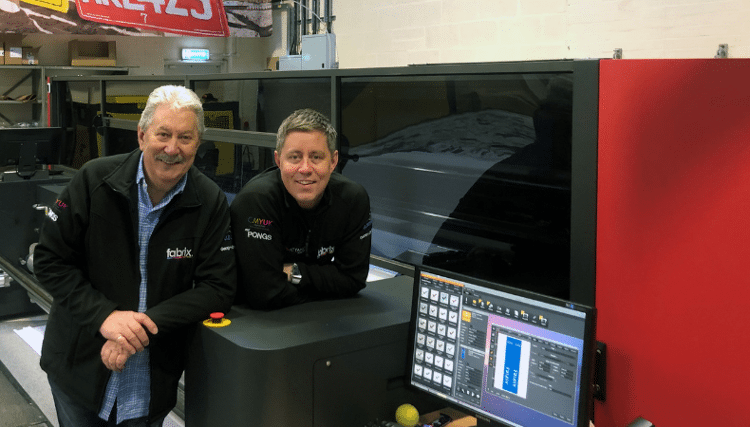 Colour Graphics sees multiple immediate benefits after purchase of CMYUK's FabriVu 340 digital fabric printer including flexibility, speed and range.
Colour Graphics, a home-based curtain making business has seen a substantial transformation with a yearly turnover of £1.5 million. Recently, the company has invested in a FabriVu 340 with Klieverik calendar which was purchased from CMYUK. The 3.4m-wide FabriVu replaces an older Mtex 5032 Pro and Colour Graphics has experienced immediate advantages in flexibility, speed and range.

Colour Graphics' owner, James Birch says: "The FabriVu has provided us with high speed, high quality and ease of use. Now we currently print at 10 times the speed of the Mtex, this means we can print through a range of jobs onto backlit, block out, stretch and standard display materials. This can all be accomplished in the same day. In the last 3 years, we have witnessed the soft signage / dye sublimation industry double year-on-year and we expect this to continue. The purchase from CMYUK will keep us at the top of our game."

The FabriVu 340 digital fabric printer can print at speeds of up to 500sqm/hr and a resolution of 2,400dpi. The printer can handle various fabrics and paper which makes it more appealing for businesses of all sizes and highly competitive value for money. The Klieverik calendar can be utilised for dye-sublimation transfer printing (paper to textile) and for dye fixation of direct printed dispersed dyes or pigments.

CMYUK's Senior Digital Sales Consultant, Wes Small says: "It was fantastic that our long-standing friends and customers, Colour Graphics saw value in the FabriVu printer. They know that it is a unique product and is the highest productivity machine in its field at an affordable price. When you take into account the attractive ink price and the exceptional ink yield. It is the lowest cost industrial dye-sub machine currently on the market. Colour Graphics has already experienced a sizeable return on their investment. The company have won new contracts and received comments from existing customers on the exceptional quality that they are now able to produce."

Now, Colour Graphics offers their own range of aluminium TFS profiles for building wallmount, freestanding and lightbox tension fabric frames in-house with rapid turnaround times. Thanks to the FabriVu, Colour Graphics have become a reliable one-stop shop for trade TFS fabric exhibition and display systems.

James concludes: "We have been a CMYUK customer for more than 15 years since the purchase of our very first Vutek QS 3. We've always had fantastic support backed up with sound knowledge from both Robin and his team. We have seen them grow into the market leaders in the supply of print media and use most of their media range."

Interested in joining our community?
Enquire today about joining your local FESPA Association or FESPA Direct