Industry
Bauernfeind Print + Display win new business with Durst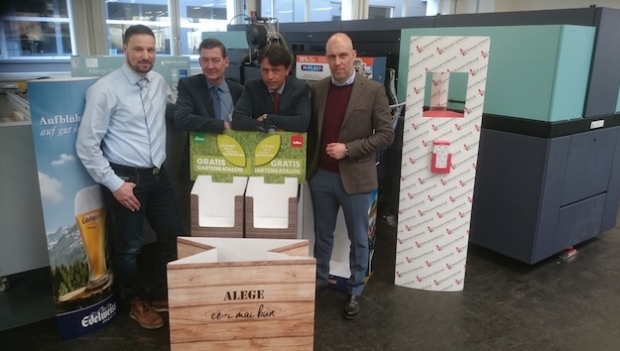 Austrian company Bauernfeind Print + Display has paid a special tribute to the impact that Durst's Water Technology has had on business.
They said that turnover should increase by 25% a year as a direct result of its investment. The family business recently took on a Delta WT 250, the first flatbed system based on the Durst Water Technology for multi-pass and single-pass production.
Although the kit only begin full production last month, Bauernfeind has already been able to win new business.
The firm, which was the first in the world to invest in Durst's Water Technology, has secured a number of deals with a global brand to print corrugated display packaging, with plans in place to also seek out other work in new target markets such as cosmetics, pharmaceuticals, and food and beverage.
Thomas Bauernfeind, managing director of the Obergrünburg-based company, said: "In the past some markets have not been possible because of the odour in certain packaging and other display products using UV ink. But now a whole new world of opportunities have opened up.
"We are extremely confident that this, as a complementary technology, will be central to our ambitious growth plans that involve increasing our turnover by 25 per cent a year going forward. And we expect the return on investment to be within two years."
Bauernfeind added that the company intends to invest in more technology from Durst as part of its ongoing growth strategy.
"The goal is to increase volumes so that we can invest in Durst's Delta SPC 130 Single-Pass system based on Water Technology, or at least get an additional Delta WT 250 model," Bauernfeind said.
Wolfram Verwüster, segment manager, corrugated packaging and display printing at Durst, paid tribute to Bauernfeind for taking on the technology, adding that industry interest is only likely to grow as more companies learn of the benefits Water Technology offers.
Verwüster added: "Since the launch, we have been taken aback by the overwhelming interest in the Durst Water Technology. We're in for the long term to develop new business and help companies such as Bauernfeind, which we're delighted to announce as our first user of the Delta WT 250 system."
For those interested in learning more about Durst and its various technologies, the manufacturer will exhibit at this year's FESPA 2017 show on Stand A20 in Hall B7.
The event, as well as the co-located European Sign Expo, will run from May 8-12 in Hamburg, Germany and welcome exhibitors from across the print and sign-making industries.
To view a full list of confirmed exhibitors for FESPA 2017 and the European Sign Expo, and to find out more about the various in-event features and seminars, visit www.fespa2017.com.
Interested in joining our community?
Enquire today about joining your local FESPA Association or FESPA Direct