Features
Wide Format trend talk: automation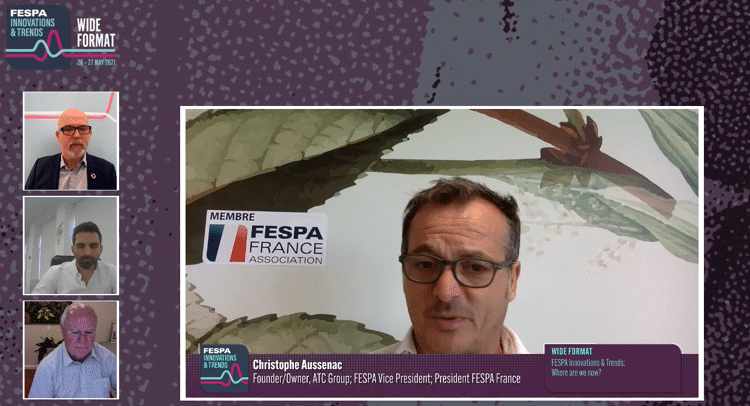 In our FESPA Innovations & Trends (FIT) virtual event for wide format print, we brought together three printers from different countries to discuss trends in wide format and hear their thoughts on what the future holds.
The host: Graeme Richardson-Locke: Head of Associations and Technical Lead, FESPA. With 35 years' experience in the industry, Graeme began as an apprentice and progressed through several directorships before joining FESPA in his current role. He is also a member of the Academy of Screen and Digital Printing Technologies.

The experts:

Christophe Aussenac: FESPA's President and Founder of the ATC group, France, which he established in 1991 and has taken the lead in developing sustainable solutions for its clients in point of sale and wide format graphics.

Keith Ferrel: General Manager of Operations at Cactus Imaging based in Sydney, Australia, which specialises in large-scale outdoor advertising applications and retail point of sale using the latest digital technology.

Javier Rodriguez Centeno: Director General of Grupo Panorama, Spain, a leading printer for retail, events and visual communication.
How important is software automation when customers are demanding shorter lead times? And with smaller runs and more design variants being normal, what challenges do these present?
Javier: Automation for us is the future. The market is reducing prices and delivery time. Today, our market is more and more complex, there is a big a range of materials and with it a lot of challenges. For us, automation is the base for everything because we can deal with the complexity. We have about 1,500 orders per week and everything is controlled, thanks to our ERP.

Also, it gives us the opportunity to be faster because there are three factors in the market – quality, price and speed. In our case, we are focused on the speed of the market. We think that with automation, working with digital tools from one department to the other and going down to the factory, we can control everything and do it faster and more profitably.

The other option is to have more people and right now it's very difficult to have a lot of people in your company. Even though we have passed through this crisis, we have reduced our team a lot because we see that the margins are getting lower and lower and the market is asking for more. The only way is to automate the company and factory.

Keith: It's very, very important and I suppose if anything, I'll probably have to admit it's our Achilles' Heel in a way. The cancellations or postponements we've faced haven't helped as far as we're concerned because it's hard to beat the face-to-face dialogue with automation software and to get a broad perspective of what's out there and what's available.

It appears to us that there's not one program that can do everything that we require. We have our own production system, which we call Cactus Production System, developed by us and it's more of a production tool. It helps obviously with workflow and we have it in with a number of our top clients. For instance, we're working on them entering in the jobs themselves, it's a live system, so they can follow the progress within the system right through to dispatch and invoicing. It's not the be-all and end-all and is something we're working on but it is extremely important. There's no two ways about that. The automation carries right through, not just from a software perspective, but right through the sector from print to finishing and so forth.

You can see the whole conversation here, and for more information on FESPA Innovations and Trends Wide Format Graphics and Interior Décor event, visit here.

Interested in joining our community?
Enquire today about joining your local FESPA Association or FESPA Direct