Features
Why size matters in media? (part 2)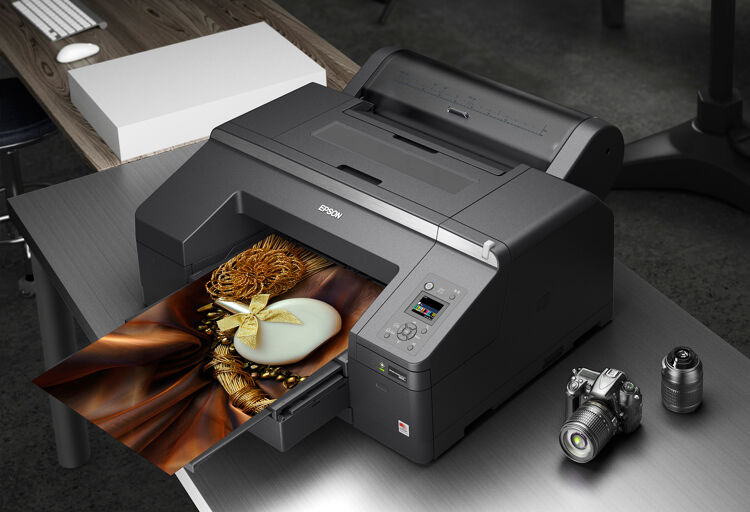 Simon Eccles continues to discuss the various media sizes in print, focusing on large formats, photos and publications.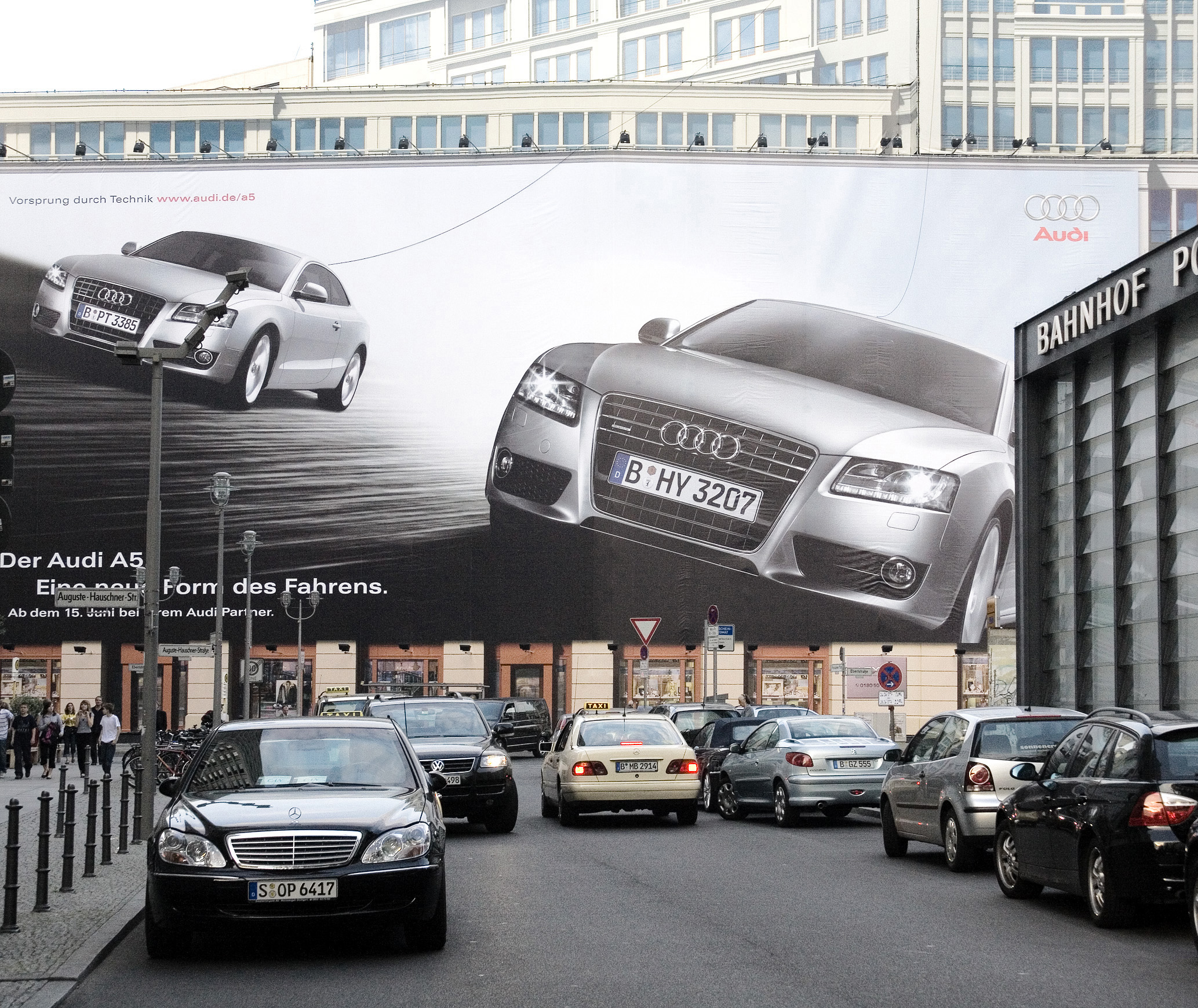 Caption: This enormous Berlin billboard from 2007 was made from multiple 3.0 m wide vertical sections. Pic by Sophie Matthews-Paul.
Paper for printing has a history of standardised sizes going back hundreds of years, as we saw in part 1 of this story. The ISO-defined A-series for paper is the standard for printing throughout most of the world, except North America. However, the broad range of media used for signage and other large format printing does not have any clear international standards and only de facto consistency because most manufacturers or printers and media offer similar sizes.

There's little evidence of any push to create standards either. Broadly speaking, wide format printers and the media they print on, conforms to traditional commercial formats such as multi-sheet advertising billboards, rigid panels (originally plywood) and curtain sides for freight lorry trailers. Other popular applications such as exterior signage, vehicle graphics, vinyl decals or dye sublimation transfers, have no consistent size needs.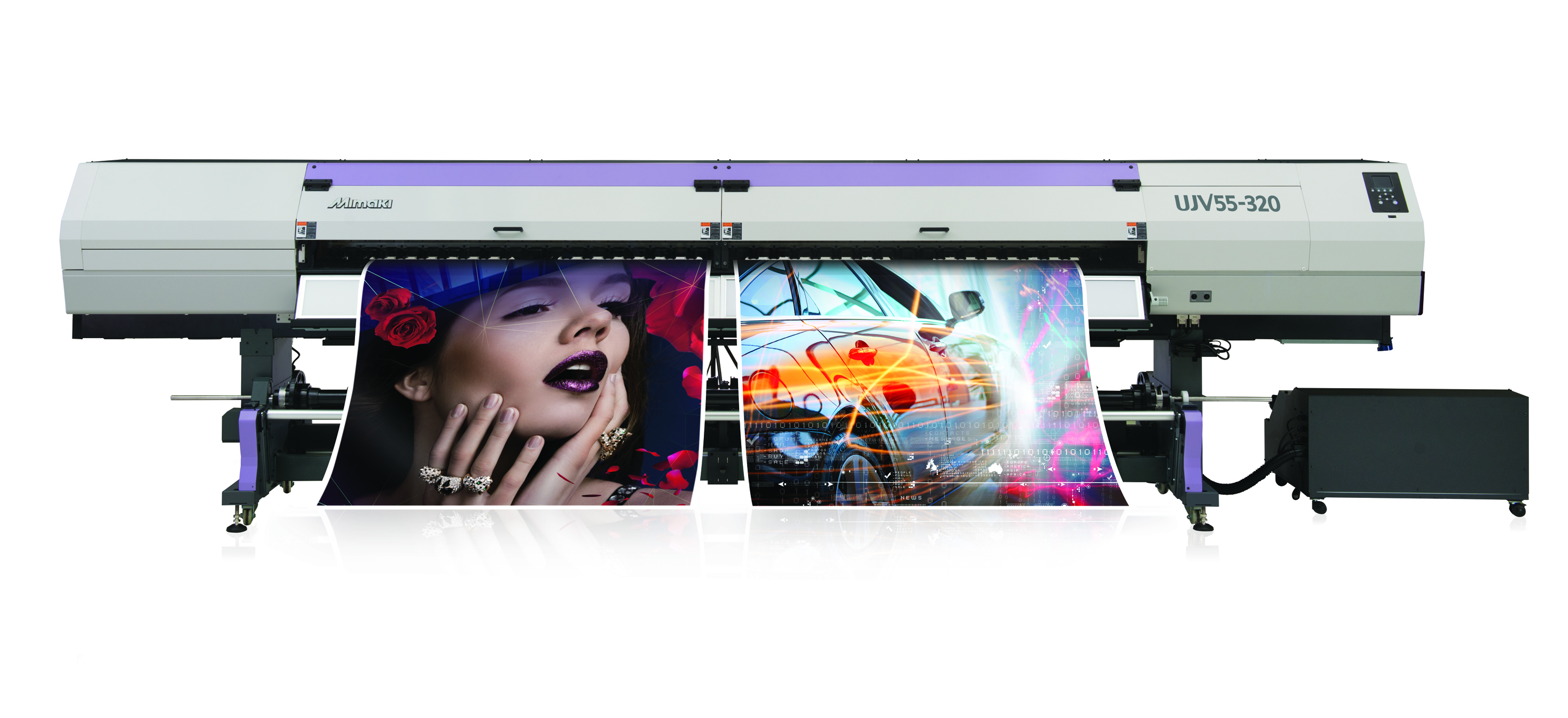 Caption: Mimaki's 3.2 m wide UJV-320 cost about half the price of rivals when it was launched in 2015. Here it is shown feeding two 1.6 m rolls side by side.
Any printing machine will have a maximum media size it can accept (based on the width for roll fed machines, and width and length for fixed-bed and cutsheet types), but any such printer can also accept smaller sizes down to a particular limit dictated by the feed and transport mechanism.
Flatbed sizes
Dedicated flatbed printers for rigid media were originally designed to handle large display panels, that were themselves based on standard sizes for plywood sheets. Plywood was first developed in the USA in the early 20th century and this set the original standard for rigid sheet sizes: 4 x 8 feet (1,220 x 2,440 mm). In countries that use metric measurements, this is usually rounded down to 1,200 x 2,400 mm, although the UK still tends to use 1,220 x 2,440 mm. There is a rarer large size of 10 x 5 feet (3,050 x 1,525 mm).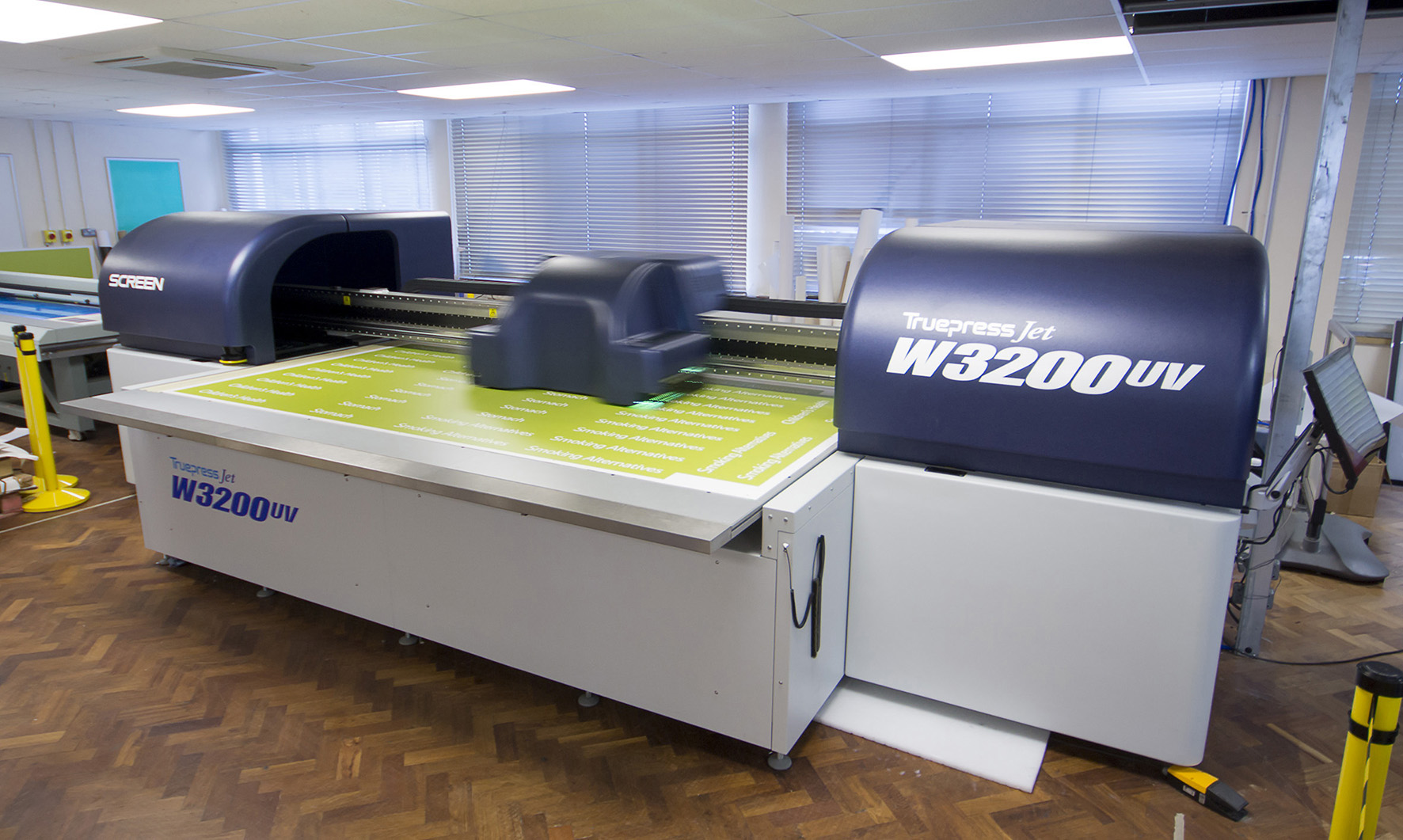 Caption: A Screen Truepress Jet W3200UV printing onto foamboard panels at Larger Profile in Letchworth, UK. The bed size is 2.5 x 3.2 m. >
Thus flatbed printers are normally built to accommodate at least one sheet of those sizes, while smaller printers may take half sheets. The very largest flatbeds may be able to take two sheets at once, often with a facility to print one sheet while the next is being loaded.
Roll fed sizes


Caption: Roland DG's 1.6 m VS-640 from 2010 used eco-sol inks (including then-new metallic) onto vinyl, which it could also cut in the same run. Today's equivalent is the XR-640.
Roll fed wide format inkjets are mostly made in sizes that conform to whole inches in the US measurement system, such as 44 and 64 inches. Nobody we asked was quite sure why the popular sizes emerged. John De La Roche, sales director of Hybrid Services, the UK's Mimaki distributor, has worked with wide format machines since the start. He believes that originally the sizes were based on the maximum roll widths offered by manufacturers of self-adhesive vinyl in the 1980s. This was 64 inches, or 1,625 mm.
Digitally controlled vinyl cutters were developed before wide format inkjets. Some of the same manufacturers, such as Gerber and Roland DG, then moved into printers that adapted the same media handling feeders. The smaller sizes seem to be convenient if not entirely regular steps down from that – 54 inches (1,372 mm), 44 inches (1,117 mm), sometimes 42 inches (1,067 mm), and 32 inches (813 mm).
Going up in size, there's a fairly rare 1.8 m width seems to be used for inkjet textile printers. A few 2.0 m printers exist, but the most common larger size is 2.54 m (100 inches) or 2.6 m (102 inches).
A lot of these very large printers are offered as hybrids, able to take both roll fed flexible media and, with the aid of removable roller tables to support the front and back, rigid sheets too. The 2.5/2.6 m size is a little wider than the 8 feet (2,440 mm) plywood size mentioned above (or two 4 foot sheets side-by-side with a small gap).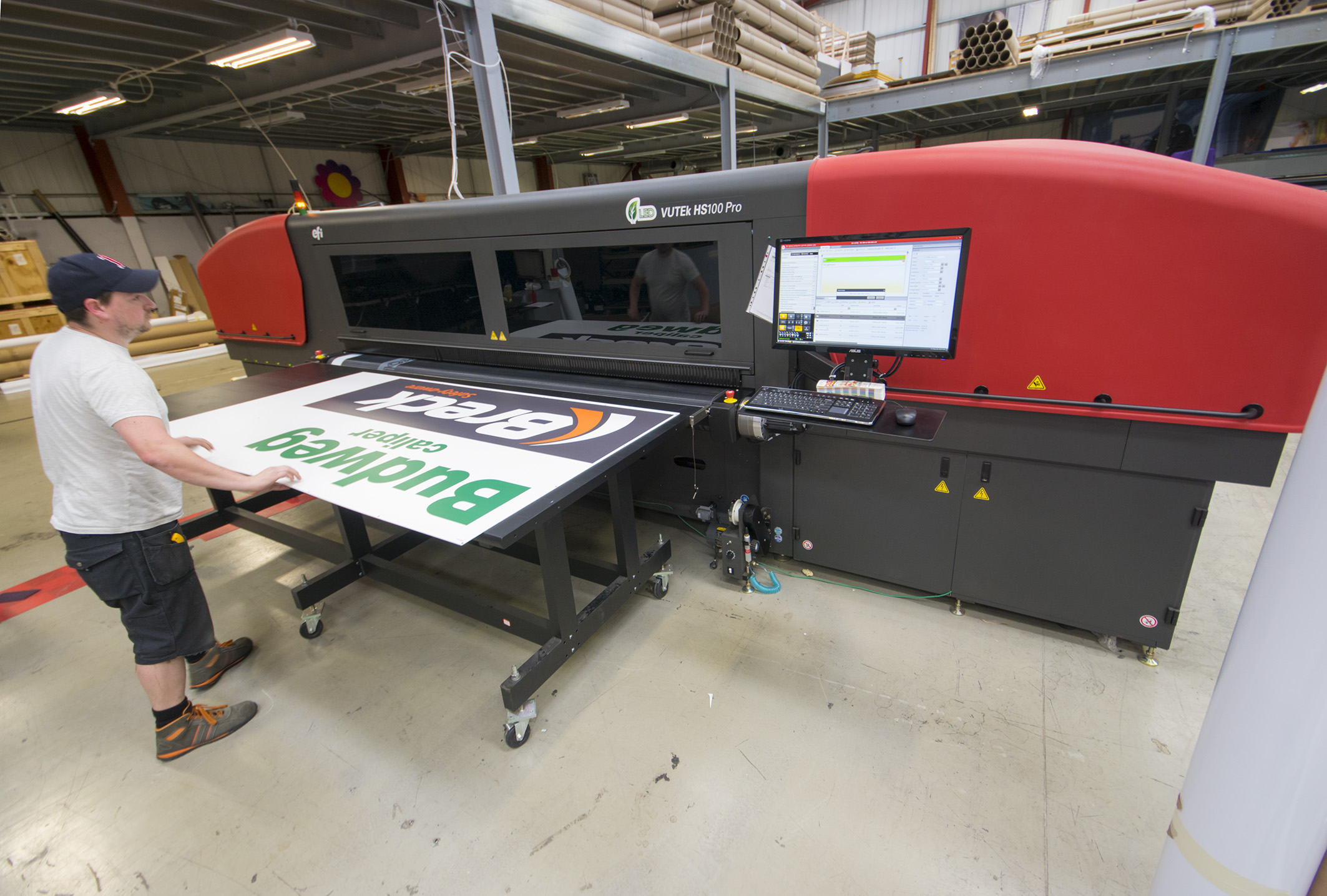 Caption: This EFI Vutek HS100 Pro hybrid at Super-Wide in Bacup, UK has support tables to feed print rigid boards up to 3.2 m wide, and can also feed flexible rolls of the same width.
The next size up is 3.0 m or more commonly 3.2 m. There are applications for large banners and building wrap meshes in this size, but another reason for the 3.2 m size is that it can print two of the popular 1.6 m rolls side by side, thus doubling productivity on a printer that probably doesn't cost double the price of a 1.6 m machine (finding the space to accommodate it may be a challenge though). Likewise the very largest inkjets available are 5.0 m wide, which allows three 1.6 m rolls to be printed side by side.
Any printer between 2.0 and 3.0 m wide is often referred to as "superwide format," while 3.0 m and above is usually termed "grand format."
Posters and billboards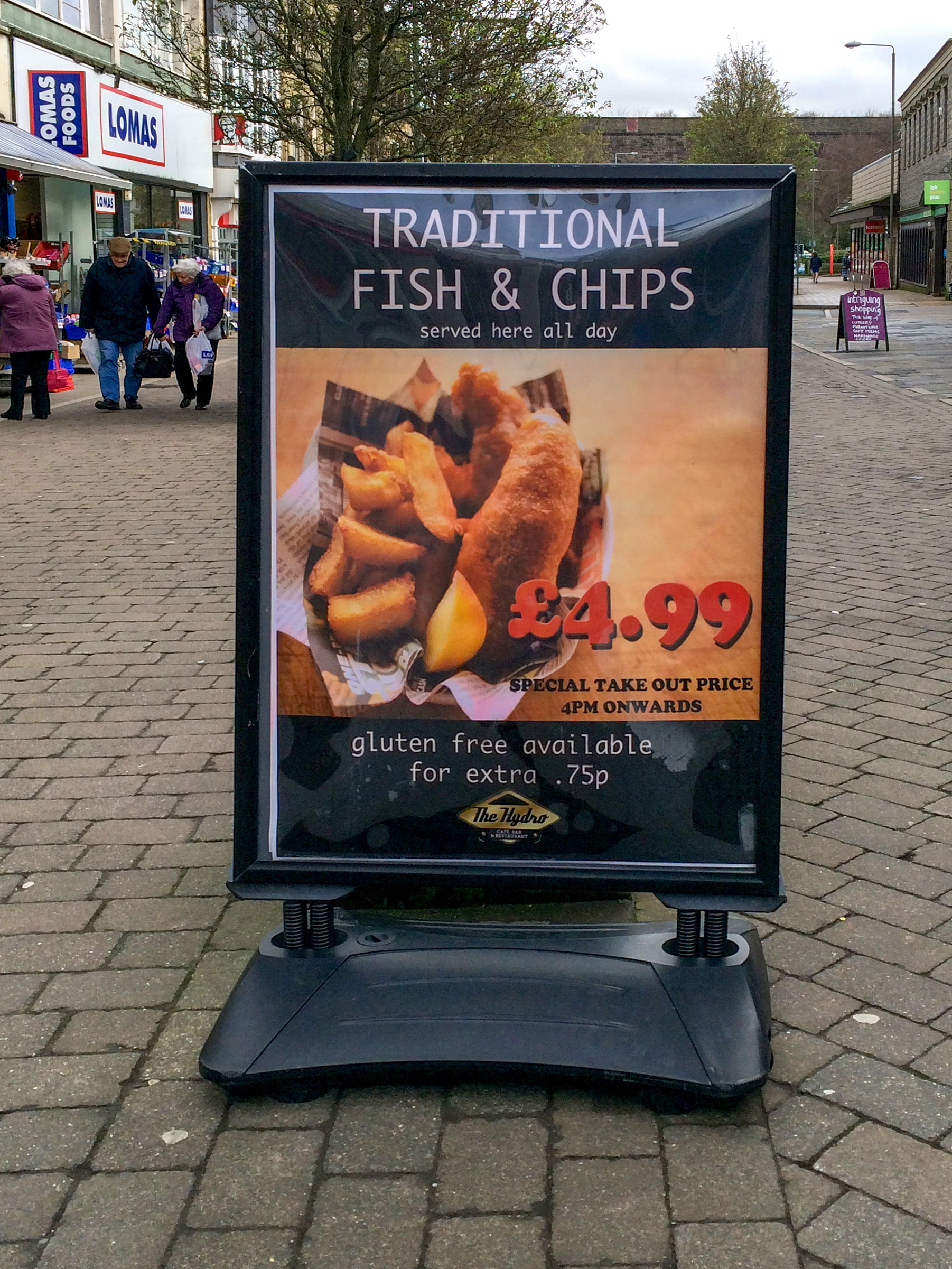 Caption: A six-sheet poster displayed in Buxton, UK.
Other print sizes may be for historical or commercial reasons – the popular Adshel paper posters (most often used in bus shelters) are usually standardised as 1,800 x 1,200 mm. These are often called "six-sheet posters," because the relatively small size of older non-digital printing presses means that sheets that large could not be printed, so six smaller sheets were pasted together. Today's large format offset and digital presses, can easily print this size on a single sheet.
JCDecaux, which owns a lot of adshel sites worldwide, specifies its own size of 1,750 x 1,185 mm. However, 1.8 m width inkjets are rare (and apparently only for textile use), so printers can either use a 1.2 m (or wider) printer to print in portrait format, or a 2.0 or wider model for landscape.
Larger billboard sizes often used for advertising in car parks, shopping malls, railway stations, sports grounds and the like. These are standardised as 16 (3,048 mm x 2,032 mm), 32 (3,048 mm x 4,064 mm), 48 (3,048 mm x 6,096 mm) or 96 (3,000 mm x 12,000 mm) sheets.
Any of these larger sizes could be handled on a single roll-fed sheet by a 3.0m or wider inkjet. However the constraints then are handling – it takes planning and skill to erect such a large sheet on a billboard frame, so it may be split into more easily positioned overlapping sheets. Banners and building wraps that are stretched onto frames can be enormous single pieces, however.
Smaller inkjets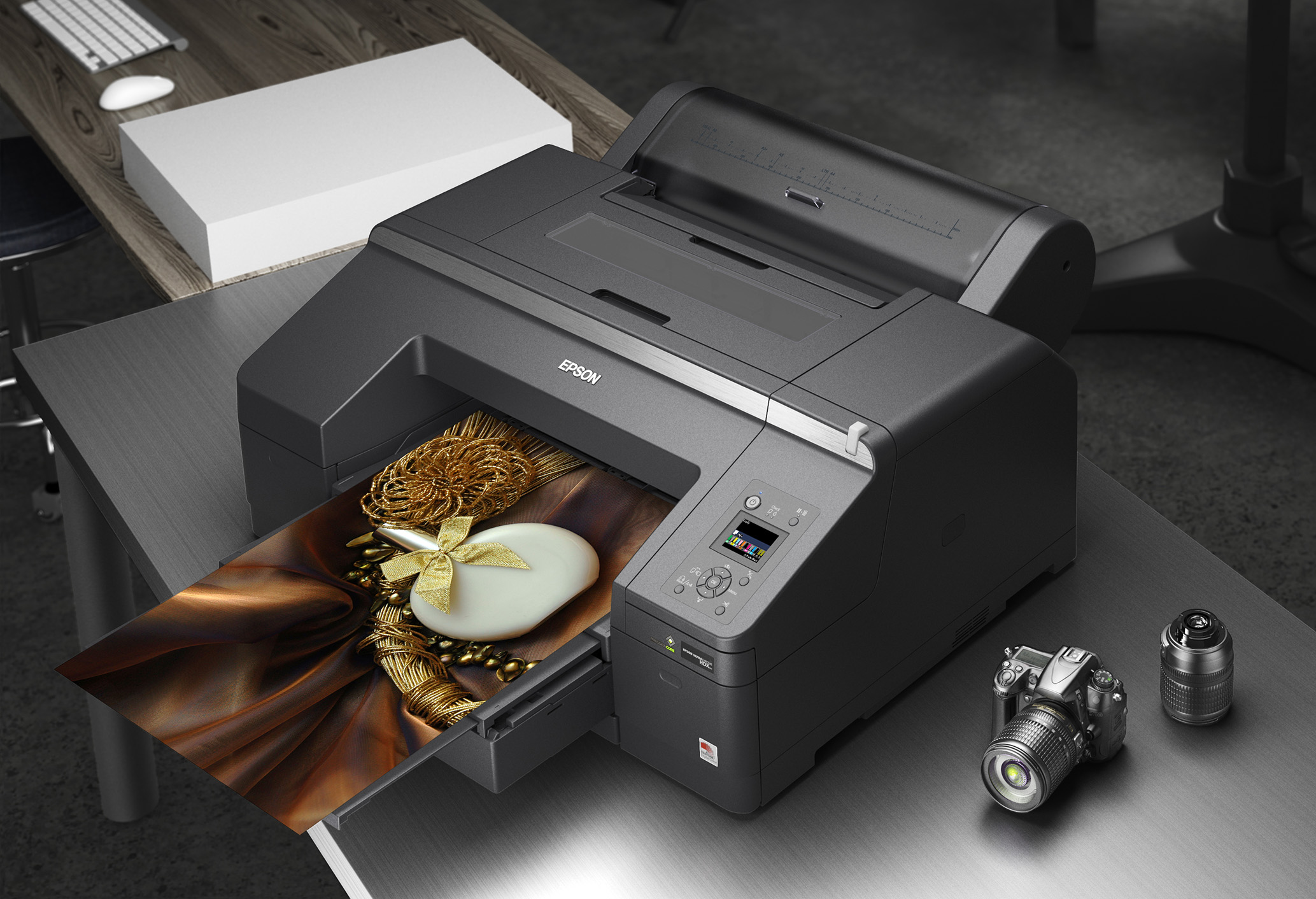 Caption: 17 inch printers such as Epson's latest SureColor SC-P5000 are the smallest generally available wide format roll fed inkjets.
At the other end of the scale, smaller "wide format" sheet fed or roll fed inkjet printers were developed for different markets from the early to mid 1990s onward. Epson in particular pioneered models aimed at the photographic and fine art markets, followed closely by Canon and HP. Sheet fed models tended to approximate to A-series sizes, sometimes with a small extra margin if that let them take US equivalent sizes, but they rarely conform to the B-series.
So the popular 17 inch width (432 mm) that's the smallest roll-fed format seems to have been developed to take the old 16 x 12 inch photo size (see below). It lets you print an A2 sized image (420 mm wide), but not B2 (500 mm wide).
Commercial printers, who often need to make proof prints in the popular B2 sheet size for their offset litho presses, have to buy the next size up, a 24 inch printer (601 mm), which both costs more and has a greater footprint.
HP did try selling 18 inch printers for a while, but if you actually need the full B2 area you'd need a 20 inch printer, and at present only Roland DG makes this size, with its VersaStudio BN-20, an eco-solvent ink print-and-cut model intended more for self-adhesive vinyl labels and static cling work.
Posters used for indoor and outdoor display may need to fit existing holders. So do multiple sheets used to make up very large format billboard displays, though these are in some cases replaced by larger rolls from superwide or grand format printers.
Strictly speaking the A-series specification only defines paper sizes. However, some suppliers will use the A-sizes for related media, because customers are familiar with them and because they are often used together with printed papers. Thus artists' suppliers often supply paper-covered mounting board and foam board in A-sizes. Posters are often produced in A-sizes, especially A2, although the photographic printing and framing sector will still often refer to old inch-based formats in the UK.
Photo prints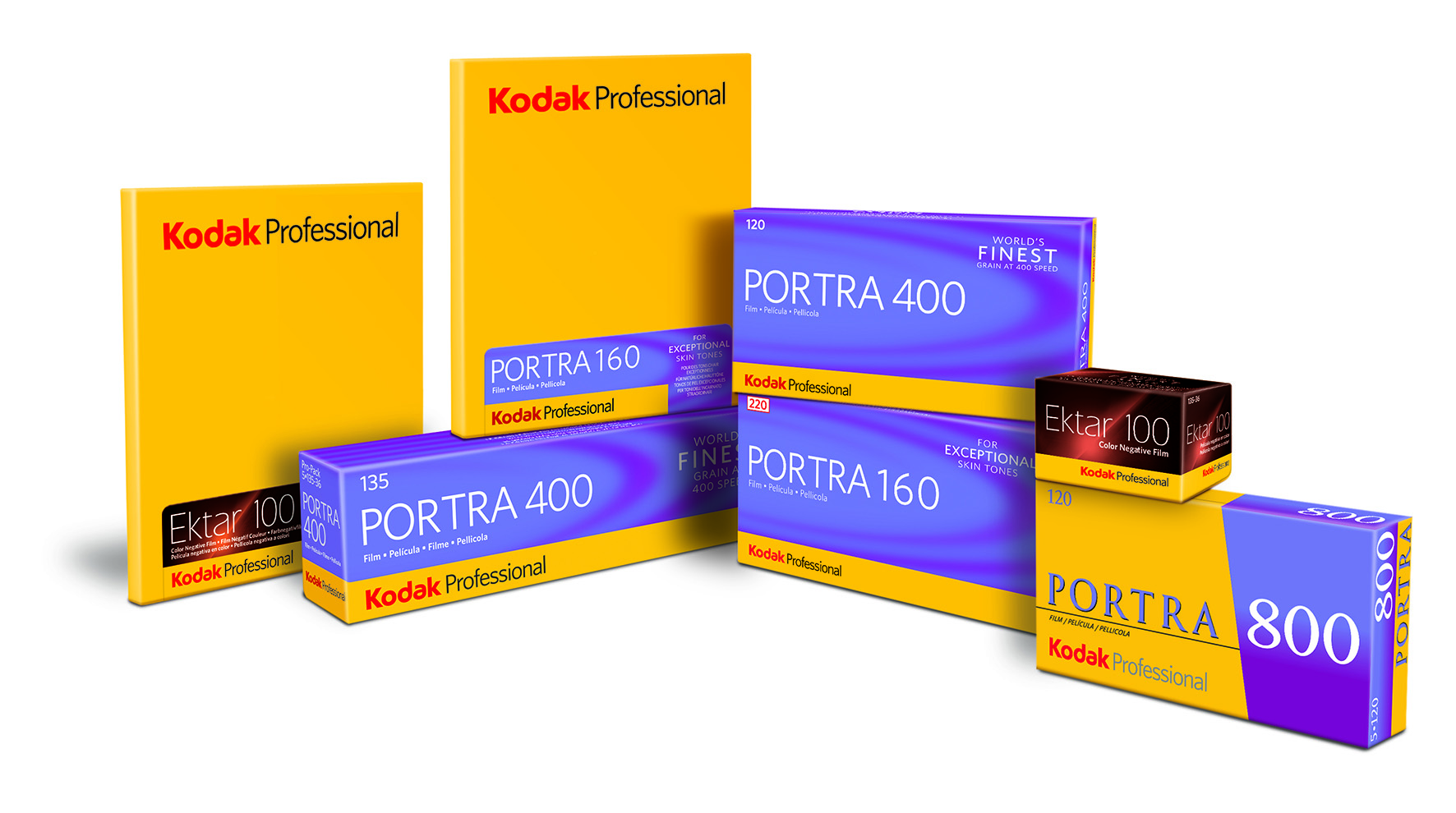 Caption: Film sizes and width:height ratios determined print sizes that are still used, and these rarely match A-sizes or other print standards.
In today's world where the vast majority of photograph are taken by phonecams and only ever viewed on screens, the way these fit onto printed paper sizes isn't top of the camera makers' priorities. However, as we are in the world of print, it's something to be aware of.
In the US and UK markets picture frames are often still sold in the traditional photo print sizes, which are in turn based on film sizes dating back to the Victorian era of the 1800s. Until photographic enlargers were developed, prints were often exposed through the original negatives, making "contact prints" that were the same size as the film image. As a lot of film processing and printing was (and still is) done by lab services and these also adopted a range of common paper sizes. The most common sizes still used include 4 x 6 inches, 5 x 7 inches and 8 x 10 inches.
By the 1920s and 30s enlargers were available, opening up a market for still cameras that took 35 mm film, originally a movie camera size. The 35 mm film has a standard image frame size of 36 x 24 mm, which enlarges in a ratio of 3:2. This works for the common 150 x 100 cm format (4 x 6 inches), but actually few other print/frame formats are exactly in this ratio.
35 mm remained the most popular format worldwide until film began to be replaced by digital cameras, then camera phones, in the 1990s and 2000s. Most digital cameras have small sensors that conform to earlier film formats and if anything their width:height ratios tend to relate more to television and monitor displays.
The exception is high end "full frame" digital cameras (usually expensive and aimed at pros) that have sensors of 24 x 36 mm, the same as 35 mm frames. These can full advantage of lenses originally designed for 35 mm film.
A modern "Standard" print size for common digital cameras is 114 x 152 mm, with a 4:3 ratio. This suits many consumer cameras especially those with the fairly widespread Four Thirds or Micro Four Thirds sensor sizes.
For larger prints, the common frame sizes of 8 × 10 inches (203 × 254 mm) can be printed on an A4 sheet (210 x 297 mm), but 10 x 12 inches (203 x 305 mm ) requires either an oversized A4 or it has to be wastefully cut down from A3.
Likewise 12 x 16 inches (305 x 456 mm) can't fit onto A3, but there are oversized A3 sheets intended for inkjet printers. The largest common print size of 12 x 18 inches (305 x 457 mm) won't quite fit on an A2 sheet (or 17 inch roll) either.
Non-A sized applications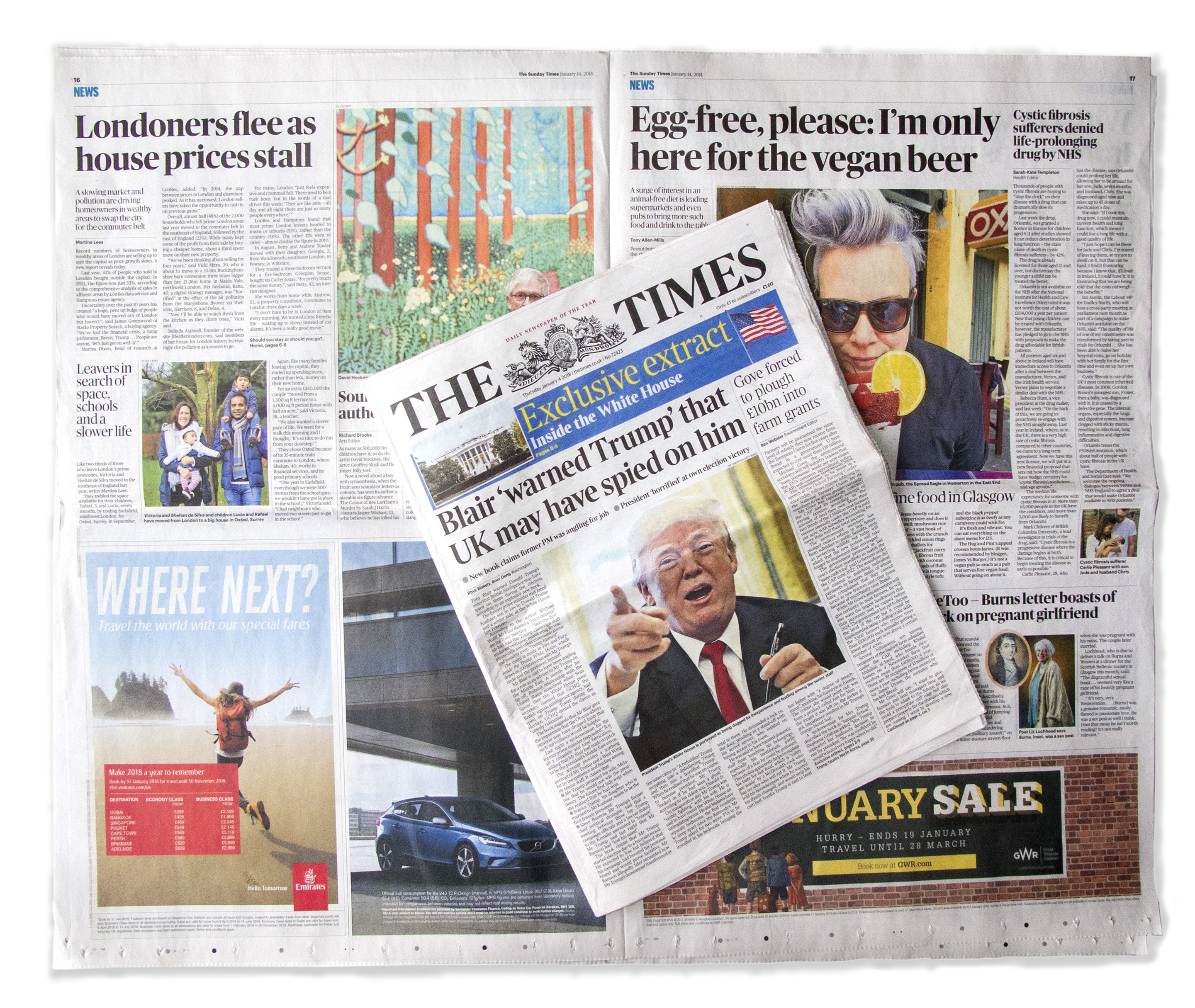 Caption: In the UK, The Times is tabloid from Monday to Saturday, while its stablemate Sunday Times remains broadsheet. >
As noted throughout these two articles, the USA has steadfastly refused to go metric (apart from NASA and some military uses). It still uses paper sizes related to the UK Imperial sizes, though they are defined by the US ANSI standards institute. The main sizes are: Letter (216 x 279 mm or 8.5 x 11 inches), Legal (216 x 356 mm or 8.5 x 14 inches), Junior Legal (127 x 203 mm or 5 x 8 inches), Ledger/Tabloid (279 x 432 mm or 11 x 17 inches). Letter is roughly equivalent to A4, Ledger to A3 and Junior Legal to A5, but without the rational halving/doubling attribute of the A-series.
Because the US market is so huge, it influences nearby countries that may trade with it. Therefor Canada uses the US system, and many South American countries that are official metric, still use US paper sizes.
Even in countries that are officially metric and use A-series for general print and stationery, there are still some exceptions that use non-standard sizes. These are mainly books and newspapers, though some magazines are either wider or narrower than A4's 210 mm width – it's rare for them to be taller than the 297 mm height, though some are shorter.
Newspapers rarely conform to A-series sizes for historical reasons dating back to the first printed news sheets in the 1700s. Originally nearly all newspapers worldwide were printed in the large broadsheet format, which approximates to A2, though the precise size varies between publications and countries.
A half-sized, approximately A3 'tabloid' format then became popular in the 1970s, partly to save costs and partly because it is easier for readers to handle. The term tabloid became associated with a type of sensational journalism, especially in the UK. Titles that regarded themselves as superior to that sometimes named their format 'Compact' instead.
Some newspapers use intermediate sizes between tabloid and broadsheet, such as Berliner, Nordics, Rhenisch and Swiss. The UK's Guardian and Observer this year switched from Berliner to tabloid when the owner GMG closed its own print site and moved printing to Trinity Mirror's Watford, Oldham and Glasgow plants, where the presses are built for tabloid format.
Likewise paperback and hard cover book sizes rarely conform to A-sizes in their finished forms (after binding and trimming). There are broad size categories and an individual publisher or printer will often use consistent cover face sizes (though the thickness depends on the number of pages and the paper type), but sizes between different producers may vary by 10 to 20 mm. If they are printed on a sheet-fed press the original sheets will probably be one of the A-series or oversized ranges. Mass produced books tend to be printed on roll-fed offset or digital presses, whose widths don't tend to correspond exactly to A, SRA or B-series multiples
Interested in joining our community?
Enquire today about joining your local FESPA Association or FESPA Direct