Features
Which router is best for your business?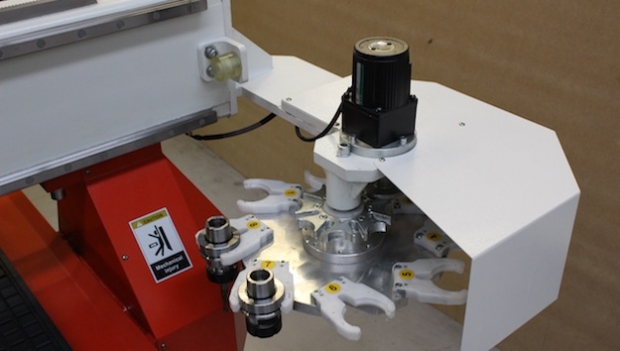 With increasing market demands for new design and print solutions, routing and cutting among other parts of finishing are key. Nessan Cleary reviews the latest kit.
One of the great strengths of a UV flatbed is the sheer range of substrates that can be printed to. This can include rigid materials like wood and aluminium composite that are structurally strong and can be cut to form various products from shop fittings and retail displays to tables and other types of furniture.
But to make a clean cut in such dense materials takes a powerful cutting machine, typically a CNC router.
There are a lot of routers available and they serve a variety of different industrial applications. Choosing one largely depends on the type of material to be cut but there are a number of factors to take into account.
For a start, the machine should be solid, with a robust gantry, to minimise the amount of vibration at the point of cutting. Also, it's best to look for servo controls rather than stepper motors as they will have a smoother action and be able to change direction quickly.
Bill Powell, managing director at Maxicam UK, says that the control system is equally important. Powell advises users to look for a dedicated numerical code, or NC, controller with true analogue control over closed loop servo motors.
He explains: "True NC control can look through blocks of code and adjust the speed and performance of the machine in advance of say coming to a sharp 90 degree corner and slow down automatically avoiding any kick out and giving high quality parts even when cutting at very high speed in thick materials."
Options such as automatic tool changing will push up the price, but Powell points out that they can improve overall productivity, allowing the machine to be left running unattended.
Jason Rowe, sales director for Multicam's UK distributor CNC World, says that many sign makers also look to add knife systems to cut through materials such as vinyl and even fabric, as well as camera systems to pick up registration marks.
These features also allow some routers to compete effectively against cutting tables. He points out that routers will also likely have a much more powerful spindle than the routing option on a cutting table, which will produce a cleaner cut.
Rowe says that the most popular sizes tend to be 3x1.5m and 2x3m because the materials typically used in display graphics are available in these sheet sizes. But he adds: "A lot of customers instead of 2x3m will go for 6x2m, to be able to load one side while the other is cutting."
In any case, most vendors agree that it's advisable to think carefully about both your immediate and likely future needs as most routers are built to last for some time, which will be reflected in the price.
Routers for sign makers
There are quite a number of different routers available and the choice will depend heavily on the type of materials to be cut. So, rather than a definitive list of routers, we've covered some of those that are most likely to be used by sign makers.
Maxicam makes a wide range of routers for different industries. Powell says that sign makers tend to go for the entry-level models as they don't need the heavy duty woodworking tools. This includes the Maxi M2, which is suitable for working with wood, plastic, PVC boards and non-ferrous metals.
There are several sizes from 1300 x 2500mm up to 2000 x 3000mm and they take materials up to 200mm thick. The basic model uses stepper motors but there's an option to upgrade to delta servo motors and drives. Other options include a dust collection system, vacuum table and more powerful spindles. Maxicam, which is based in the UK, also makes cutting tables.
MultiCam produces several series of routers, with the bigger models being targeted mainly at industrial users. But the 1000 and 3000 series are often used for graphics work. The 1000 series is designed to balance cost with performance. It's built on a solid steel frame and uses a high frequency spindle. It uses automatic tool calibration and can be supplied with a vacuum table top or one for manual clamping.
The 3000 series is a more heavy duty approach. There's a choice of linear automatic tool changer using a rack holder or a 12-tool rotary turret that mounts to the gantry. There are five sizes ranging from 1270 x 1270mm up to 2032 x 3099mm.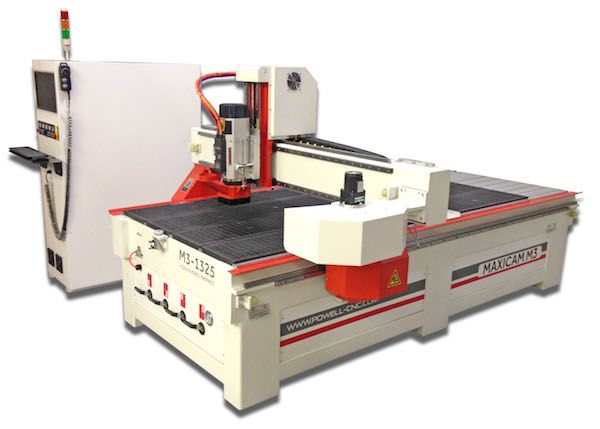 Maxicam sells this M3 CNC router, typically used by sign makers.
AXYZ, which is headquartered in Canada, has been making CNC routers since 1994. It's grown by acquiring smaller competitors including Pacer Systems in the UK. Sign makers typically go for the 4000, 5000 or 6000 series, which have cutting widths ranging from 1524mm to 2100mm.
Options include a vision system to recognise registration marks as well as tangential and oscillating knives and an automatic tool changer. There's also an entry-level Z series, which are smaller but with features like linear profile bearings that you might expect on more expensive models.
The Australian company Tommotek makes the Tekcel range of CNC routers. There are several series, all featuring ballscrew servo drives on the X,Y and Z axis. They will handle most common sign making materials including aluminium composite, MDF, acrylics and PVC.
The VSR series, for example, comes with an 8Kw spindle motor and a auto tool changer that can handle six tools. It's available in two sizes, 2540mm x 1540mm and the larger 3100mm x 2055mm. The basic model handles materials up to 120mm thick but this can be increased to 280mm. Other options include a reciprocating knife and creasing tool as well as a vacuum hold down and dust extractor.
Spandex sells the Gerber Sabre series of routers, which have mainly been designed for sign making. There are two models: the 404 has a table size of 1372 x 1816mm; the larger 408 is the same 1372mm width but 3073mm long. Otherwise both have the same build quality and similar specifications. They can take materials up to 110mm thick and 1500mm wide.
Rather than the more common rack and pinion system they use an anti-backlash lead screw, that is said to be self-cleaning for minimal maintenance. There are various options including engraving tools, mist coolant lubrication for cutting metals and a vacuum table system to hold the media in place.
Finally, it's worth pointing out that you will also need to use good quality cutting tools to achieve the best results. Most vendors advise having a schedule for replacing these before they become worn, which could affect the quality of the cutting. Ultimately it's a matter of optimizing the router and tools to produce the best finish so that you don't have to waste time tidying up a poor finish.
Cutting to the point at FESPA Digital 2016
FESPA Digital 2016
will this year play host to a number of companies involved in the cutting sector, each as keen as the other to show off their new products and demonstrate to visitors the various benefits of investing in this kit.
Visitors that utilise some form of cutting in their production processes may also be interested in various sessions that will feature in European Sign Expo during the 2016 show.
The Signage Seminars area will host a number of inspiring and educational sessions including daily knowledge sharing conferences, workshops, live demonstrations and Q&A sessions with leading industry representatives.
To find out more about the different companies exhibiting at the show and to view the full seminar programme for this year's event, visit www.fespadigital.com. For FREE entry don't forget to use code: AEOZ0101.
Interested in joining our community?
Enquire today about joining your local FESPA Association or FESPA Direct