Features
Which is the best laminator for your print business?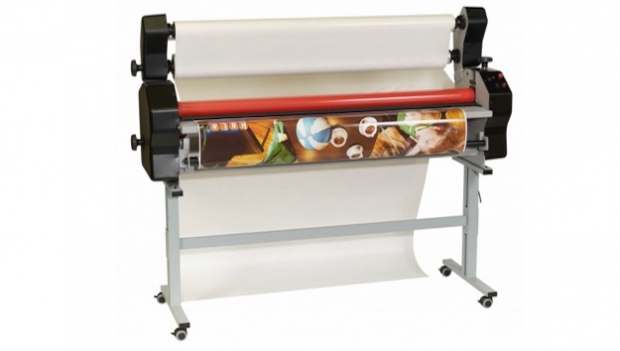 Whilst the basic principles of laminating remain much the same, refinements can be seen in the development of new machines and technologies. Simon Ecles finds out more. 
Laminating is a very common and surprisingly versatile process that's commonly used as a finishing stage in wide format printing. Its most familiar use is to put a clear protective film onto printed paper or vinyl.
However, that's just the start of what you can do if you have a laminating machine, a stock of different films, and some experience and imagination. They allow you to create finished products that add a lot of value to the print stage.
These may take a fair bit of manual work but it's more than balanced by the higher margins they can command. While operating the machines is simple, the important thing is for the operator to learn the techniques and procedures needed for what can be quite complex sequences of material preparation and application.
There are training courses and demonstrations by the suppliers, but YouTube also has a wealth of useful videos on specific procedures for different laminating jobs.
Laminating machines can apply special effects films, or they can be used in mounting printed or plain materials to board and other rigid materials. It's often possible to hand-mount such materials, but a laminator makes it much easier and helps to reduce damage and errors.
How it works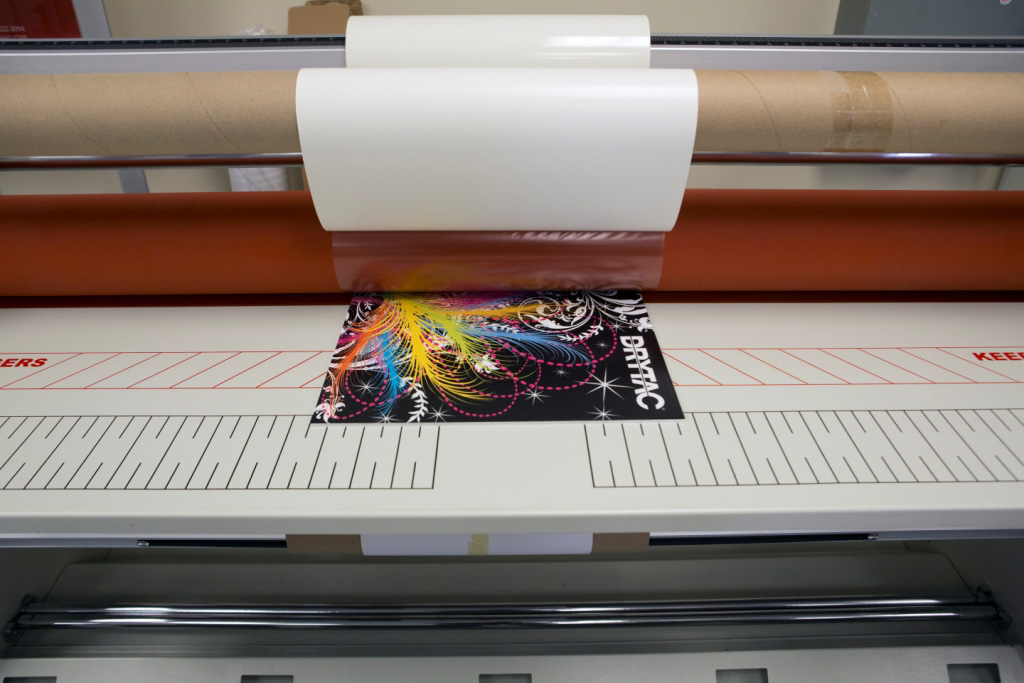 Here a Drytac Jetmounter laminator applies clear film from a roll to a printed sheet while winding the release paper onto the top roller.
At its heart any laminator has a pair of rubber (or rubber-like) rollers with a variable-sized gap between them. They are used to press two materials together, with a layer of adhesive in between. The purpose is to apply a smooth, even pressure so the two materials bond properly, without bubbles or creases.
Depending on the sophistication (and cost), laminators may have motorised rollers that drive the media through the gap, plus feed rollers for rolls of self-adhesive laminating film, and take-up rollers for the backing paper ("release liner") as it is peeled away. Even with sheet-fed laminators the film is continuous, so either hand or machine trimming is needed to separate the finished items.
In most wide format laminators the roller gap is set by hand by screws at either end (so these must be carefully levelled), but a few companies offer pneumatic roller controls which align automatically to the media (and are controllable so for instance they won't crush delicate foam board).
Laminators can also be used with pre-cut sheets or boards that may be hand-fed or using a powered feeder for high volume models. Normally the laminator controls include a foot pedal so both hands can be used to position the materials as they are guided into the rollers.
The speed of the rollers will be variable and the direction can be reversed to allow for a bit of trial and error. For operator safety detectors in the roller nip area will stop the machine (or refuse to start it) if fingers or clothing gets too close.
For higher volume roll fed wide format work there may be a roll feeder and take-up roller for the target media, though most of this work tends to be with pre-cut sheets and hand-feeding.
Laminators used for signage, display or vehicle wrap work don't tend to need very high throughput and you can get a good machine for between €5,000 and €10,000, or €15,000 if you really need the best.
Most manufacturers offer a choice of widths, such as the Easymount series which ranges from a simple 650 mm width desktop model to the sophisticated 1.6 metre Air 1650 SH with pneumatic roller pressure control.
Some wide format laminators are supplied with trays or tables to support long sheets and boards as they are guided into the rollers and to stop them falling on the floor as they emerge.
If not it's easy enough to set up something of your own, preferably with locking castors so they can be wheeled in and out of position as needed. It's common to cover these with cutting mats, so they can act as working tables as well.
Hot or cold?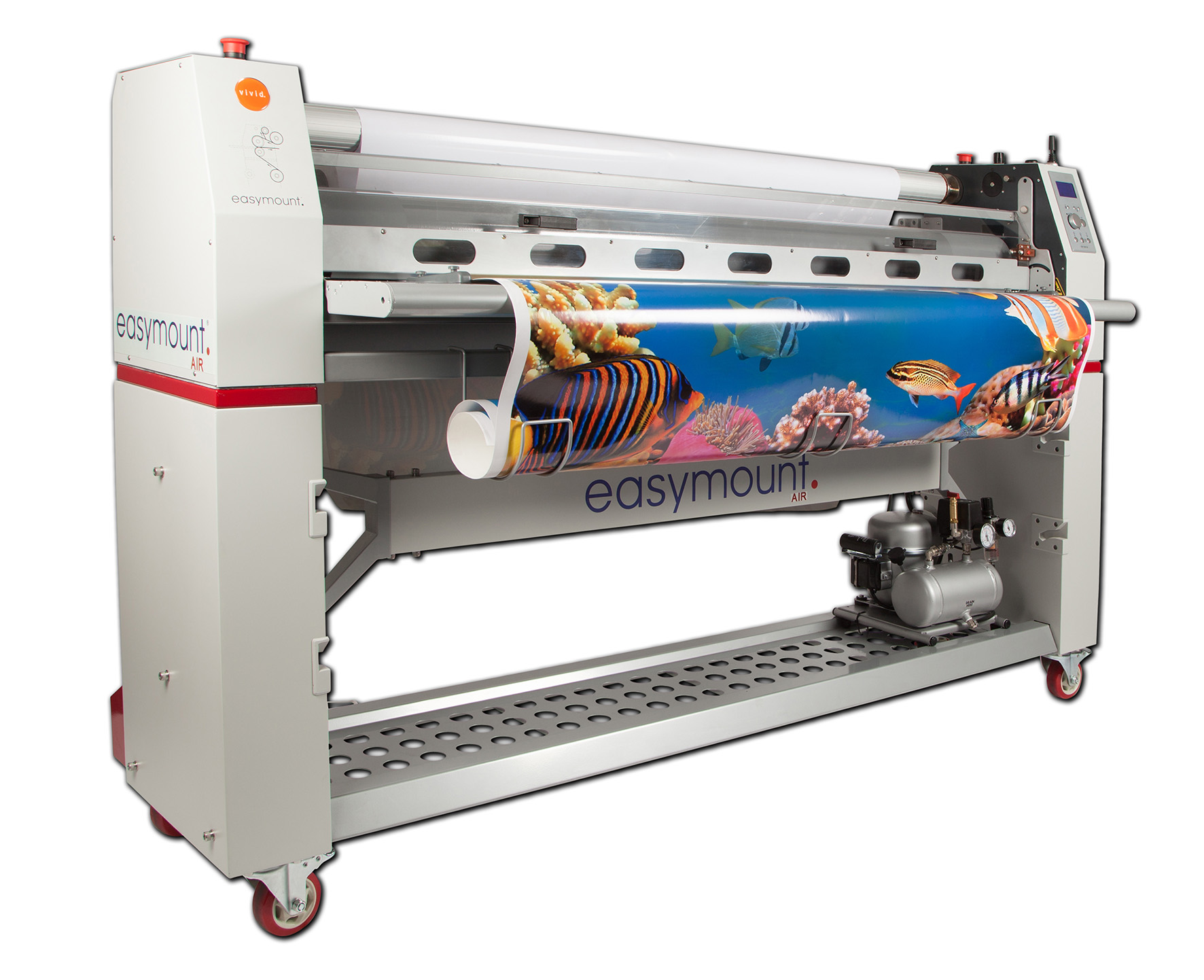 This Vivid EasyMount Air is a 1.6 metrewidth single-thermal roller model with pneumatic roller pressure.
Thermal laminators have heated rollers that work with a heat-activated adhesive that gives a strong, permanent bond. A single-sided thermal laminator only heats the top roller, so is used for conventional single-side lamination. A dual heated roller machine can be used for encapsulation too, where thermal film is applied to both sides of the target media at once.
Alternatively a cold-acting adhesive may be preferred, usually because the substrate may be damaged by heat (such as vinyl). Unheated large format laminators cost less to buy, but are less flexible. Any thermal laminator can be used with cold films simply by switching off the heater.
One of the most important aspects of a lamination machine is to bring the materials together without bubbles or creases, with just the right pressure to activate the adhesive properly without crushing delicate substrates. The resilient rubbery material of the rollers helps with this, but you've also got to set the gap between them to allow the thickness of the materials to go through with just enough "nip" pressure to make the bond.
With thermal laminators you've got to be sure the machine is up to temperature before starting to use it, or the adhesive won't activate properly.
Dust is always an enemy of lamination as it can be trapped permanently beneath the film. Hand feeding is a relatively slow process where there's time to wipe the top of each print with a sticky tack cloth to remove dust (and static) before it reaches the rollers.
For high speed machines a more automatic anti-static and cleaning system may be built in, as well as a cooling system after the heated rollers.
However, there are also laminators that are used for high volume litho or screen printed work. These can be very heavy duty machines with printing press-style sheet feeders and delivery stackers, with prices to match. Prices of €30,000 to €50,000 are not uncommon.
Vacuum presses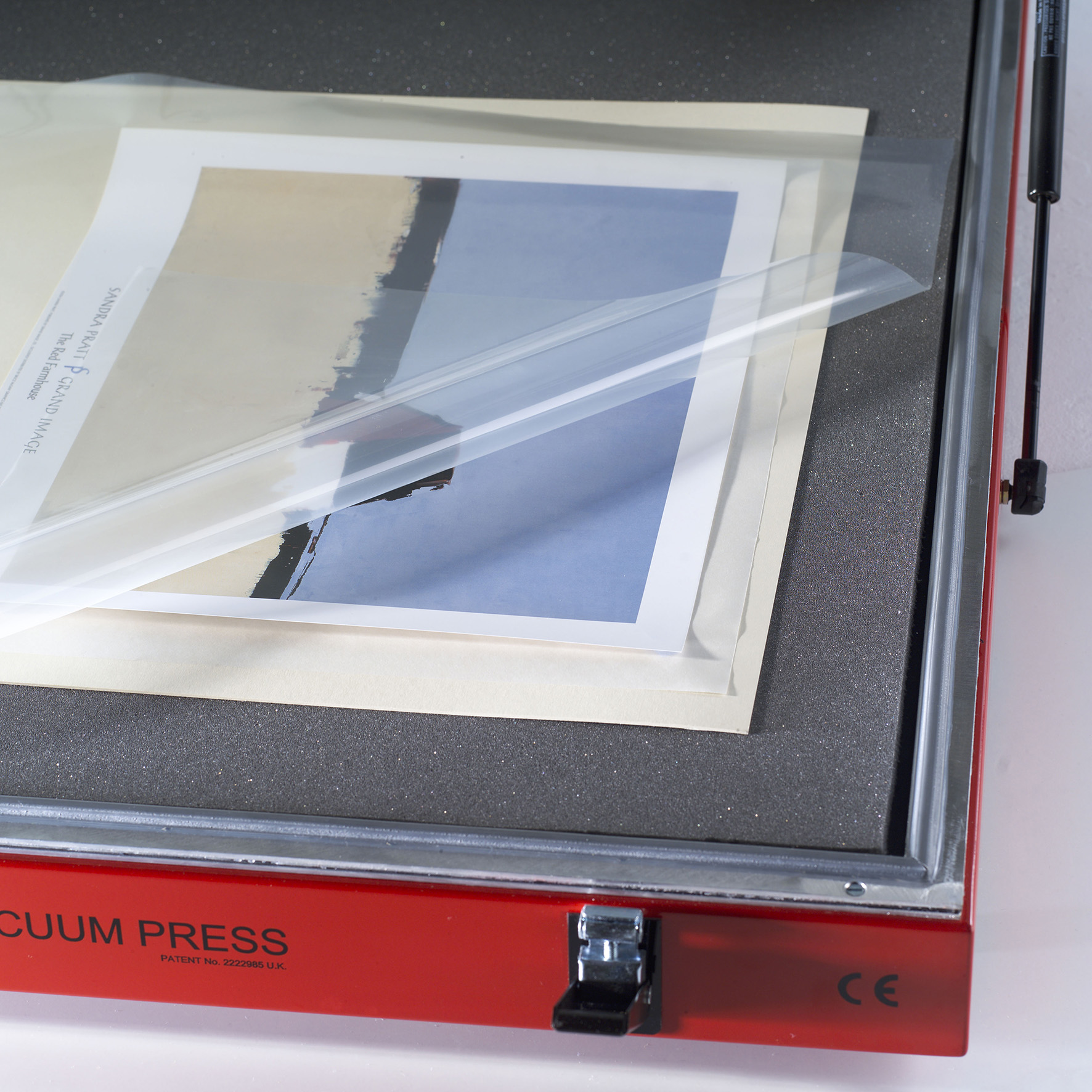 A Hot Press vacuum frame showing a clear top film and a dry mount tissue sheet between the photograph and the mount.
Another way to laminate uses a vacuum frame rather than rollers. For instance the Hot Press units have a heated glass top and a vacuum base. They can use dry mount tissues, which are adhesive-impregnated paper sheets that are not sticky until heat and pressure is applied.
This method allows items such as picture mounts to be positioned exactly and monitored through the glass before committing yourself. Larger vacuum units can take multiple separate items at once, increasing productivity.
Digital printing
The introduction of digital processes raised new challenges. Early dry toners contained a lot of silicon oil after fusing, and this made it hard for standard laminating films to stick to the printed areas. New adhesives and sometimes higher pressures were needed, though most modern toner presses use less oil.
With solvent based inks, used in many large format inkjets, the problem can be outgassing. The ink continues to cure for up to 48 hours after printing, even if it feels dry. If you laminate too soon, the vapourising solvents will create bubbles under the film.
This affects both strong solvent and eco/mild solvent inks, and means that such jobs often have to be re-rolled and stored for several days before they can be laminated, finished and delivered.
This is one reason why HP's Latex inks are popular, as they don't have an outgassing problem. Neither do UV-cure or aqueous inks. Hybrid solvent-UV inks are also intended to avoid the outgassing problem, as they have a minimum solvent content that flashes off on the printer.
Applicators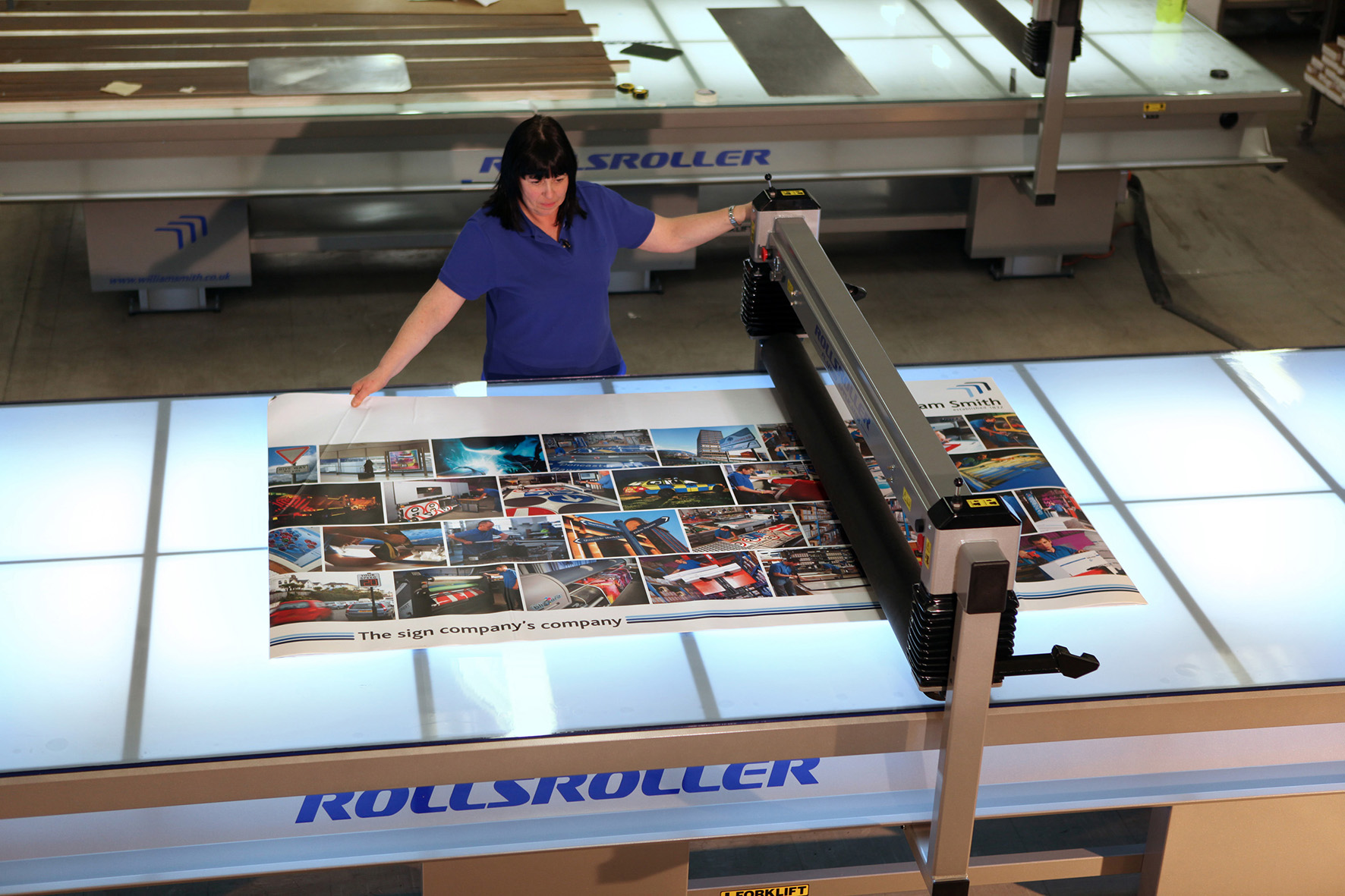 A RollsRoller applicator with illuminated table.
Applicators are a more industrial variation on laminating machines, usually used to either apply rolls of plain or pre-printed self-adhesive vinyl to large flat panels or flexible media.
They are generally used so the roller works from the centre outwards to one end in the first pass, and then return to the centre and go in the other direction for the second pass. The roller carriage runs freely on bearings and is pushed by hand, unlike the fixed position and motorised (and often heated) rollers of a laminator.
Swedish RollsRoller company pioneered the idea. Its applicator tables have a travelling roller carriage that press the adhesive surface to the target surface while peeling away the backing material (either by hand or with take-up rollers. All models include a long flat surface that's illuminated from below and can be used as a working and cutting table.
Applicators (and laminators for that matter) can also be used to apply application tapes. This can be supplied in narrow rolls as the tape name implies, but for larger format use they are wide rolls of clear adhesive backing film.
They are applied to the top surface of cut-out vinyl letters and shapes, to hold them accurately in position after the surrounding media is weeded away (ie removed). The shapes can then be transferred accurately on to the final surface (eg a van side or window) and the applicator tape removed to leave the shapes adhering accurately in position. The transparency helps with positioning.
In Part 2 we look at the type of film materials that can be used with laminators.
FESPA 2017 exhibitors have lamination covered
FESPA 2017 will once again pay tribute to this part of the print finishing process, with a host of companies due to attend and show off latest products in lamination.
One such company will be the aptly named Drytac, a company specialised in adhesive coating that will be place on Stand G3 in Hall B7. The firm offers the Jetmounter range of roller laminators, which it said are suited to a host of applications across the print and wide-format print sectors.
Aside from actual laminating machines, Drytac also offer a host of laminating films used throughout this part of the finishing process. The Dynamic range includes gloss, matte and sandgrain options, while the Interlam range also has a host of solutions on offer for lamination.
On the subject of applicators, giant manufacturer Rollsroller will also have a major presence at the show on Stand C11, Hall B5. The company will unveil the new Roll-X multipurpose applicator specifically designed to improve profitability for signmakers.
The Rollsroller portfolio includes entry-level, regular and premium flatbed laminators which are used for applying all types of self-adhesive materials and laminates to flexible and rigid materials up to 6cm thick.
To find more about FESPA 2017, the companies that will exhibit and to sign up to attend as a visitor, please visit: www.fespa2017.com.
Delegates can save 70€ entry fee to the exhibition by registering via the website and quoting reference code: FESG702. Discover how a visit to FESPA 2017 can benefit your business and register today.
Interested in joining our community?
Enquire today about joining your local FESPA Association or FESPA Direct