Features
Which high volume flatbed digital printer is right for you?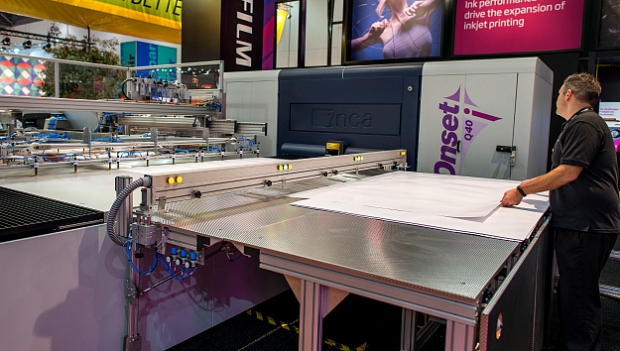 Nessan Cleary investigates the manufacturers and machines in the high-volume flatbed market: What capacity, how wide and how much?
Large format printing has traditionally been about one-offs and short run jobs but there is a class of high production printers built specifically to challenge more conventional screen printers and even offset presses.
For this story we've concentrated on flatbed printers, which all have a standard print area of 3.2 x 1.6m and will handle a range of substrates from cardboard to foamcore and dibond as well as more flexible media such as polypropylene. Productivity ranges from 200 up to 700 sqm/ hr with most printers averaging good image quality at 400 sqm/hr.
These printers typically have a large number of printheads spread across the width of the print carriage, though they still need several passes to build up an image. But the sheer number of heads means that automated cleaning and some way of mapping around failed nozzles are essential to ensure they can keep going till the end of a shift.
However, it still pays to establish a good cleaning regime, as this can keep the print heads running over several years, dramatically saving both the cost of replacement heads and lost production time.
This market has grown rapidly over the last five years or so as screen printers have added digital devices for short run work. Most vendors believe there is still plenty of room for further growth, with higher volume printers starting to replace screen printers altogether, and some now challenging some short run offset applications.
Some vendors are also clearly lookng at the short run packaging market for further growth, particularly for printing to cardboard or corrugated. There's also clearly a move towards higher quality, with most vendors having updated their offerings to add smaller drop sizes or extended colour gamuts.
One of the major players in this area is Inca Digital with its Onset series, which are distributed by Fujifilm in most countries. There are three different types, including the S-series, which are the fastest, and available in three editions - the S20i, S40i and S50i.
All of the Onsets have the same size bed - 3.14 x 1.6m, and each case the main body remains stationary while the bed moves past the heads. The S40i uses 28 printheads per colour, with a six colour inkset and resolution from 600 to 1000dpi from a 27 picolitre drop size.
Print speed ranges from 175 up to 560 sqm/hr. The S20i, with 26 heads per colour, is slower at 130 to 346 sqm/hr, while the S50i is the fastest with 56 heads per colour, producing from 275 to 725 sqm/hr.
But in recent years Inca has also played with higher quality editions, introducing both the Q40i and the more recent R40i. The Q40i produces smaller drop sizes at 9 picolitres giving it a higher apparent resolution of 1200 dpi. It can produce up to 305 sqm/hr.
However, according to Tudor Morgan, marketing manager for Fujifilm, which distributes the Onsets, the Onset Q was successful in Asia, but less so in Europe, where it was seen to be too slow.
Thus Inca developed the R40i, which delivers a 14 picolitre drop size and can produce up to 400 sqm/hr. It has room for up to eight colour channels, including two set aside for white ink.
It also uses Inca's new scaleable architecture platform, which means that it is partly modular in design so that customers can change the ink configuration and adapt other elements of the printer, such as the UV curing lamps, automation, speed modes, electronics and software, to suit their evolving production needs.
Fujifilm has also developed different inksets for these printers. Thus there's Uvijet OH, which is designed for use with Polyethylene and Polypropylene materials, and Uvijet OL, a low odour corrugated ink suitable for display and secondary packaging that has a residual odour similar to that of water-based flexo inks.
The main alternative is HP's Scitex range of UV flatbeds, starting with the FB7600. This was built specifically to target the screen printing market but has evolved over the years so that it's quite a flexible machine, with existing customers able to upgrade to each new specification.
It has eight colour channels with a standard configuration of CMYK plus light cyan and light magenta, but there's also an option to use orange and green for an extended colour gamut as well as white and varnish. It uses a HP printhead with a 42 picolitre drop size that can produce up to 600 dpi resolution. Productivity ranges from 90 to 500 sqm/hr with a printable area of 3.2 x 1.65m.
Last year HP announced a new model, the FB10000, which adds a higher image quality dimension allowing it to target markets such as free standing displays and some offset applications.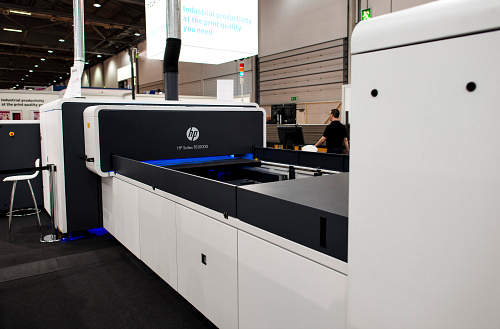 This HP Scitex FB10000 is a high speed model that builds on the success of the FB7600 flatbed
Marketing manager Shulik Leshem explains: "The FB10000 is more aimed at customers requiring flexibility and versatility." It uses a new HDR print head, which has a 15 picolitre drop size, but can merge multiple drops together to create 30 and 45 picolitre drops.
There are 52 of these heads per colours, and for now it offers six colours but there is space for two more print channels and Leshem says that HP is listening to feedback from customers as to how best to put these channels to use. It can produce up to 625 sqm/hr on a 3.2 x 1.6m bed.
There's a choice of loading systems including a multi loader from HP and an auto loader from Hostert.
There's also a version of this printer that's been developed purely for handling corrugated boards, the Corrugated 15000, which has a different inkset.
However, Nir Dvir, workflow and solution product manager, says that the main difference is that it also has a fully automated loading system, which would be more difficult to implement on the other flatbeds that have to handle a wider range of substrates.
Agfa produces the Titan series of flatbeds, which includes the 3020, H and HS models that might just as easily be classed as mid-volume printers. However, the top of the range Titan X is definitely aimed at more demanding users offering the same print quality but with greater productivity.
Steve Collins, wide format manager for Agfa UK, says that print quality has become more important to customers in recent years as drop sizes have fallen, adding: "For POS and retail work people expect a higher quality which is why we use the Ricoh Gen4 heads." Thus customers can choose to run with just CMYK for faster speeds or with all six colours for higher quality.
It has a resolution of up to 1200 dpi. It uses Agfa's own UV inks, with CMYK plus light cyan and light magenta as well as white. It's capable of producing up to 226 sqm/hr. It takes 309 x 200 cm media, up to 5cm thick. There's a roll feeder option that fits across the long edge of the bed, so that it takes 3.2m rolls.
Durst's main offering in this market is its Rho 1300 series, which builds on the existing Rho 1030 but is 25 percent faster with a 1312 model that runs at up to 620 sqm/hr and a 1330 that runs at up to 1250 sqm/hr.
These offer 600 dpi resolution, with CMYK plus options for light cyan and light magenta, or for orange plus either green or violet for extended colour gamuts. These printers can be configured with tables either side of the printer for rigid materials, or with a roll option for flexibles. They have a maximum print width of 2.5m.
This series uses a new configuration, that Durst calls 'Gradual Flow Printing, which works with prints that are 250 x 125cm. The image is still built up in several passes, but each pass now prints a layer across the whole width rather than just a narrow swathe, which according to sales manager Michael Lackner allows the ink to fill in the valleys in the media for a much smoother finish.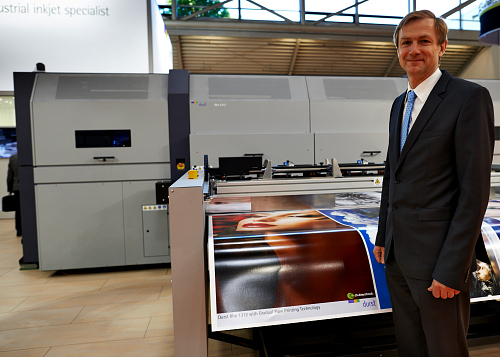 Michael Lackner, sales manager for Durst, demonstrates the Rho 1312.
It also has a more powerful vacuum and improved media registration, which should yield better performance with materials such as corrugated.
In conclusion, we've listed the characteristics of the printers but there are two further issues to consider. Firstly, a service contract is essential to keep these machines running at full tilt and such contracts can be expensive.
Secondly, the loading and unloading system should be treated as a key part of the printer because you can only maintain a high volume of you can get the boards on and off quickly and consistently over a full shift.
Interested in joining our community?
Enquire today about joining your local FESPA Association or FESPA Direct