Features
Which entry-level flatbed printer is best for your business?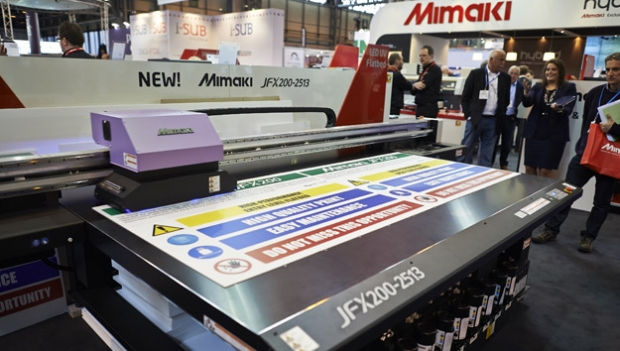 Nessan Cleary explores the wide choice of entry-level flatbed digital printers, with moving heads, high quality and varied prices.
Hybrids generally offer better flexibility when printing to roll-fed media, though many of the flatbeds offer an optional roll feeder so the choice largely depends on the sort of work that you think you'll have to handle.
Prices vary hugely at this level, from €70,000 to €150,000, as does productivity. That said, few of these machines are really fast enough to compete on price against the bigger flatbeds so the ability to handle a wide range of different substrates is important.
Mike Horsten, marketing manager for Mimaki Europe, advises: "If you want to make money you have to go for quality rather than speed. If you have good quality then you can charge a higher margin and that makes a viable business"
This is one reason why most customers take the white ink option, as it can create genuinely unique products, whereas higher volume users often forgo white ink so as not to compromise their productivity. However, Horsten says that there's less interest in clear varnish at this level.
What's available?
Mimaki has recently launched a very compact flatbed, the JFX200 (pictured top), which can produce up to 25sqm/hr with a bed measuring 2.5 x 1.3m. Resolution ranges from 300 to 1200dpi. It uses LED curing, and there's a choice between a hard and a more flexible ink set, with both offering CMYK plus white and clear inks.
Essentially, Mimaki has scaled down the imaging system for the JFX200 from its larger flatbed, the JFX500, which also uses LED curing and has the same choice of ink sets. This has a 210 x 310cm bed and can run at up to 60sqm/hr, though this speed drops to 45sqm/hr if you use white ink.
Canon sells the Océ Arizona series, for which it claims to have at least half the market share for most of the countries that it directly sells to. Leaving aside the recently announced 6100 series, which we've already covered, there are two sizes suitable for the lower volume market. The GT models have a printable area of 125 x 250cm, while the XT variants can print to a 250 x 305cm area.
Each of these are also available with a choice of four or six colours, and some models also have an option for white inks and varnish. Production speeds across the different models vary enormously, from the 32.8 sqm/hr of the four colour 440GT through to the 64.7 sqm/hr of the six colour 660XT. There's also an entry level 318GL, that offers four colours with a white ink option and a speed of 18 sqm/hr on a 125 x 250cm bed.
The Korean ink manufacturer Inktec has developed its own flatbed printers, the Jetrix KX3, KX5 and KX7, plus a more productive KX7D version with double the number of printheads that could feasibly compete against a mid-volume printer.
All of these printers use Konica Minolta printheads, and have CMYK plus two white channels and a varnish. The KX7 is a large machine, taking media up to 2.4 x 3m and producing up to 60 sqm/hr, while the KX5 has a 2.5 x 1.3m bed and runs at 30 sqm/hr and the KX3 takes media up to 1.2 x 1.2m and produces 26 sqm/hr.
Durst's budget offering is the Omega, which is really a hybrid with a table though the transport system – a magnetic linear drive – gets over the issues normally associated with most hybrid printers. It has a 1.6m print width. The standard version uses CMYK inks but there are options to add either light cyan and light magenta or orange and violet. It has a resolution of 1728 dpi and can produce up to 35 sqm/hr. There's a choice between the Omega 1, which uses conventional UV curing, and the Omega 2, which uses LED UV curing but otherwise has identical specifications.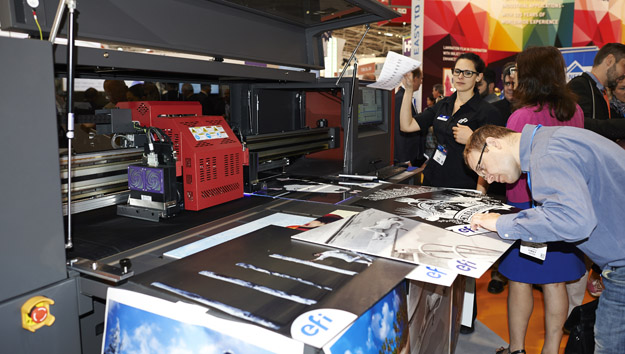 EFI recently launched the H1625 LED (above) at FESPA Digital 2014, a hybrid printer targeted at the entry-level market that also uses LED curing, which promises lower energy usage without the need to regularly replace the lamps. It has CMYK inks plus two white channels. It's a 1.6m wide printer that can produce up to 42 sqm/hr.
EFI still sells the older budget H652, which comes with CMYK plus a single white channel. Resolution is 1200 x 600 dpi and it can produce up to 42 sqm/hr using a vacuum belt drive system.
HP sells the Scitex FB500 and FB700 printers, which are both hybrids but with a belt drive media transport system that has proven effective. The FB500 is a 1.6m wide printer that has up to 1200 x 600 dpi resolution and can produce up to 37 sqm/hr. The basic model has six colours – CMYK plus light cyan and light magenta – but there's an option to have CMYK plus two white channels. The FB700 is a larger version, taking media up to 2.5m wide and with a maximum productivity of 42 sqm/hr.
Roland has developed a flatbed version of its VersaUV LEJ640 hybrid printer (pictured below). The LEJ640F uses the same imaging system, but with an actual bed in place of the hybrid's tables. It has a print area of 1.6 x 2.5m and takes substrates up to 200kg. It uses LED curing, which should see fairly low energy usage, coupled with Roland's Eco-UV inks. There are six colour channels with a choice of two whites, two gloss or a mixture of the two plus CMYK. Resolution is 1440 x 1440 dpi and it can print at up to 12sqm/hr.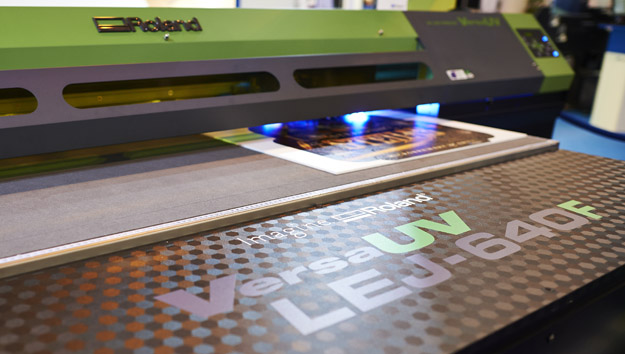 Agfa has a number of affordable UV printers and though these are mostly hybrids there is one true flatbed, the Anapurna M2540FB. This offers CMYK plus light cyan and light magenta and two white inks. It uses Konica Minolta printheads with a 12 picolitre drop size for the colours, and 42 picolitres for the white inks. Its maximum print area is 254 x 154cm, and it can handle media up to 45cm thick. Productivity ranges from 45 sqm/hr to 8 sqm/hr with normal production mode being around 26 sqm/hr.
So you see, there's a huge choice available and we've just scratched the surface. Really the best way to stay in touch with the newest technologies is to attend a FESPA event, or subscribe to FESPA World, our weekly newsletter.
Our industry round-up series will continue with roll-fed printers, so watch out for that coming soon to FESPA.com
Interested in joining our community?
Enquire today about joining your local FESPA Association or FESPA Direct