Features
Which cutting table is best for your business?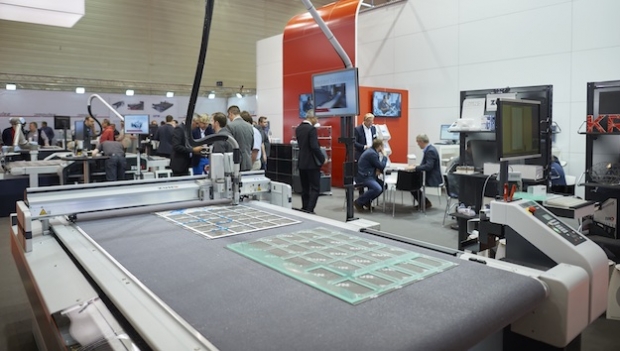 This is the first of a three part series in which we'll look at the different types of cutting options for the wide format market, starting here with cutting tables.
Most people that buy a flatbed printer quickly find that they need a cutting table to finish the jobs off before they all pile-up. But which table to choose? There's a growing number, with a choice of features and price points to consider, depending on the work that you're doing.
Most vendors offer both an entry-level series and a fully featured family. Stuart Fox, director of digital finishing for Esko, explains that there's a big demand for budget tables, largely driven by emerging economies. He notes: "Latin America, India, South East Asia are big growth markets and the cost of labour isn't so high so they don't need auto feeders."
But these are long-term investments - they'll likely outlast most of the printers - so it's best to plan carefully for where you think the business will be in the next five years or so.
Fox says that even in the more developed markets customers want a multi-purpose table that can do everything, explaining: "They want to be able to have something that doesn't restrict where they take their business. Today they might be wrapping vehicles but tomorrow might be doing more retail work."
However, he also says that there is a growing demand for specialization, noting: "We have some customers pushing into folding carton and others going to corrugated markets."
Most cutting tables are enormously versatile and should be able to handle most typical sign making materials, from vinyl through to cardboard and foamcore and even tougher substrates such as acrylic and wood. They're not meant for metal, though most will handle Dibond.
There's a tendency towards higher powered spindles, not necessarily for cutting thicker materials, but mainly to improve operational efficiency. Some will also be able to hold multiple tools and change between them automatically, reducing the need for an operator to be in constant attendance.
What's available?
Esko makes several series of Kongsberg tables, but for sign and display users the most relevant are probably the XN series, which can cut flexible films and handle a wide range of different applications, and the XP series that are also suitable for corrugated boards and packaging and tend to be faster.
There's an optional conveyor system for the XN and an Auto version of the XP series that can automatically load, unload and stack boards.
There's a high speed MultiCut milling spindle that can cope with tough materials like acrylic and wood. There's also a wide range of Kongsberg bits and blades as well as the iCut Production Console, a front end control system to drive the Kongsberg tables.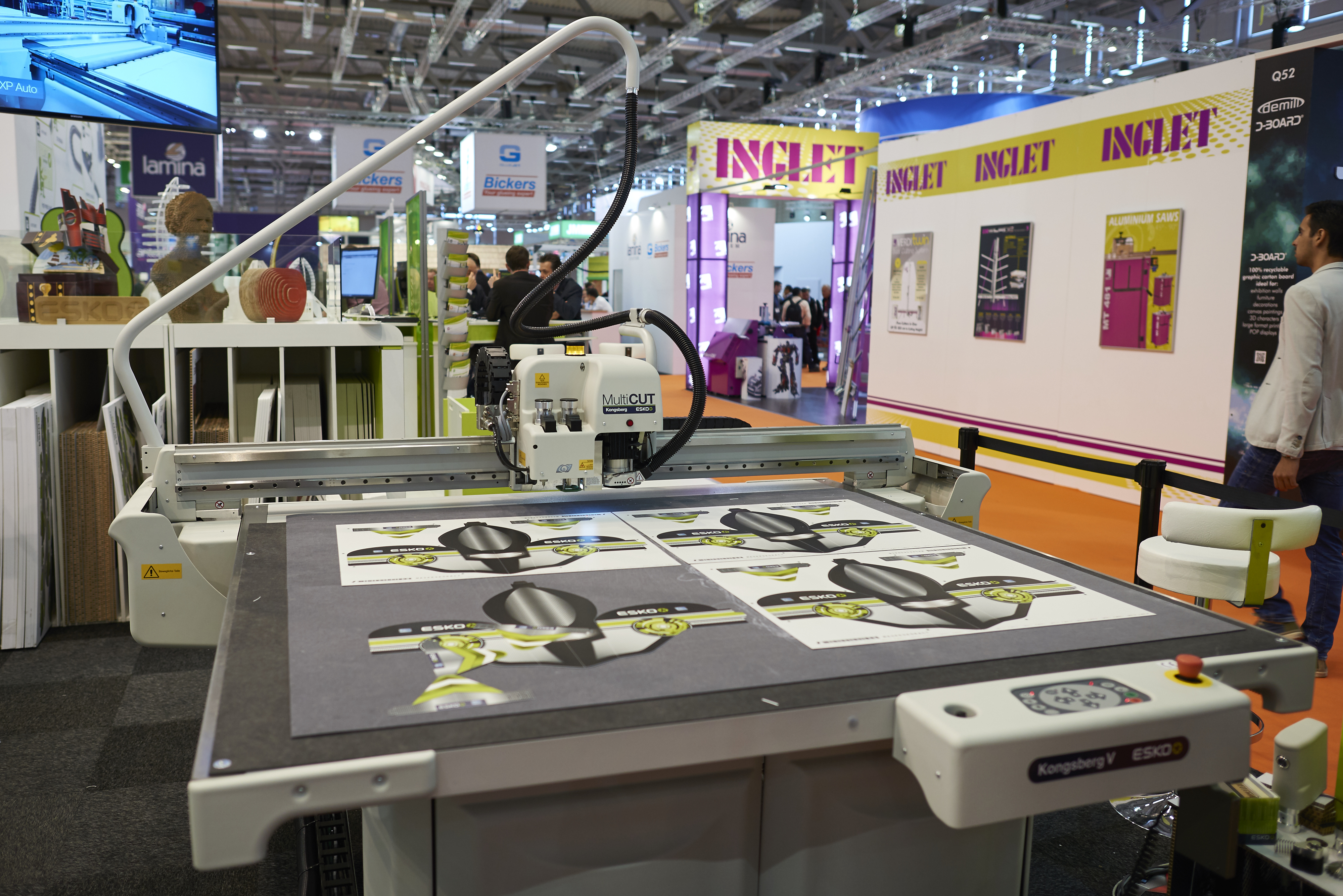 At FESPA 2015, Esko showed this Kongsberg V, an entry-level cutting table designed for sign and display users. Image: ©Nessan Cleary
There's also a new C-series, which use a composite carbon-based traverse beam that lets it handle larger sheets at high speed with great accuracy. It has an optional conveyor system and can produce up to 100 mpm. There are two versions; both take substrates up to 3330mm wide with the C60 taking lengths of 2125mm and the C64 lengths up to 3730mm.
At the other end of the scale, Esko also sells the entry-level V-series, which can be configured for sign and display or for packaging applications. There's also an XE series, though this is mainly aimed at packaging applications.
Zund's main cutting table is the G3 series, which range in size from 1330 x 1600mm up to 3210 x 3200mm. Zund recently re-engineered the bigger models to double the beam height to 120 mm. These can now accommodate thicker materials up to 110mm such as corrugated cardboard, solid cardboard, foam, sandwich material and corrugated plastic.
They can be fitted with up to three tool modules, including a Universal module that accepts all the tools that Zund offers.
There's also a 1kW router module, with automated dust extraction, as well as a Punch module, capable of punching up to 10 holes per second, and a Marking module that takes a number of drawing and plotting pens. There's also an optional camera system for registration. There are several specialised tools, including a Universal cutting tool, oscillating cutters, a V-cutter and a 1Kw router.
Zund also sells a smaller, entry-level S3 range. They can handle a wide range of materials, including textiles, vinyls, films, thinner plastics, and cardboard. It's possible to combine two tool modules together, from a choice of a universal holder, camera system, kiss cutting and marketing modules. The tools themselves include universal, oscillating and kiss cutting tools.
Elitron has a number of cutting tables targeting various manufacturing industries including a number suitable for wide format. The most popular is the Kombo SD Series, with its overhead camera system, Seeker System - the patented vision system for printed materials.
This dual camera system automatically recognizes printed artwork and loads the relative cutting file/s without any operator intervention.
It has a MultiTool head for cutting, creasing and milling substrates up to 120mm thick and a 40-zone vacuum table. There's also an optional conveyor belt. There's an SD+ version with more powerful motors. There are two models, both 1.6m wide with a choice of 2m or 3.1m in length.
There's also a Kombo T for handling more industrial materials like stainless steel and copper, and a smaller, cheaper model, the Kombo EL.
The Korean manufacturer Dyss sells the highly modular X7 cutting table. This comes in various sizes from 1650 x 2450mm up to 3250 x 3050mm and takes media up to 50mm thick. There's an optional K-cut vision camera system and it can also be fitted with an automatic roll feeder and conveyor system as well as an automatic feeder for stacked sheets.
There's a smaller X5 series that can handle substrates such as folding cartonboard, corrugated and PETG. It has a knife cutter and creaser and takes the K-Cut vision system.
Ag/Cad, which distributes the Dyss models in the UK, has also developed its own Kasemake KM7 range of cutting tables. These are really meant for packaging prototyping but are a good budget alternative. They come with a tool head that holds two interchangeable tool modules and a pen. The tools include a drag knife, creaser, oscillating knife and an optional router.
Ag/Cad has also developed its own KaseMake software for designing 3D items such as packaging or POP displays. It can be paired with both the Kasemake and Dyss tables.
British company Blackman & White, which mainly specializes in high end industrial cutting solutions, sells the Mastercut series of heavy duty cutters. The main offering for the graphics market is the VersaTech. It can handle materials up to 3.2m, and can be configured with a single conveyorised or flatbed heavy-duty table.
It uses a 2.5kW water-cooled router for sustained production runs on heavy-duty materials such as acrylics and Dibond. There's a choice of tools, including crease, kiss cut, router, drag knife, oscillating knife and driven rotary knife. Blackman and White also sells the MultiTech, which includes options for laser cutting and routing.
Summa, which is best known for cutting plotters, has developed the F-series cutting tables, which are said to handle a range of materials from vinyl to foam board and honeycomb board. They use a pneumatically driven conveyor belt that can feed material through while cutting. There are two models: the F1612 has a cutting are of 160 x 120cm; the larger F2630 can cut an area 265 x 305cm.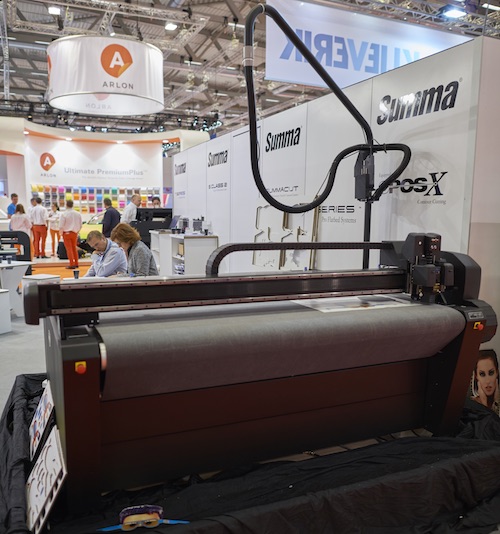 Summa sells the F-series of flatbed cutting tables, including this F1612 model. Image: ©Nessan Cleary
Both will run at 1000 mm/sec. They come with an optical marking system for registration and a drag tool module that can be used with a drag knife and for kiss cutting. Options include a Tangential tool module that allows for greater cutting force and a router module.
Mimaki has developed the CF2 series of flatbed cutters which comes in two sizes: 90x 120cm and 120 x 180cm. They're mainly meant for packaging applications and will cut corrugated boards but also vinyl and rubber as well as sign boards.
There's a choice of two cutting heads –tangential and reciprocal - and various blades for tangential, reciprocal and swivel cutting. It's possible to adjust the depth of the cutter blade to half-cut rigid materials and there's a colour photo sensor to read printed registration marks for more precise cutting of complex shapes.
Earlier this year Mimaki also launched a desktop cutting table, the CFL-605RT, which is mainly aimed at packaging. It takes media up to oversized A2 and features a variety of functions including creasing and eccentric, tangential and reciprocating cutting.
---
So you see, there's a huge choice available and we've just scratched the surface. Really the best way to stay in touch with the newest technologies is to attend FESPA Digital 2016, from 8-11 March in Amsterdam, and subscribe to FESPA World, our weekly newsletter.
To register for FREE to visit the show please use the promo code AEOZ0101. Your ticket will include access to FESPA Digital, European Sign Expo, FESPA Textile and Printeriors 2016. Online registration will close on the 7th of March and tickets on the door will be charged at €40.
Our industry round-up series will continue with routers and the differences between these and cutting tables, so watch out for that coming soon to FESPA.com.
Interested in joining our community?
Enquire today about joining your local FESPA Association or FESPA Direct