Features
When should you opt for Direct to Garment?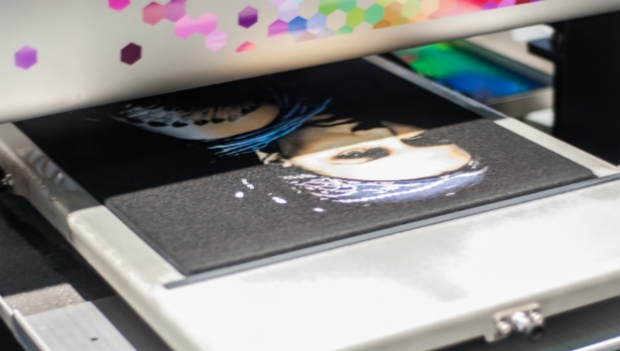 FESPA continues its look at direct to garment printing, with Gavin Drake, Director at Garment Printing, and Nick Brunton-Reed, Managing Director of Adlogo.
With numerous textile and garment printing techniques available today, buyers and designers are spoilt for choice. However, both Drake and Brunton-Reed explain that selecting the best technique to use is a complex process for the printer.
Drake elaborates on how Garment Printing approaches a job: "First and foremost, you've got to assess the client's requirements. If a fashion brand approaches us for a job which has immediate resale purpose, then DTG would come straight to mind. A whole range of other questions need to be asked to identify the best process for the client's desired outcome - how many colours are in the design, are they printed onto coloured or white clothing, how complex is the design, and does it require exact Pantone matched colours?"
"DTG is great for fast, full colour printing ready for retail," continues Drake. "With all our DTG jobs, we make sure the customer is aware of what we call 'variants' in the finished product. If you're printing 100 t-shirts, it is likely that 3 or 4 of the finished products may not be as perfect as the others, which is why we recommend for customers to order a couple extra. Getting this right comes down to perfecting the technology, by perfecting the pre-treatment techniques, machinery and quality of the hardware."
Brunton-Reed adds that DTG printing is very good for certain things and not very good for others. "I believe that screen printing will always be far better at handling big solid colours. People like DTG printing because the inks are a lot thinner and a lot less viscous and therefore the ink tends to go into the garment rather than sit on top of the garment's surface, this makes the print much softer and you don't get the roughness of a screen printed feel.
"DTG is also very good at printing images with lots of colours, shades and tones. DTG inks are water based so eco-friendly, which means they're very suitable for babygrows and children's garments, because there are no chemicals. If the job involves a photographic type image, a multi-coloured logo with multiple tints, it's a DTG job over screen printing or transfer."
Printing onto black and coloured garments hasn't always been possible with DTG explains Nick Brunton-Reed. "When we started offering DTG printing services we used a Brother machine which purely printed onto white garments. When the demand for printing onto black and coloured garments using DTG started, a lot of the machines in the market were just converted office type inkjet printers."
"The printers were converted to print t-shirts, as a result, the print heads weren't made specifically for printing t-shirts, and the inks that are used for t-shirt printing are, as you'd imagine, completely different to printing onto a piece paper. So, there was always a problem with getting the ink through the print head, particularly with white inks."
"Because of demand, Brother and other DTG manufacturers produced print heads specifically for DTG printing onto coloured garments. We now use the Brother GT3 machine which prints onto all coloured garments."
One question a printer will need to consider when quoting for a DTG job is the colour of the garment - is it white or is it coloured? This has a great impact on the DTG printing process, as well as the finished garment.
Printing onto coloured garments is slightly more difficult than white material, says Drake. "When printing onto white garments, any white colour in the design isn't printed because it's the colour of the t-shirt. This makes the finished product a very soft lightweight print. We also use water-based eco-friendly ink which prints brilliantly onto white garments."
"When printing onto coloured garments on the other hand, the first thing you have to do is pre-treat the clothing. Printers need to pre-treat the area that is to be printed using a special water-based chemical that helps create bright colours. Then a white layer of the entire design needs to be printed to the nearest millimetre, and then the final colour goes on. It's a three-step process instead of a one-step process. As a result, printing onto coloured garments takes longer and costs more because printers are using twice or three times the amount of ink. The introduction of the chemical to the mix also makes it trickier."
There are numerous techniques available in textile printing and garment decoration, DTG being just one. However, if it's quick, short-runs and vibrant, retail-ready clothing that the customer wants, then DTG fits the bill.
Interested in joining our community?
Enquire today about joining your local FESPA Association or FESPA Direct