Features
What you need to know about digital inks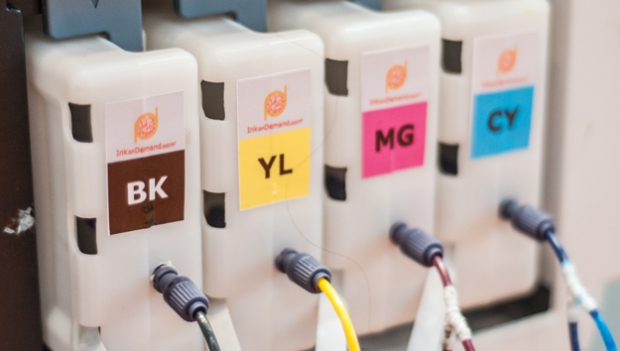 When it comes to wide format inkjet printing, the inks themselves are one of the most important parts of the equation.
There are several different types in regular use in digital printing, each with very different characteristics. Those characteristics are what you need to understand when making your investment decisions, because they can make a big difference in cost and quality.
The core of any inkjet printing system is the ink, which is essentially pigment suspended in a carrier liquid. The job of the ink is to deliver the pigment to the media and to bind it to the media's surface. The range of substrates that the ink will work with, ultimately determines the applications that a printing engine can handle.
Make the wrong choice, and you will be disappointed with the results. Ink vendors are currently working to expand the range of substrates their inks will work with directly, so that substrates don't need to be treated with a primer.
Ink manufacturers see huge potential beyond the graphic arts into more industrial uses for their ink products, such as furniture and car manufacturing. The carrier liquid plays a key role in determining which substrates the inks will work with.
Water is the cheapest and most sustainable carrier, but once it has delivered the pigment to the media, the water then has to be dried. Since water tends to soak into uncoated media, this also means that water-based inks can only print to coated media, and though there's a fairly wide range of suitable substrates, this does push up the cost of consumables.
Nonetheless, standard aqueous ink printers are relatively cheap and have excellent colour fidelity. Typically aqueous inks can produce very sharp images with vibrant colours, and most vendors have models with up to twelve inks for increased colour gamut. This makes them suitable for producing photographic and fine art posters. Images from these printers are normally thought of as for indoor use only, however they can be laminated for outdoor use as well.
Material printed with aqueous inks is particularly suitable for retail point of purchase signs because it doesn't give off the unpleasant odours common with some solvent and UV inks. The majority of textile printing also uses water based dye sublimation inks that are suitable for printing to polyester fabrics. The water acts as a carrier to place the pigment, either directly onto the fabric or onto a transfer sheet.
A heat press is then used to boil the inks to a gas, driving the pigment into the textile fibres, so that when the inks cool down the image has fused with the fabric, rather than simply sitting on top of its surface.
Latex Inks
A number of companies have developed latex inks, where a polymer resin encapsulates the pigments and helps bond them to the substrate. Latex ink technology has been popularised by HP (below) and Mimaki.
They use water as a carrier and have been marketed as environmentally friendly on this basis. However they require a considerable amount of energy to remove the water content and cure the inks. The main advantage with latex ink is that the print is dry before it gets to the take-up roll. This means the prints can be laminated and finished immediately after printing, with no need to wait for the evaporation of gasses from the substrate.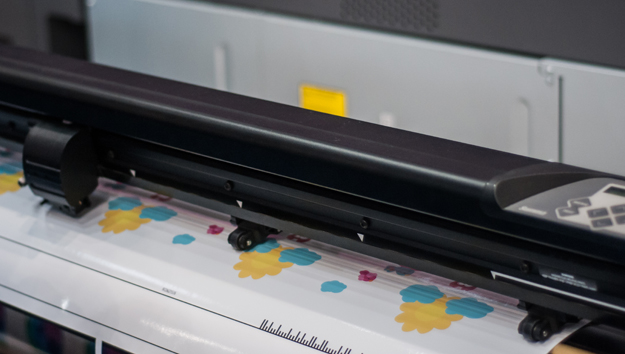 But even without lamination, latex prints are scratch resistant and outdoor durable so they are a good substitute for solvent inks. There's a good supply of suitable substrates and latex inks will also print onto some standard vinyls as well as fabrics.
This makes latex inks a viable alternative for soft signage. However, the heat needed for curing does rule out some substrates, particularly thinner self-adhesives, though the later generations of these inks work with lower curing temperatures.
Solvent inks
The solvent used in solvent ink serves a dual purpose in that it's both a carrier to deliver the coloured pigment to the media, and it helps to melt the surface of the media. The ink colourants can penetrate beneath the softened surface to bite into the media itself.
When the solvent evaporates, the colourants are left etched into the media which produces a very robust image able to withstand scratching and weathering. This also allows solvent inks to work with a tremendous range of media, including very cheap uncoated media. The solvent content in this type of ink can account for up to 90 per cent of its volume.
Once the solvent has done its job it evaporates away into the atmosphere, leaving the dried pigment behind. There are concerns that as the solvent evaporates it emits volatile organic compounds, or VOCs, which, with previous generations of ink, could cause respiratory problems.
This is why fumes must be removed from the local print environment. Most solvent inks now produce far less VOCs than in the past, so that special ventilation is not as vital as it used to be. It's still advisable to ensure good airflow around solvent printers. Today most manufacturers offer a choice of eco-solvent or light solvent inks, with the latter using a more aggressive type of solvent. This should work with a wider range of uncoated media as well as having better colour gamut.
Thus Mimaki, for example, reports that 98 percent of its solvent customers opt for its light solvent SS21 inks over the slightly cheaper eco-solvent option. Solvent ink is still one of the most cost effective ways of printing to uncoated substrates for outdoor use.
It's widely used in vehicle graphics, where the inks have to be heated up and stretched to fit around difficult shapes such as door handles. However, the major disadvantage of solvent ink is that although the prints are touch dry as they come off the printer, they still need to be left for up to 24 hours to allow the solvent to evaporates completely from the media. This delays any finishing, such as lamination.
UV-curable inks
UV-curable inks have a number of advantages that account for their widespread popularity. For starters they dry instantly meaning that they can be cut out or otherwise finished immediately. UV curable inks rely on photo initiators, which produce free radicals when exposed to UV light. Unlike the other ink types, there is no carrier liquid as this ink cures rather than dries.
The major components of UV-curable inks are monomers and oligomers, which the free radicals force to cross-link together, a chemical reaction known as photopolymerisation. There are two further advantages with UV-curable inks. They cure to a tough surface that is highly resistant to the effects of scratching and weathering. This is ideal for long term outdoor signage, and the photopolymerisation process also bonds the inks firmly to a wide range of substrates from PVC to wood.
There are some exceptions, for instance smooth surfaces such as glass where it is difficult for the inks to find a key. It's relatively simple to use a primer for these substrates, however a lot of ink vendors are working on developing UV inks to overcome this limitation. The original UV-curable inks cured to a very tough finish suitable for rigid materials, but more flexible UV inks have been developed for roll-fed printers.
The inks are softer, so they don't have the same level of scratch and weather resistance as the harder inks. But they bring all the advantages of UV inks to a roll-fed format and increase the range of applications for which UV inks can be used. Some inks are even elastic enough to be stretched for vehicle graphics.
Fujifilm has gone a step further, developing a set of inks that can be thermoformed onto 3D objects for truly wild possibilities. There is a noticeable trend towards using LEDs for curing. Most of the newer, entry-level printers now use this technology though for now they are not powerful enough to keep up with the higher production machines.
Curing with LEDs offers a number of advantages. Firstly, LEDs typically last for over 15,000 to 20,000 hours, while mercury or metal halide lamps have an average life span of just 1000 hours. Also, LEDs can be turned on or off instantly, so there's no time wasted waiting for the lamps to come up to temperature.
Hybrid inks
Several manufacturers are working on hybrid inks, which attempt to combine the best features of different inks. The most obvious example is Solvent UV which combines mild solvent with UV-curable ink. Mimaki introduced Solvent UV to the market when it launched the JV400SUV. Fujifilm has also released a version of this printer, which it calls the Vybrant.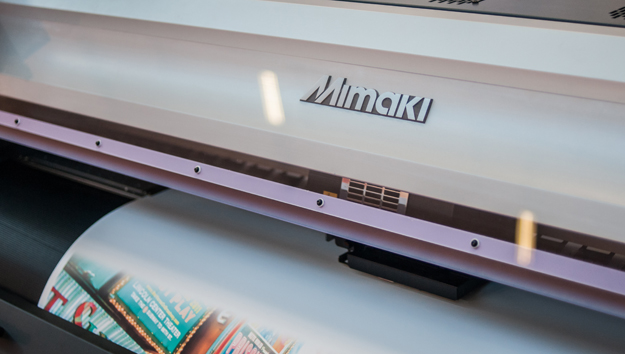 Both are four colour printers. The inks themselves are a mixture of a water- based solvent and UV ink technologies. Mike Horsten, Mimaki's European marketing manager, explains: "The solvent ink will attack the media and get you the adhesion that you need and the UV will get you the colour and strength and flexibility that UV has."
A key characteristic of these inks is that the UV curing is delayed which results in a much more glossy, reflective finish with a bigger colour gamut than with plain UV curable ink.
Colorific has also developed its own solvent UV hybrid for its Lightbar system. This consists of a Lightbar that can be retrofitted to existing solvent printers to carry out the curing. The inks themselves are a hybrid between solvent and UV-curable, giving the lower costs associated with solvent and the instant drying typical of UV inks, with the main selling point being that the prints can be laminated or mounted immediately as there is no need to wait for the inks to outgas.
Finally, it's worth noting that there is a wide choice of third party inks. Most printer vendors go to considerable lengths to test their inks with their printheads to ensure that the inks don't degrade the heads.
But third party inks can offer considerable savings, so that many wide format users will switch to these inks once the printer warranty has expired. In some cases, these inks can be used to repurpose a printer, for example adapting an old solvent printer for latex or dye sub inks.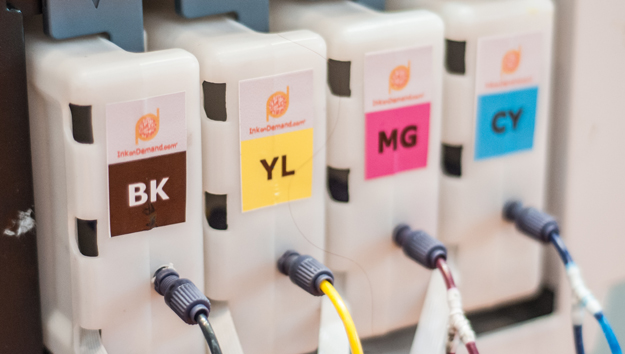 This article is part of the Wild Format Digital Printing Technology Guide, one of a series produced by Digital Dots with the support of Agfa, Caldera, Durst, EFI, Esko and Fujifilm.
Interested in joining our community?
Enquire today about joining your local FESPA Association or FESPA Direct