Features
What is the future of screen printing?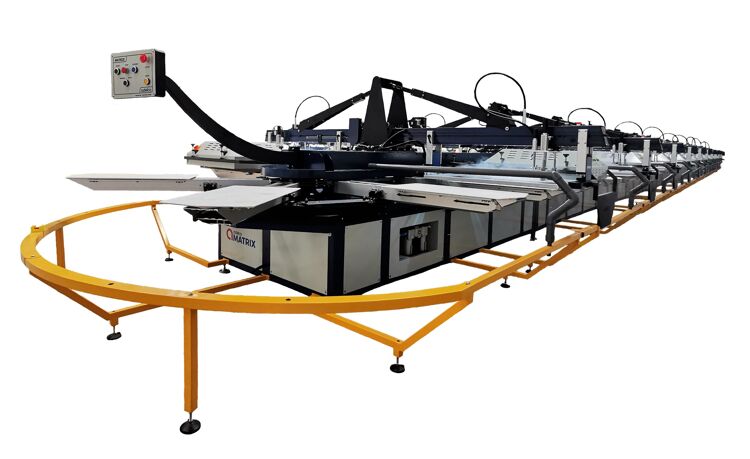 An expansive and far-reaching segment, Rob Fletcher speaks with two leading manufacturers from the screen printing to market to find out where the market may be heading and what sort of developments we can expect.
A technology used across a number of markets in the print industry, screen print is trusted by printing companies all over the world as a method that will produce accurate and high-quality print in all manner of applications.

While the influx of digital print has seen screen print's use in certain jobs reduce, the quality that users can achieve with screen printing machines means it remains a popular choice among professional printers. Add in that new developments are coming to market all the time and manufacturers continue to stretch the boundaries of what is possible with this tech, and there is plenty to be excited about.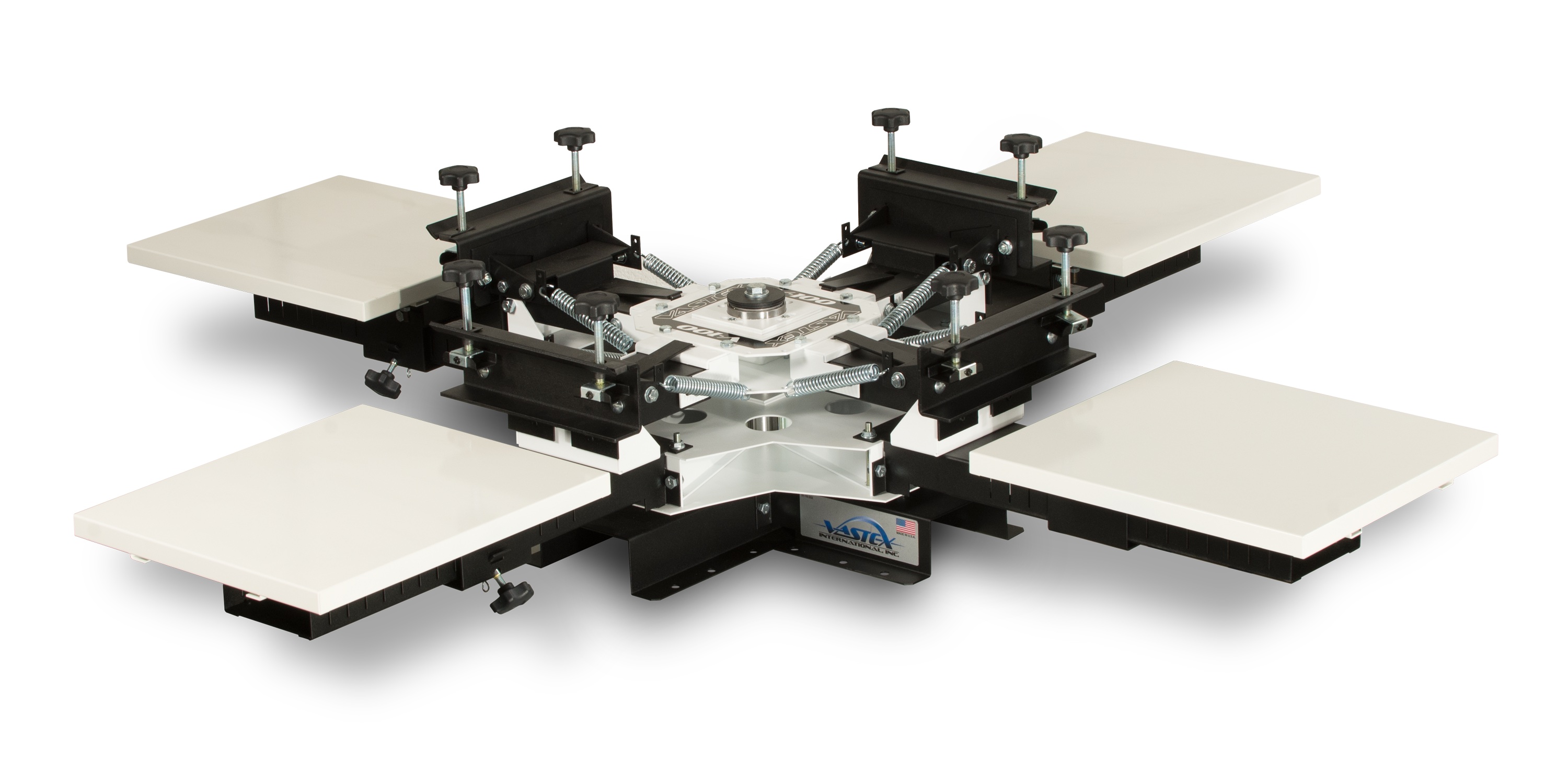 Caption: The V-100 press from Vastex is easy to transport from one location to another

With this in mind, FESPA.com caught up with two screen print machinery manufacturers to get their opinion on the current market and discuss the possible next major developments in the sector.
Hybrid solutions
First up to comment is Adelco, which has been manufacturing textile dryers and printers for 50 years. Sales director Luke Smith said while screen printing offers a host of advantages, primarily its ability to produce large quantities at a low cost, the choice between screen printing and direct-to-garment (DTG) depends on the specific production needs of each company.

"For on-demand or smaller quantities, DTG proves to be the more suitable option," Smith said. "It allows for greater photographic quality and finer details, surpassing the capabilities of screen printing.

"Hybrid systems, such as Adelco's, are my personal favourite due to their remarkable ability to combine the best aspects of screen printing and DTG. By leveraging the strengths of both technologies, these systems enable the creation of mass-produced prints without compromising on photographic quality.

"This harmonious integration of techniques offers exceptional value to users, delivering high-quality prints while optimising production efficiency. Adelco's hybrid systems exemplify the perfect balance between efficiency and excellence, allowing for the realisation of stunning, cost-effective prints."

As to what print companies should be looking for when investing in new screen print kit, Smith said there are a number of key factors to keep in mind, primarily build quality. He said some manufacturers are compromising on quality for a cheaper price, but this short-term approach inevitably leads to long-term headaches, which results in costly disruptions to production.

"At Adelco, we strive to set an example of good practice by fostering partnerships and establishing close relationships with suppliers and our own production facility in China," Smith said. "This successful collaboration enables us to manufacture high-quality systems at a lower price, offering a win-win solution for our customers.

"When it comes to service support, the value of immediate assistance cannot be overstated, especially for retailers where time is money. Adelco excels in this aspect by prioritizing prompt support. As a global company, we provide 24/7 support to address any issues that may arise."

Another consideration to keep in mind when purchasing a new machine, Smith said, is that can it match up to the environmental demands of the end customer? He explained that the environmental crisis has pushed this industry into a more sustainable approach, with screen print manufacturers like Adelco having to respond with new developments and solutions.

"At Adelco, we have actively embraced eco-friendliness by adopting water-based inks and working towards carbon neutral," Smith said. "By prioritising these environmentally conscious practices, we are committed to reducing our ecological footprint and contributing to a greener future."

With this, Smith highlighted the latest product available from Adelco in the form of the new Matrix Oval. Described by Smith as a customisable and versatile option, the machine caters to a wide range of production preferences.

"With its ability to accommodate a large number of colours, the Matrix Oval offers ample creative possibilities," Smith said. "Moreover, its compatibility with water-based colours makes it an eco-friendly choice.

"For optimal performance, we recommend utilising the Print, Flash, and Cool format, which allows the Matrix Oval to operate at its peak potential. This winning combination ensures maximum efficiency and future proofs investments with its modular design."
Cost savings from screen print
Next, Vastex is also a supplier of screen printing kit to the market. Marketing coordinator Paul Zingone said the main benefit of screen over other print technologies would be speed and cost of the print.

"The ink cost is much lower than a comparable print on DTG or direct-to-film (DTF) and once the job is set up, production is much quicker," Zingone said. "When running on an automatic, you can achieve 500+ shirts per hour for a multi-colour job with a single user. Even on a manual press, 100+ shirts per hour can be achieved by an experienced press operator.

"DTG and DTF are unable to get the soft, breathable print that screen printing. By using water-based and discharge inks, you can print large designs that have no feel to them, so they are much more comfortable to wear, especially when it is warm outside. Plastisol with additives and high mesh counts can also have extremely soft hand."

Zingone's point about water-based inks swings back to what Smith at Adelco said about the environmental benefits of working with screen print. Zingone said this can be in securing work from green-minded customers.

"We have been seeing more customers moving from plastisol to water-based ink for the softer feel," Zingone said. "There is also an increase in printing with silicone inks because they are excellent for printing on polyester garment that require a lower cure temperature and high bleed resistance.

"We also see a lot more mobile printing at events and festivals. We have our CraftPrinter and V-100 press that are very easy to transport from one location to another. Our D-100 and D-1000 tabletop dryers are also big sellers as a high quality, compact curing option."

Picking out other options available from Vastex, Zingone highlighted the V-2000HD, a heavy-duty machine with a 25-year warranty for users. These devices also have completely tool-free off contact, pitch adjustment and zero backlash micro-registration.

Another big seller at Vastex is its conveyor dryers, supplied with 15-year heater warranty, which Zingone said gives the customer peace of mind that they will last. There is also the option to upgrade the dryer by adding conveyor length and additional chambers.

"When investing in new screen print equipment, my recommendation would be to buy something that will last," Zingone said. "Whether you are running a business or doing it as a hobby, the last thing you want is for something to break down on you.

"There is a big difference between a press with a one-year warranty and a 25-year warranty. Not only will it last longer, but you will get a high-quality print with less setup time.

"Also, pay attention to presses or dryers that are upgradable in the future. As your business grows, it is beneficial to be able to add more colours and stations to your press or to extend your dryer to keep up with higher production. Buy with your future goals in mind."

With new products coming to market all the time and a wide range of supporting equipment to help you get the most out of your machine, at the risk of repeating ourselves, there is plenty to be excited about when it comes to the future of screen print.
Interested in joining our community?
Enquire today about joining your local FESPA Association or FESPA Direct