Features
What are the best inkjet inks for textile printing?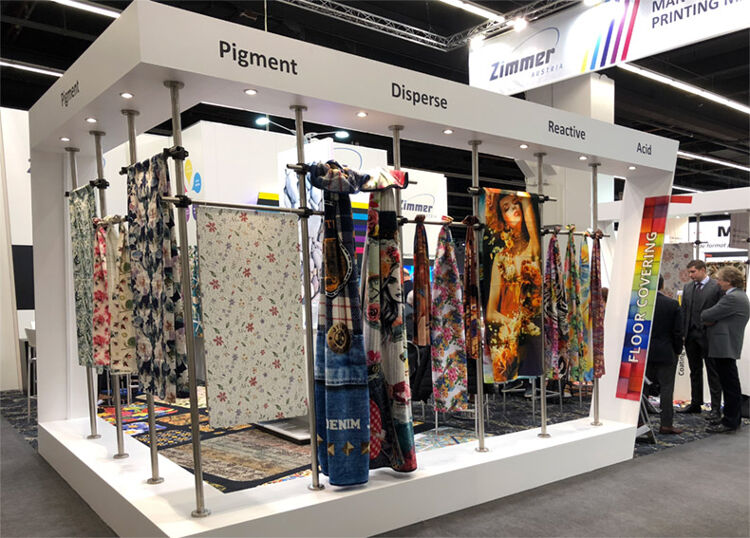 Textile applications are a key sector in the digital printing industry. Then, why is it so difficult to find the right technology? Sonja Angerer offers a beginner´s guide to textile printing.
When learning about digital textile printing, beginners often feel confused about the numerous different technologies available today. The easiest way to gain an understanding of the market and the relevant ink technologies is divide these into different segments by application:
Flag printing
Soft signage
Apparel printing
Roll-to-roll textile printing

These segments have no strict borderlines, but they do overlap and determine the requirements needed for the inks and technologies used.
Inks for Flag Printing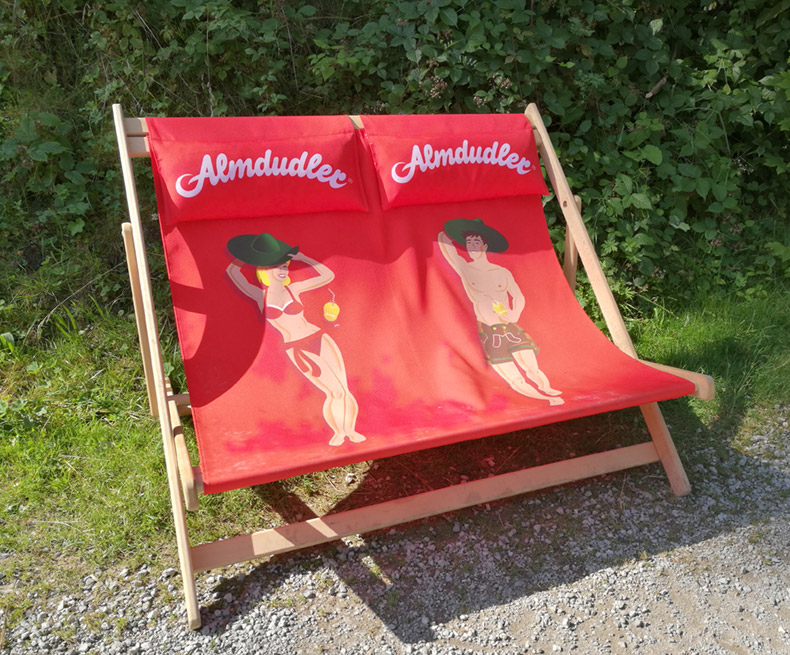 Caption: Disperse Dye inks are often used for outdoor furniture. Image credit: S. Angerer
In many ways, the digital printing of banners and flags may be perceived as a "predecessor" to soft signage. Since the 1990s, pioneering companies tried to move from screen printing to digital printing for flag production.
The resolution tends to not be an issue for most national and company flags; however, the durability of the flags can be problematic.
Most outdoor flags are made of polyester-based textiles. Today, they are usually printed using water-based direct disperse dye inks. When polyester is tinted with disperse dye inks, the result can look a bit dull at first, as the colours require 170 °C to develop. This is often done in line with a heat roll or calendar built into or onto the printer as with
Dgen Teleios Grande G5
.
Direct disperse dye inks offer a good through-print meaning the flag looks colourful on both sides. The outdoor durability is usually up to 3 years. This is why Direct Disperse ink technology is being used in the automotive industry as well as for garden furniture.
Dye-sublimation inks are also commonly used for flag and banner production. They are printed on very thin transfer paper first. During the transfer sublimation process, when transfer paper and polyester textile are calendered together at 180 to 200 °C, the colour transits from a solid into a gas phase without passing through an intermediate liquid phase. The colour is then embedded deep into the fibers. Sublimation print solutions are available from a wide variety of manufacturers, including
EFI,
Durst
,
HP
and
Mimaki.
Dye-sublimation inks produce very sharp images and can be used to create small letters, they are suitable for soft signage applications. Through-print is much less than with direct disperse dye-sublimation inks. The durability of sublimation prints are usually quite low.
Inks for Soft Signage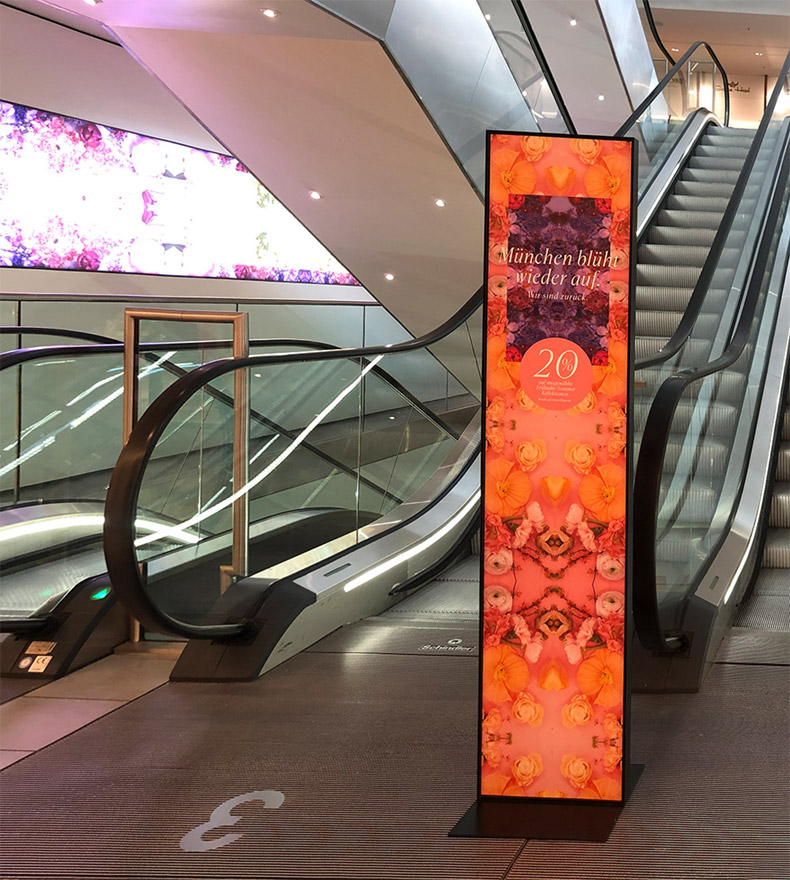 Caption: Backlit Soft Signage sublimation print application at a Munich department store. Image credit: S. Angerer
Soft signage applications are signage printed onto textile instead of paper, banner material, self-adhesives or mesh. Most commonly used are:
Dye-sub inks
Latex inks
UV-curing inks.
With the exception of dye-sublimation inks (see above), the inks used for indoor and outdoor soft signage are the same technology used for many other roll-to-roll and rigid applications and therefore not textile-specific.
Inks for apparel printing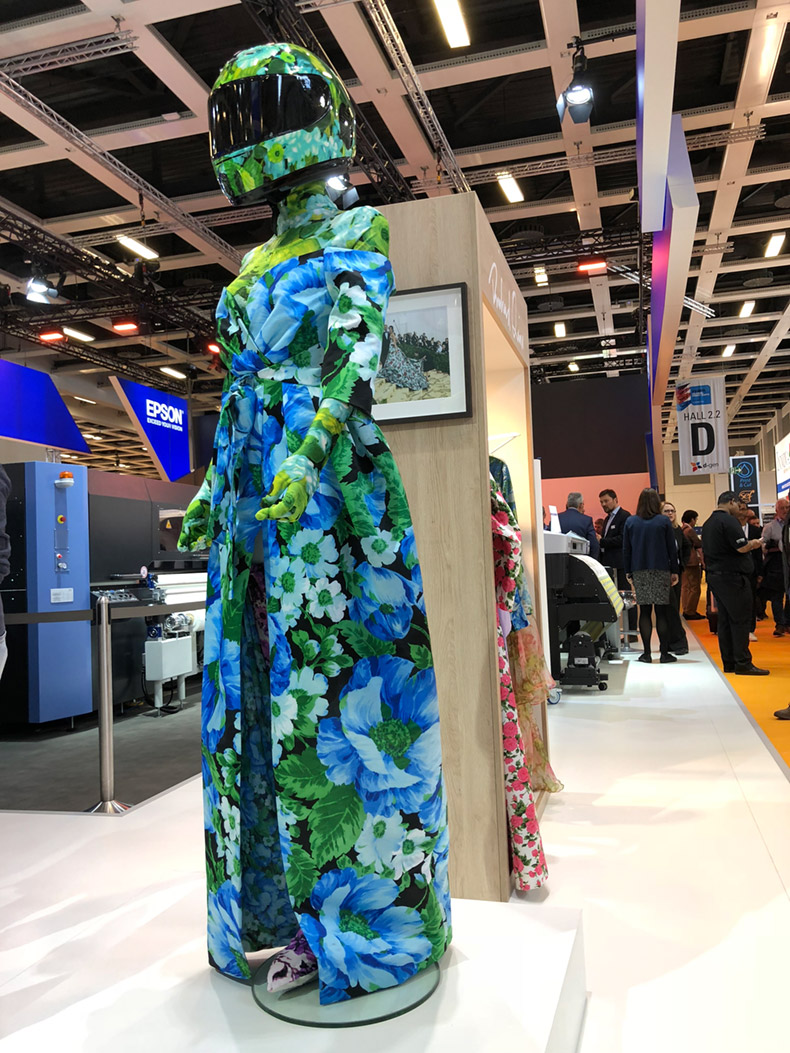 Caption: Fashion items are often printed with Reactive and Acid Dye inks. Image credit: Sonja Angerer

Digital printing has been used to print shirts, caps and other clothing since copy-shops offered the first 4C inkjet prints. In the early years, the printer output on thick sublimation foil was simply ironed or heat-pressed onto the item.

Today the available sublimation ink solutions for apparel printing are far more sophisticated. They still require a polyester or polyester blend as a substrate or a polyester pre-coating. This is why dye-sublimation inks are frequently used for sports fashion as well as a numerous home décor applications such as cushions. The Roland DG Texart-XT-640 is a prominent example of a machine developed with these kinds of markets in mind.

Sublimation inkjet print technology works best on white light textiles. There is a toner-based LED printer technology from Oki, that allows opaque white and other colours to stand out on dark fabric.

Today, water-based pigmented inks are widely used in apparel printing as they work on most fibers on the market. They are printed directly onto the item, hence why the technology is known as "Direct to Garment" (DTG). Pigment DTG inks are available in CMYK and opaque White, they can print on dark fabric too. They typically require a pre-treatment as well as fixation in a heat press at about 160 °C. DTG printers of various sizes with pigment inks are available from Epson, Brother and Kornit Digital.
Inks for Digital Roll-To-Roll Printing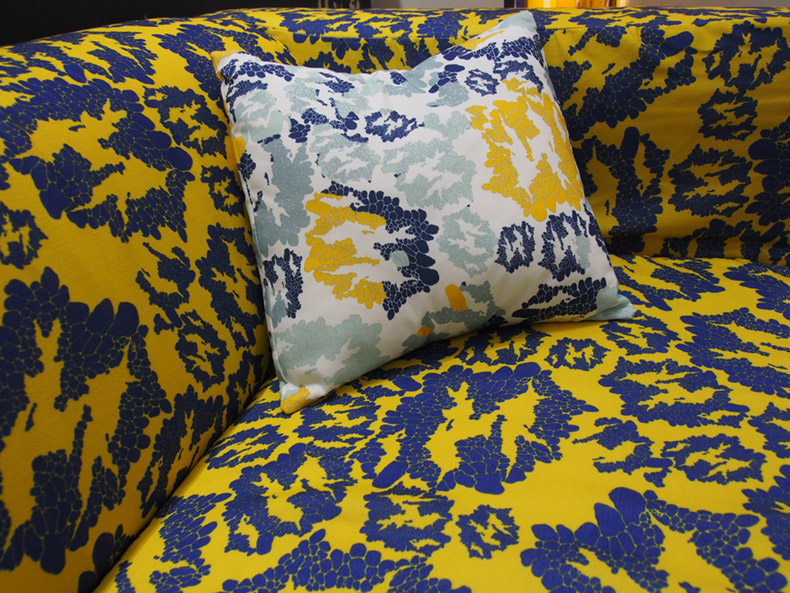 Caption: Pigment inks are also popular for home décor applications.

Pigment inks have also become very popular in the roll-to-roll digital textile printing community, as they can be used on a wide variety of fibers. Several Pigment ink brands are OekoTex 100 certified, meaning they are suitable for children´s items. In a direct comparison to acid and reactive dye, prints with pigment inks seem duller. As colours don´t penetrate the fabric´s surface, but rather settle on the fiber´s surface, while colour fastness is usually good, but washability is sometimes lacking. Most experts therefore recommend pigment inks for home décor rather than every-day fashion applications.

Industrial strength roll-to-roll digital textile printing mainly takes place in the textile industry. The two main water-based fluids used there, reactive dyes for cotton, wool and nylon, and acid inks for silk, wool or polyamides require custom pre-treatment for quality results. Post-treatment requires steaming to ensure the dye is embedded into the fiber. Several washing cycles are needed to remove any excess inks.

Acid and reactive Dye offer brilliant colours, a smooth textile grip, good washability and light fastness, they mainly are used fashion and high-end home décor. Inkjet inks are available for market-leading printheads from companies like Sun Chemical. Industrial strength roll-to-roll textile printers like the Epson Monna Lisa Evo line or the Zimmer Austria Colaris are developed for use with various ink chemistries.
Conclusion
Today a wide range of ink technologies are available to cater to every digital textile printing requisite. However, it is important to consider that, depending on the technology, pre and post treatment will take a lot of time. Necessary pre and post-printing steps may require increased investments that may exceed the price of a printer. Intensive research is therefore highly recommended.

Discover the latest in textile printing at the Global Print Expo 2021, Europe's leading exhibition for screen and digital wide format print, textile printing and signage. Discover the latest products, network with like-minded individuals and explore new business opportunites. Register your interest here.


Interested in joining our community?
Enquire today about joining your local FESPA Association or FESPA Direct