Features
Top 20: Interior Print Applications of 2017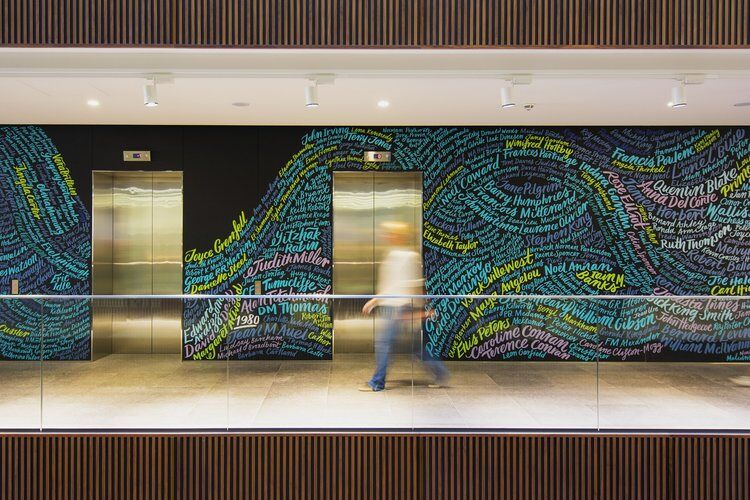 FESPA takes a look at some of the most creative interior print applications from the past 12 months.
Here in print, we are rather blessed with the wide range of different markets to operate in. Such is the depth of print media that there is a great variety of work on offer.
One of the most expansive and creative markets is interior print, with this sector having a number of areas within it. From interior textiles work such as curtains and cushions, through to other forms of design work such as wallpapers, posters and floor graphics, there is plenty of work to be had.
With this in mind, FESPA.com has picked out some of the best applications from the past 12 months that showcase just how expansive the interior print market really is.
We're all shook up…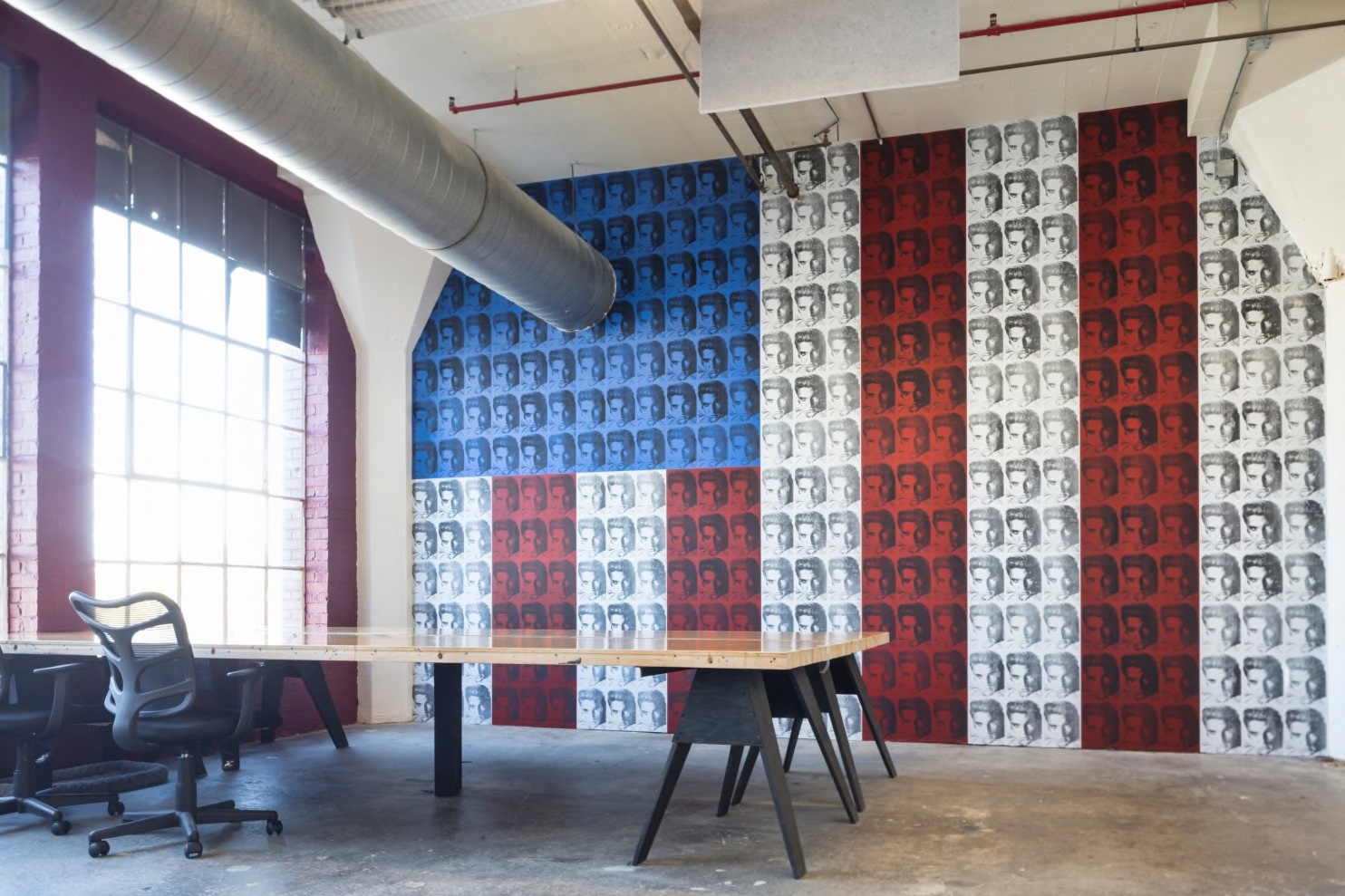 Designer: Flavor Paper / Andy Warhol Foundation for the Visual Arts
Description: New York company Flavor Paper linked up with the Andy Warhol Foundation for the Visual Arts to produce this artistic wallpaper, featuring a certain Elvis Presley. The design is a play on the United States flag and its famous stars have been replaced with image of Elvis. A 15ft roll costs $225.
Picture: Courtesy of Flavor Paper
Gucci goes luxurious with £23,00 print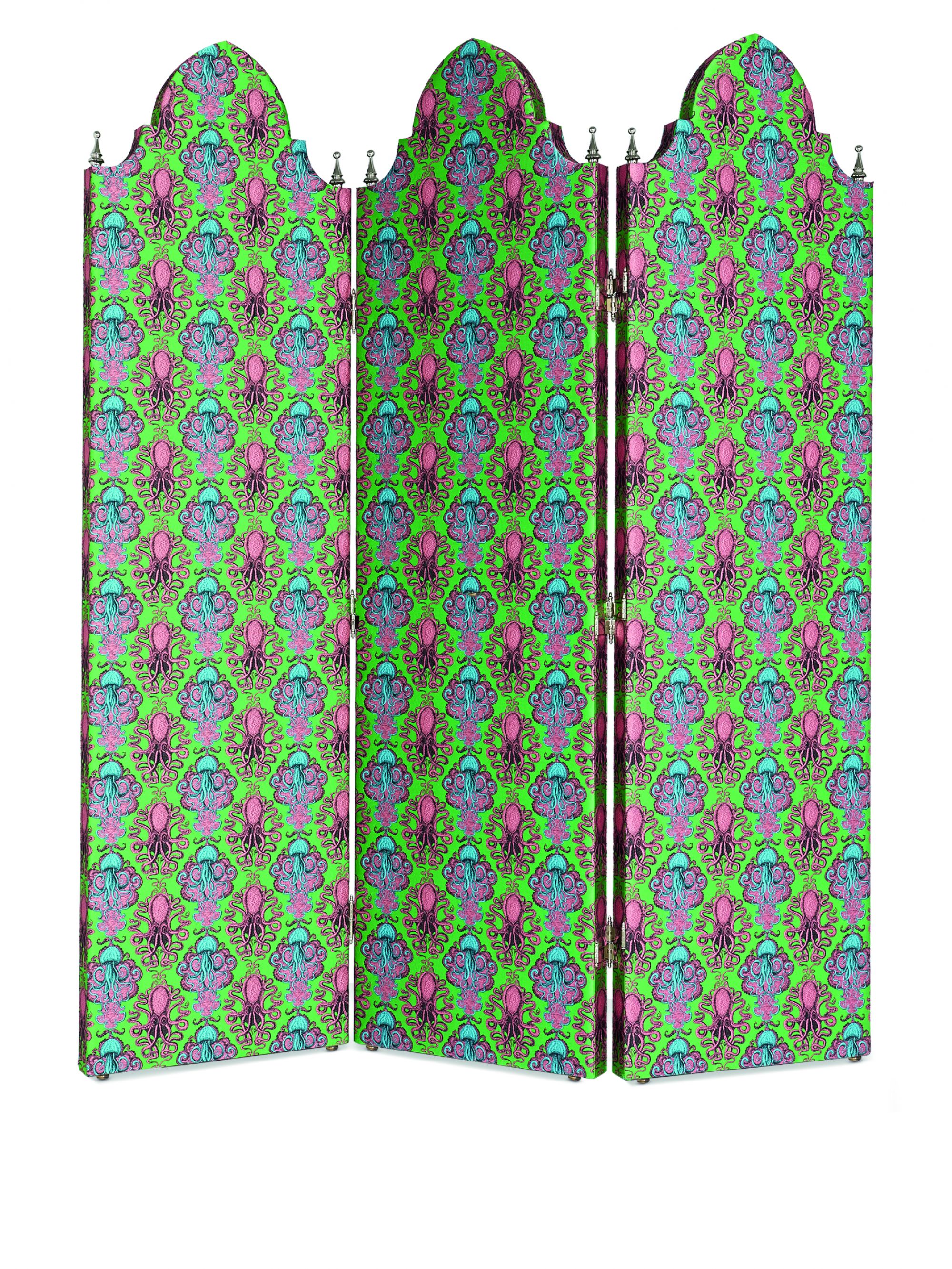 Designer: Gucci
Description: Gucci rolled out a new portfolio of printed interior designs products last year. The selection ranges from candles costing around £150 up to screens that will set you back an eye-watering £23,000.
Picture: Courtesy of Gucci
Dare to Zlatan…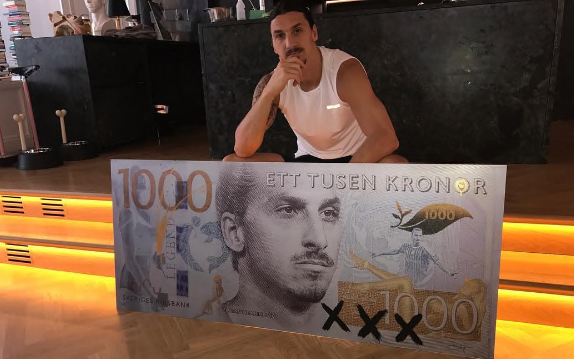 Designer: Bingo Rimer
Description: Swedish football star Zlatan Ibrahimovic saw his fame shoot to a new level last year when his face was featured on a giant banknote. The work of Swedish photographers Bingo Rimer, the 1,000 Swedish Krona note is sadly not legal tender. Zlatan is pictured here with the print on Instagram – a picture that attracted over 988,000 likes.
Picture: Courtesy of Zlatan Ibrahimovic Instagram
Sticking like Glu Mobile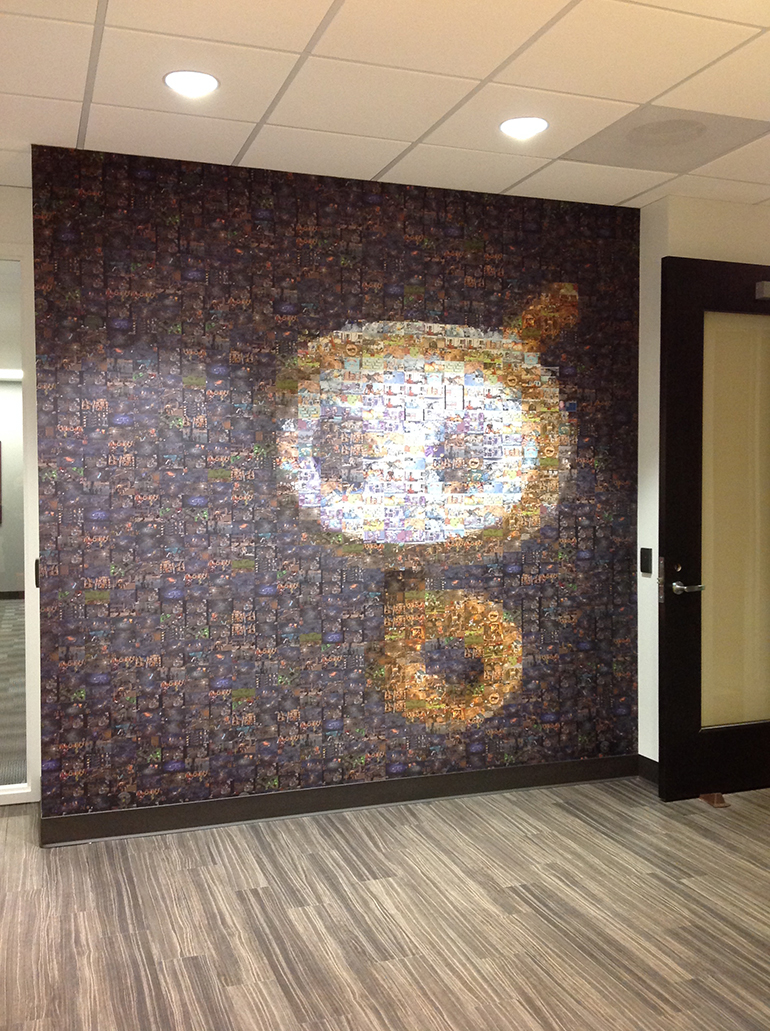 Designer: Glu Mobile / Astek
Description: Games developer Glu Mobile used thousands of game play images to create this wall covering at its San Francisco headquarters. The company worked with Astek, which created branded Mylar prints for the application, according to InteriorDesign.net.
Picture: Courtesy of InteriorDesign.net
Driving force of interior print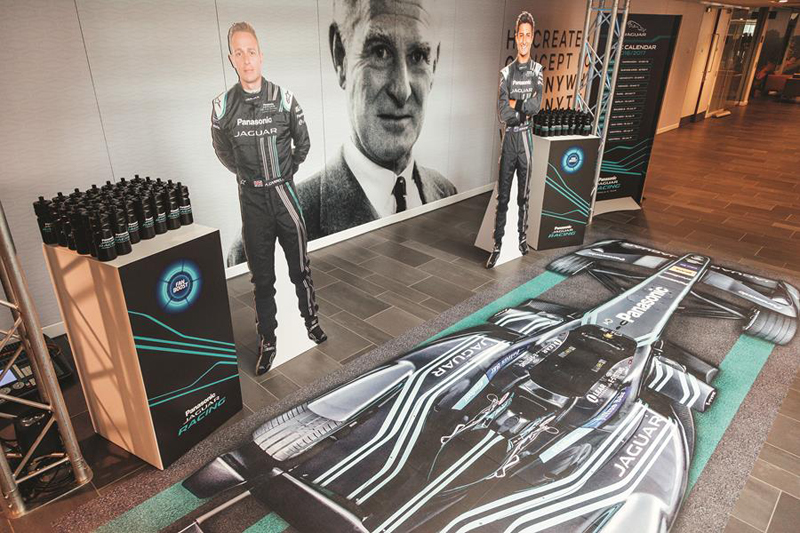 Designer: Soyang Europe / DRP
Description: Creative communications agency DRP joined forces with Soyang Europe on a campaign for Jaguar Land Rover, which included production of a life-size floor graphic of a Formula E race car. The Formula E electric car-racing series has grown in popularity since launching in 2014-15.
Picture: Courtesy of Soyang Europe
OK GO and print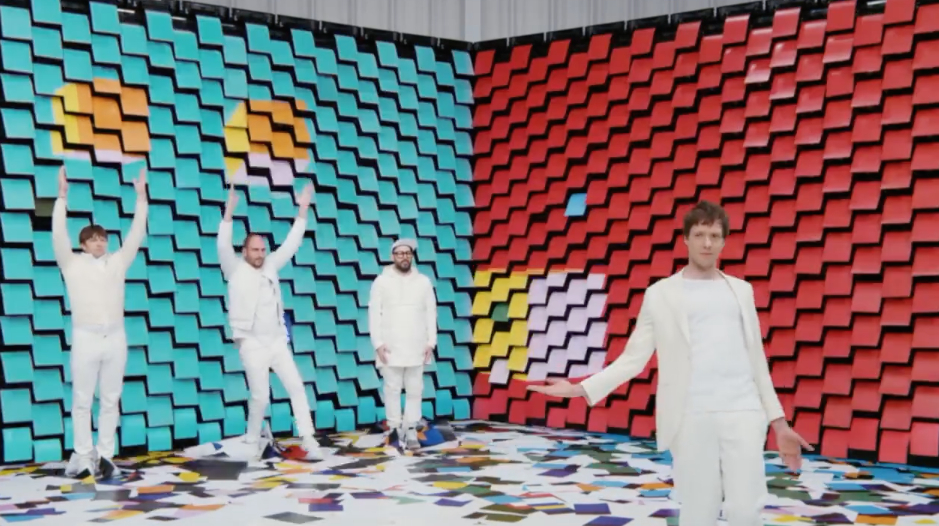 Designer: Yukuse Tanaka
Description: Here is something completely different! US rock band OK GO used a series of printers in the video for its new song 'Obsession' last year. Producers worked with Japanese artist Yukuse Tanaka to choreograph the 567 printers to produce colourful sheets of paper in time with the music and the band's dancing. The video took two years to finish.
Picture: Courtesy of OK GO (music video)
Snickers lends a hand on Valentine's Day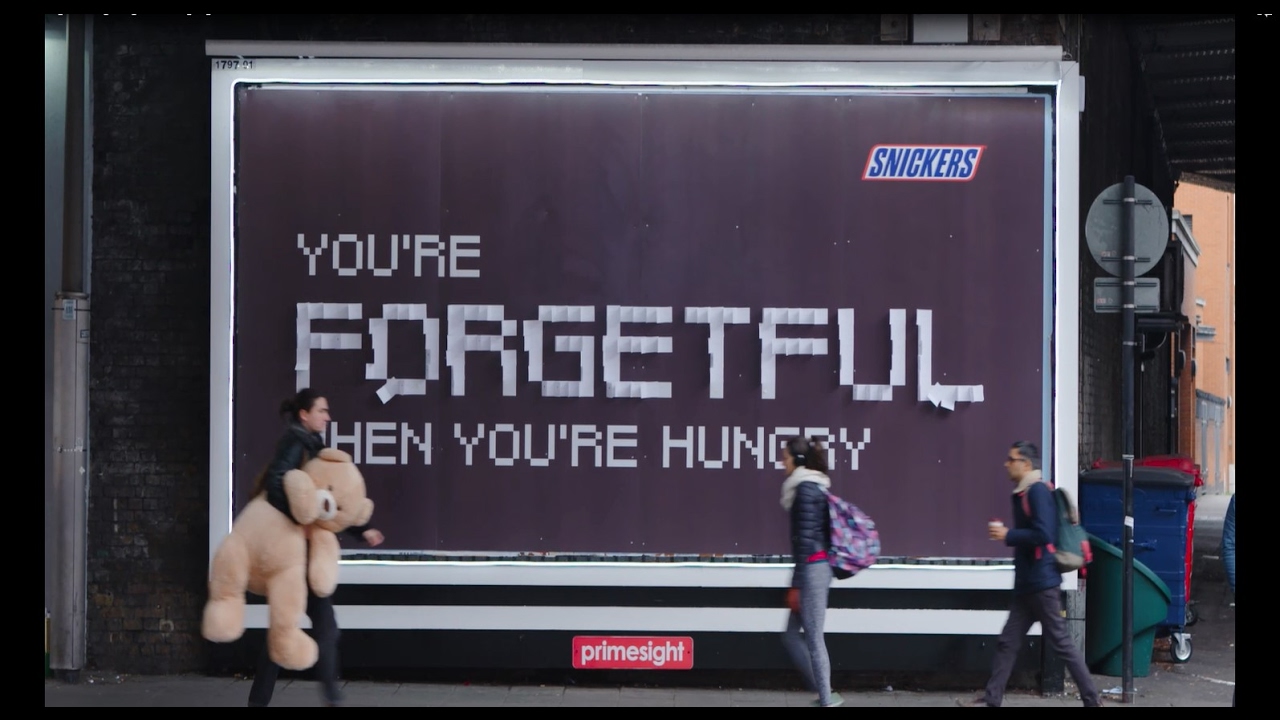 Designer: Snickers / AMV BDOO
Description: Snickers helped out forgetful romantics on Valentine's Day with this inventive billboard inside London's Waterloo Station. Developed in partnership with AMV BDOO, the billboard featured the word 'HUNGRY' made from greetings cards that passers-by could take home to give to their loved one. The campaign played on Snickers' famous 'You're not you when you're hungry' slogan. To see the ad in action, click here: https://www.youtube.com/watch?v=wqCP0HoUzz0
Picture: Courtesy of Snickers (YouTube)
How do you take your tea? From a 3D-printed bar of course!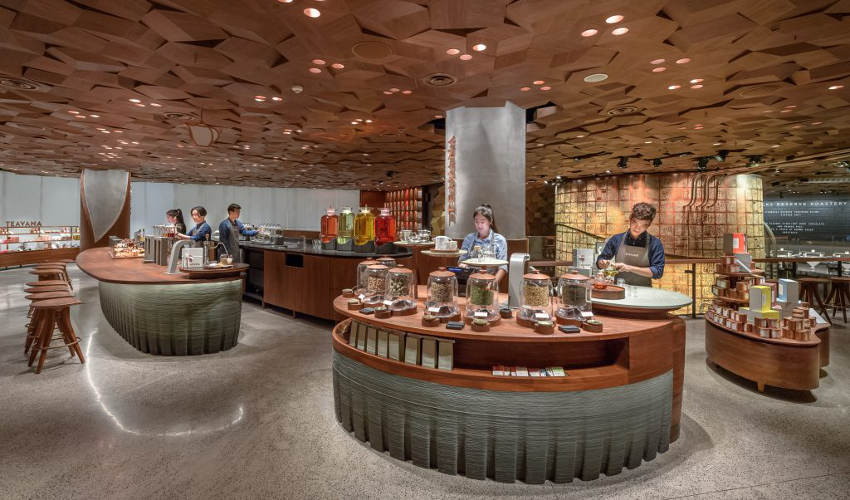 Designer: Starbucks
Description: Last year, global coffee shop chain Starbucks opened its largest site in Shanghai, with a little help from 3D print. The tea bar at the shop was created using 3D print technology and some market experts predict that the method will become commonplace in construction in years to come.
Picture: Courtesy of 3Ders.org
Just keep printing, just keep printing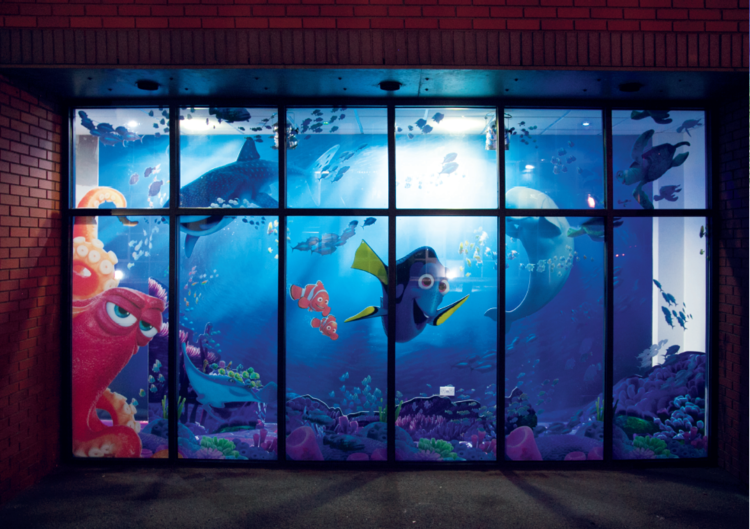 Designer: Augustus Martin
Description: Augustus Martin won a FESPA Gold Award in the category of 'POP Products – Paper' in 2017 for this colourful installation that was produced to mimic translucent water in store. The project included a number of processes, including CAD drawing, PVC panel installation and both digital and screen print.
Picture: Courtesy of Augustus Martin
Keep going for gold!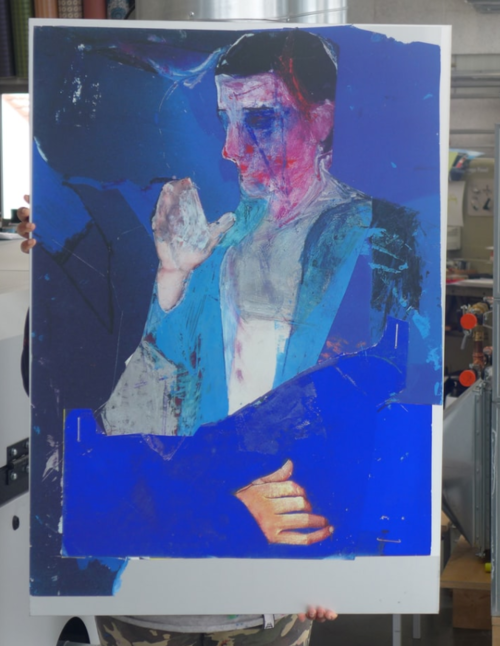 Designer: Andro Alu
Description: Another FESPA Gold winner here as Andro Alu won the top prize in the 'Original Serigraphies and Giclées' category. The firm partially underlayed the screen print with white opaque before the reproduction was produced on four-colour process printing in 150 L/inch and three additional colours. The finished piece was displayed at a gallery in New York.
Picture: Courtesy of Andro Alu
Larger than life with print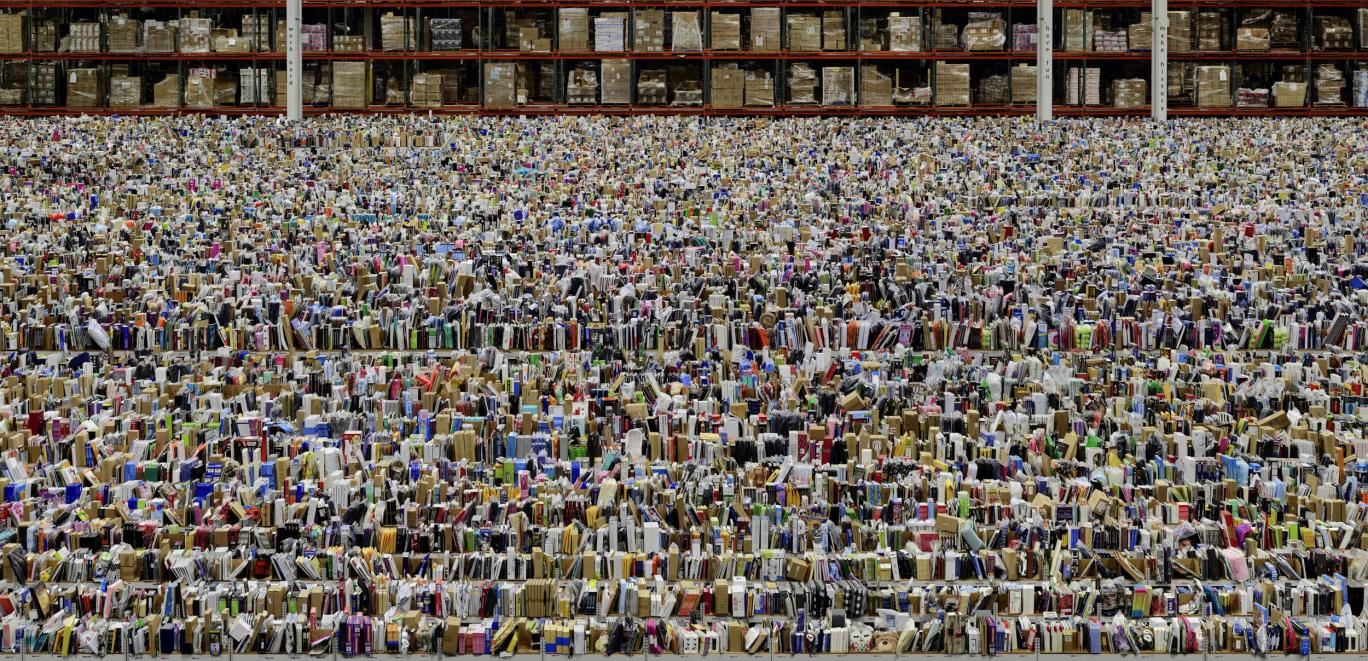 Designer: Gursky
Description: Known for his large pieces of work, German photographer Andreas Gursky held an exhibition at the Hayword Gallery last year to show off some of his latest images. Pictured here is 'Amazon', one of the largest prints at the show, measuring in at 207cm x 407cm x 6.2cm. Interestingly, in 2011, Gursky's 'Rhine II' became the most expensive photograph in the world when it sold for more than £3m (€3.4m/$4.2m).
Picture: Courtesy of Sprüth Magers
Summer chill with Björk
Designer: Klaus Haapaniemi & Co / Nikari
Description: London studio Klaus Haapaniemi & Co created a series of interior décor products for Icelandic singing sensation Björk. Produced for the singer's summer house, the project included a hand-engraved sofa, a woven tapestry and a carpet, that latter of which was printed on wool in the Netherlands, according to Dezeen.
Picture: Courtesy of Dezeen
Breathe easy with printed wallpaper
Designer: Imperial College London, Cambridge and Central Saint Cambridge
Description: Scientists at the Imperial College London, Cambridge and Central Saint Cambridge found a way to use an inkjet printer to print photosynthesising bacteria onto paper, turning microbes into a living power bank. The bacteria turns energy from the sun into electricity, similar to solar panels. Scientists first printed conductive ink onto paper, before printing bacteria in specific patterns so that energy can be transferred between the bacteria and conductive ink, creating power. The team said this method could be used to create wallpaper, allowing consumers to create power in their homes.
Picture: Courtesy of Imperial College London, Cambridge and Central Saint Cambridge
Raising funds for hurricane victims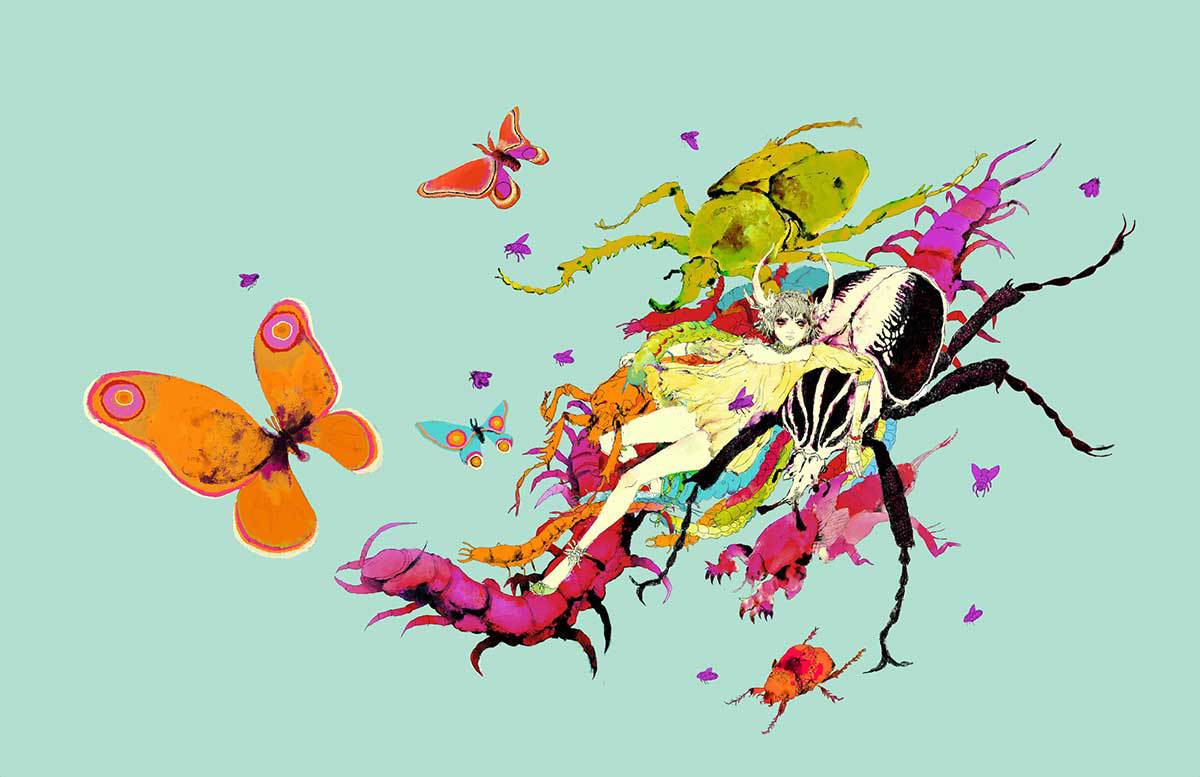 Designer: Barnaby Ward
Description: Artist Barnaby Ward produced this print to help raise money for victims of hurricanes that caused widespread destruction across the Caribbean. Ward live in Barbados, one of the many regions hit by hurricanes Irma and Maria last year.
Picture: Courtesy of Boingboing.net
60,000 plastic bottles hanging on the wall…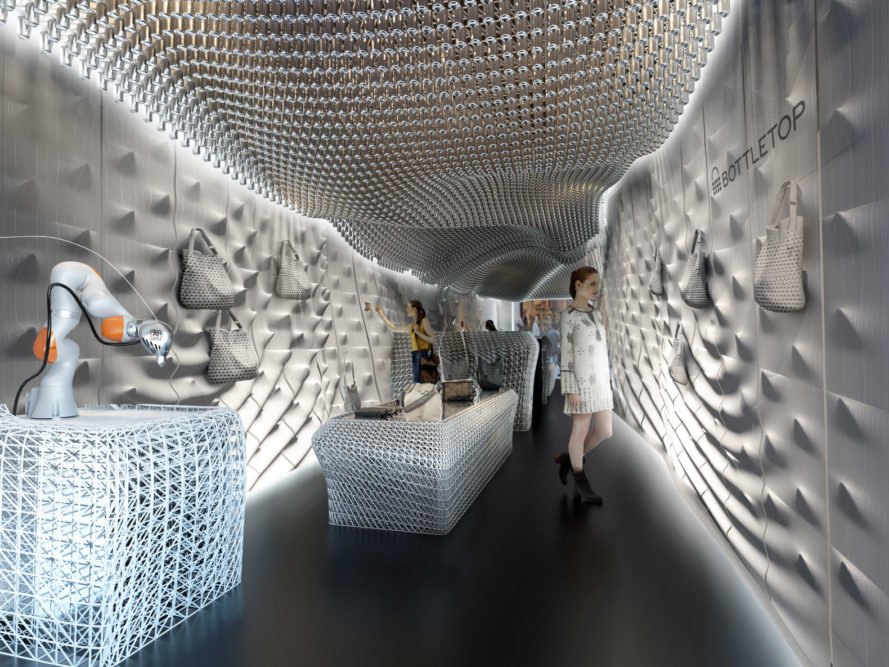 Designer: Bottletop / Krause Architects / Ai Build
Description: Luxury brand Bottletop joined forces with Krause Architects and Ai Build to used 3D print to decorate the interior of its flagship store on Regent's Street in London. What makes this project so special in that the material used was almost entirely derived from 60,000 recycled plastic bottles. The plastic waste had been gathered from the streets of Delhi in India.
Picture: Courtesy of Bottletop
By the Rivers of Print…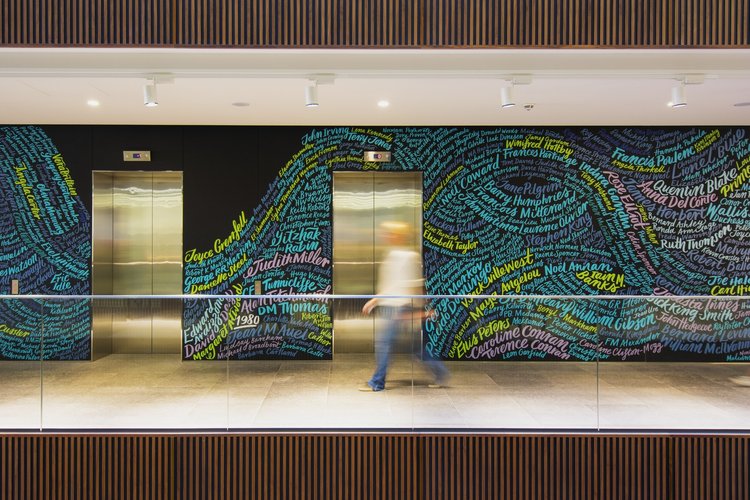 Designer: Graphic History Company / Signbox Limited
Description: Switching back to FESPA Gold Award winners and Signbox Limited won first prize in the 'Decals, Printed Labels, Fleet Marking and Window Decals' section with this entry. The graphic features a representation of London's River Thames, comprising hand-drawn names of 3,500 authors. The piece was printed on LG 3880 high tack vinyl using two HP Latex 360 printers and installed across five floors at of Hachette UK.
Picture: Courtesy of Signbox Limited
Healthy future for interior design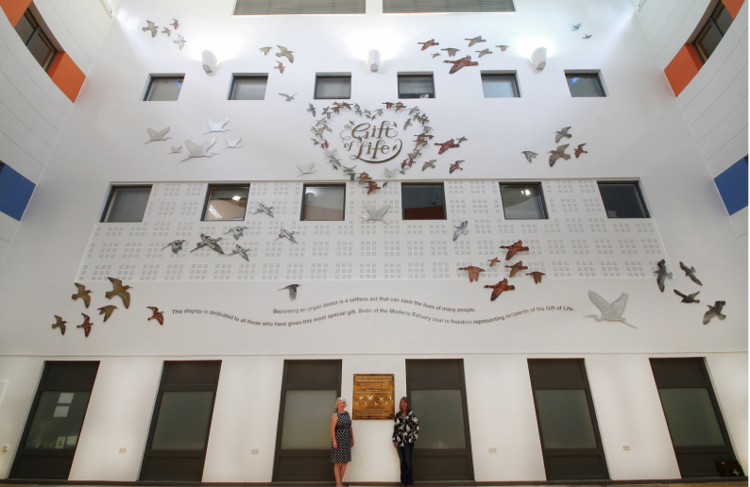 Designer: Digital Plus LTD / Hospital Art Studio
Description: Also winning Gold at the 2017 FESPA Awards was Digital Plus LTD for this project, produced with the Hospital Art Studio for the Medway Hospital trust. Printed and cut vinyl was used to provide the main heading on the finished design, which spanned an atrium wall spanning four floors and measuring 15m x 18.5m.
Picture: Courtesy of Digital Plus LTD
Mixing fashion with interior décor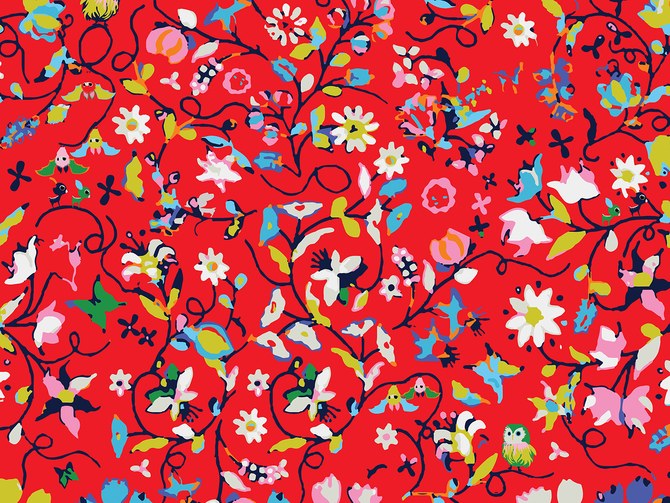 Designer: Cynthia Rowley
Description: Last year, fashion designer Cytnhia Rowley launched a new range of wallpaper inspired by the same style featured across her clothing products. This example, named 'I Wish My Garden Looked Like This', is just one of the colourful, printed options available in 'Tempaper'.
Picture: Courtesy of Architectural Digest
A blast from the past with 18th-century remake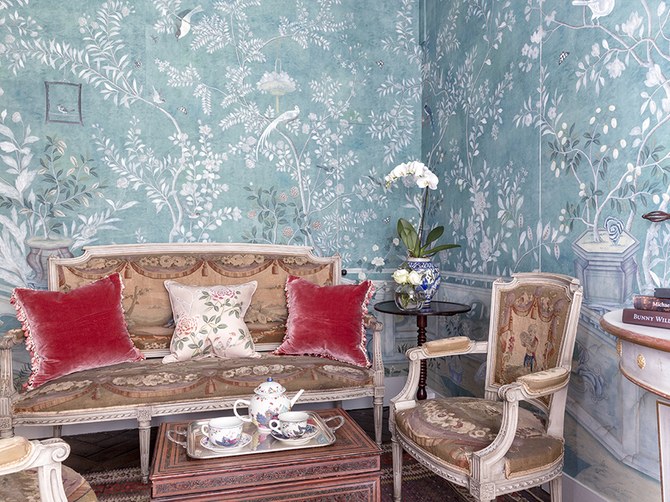 Designer: de Gournay
Description: London-based wallpaper specialist de Gournay was able re-create a wallpaper made famous by an iconic fashion photoshoot in the 1960s. Pauline de Rothschild was photographed by Host P. Horst at her Paris home in front of this 18th-century chinoiserie wallpaper, which, according to Architectural Design, was given a new lease of life by de Gournay.
Picture: Courtesy of Architectural Design
3D print inflates the interiors market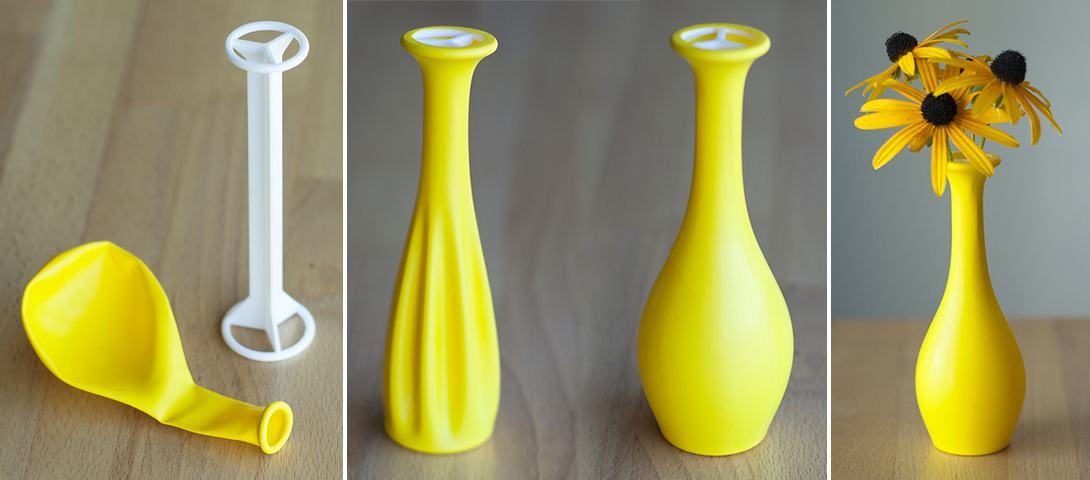 Designer: Evan Gant
Description: Designer Evan Gant was able to use a simple, 3D-printed widget to transform a deflated balloon into a vase. The balloon looks relatively flat at first, but when filled with water, is much more sturdy and able to hold flowers, making for a rather pretty picture!
Picture: Courtesy of Gizmodo
Printed interiors in one of many hot topics in the industry at present and those keen to learn more about this sector can do so within the dedicated 'Printeriors' section of FESPA 2018 this year. This returning feature has proved popular at previous edition of the global print expo, with visitors able to see examples of printed interior products and hear from various leading experts in the field.
To find out more, visit: https://www.fespaglobalprintexpo.com/features/About_Printeriors
Interested in joining our community?
Enquire today about joining your local FESPA Association or FESPA Direct