Features
Top 20 Halloween Prints of 2022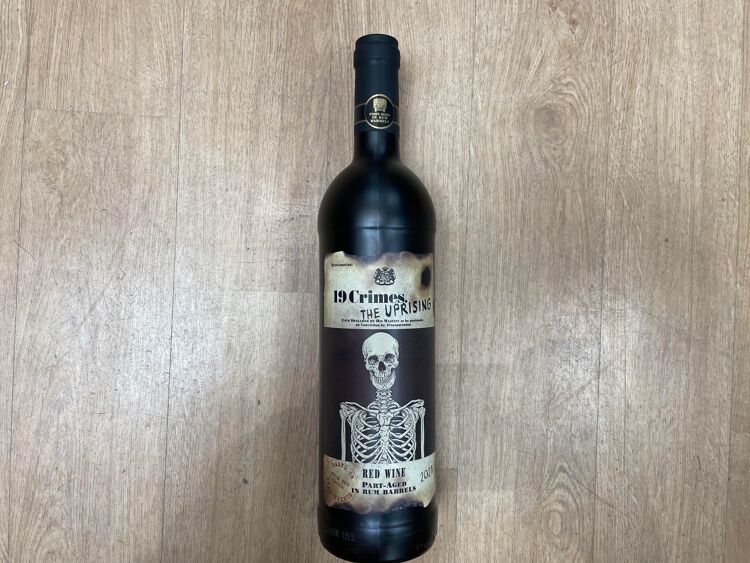 Rob Fletcher picks out some of the most creative and eye-catching print applications from Halloween 2022.
Seasonal print has become increasingly important for print service providers, with events throughout the year providing a valuable source of income in markets around the world.

One such event that has witnessed tremendous growth in recent years is Halloween, with celebrations surrounding All Hallows' Eve growing in size every year.

Here, FESPA.com pays tribute to the role print companies play in this holiday and the work they have produced for this year's spooky season…
Scarily good!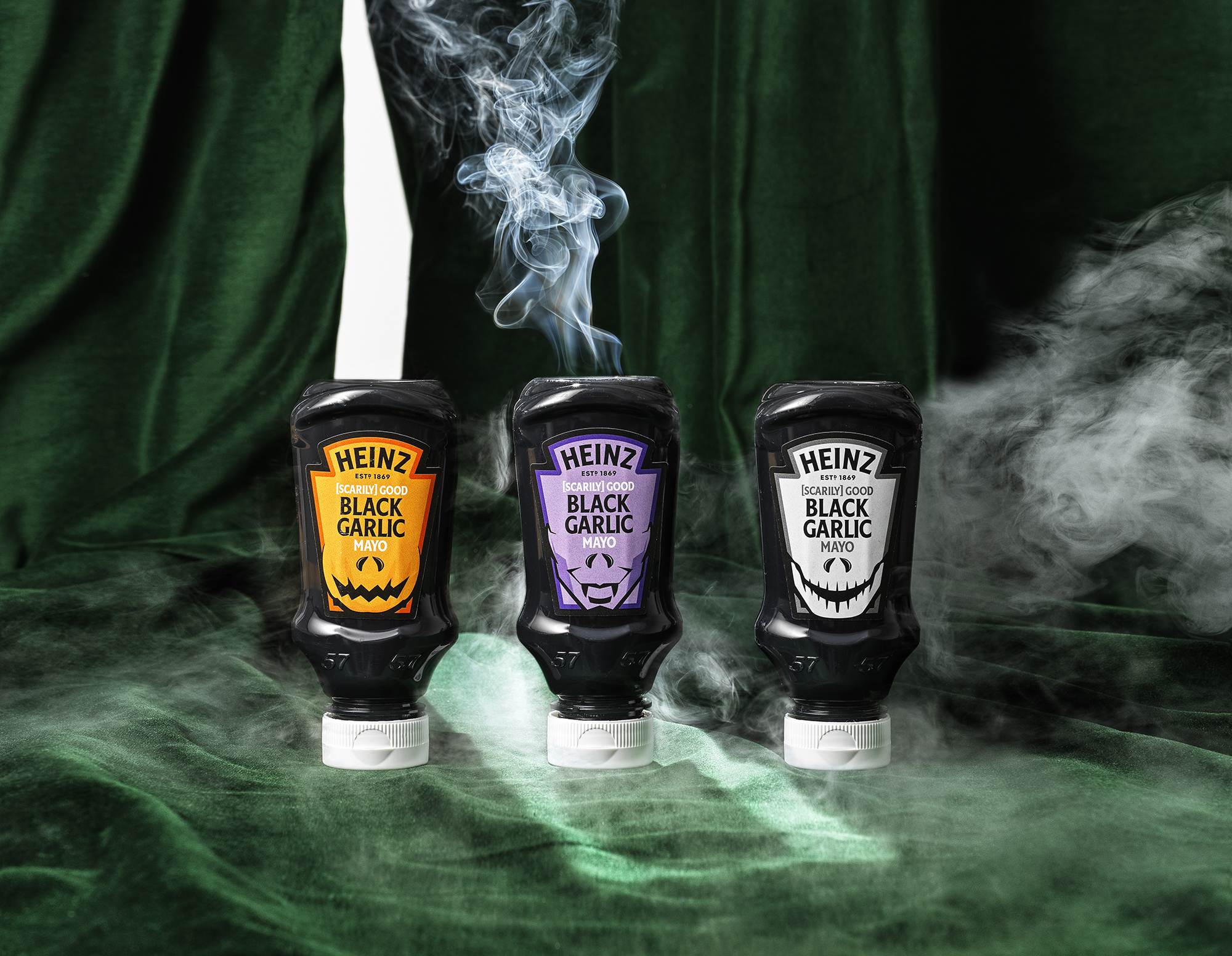 Designer: Heinz
Description: Heinz rolled out a limited-edition range of its garlic mayonnaise product, with the traditional colour being changed to bring a spooky feel to the popular condiment! The rebrand was accompanied by seasonal packs, each of which depicted a scary face.

Image courtesy of Heinz
Who you gonna call?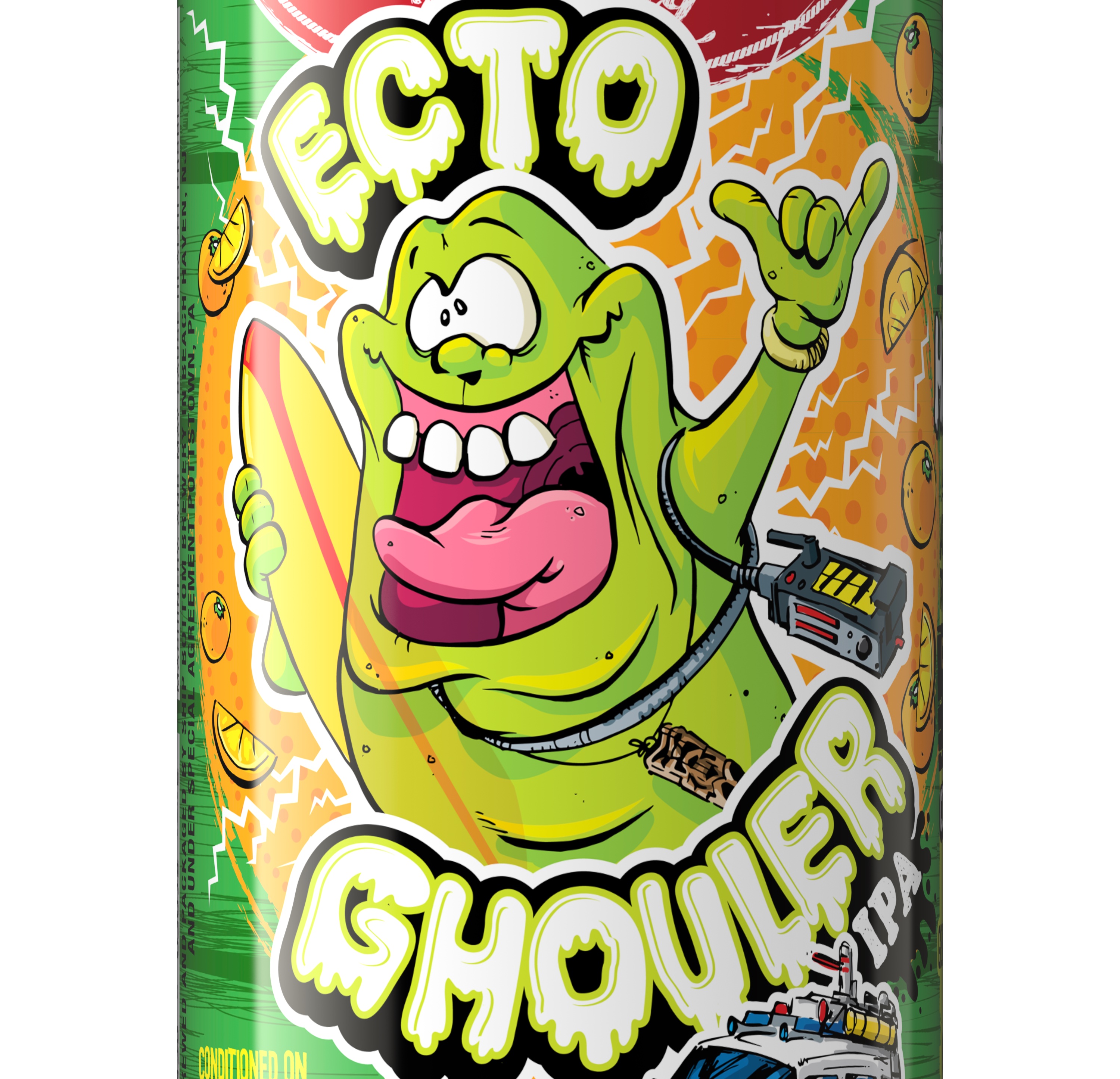 Designer: Ship Bottom Brewery
Description: New Jersey-based Ship Bottom Brewery launched a special edition can for its IPA. The printed design features images of the popular Ghostbusters franchise, including the infamous Slimer.

Image courtesy of Ship Bottom Brewery
Fanta Oooooooorange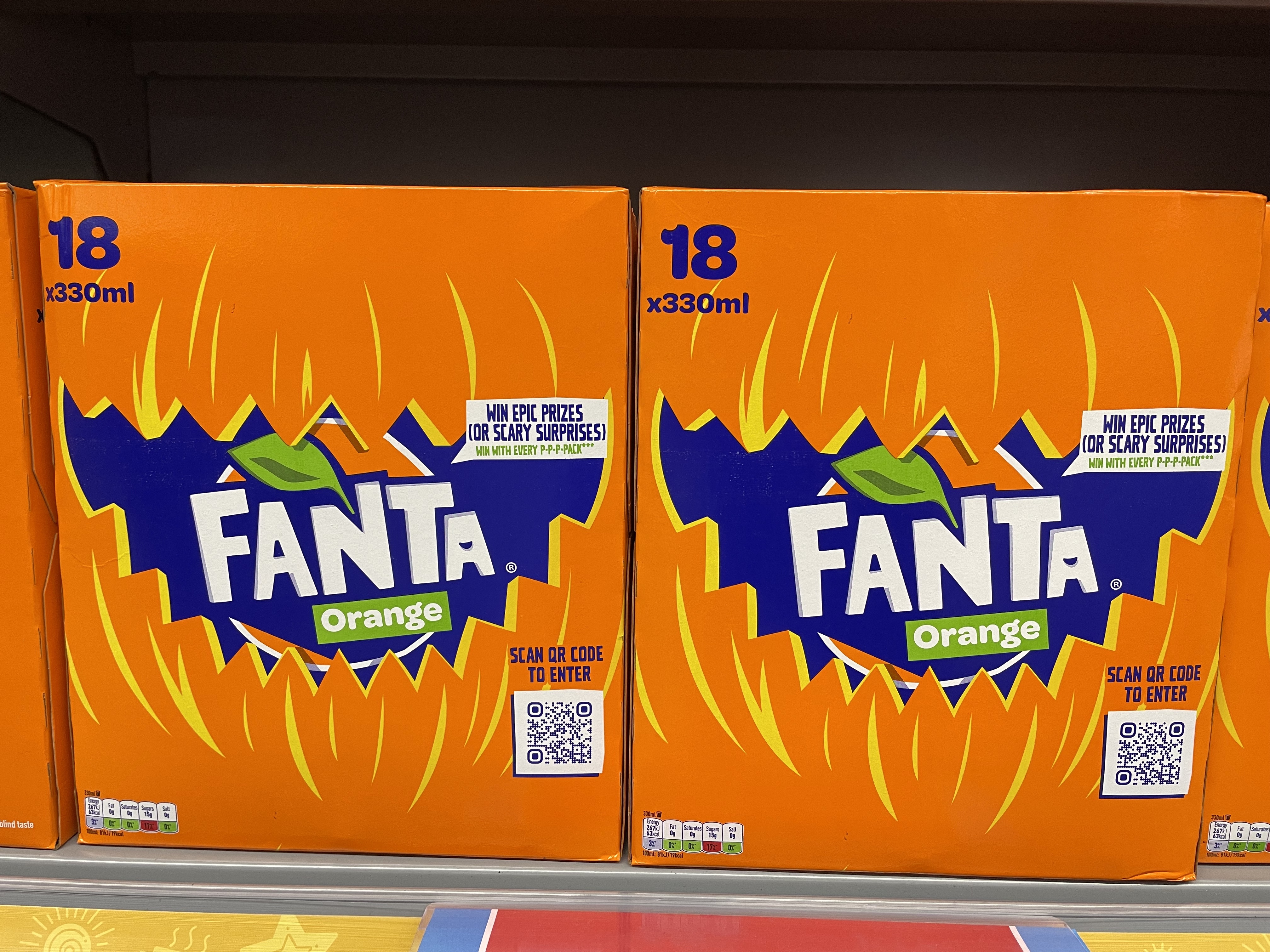 Designer: Fanta/Coca-Cola
Description: Soft drinks brand Fanta got into the spirit of the season by changing the look of its multi-pack boxes for Halloween this year. Playing on its traditional orange colour, the brand transformed the packs to resemble a scary pumpkin face.

Image courtesy of Rob Fletcher

Things that glow in the dark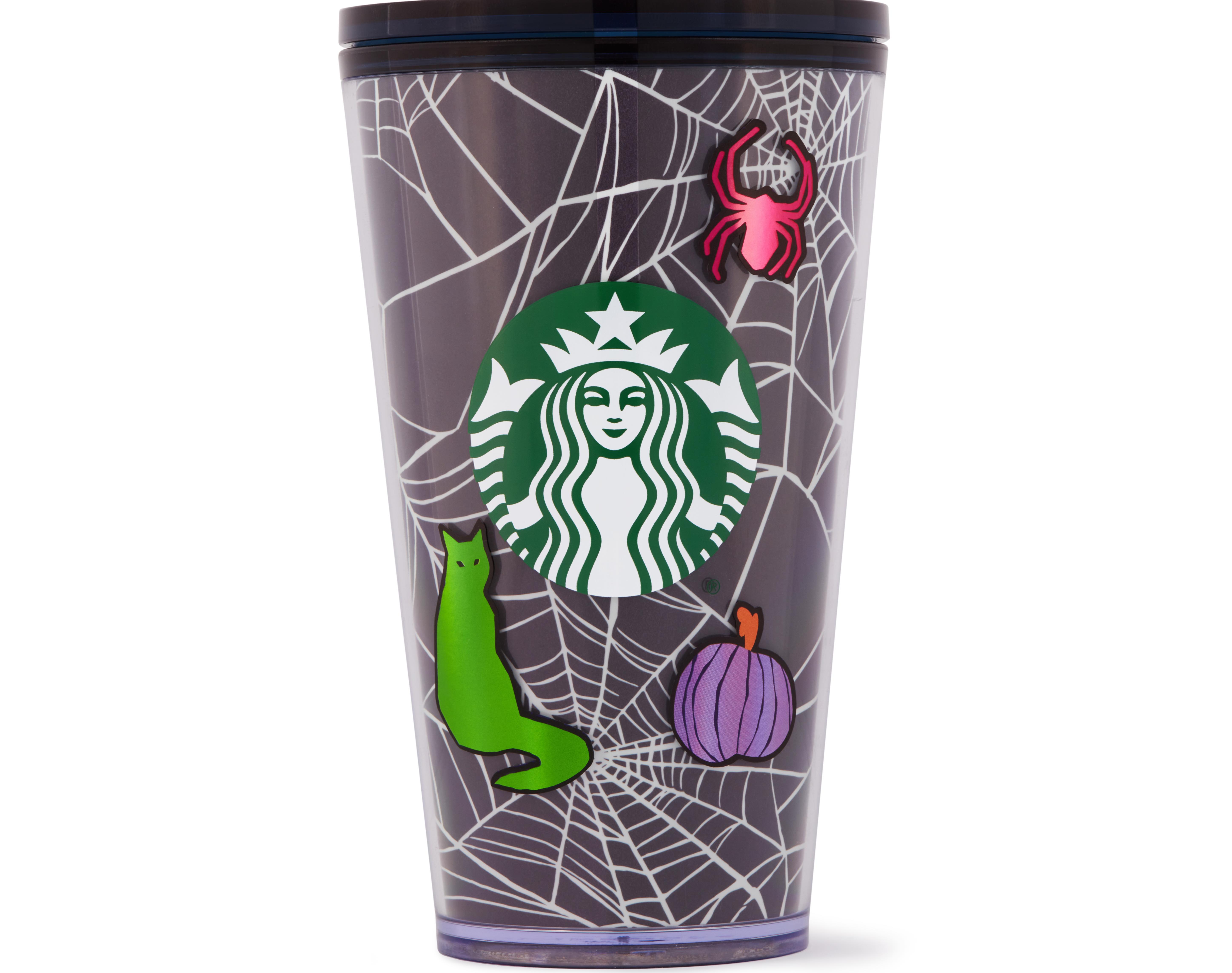 Designer: Starbucks
Description: Coffee store chain Starbucks launched a special series of glow-in-the-dark cups for customers to buy this Halloween. The reusable cups were available in a range of designs, each as frightening as the last!

Image courtesy of Starbucks
Franzia-stein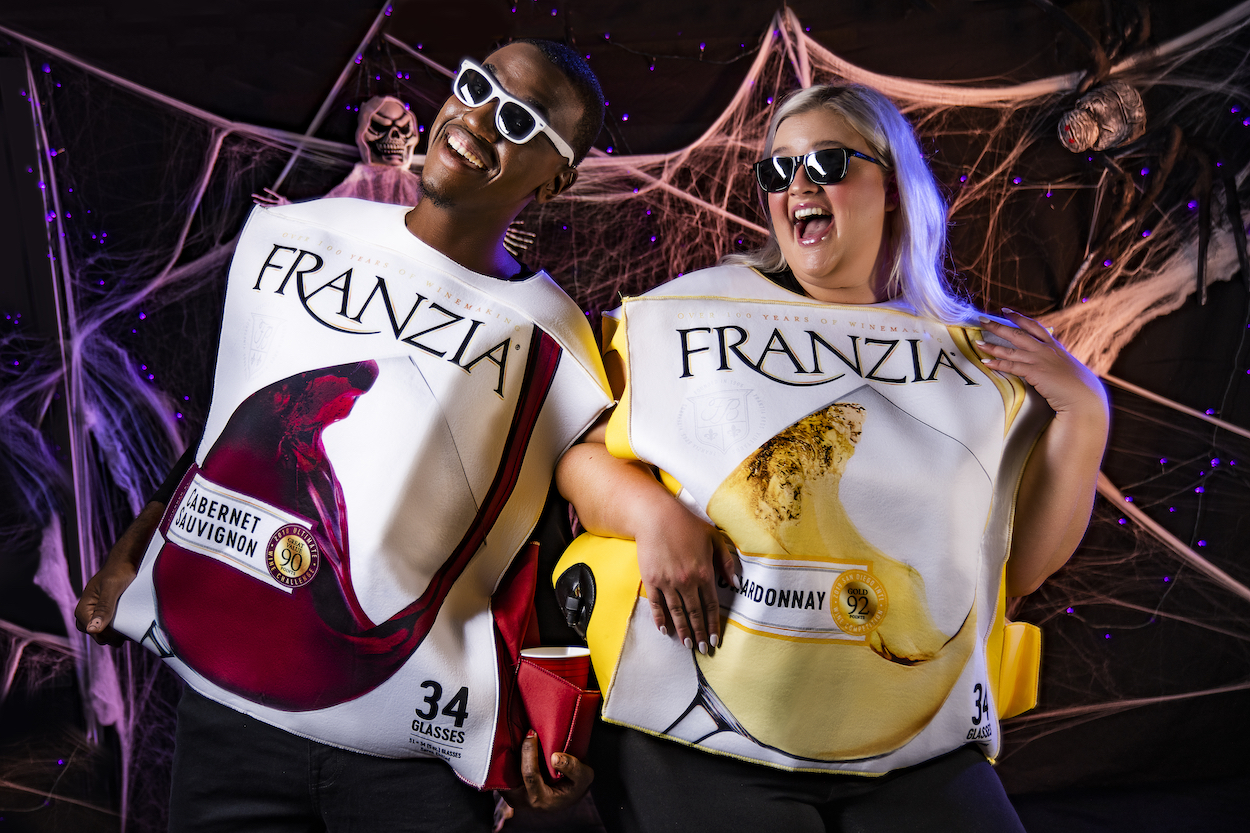 Designer: Franzia Wines
Description: US win producer Franzia Wines invited its customers to celebrate Halloween this year dressed as their favourite wine boxes. The adult-sized costumes were available as Franzia Chardonnay or Cabernet Sauvignon.

Image courtesy of Franzia Wines
It's a mystery!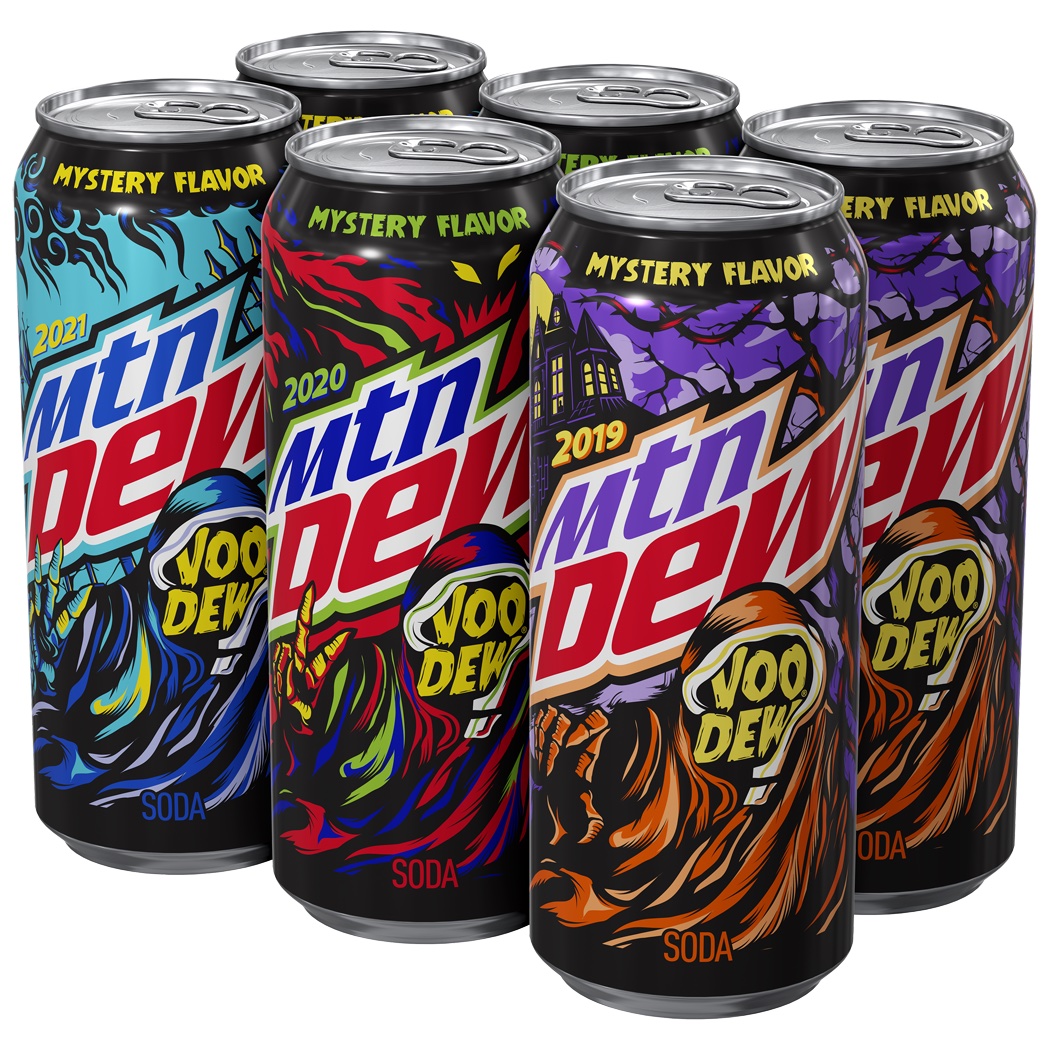 Designer: Mountain Dew
Description: Soft drinks brand Mountain Dew released a spooky-sounding limited edition range of products this Halloween. Featuring scary packaging, each can of Mtn Dew Voo-Dew is a mystery flavour, meaning consumers will not know what they are drinking until they take a sip!

Image courtesy of Mountain Dew
Trick or dog treat?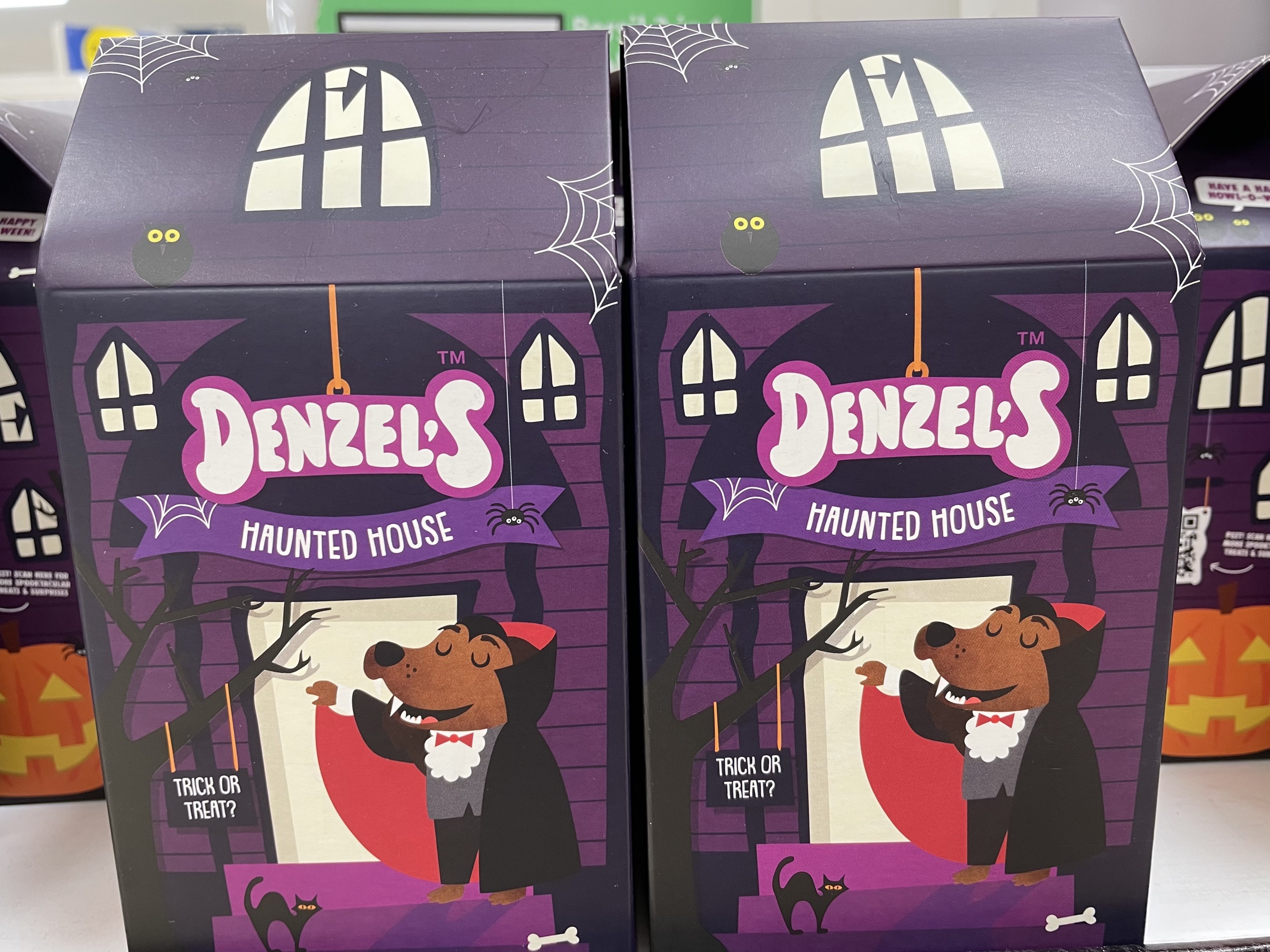 Designer: Denzel's
Description: Who says humans are the only ones who can enjoy Halloween? Dog food brand Denzel's came up with this clever pack for its dog treats. The packaging was designed to resemble a haunted house, with images on the side depicting the spooky scene.

Image courtesy of Rob Fletcher
Cereal killer!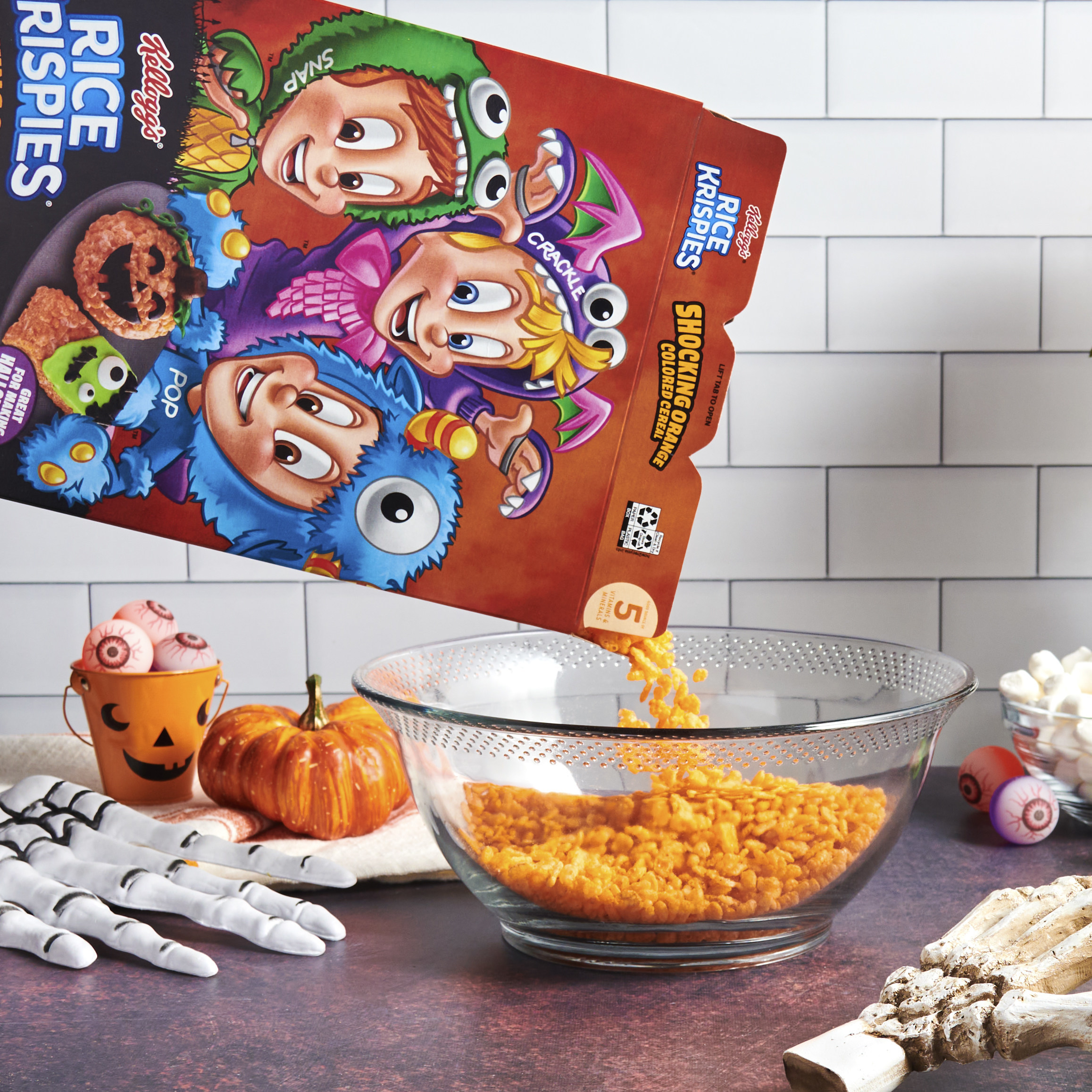 Designer: Kellogg's
Description: Snap, Crackle and Pop, the iconic three mascots of Kellogg's Rice Krispies, got in on the act this year by donning spooky outfits on the packaging for a limited-edition version of the breakfast cereal. The cereal, available during the Halloween season, was also coloured bright orange!

Image courtesy of Kellogg's
Scarily clean!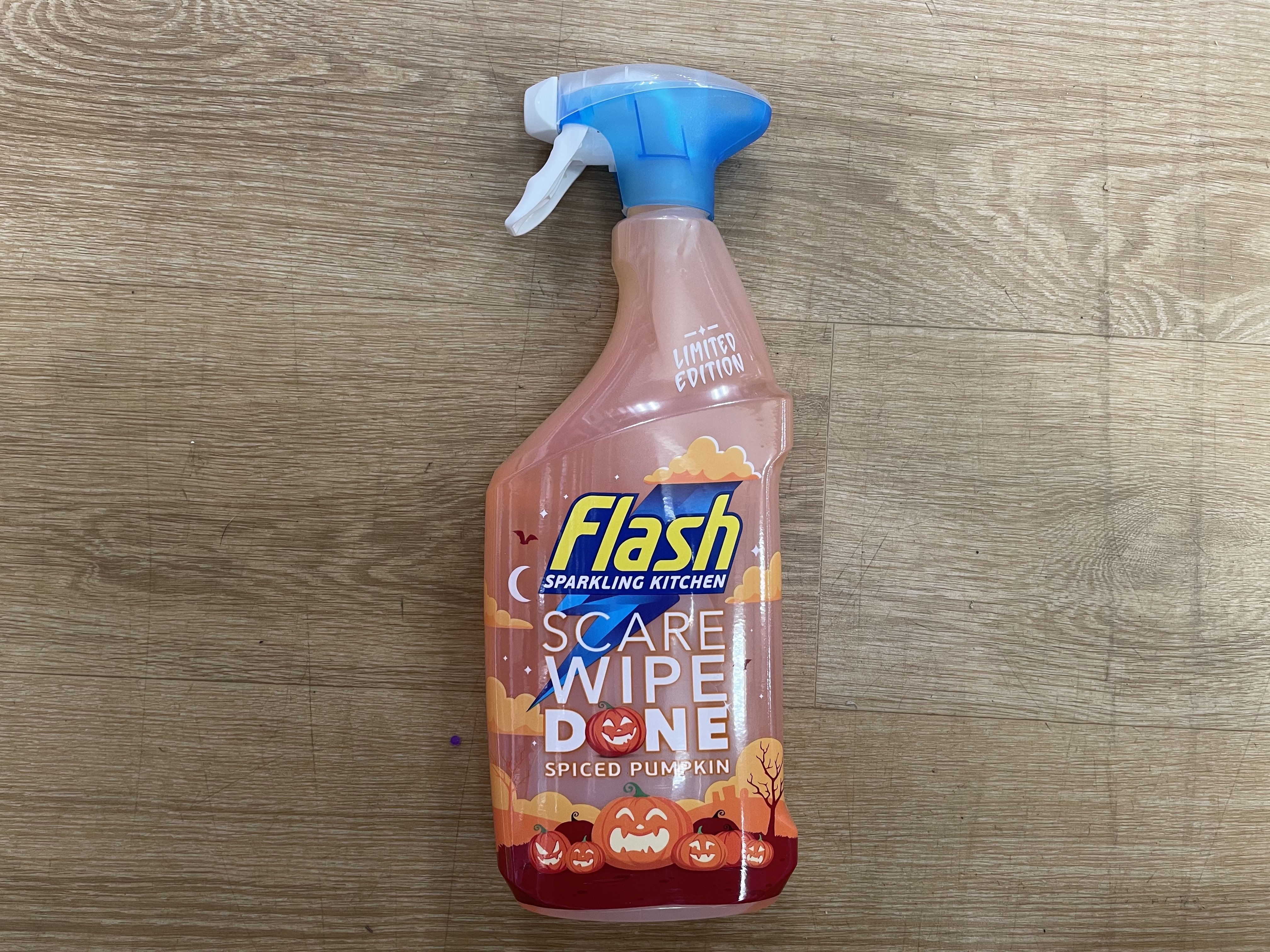 Designer: Flash
Description: Spiced pumpkin has become synonymous with the autumn season, but more so for warm drink flavour as opposed to cleaning products. Inspired by the theme, Flash rolled out a limited edition spiced pumpkin kitchen cleaner, complete with scary pumpkins on the printed label.

Image courtesy of Rob Fletcher
B-B-B-Bacardi!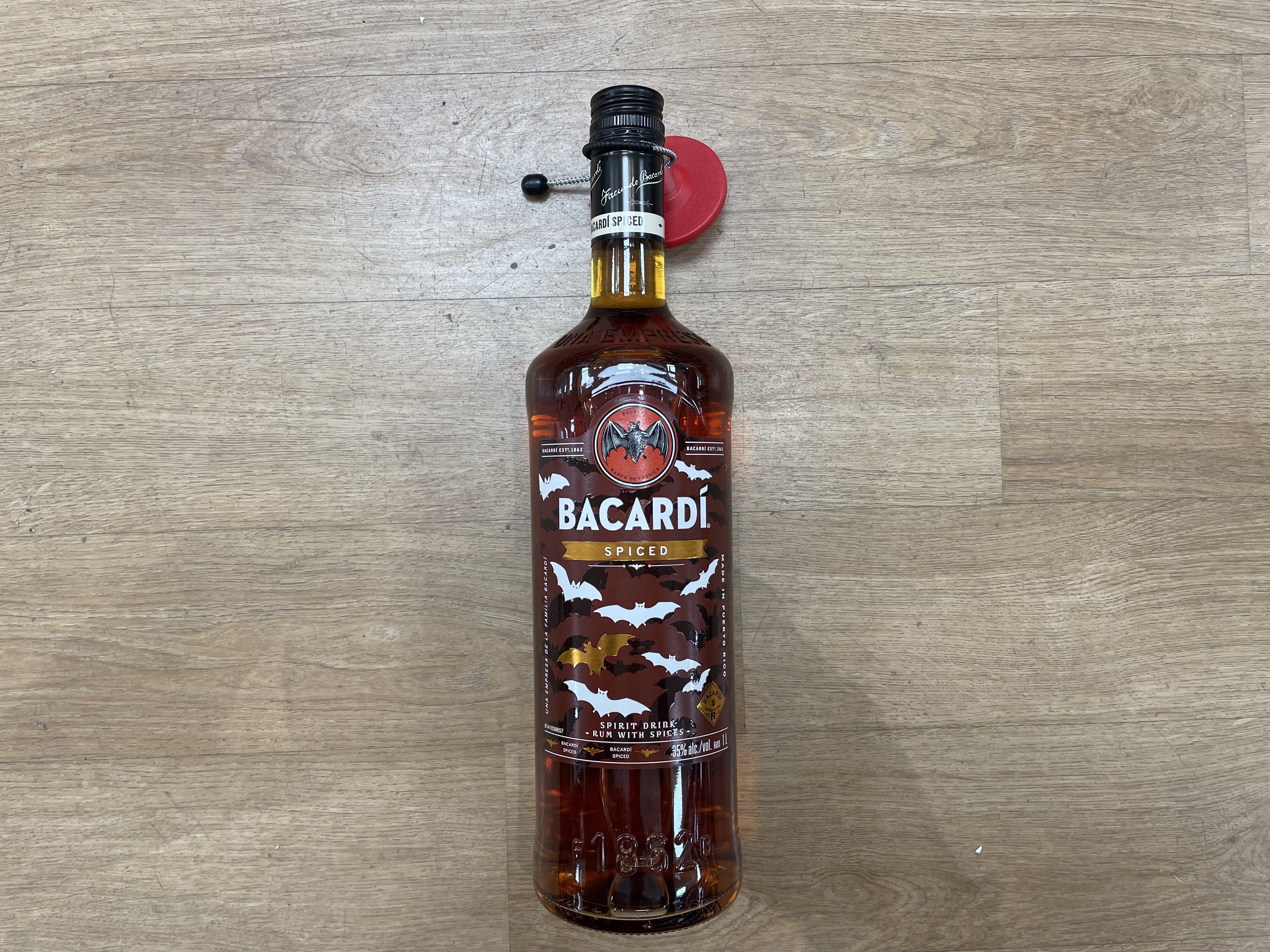 Designer: Bacardi
Description: Spotted on the shelves of a local supermarket, this Bacardi bottle cleverly plays on the brand's famous bat logo, with smaller bats having been added to the printed label to create limited-edition Halloween bottles.

Image courtesy of Rob Fletcher
Scarily healthy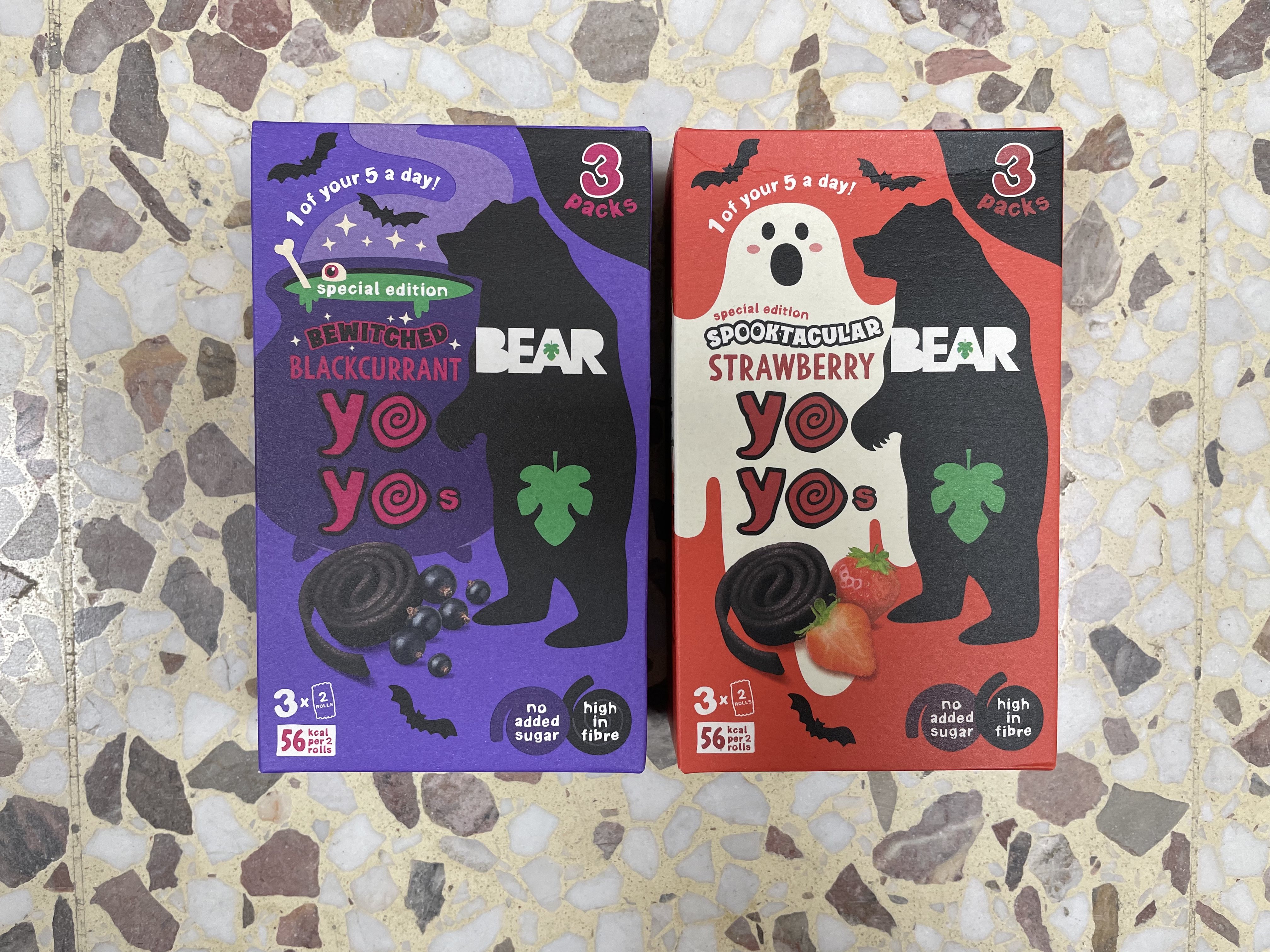 Designer: Bear
Description: Another clever example of product rebranding for Halloween. To celebrate the spooky season, Bear switched the name of a number of its healthy snack products, including Bewitched Blackcurrant and Spooktacular Strawberry, with the packs also being decorated with scary designs.

Image courtesy of Rob Fletcher
Going green at Halloween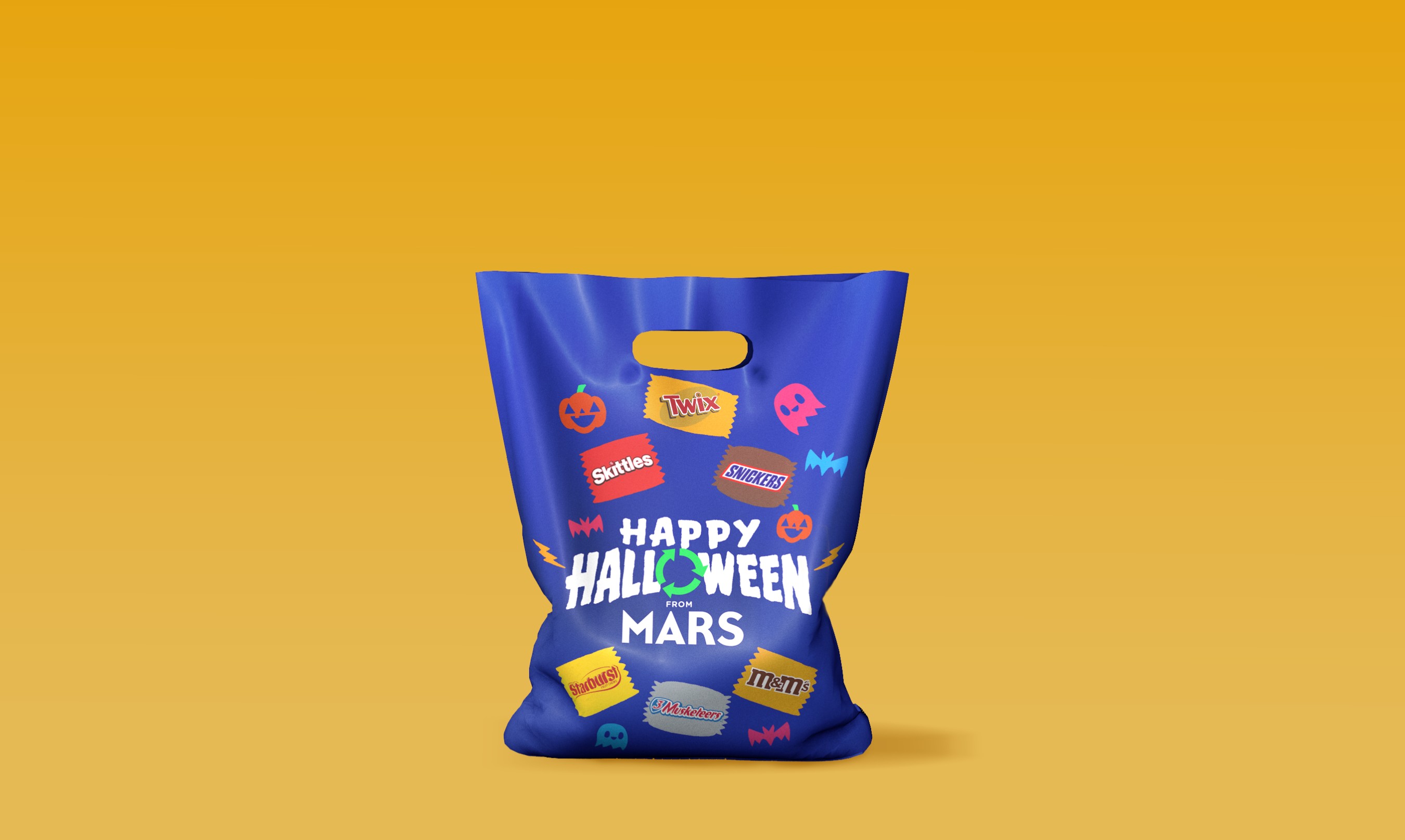 Designer: Mars / Rubicon Technologies
Description: Confectionary giant Mars partnered with digital waste and recycling solutions provider Rubicon Technologies to produce special edition packs to help cut down on waste. The specially designed, trick-or-treating bags were recyclable, meaning they avoided the usual trip to landfill.

Image courtesy of Mars
Bobbing for angry apples!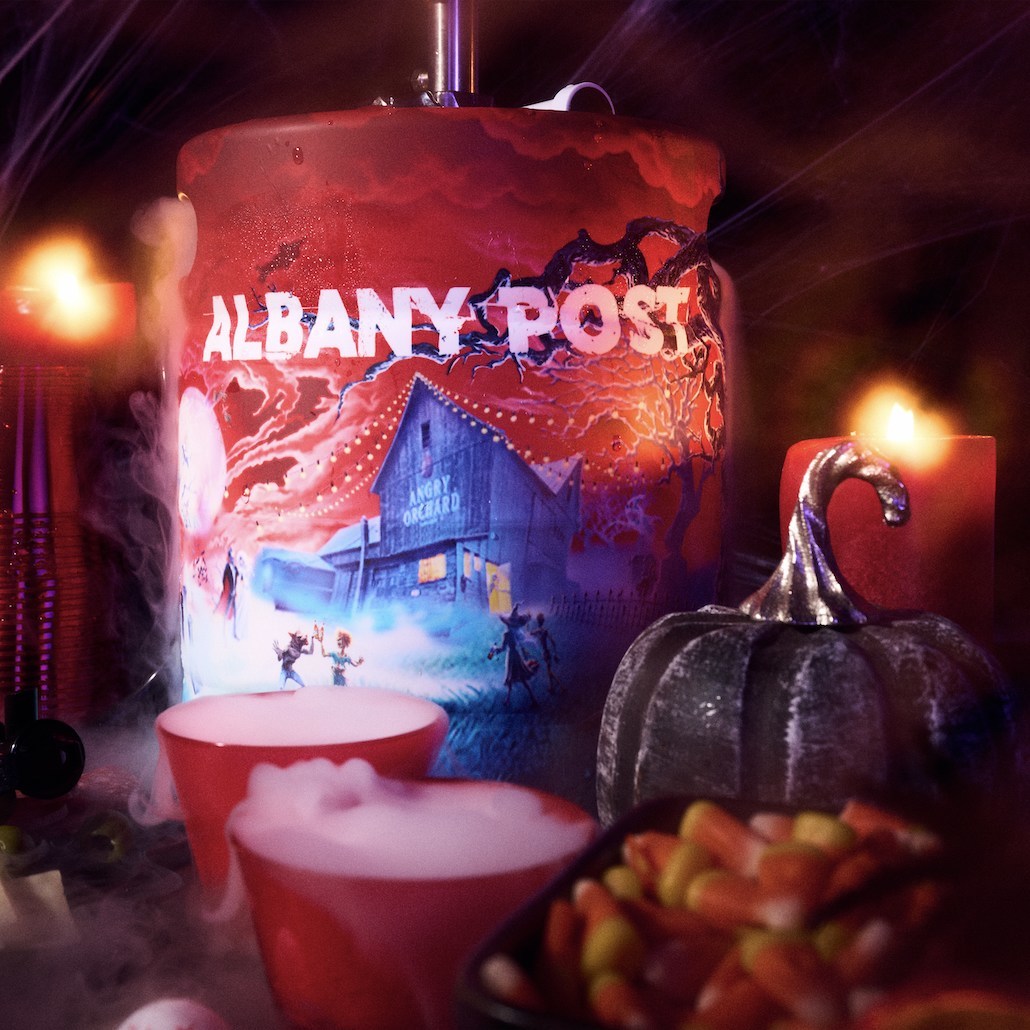 Designer: Angry Orchard
Description: US cider maker Angry Orchard released a limited-edition series of mini kegs to celebrate Halloween 2022. The kegs were dressed up in custom graphics featuring haunted versions of Angry Orchard's own orchard.

Image courtesy of Angry Orchard
Skeleton crimes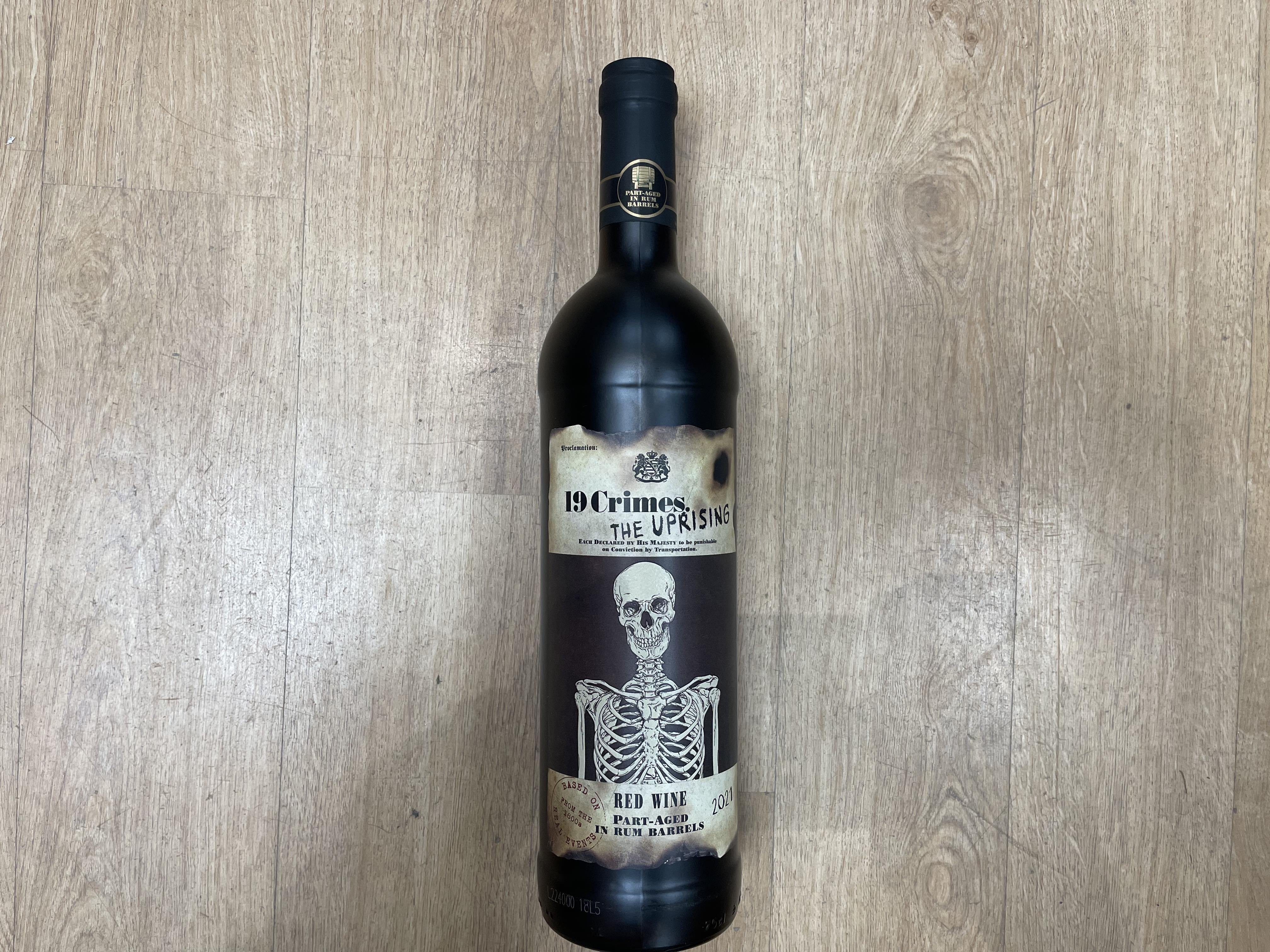 Designer: 19 Crimes
Description: Australian wine brand 19 Crimes came up with this spooky design for one if its red wine bottles. The skeleton replaced the usual image of one of the also-scary-looking convicts that were shipped from England to the Australian penal colonies between 1788 and 1868.

Image courtesy of Rob Fletcher
Fang-tastic Jaffaween!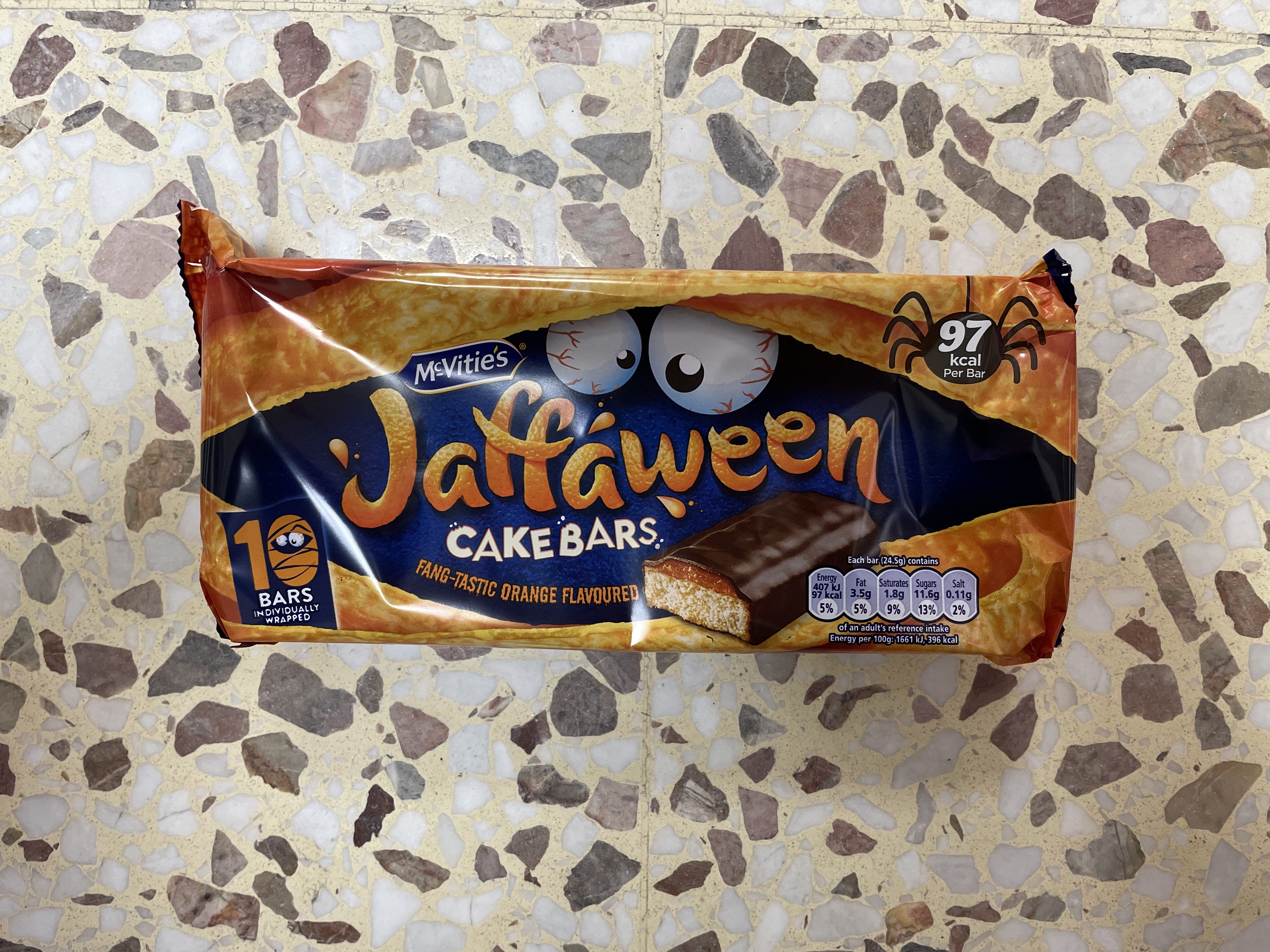 Designer: Jaffa Cakes / McVitie's
Description: We have all seen companies rebrand products to fit in with the spooky season, but what about rebranding Halloween altogether? This is exactly what McVitie's did for its famous Jaffa Cakes product, which, in addition to adopting scary packaging, also renamed itself, and the holiday, to Jaffaween!

Image courtesy of Rob Fletcher
Counting down to Halloween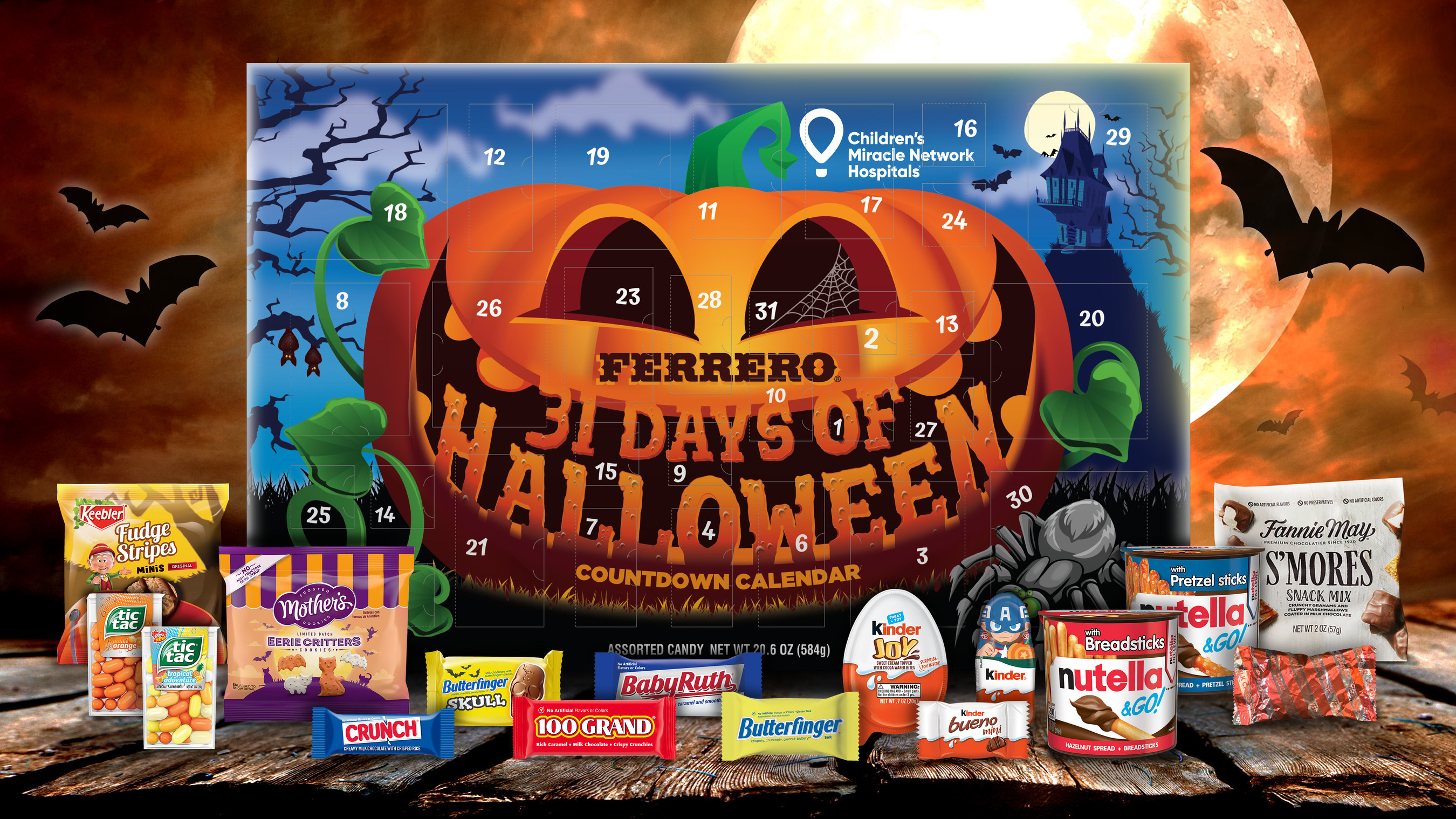 Designer: Ferrero USA
Description: We've all heard of Advent Calendars for Christmas, but what about a spooky countdown for Halloween? Ferrero USA launched a '31 Days of Halloween' countdown calendar to mark the lead-up to the big day, with each door revealing a different treat from Ferrero. For each calendar sold, Ferrero USA donated $31 to charity.

Image courtesy of Ferrero USA

Mars attacks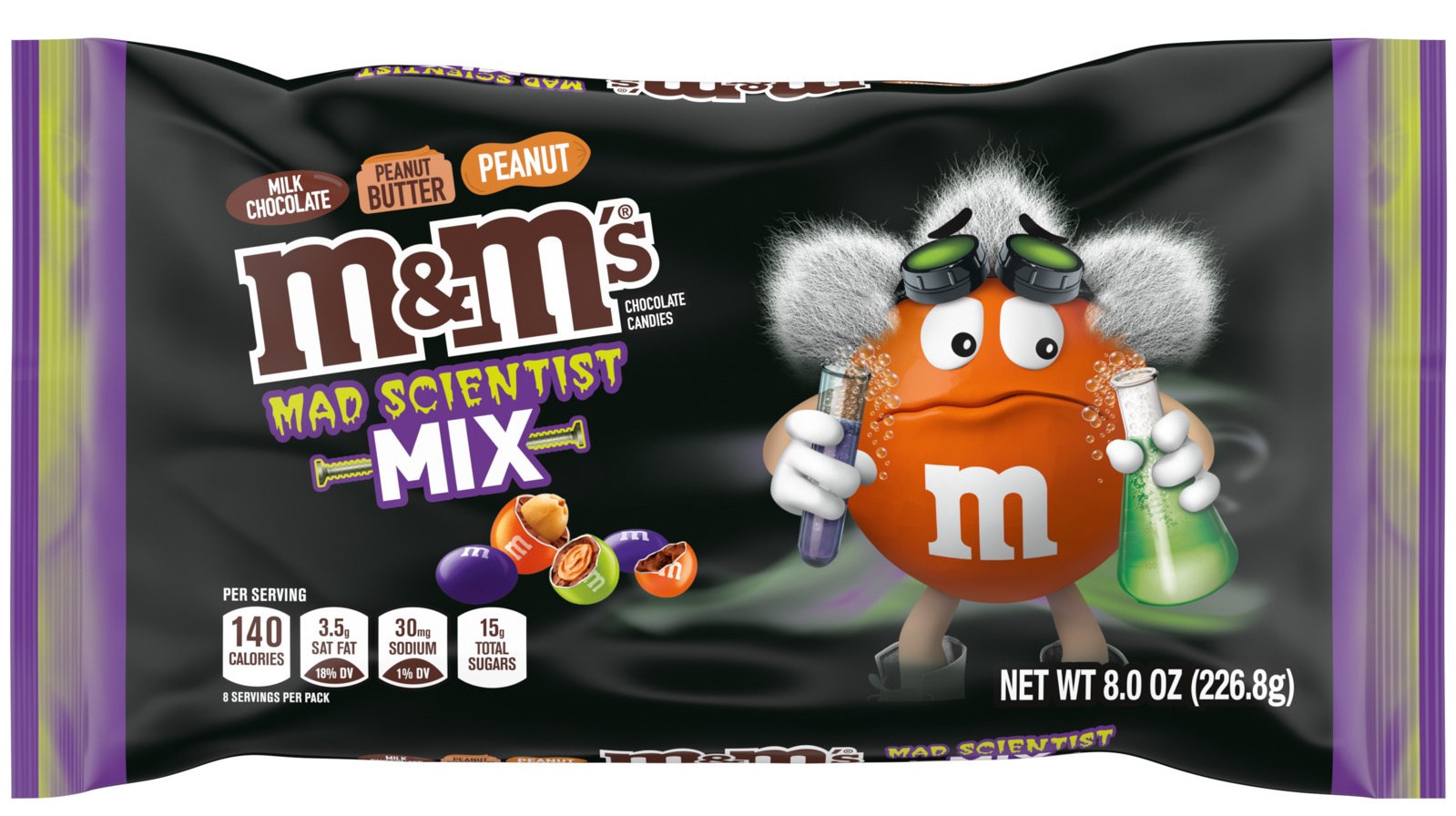 Designer: Mars
Description: Mars is back with a second inclusion for its series of spooky packets, developed especially for the Halloween season. Special edition packs were produced for the Snickers, Twix and M&M's brands, each of which took on a scary-sounding name to reflect the product inside.

Image courtesy of Mars

Voo-Dew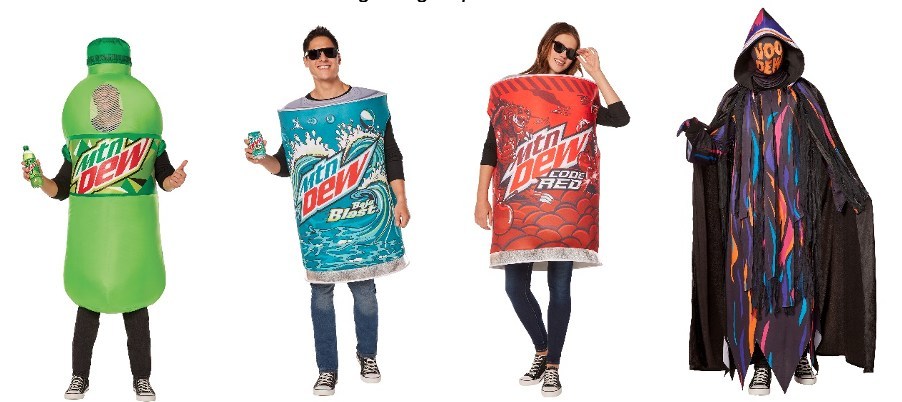 Designer: Mountain Dew
Description: Mountain Dew is also back with something completely different – giant, wearable versions of their famous drinks. The adult-size, printed costumes depicted three of Mountain Dew's products, while the fourth pays homage to the Voo-Dew logo on the special edition drinks.

Image courtesy of Mountain Dew

Blood orange!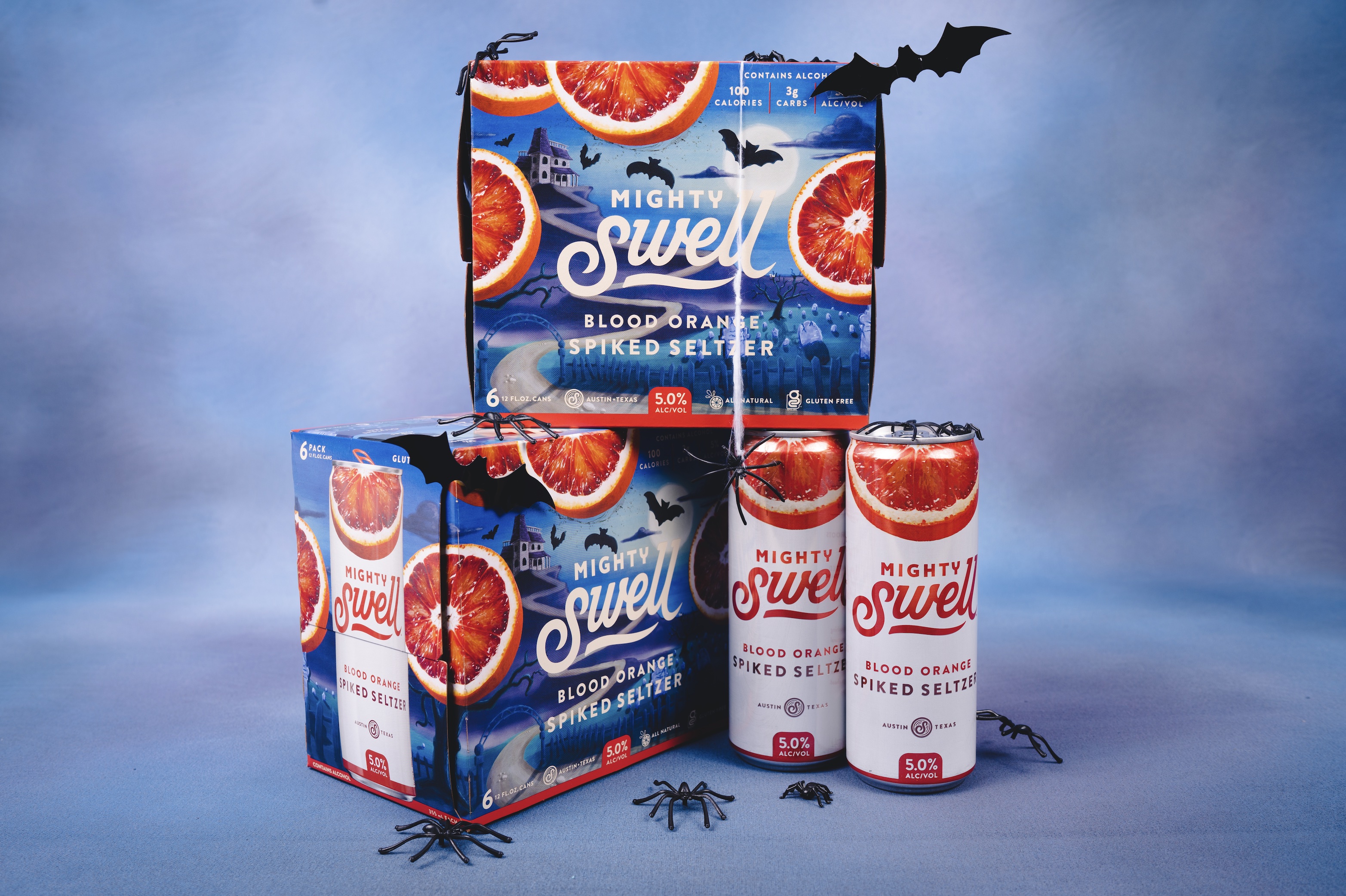 Designer:
Description: Texas-based drinks brand The Mighty Swell launched a limited-edition product to celebrate Halloween this year. Blood Orange Spiked Seltzer cans were packed in spooky multi-pack, cardboard cases, depicting a scary scene with the equally-scary-sounding blood oranges on top.

Image courtesy of The Mighty Swell
Trick or treat for charity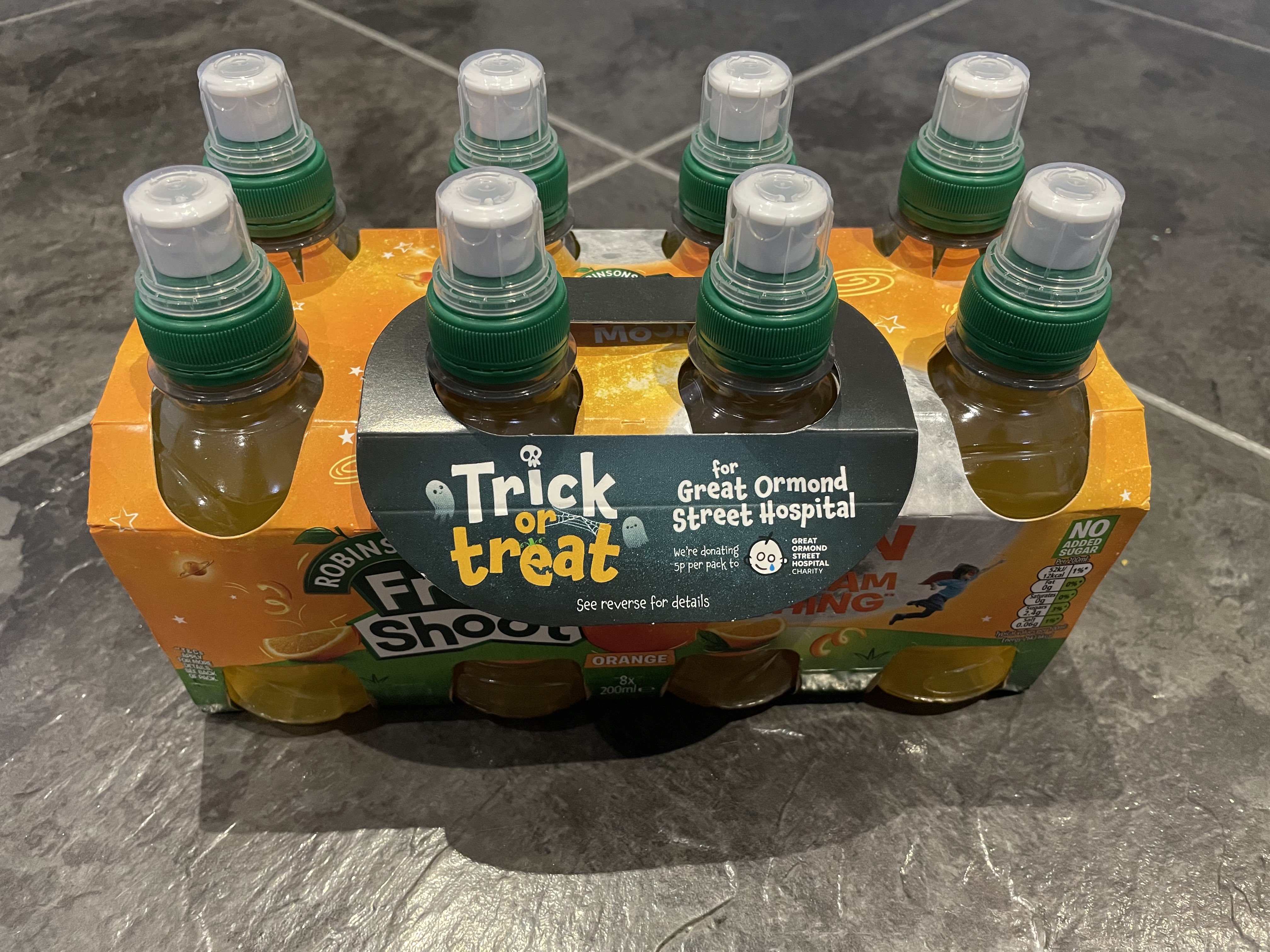 Designer: Robinson's
Description: Robinson's launched a special campaign with its Fruit Shoot products this year in an effort to use Halloween to help raise money for Great Ormond Street Hospital. Each of its multi-packs featured an additional piece of Halloween-themed, printed card detailing how Robinson's would donate 5p from every pack sold to the charity.

Image courtesy of Rob Fletcher
Interested in joining our community?
Enquire today about joining your local FESPA Association or FESPA Direct