Features
Top 20 Digital Signage Applications of 2020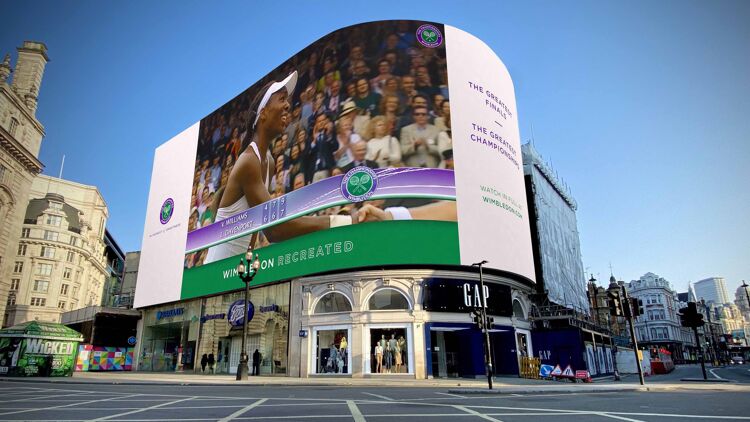 Rob Fletcher picks out some of the most eye-catching digital signage applications from 2020
Digital technologies became even more important over the past year, as we were forced to switch from meeting people in person to talking over the computer or mobile phones during the pandemic.

The signage market is all too aware of the benefits of digital, with development in digital signage having come on leaps and bounds in recent years as suppliers work with marketers to connect with consumers in innovative new ways.

Here, FESPA.com takes a look at the best applications from the past year…
Absen makes a splash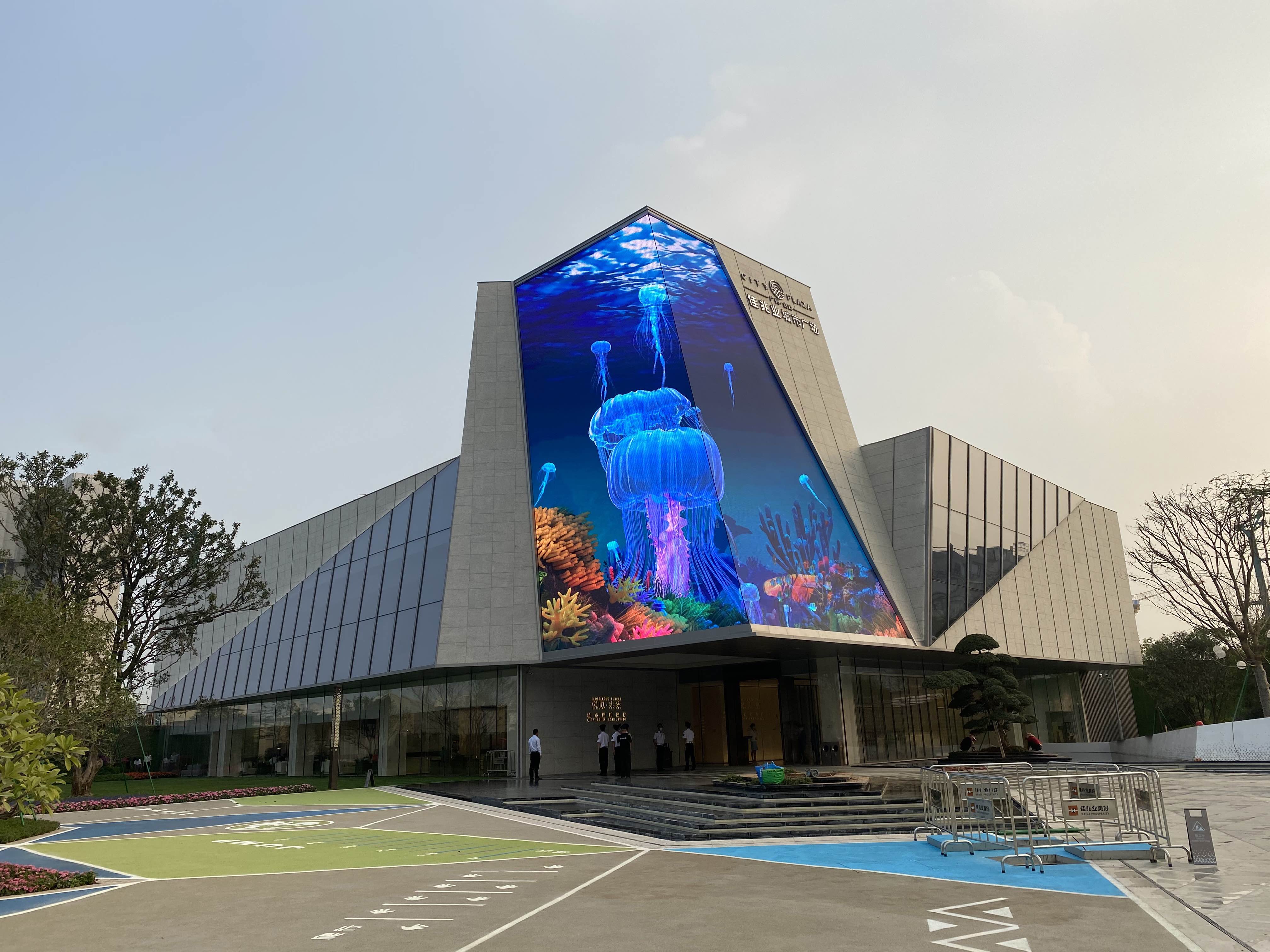 Caption: Image courtesy of Absen

Designer: Absen
Description: Absen worked with Chinese real estate developer Kaisa Prosperity on a major digital signage project in 2020. Absen produced and installed a wide range of signage at Kaisa's facility in Guangzhou, including this gigantic outdoor piece measuring just under 275sq m.
Clear Channel celebrates Pride with digital campaign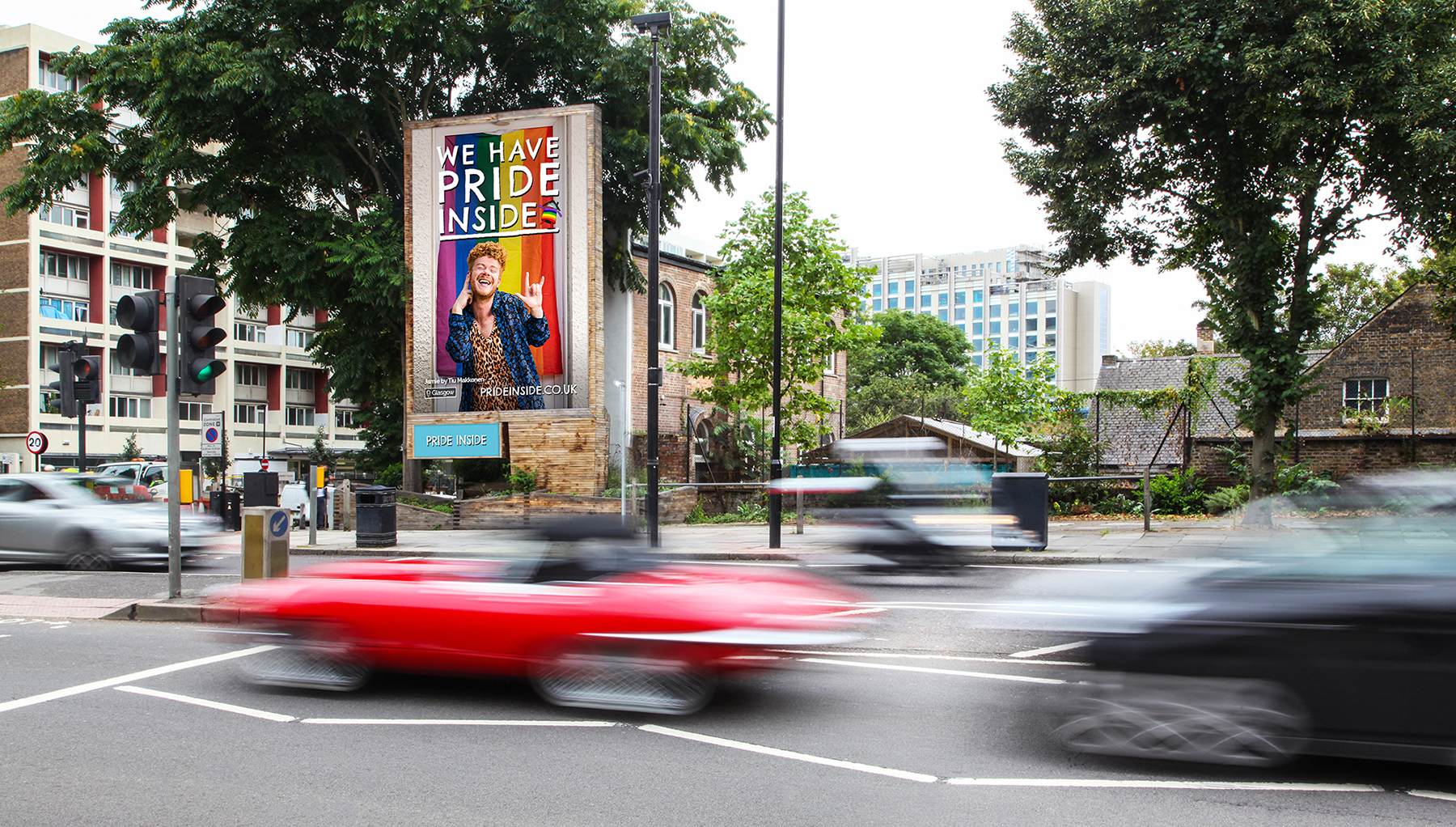 Caption: Image courtesy of Clear Channel

Designer: Clear Channel / Various
Description: Clear Channel donated 1,000 of its digital screens across the UK to a grassroots campaign for Pride. As Covid-19 halted traditional Pride events in 2020, writer, performer and drag star Ginger Johnson came up with the idea of celebrating digitally. Images from 120 queer contributors and photographers were displayed on Clear Channel's screen to celebrate the LBGTQ+ community.
Reconnecting fans with sports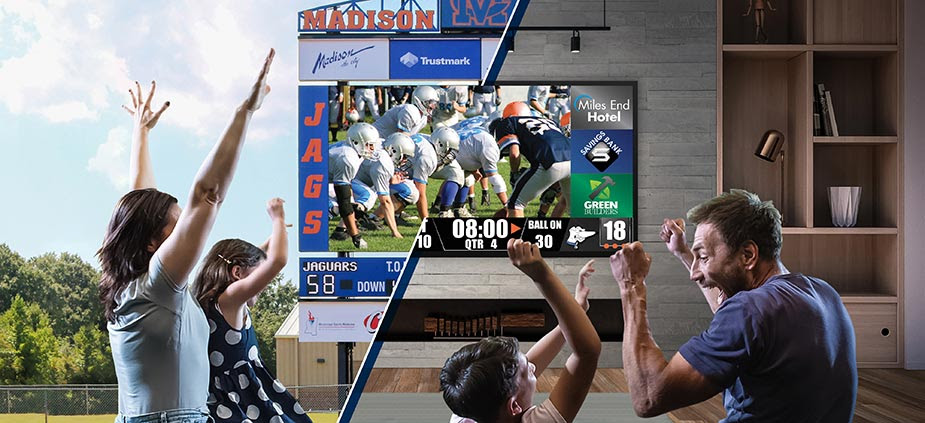 Caption: Image courtesy of Daktronics

Designer: Daktronics
Description: The Covid-19 pandemic meant almost all sports events were played behind doors in 2020, but LED and digital displays specialist Daktronics found a way of helping fans enjoy the thrill of matches while at home. Big Stream is the first streaming product of its kind to create a video signal to stream video board content directly to fans at home.
Educating the next generation with digital signage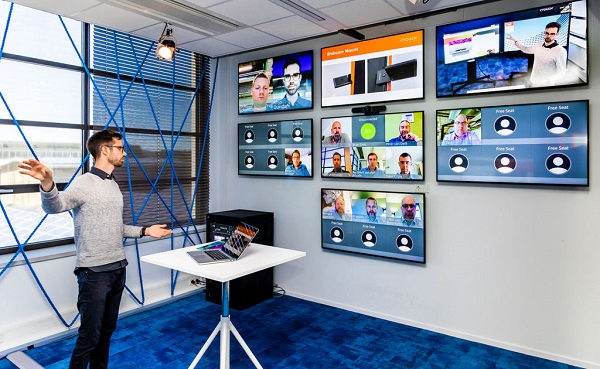 Caption: Image courtesy of CTOUCH

Designer: CTOUCH
Description: As schools around the world closed and students forced to learn from home, CTOUCH developed a new type of digital screen that helped teachers educate remotely. CTOUCH linked up with Barco and Kinly to create a virtual classroom as its location in Eindhoven. Companies could also use the facility to deliver training to employees.
Sending Love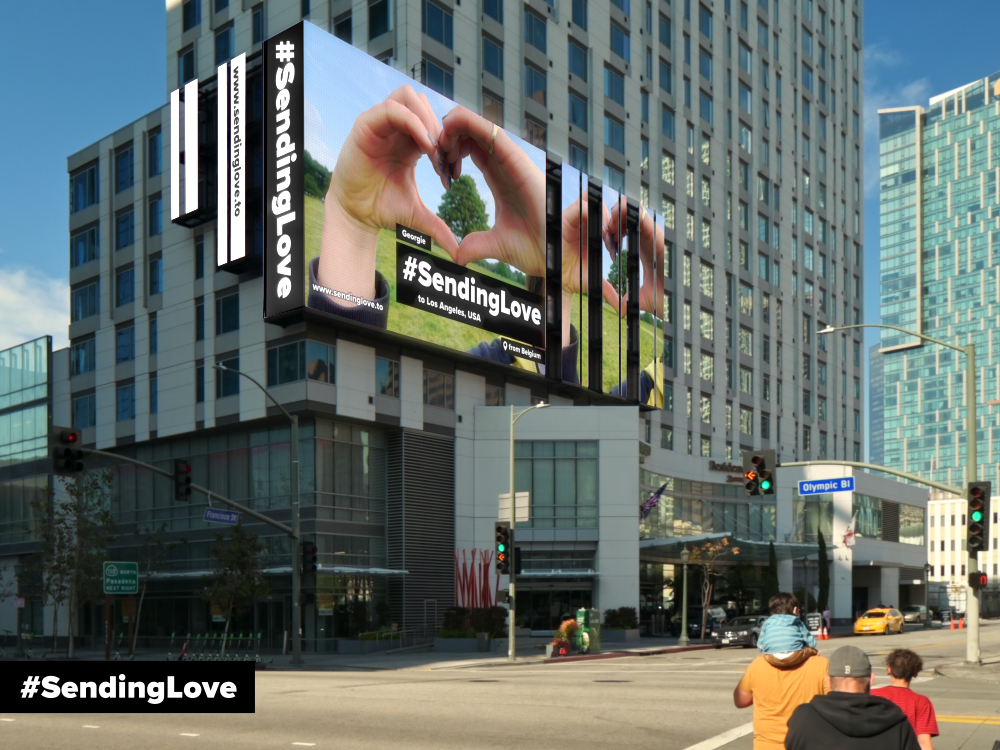 Caption: Image courtesy of Talon Outdoor

Designer: Talon Outdoor / Grand Visual
Description: Talon Outdoor helped share the love as part of a major digital-out-of-home campaign. Facilitated by the World Out of Home Organisation, the #SendingLove campaign ran across advertising space donated by over 70 media owners across 153 cities. Consumers could submit images of themselves making heart shapes, with this then broadcast on screens in a number of countries.
Ocean Outdoor serves an ace with Wimbledon display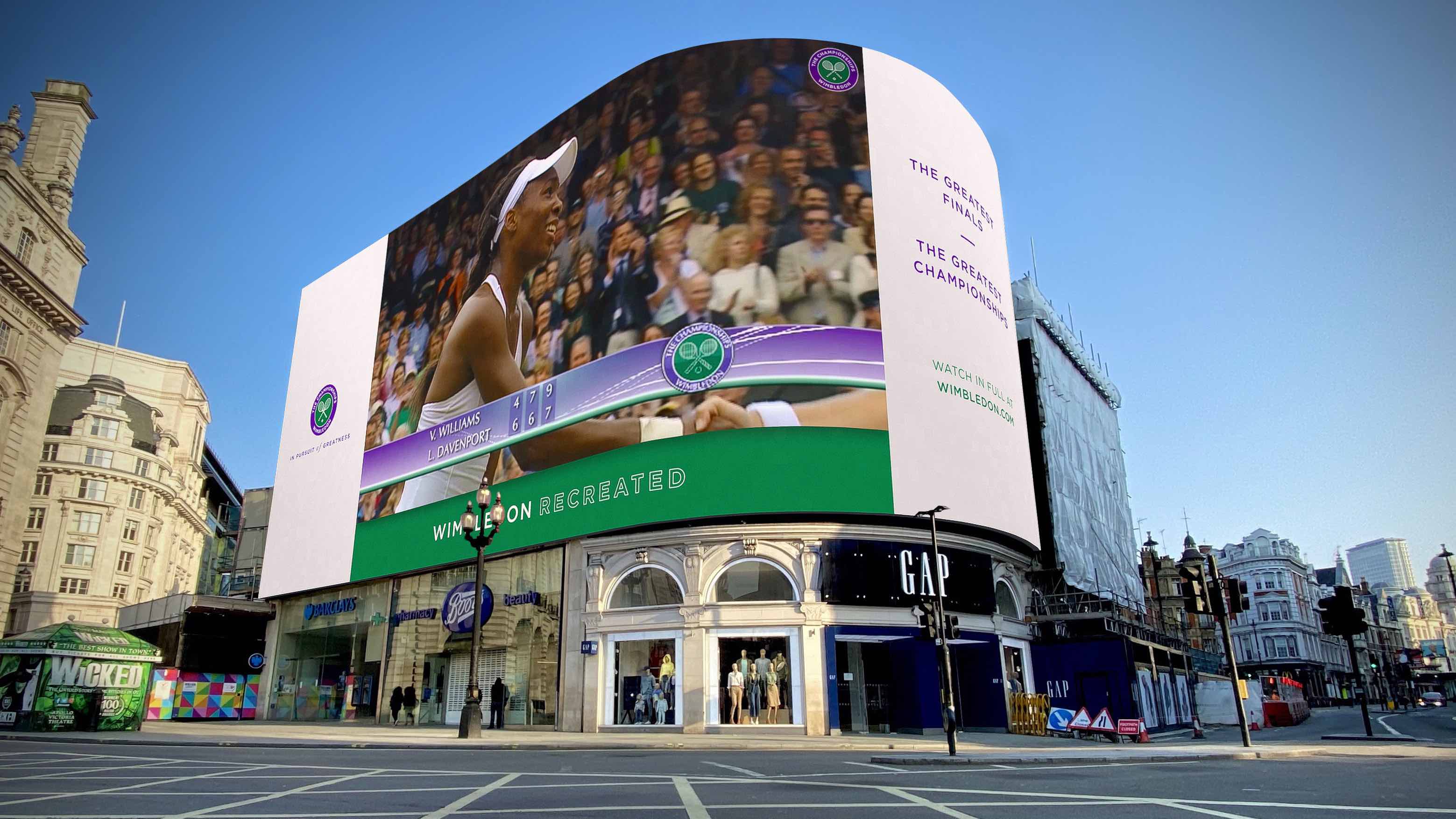 Caption: Image courtesy of Ocean Outdoor

Designer: Ocean Outdoor
Description: Wimbledon was one of a whole host sporting events to fall victim to the Covid-19 pandemic in 2020, with the tennis tournament cancelled due to the restrictions in the UK. Ocean Outdoor helped soften the blow for fans by running a special campaign at the Piccadilly Lights location in London, showing highlights of some of the greatest Wimbledon finals.
Flying high at Edinburgh Airport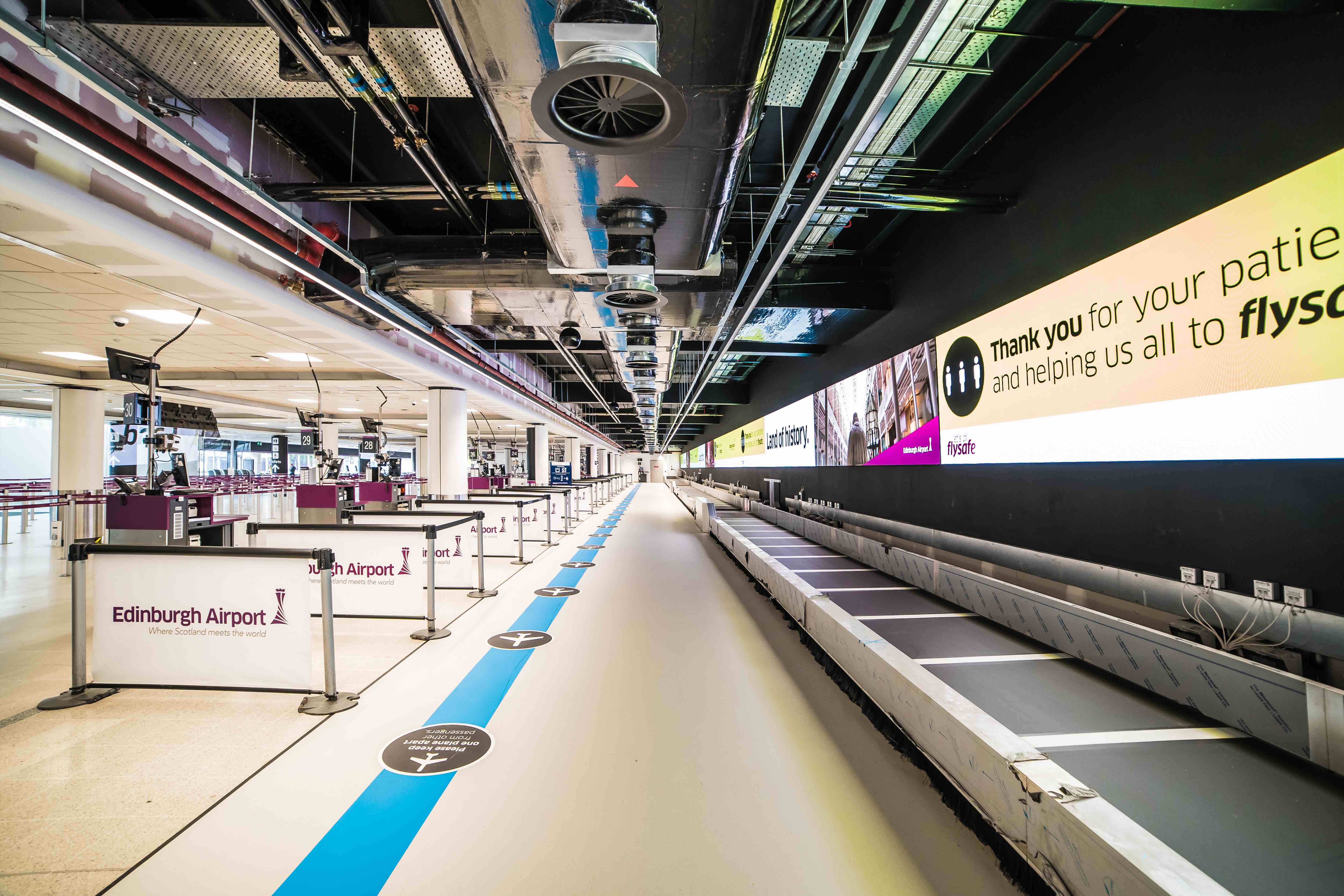 Caption: Image courtesy of Absen

Designer: Absen
Description: Though airports were significantly quieter in 2020, this allowed for innovative digital signage work to take place inside airport buildings. Absen installed the largest LED check-in display in Europe at Edinburgh Airport in Scotland, ready for when the airport begins to welcome more passengers in the hopefully not-too-distant future.
Shop until you drop at Primark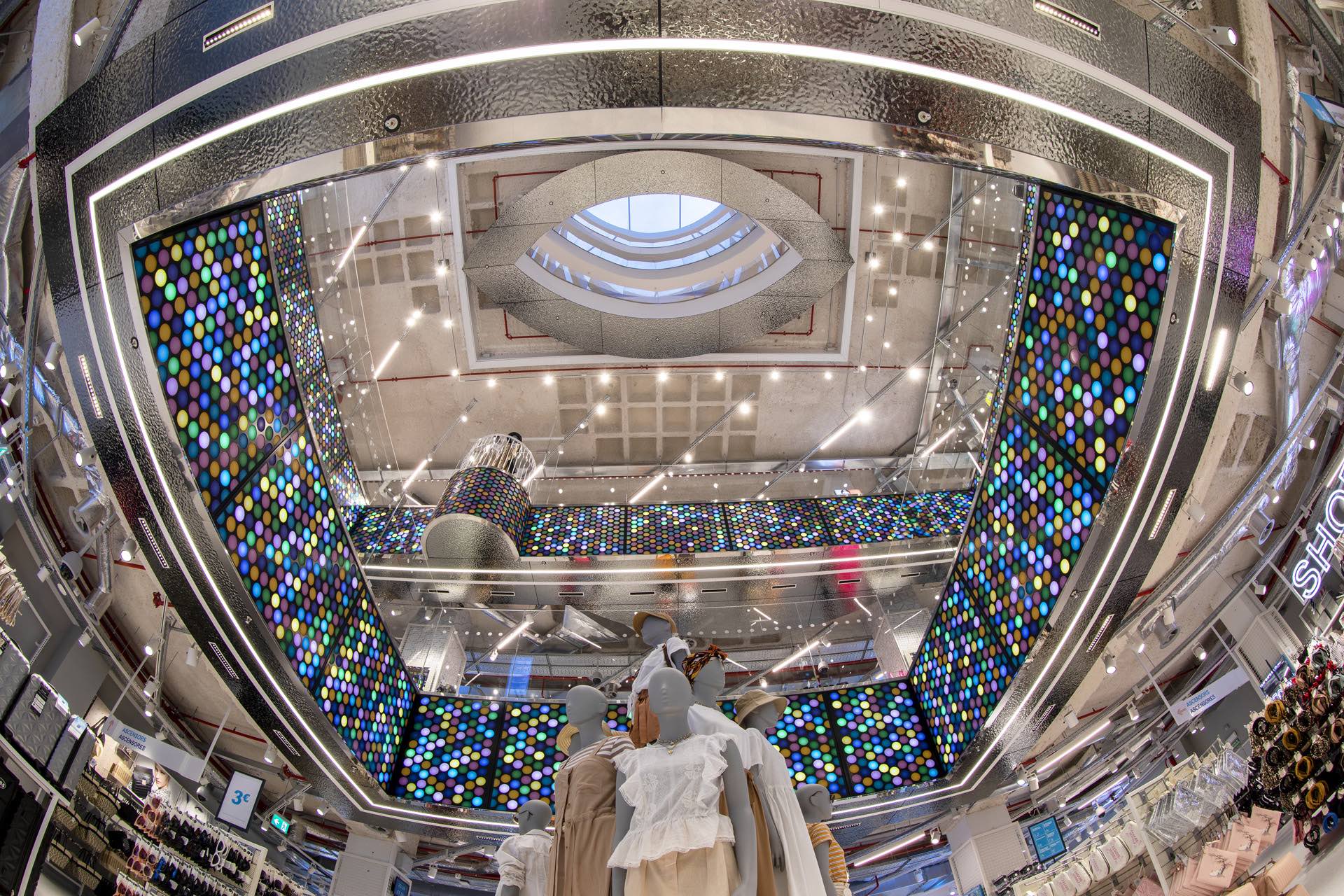 Caption: Image courtesy of Widd Signs

Designer: Widd Signs
Description: UK sign-maker Widd Signs carried out a major rebrand for the flagship Primark store in Barcelona, Spain. The project included 50 different acrylic and aluminium signs, comprising thousands of energy-saving LEDs and more than 1km of wiring.
StairMedia scores at the FA Cup Final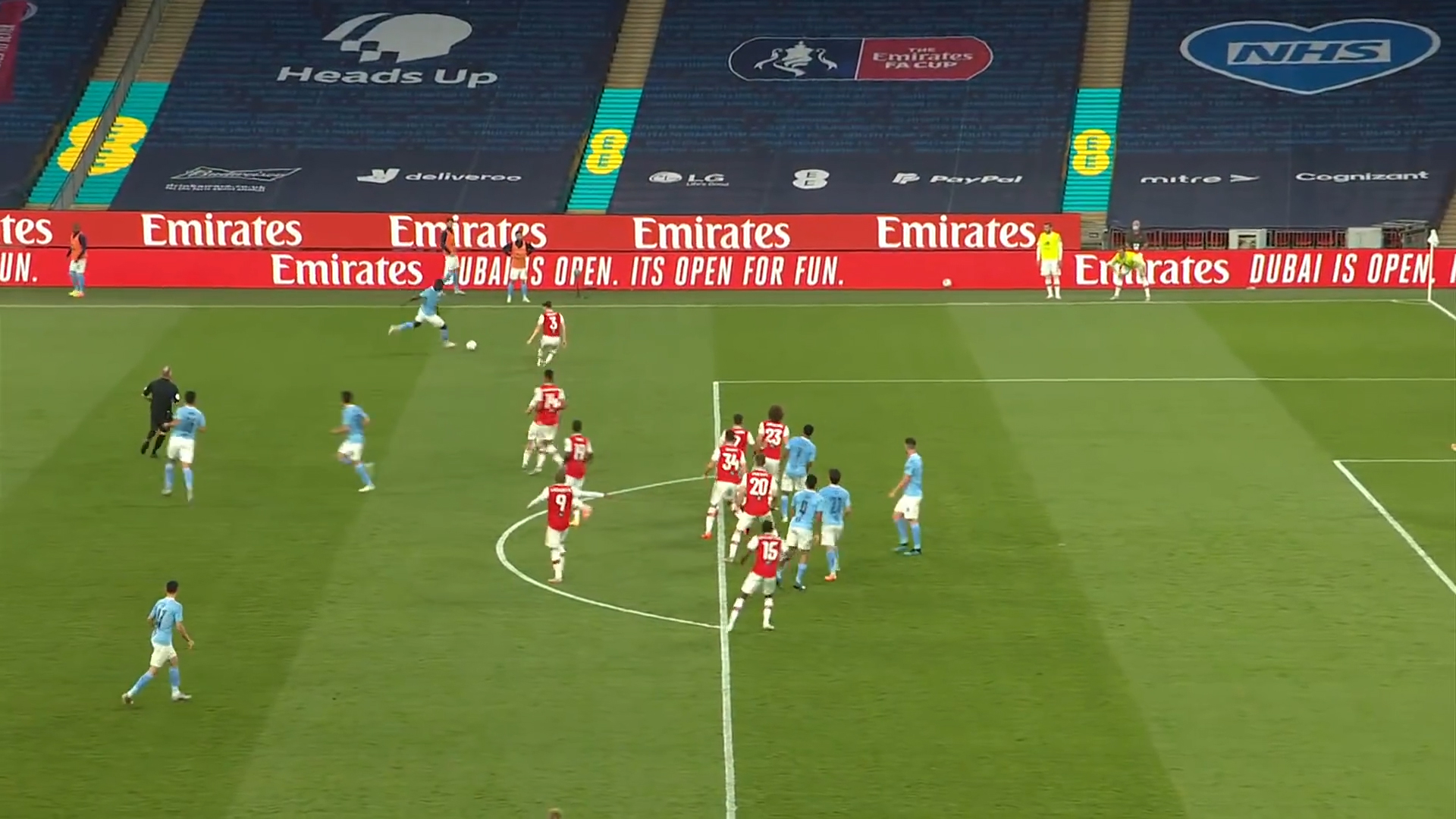 Caption: Image courtesy of StairMedia

Designer: StairMedia
Description: StairMedia pushed the boundaries of digital signage at the FA Cup Final in July, installing its high-resolution LED technology on stairs at Wembley Stadium. Several sections of stairs were transformed into a type of screen, displaying certain messages and advertising during the game.
Breaking records in China
Caption: Image courtesy of VGI Malaysia

Designer: Absen
Description: Absen features again for this impressive project, where the LED solutions provider installed the largest LED airport display in South-East Asia. The project at Kuala Lumpur International Airport included the creation of a 'Digital Dream' screen, comprising a 400sqm LED wall with a 23,976W x 1,008H resolution.
Building for the future with PPDS
Caption: Image courtesy of PPDS

Designer: PPDS
Description: PPDS and Bimagotec worked together on an innovative project for HARFID. The German construction firm required a solution to support its use of Building Information Modelling (BIM) when planning its building projects. In response, Philips installed 26 LED and interactive LCD displays at HARFID, each selected to help staff plan digital visions for future jobs.
Getting arty in NYC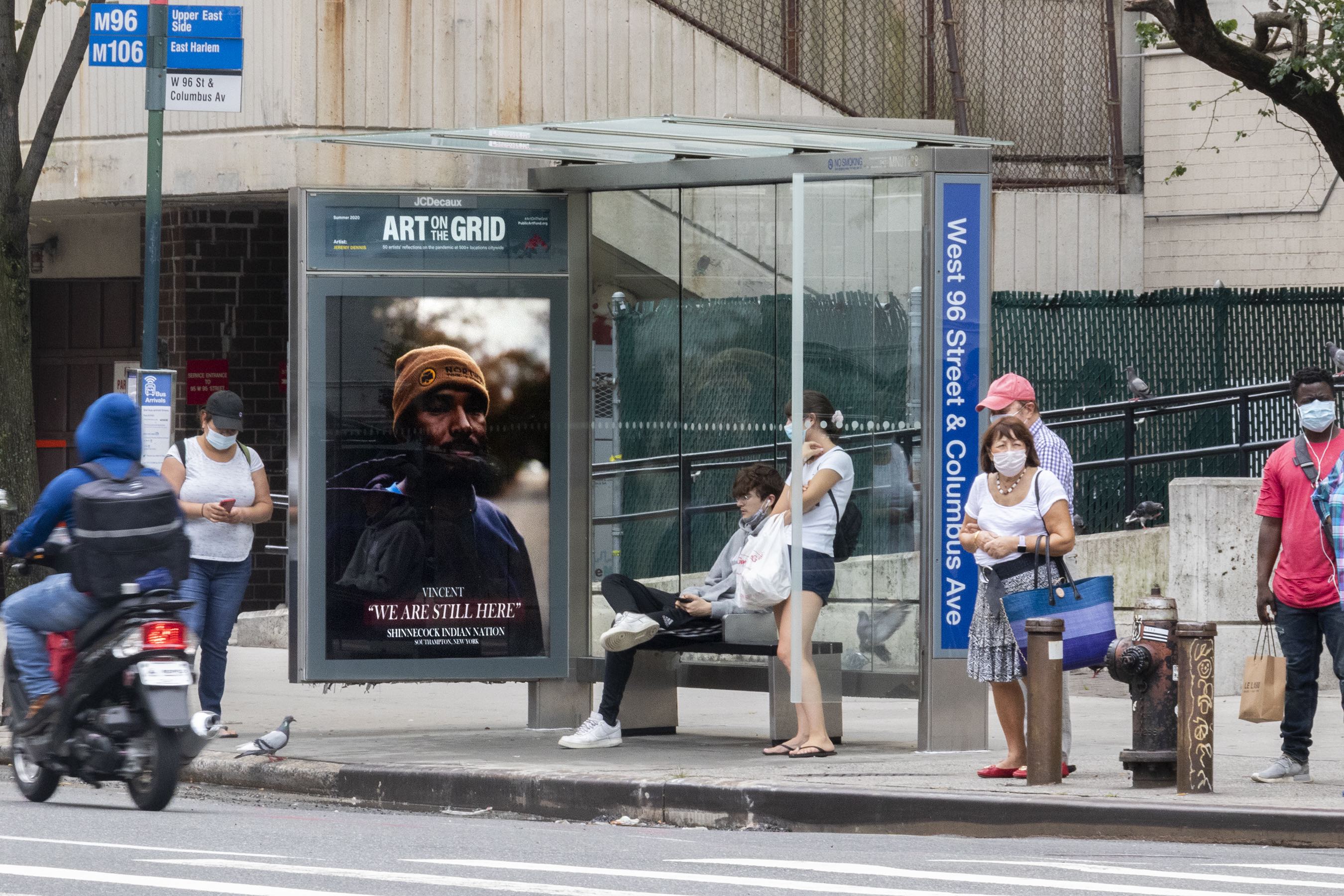 Caption: Image courtesy of JCDecaux

Designer: Public Art Fund
Description: JCDecaux linked up with the Public Art Fund for a special digital art exhibition, which saw work from 50 emerging New York-based artists displayed on screens across the city. The campaign was spread across over 1,700 screens in five New York boroughs.
Cleaning up the oceans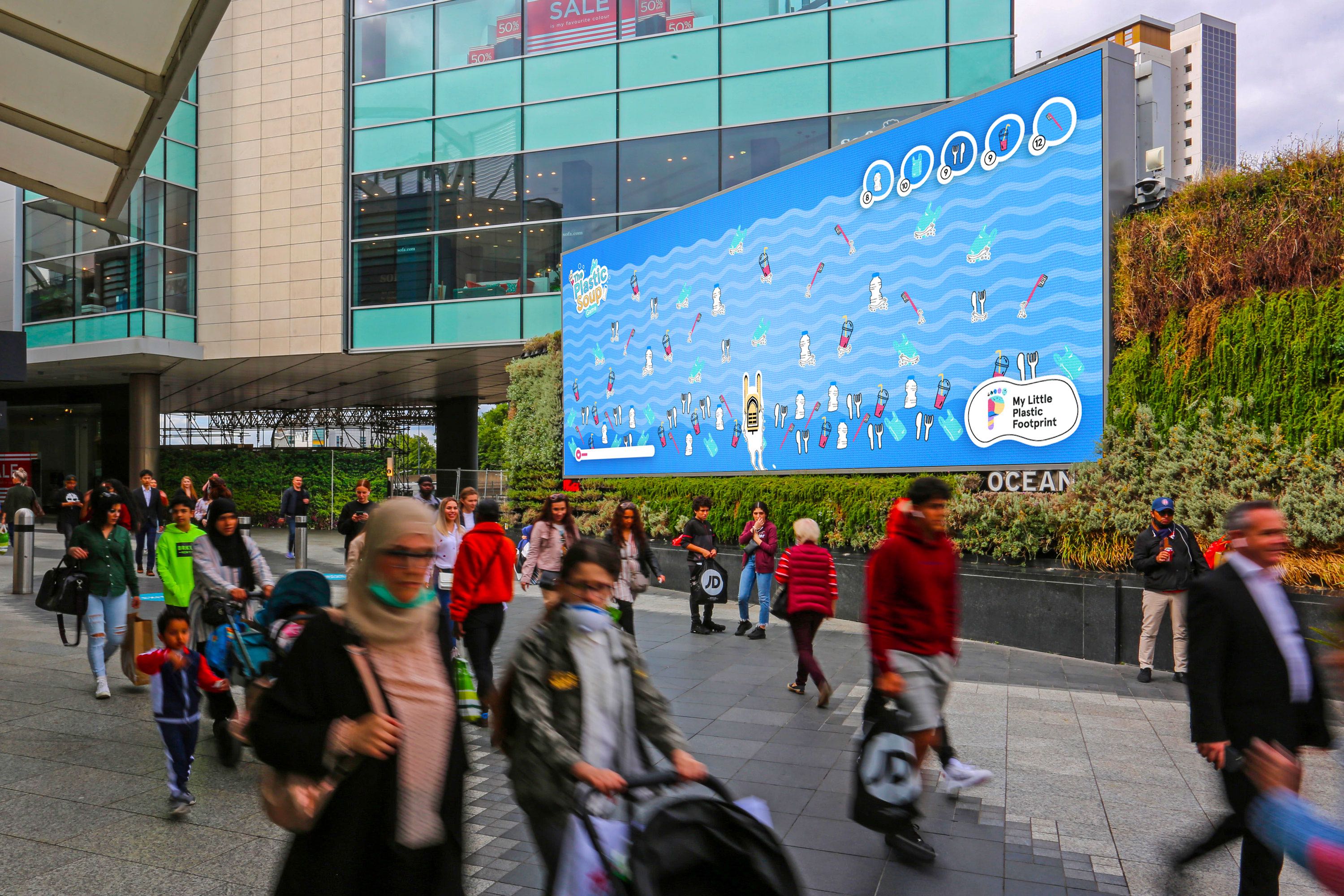 Caption: Image courtesy of Ocean Outdoor

Designer: Plastic Soup Foundation / AGCS Works / Ocean Outdoor
Description: This three-way project saw Plastic Soup Foundation, AGCS Works and Ocean Outdoor deliver interactive digital signage that challenged the public to clean up the ocean. Passers-by could scan a QR code with their phone and play a game on the giant screen, clearing the ocean of plastic pollution. After playing, users were directed to a website with information about reducing their plastic consumption.
Helping the hospitality industry reopen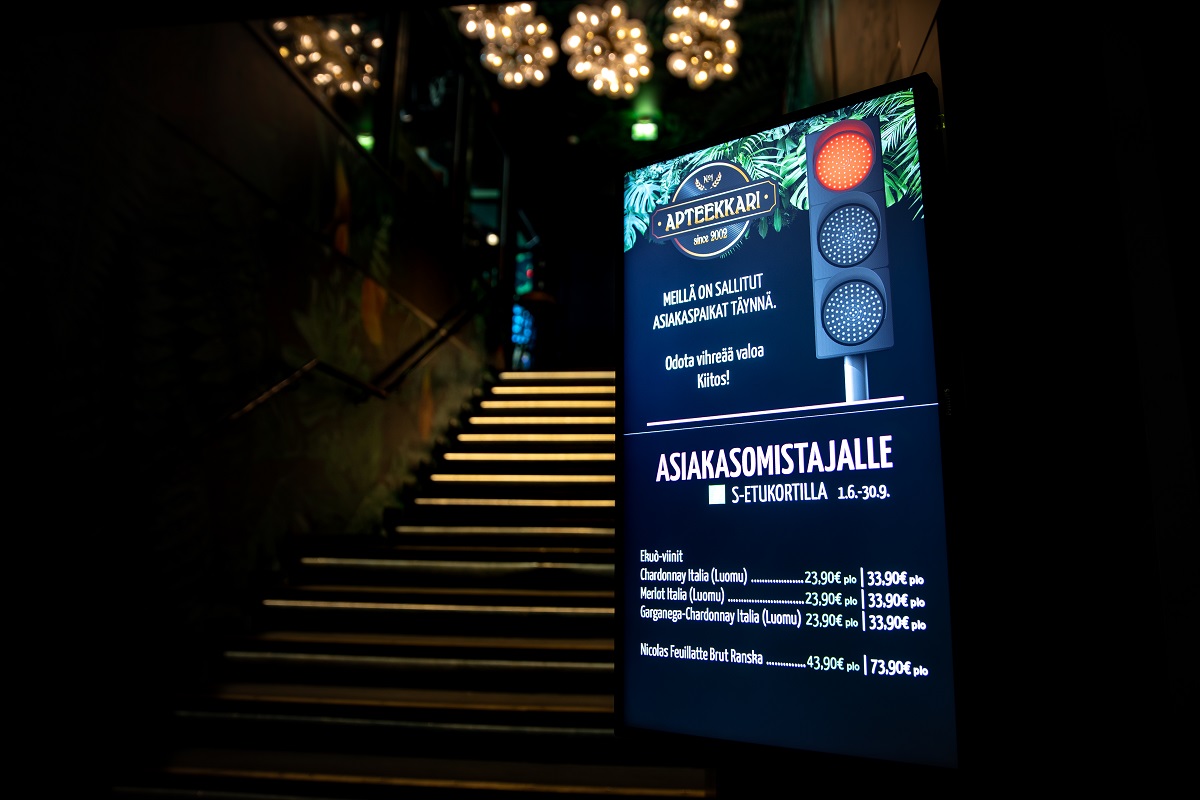 Caption: Image courtesy of PPDS

Designer: PPDS
Description: Digital displays specialist PPDS developed a new product to help restaurants, bars and cafes safely reopen during Covid-19. PeopleCount, first installed at the Apteekkari bar in Finland, works by counting the number of people inside a venue, and updating those waiting outside as to when it is safe for them to re-enter. Similar solutions have been rolled out in a number of other venues as part of the Covid-19 reopening process.
Helping the public smile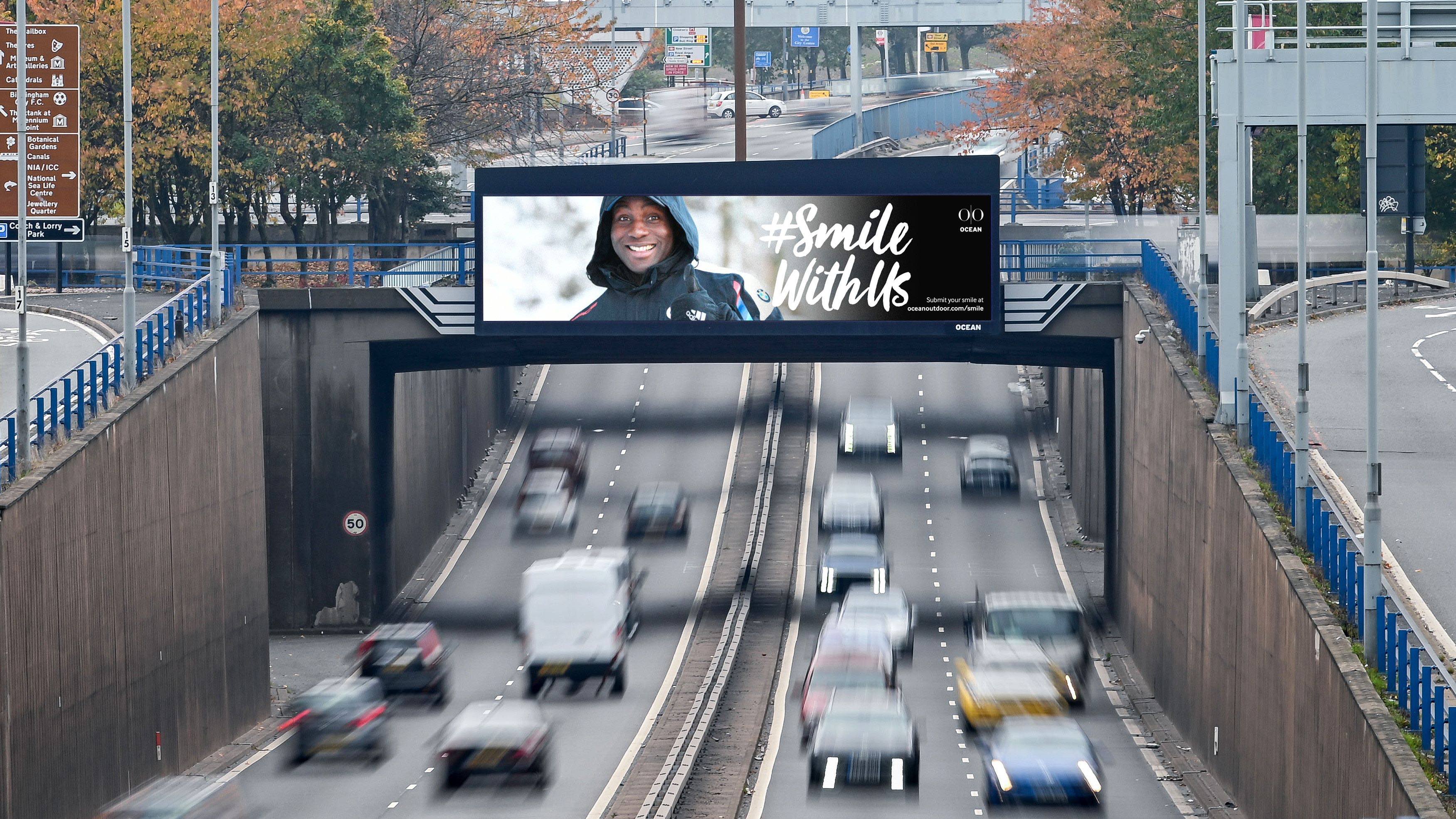 Caption: Image courtesy of Ocean Outdoor

Designer: Ocean Outdoor
Description: Ocean Outdoor ran a special campaign in 2020 encouraging people to smile and spread cheers during the second UK lockdown. #SmileWithUs saw people submit photos of themselves, their families and friends, with the images featured on Ocean Outdoor's screens across the UK.
Championing Black Lives Matter in London
Caption: Image courtesy of Ron Timehin/What We Seee

Designer: Landsec / WWS / Ocean Outdoor
Description: Black Lives Matter made huge advances in 2020 as major efforts and campaigns around the world helped promote the movement. In London, Landsec and WWS ran a campaign at Piccadilly Lights, featuring photographs taken by WWS founder Misan Harriman at Black Lives Matter marches in the English capital.
Global thanks for essential workers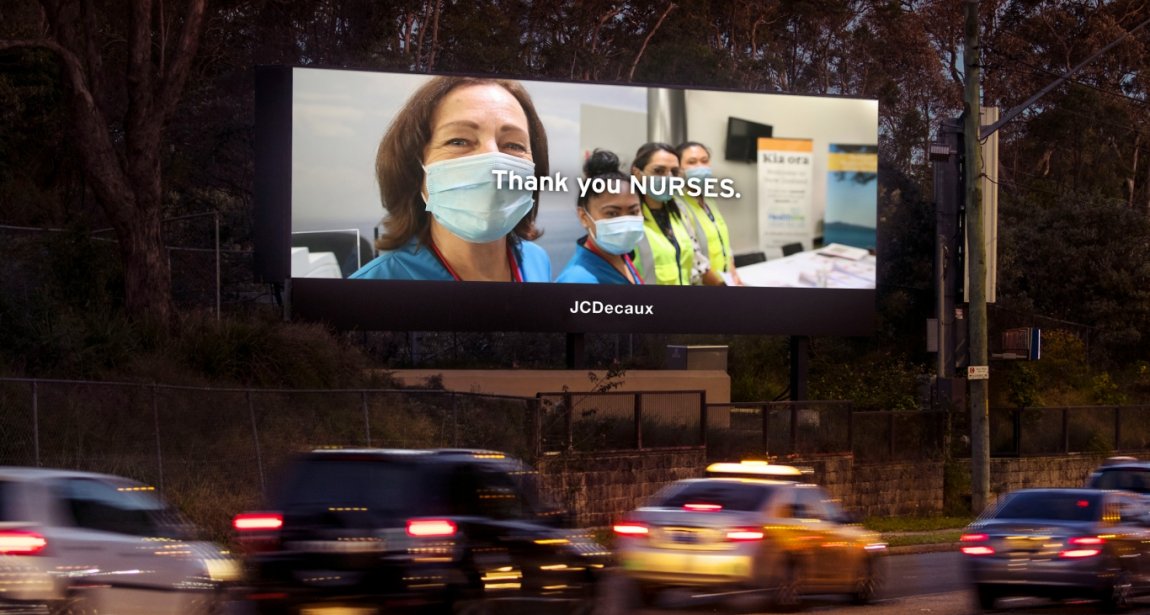 Caption: Image courtesy of JCDecaux

Designer: JCDecaux
Description: JCDecaux displayed messages of support and thanks for key and essential workers around the world. The company used its expansive network of screens to broadcast these messages, focusing on the critical role these workers have played during the Covid-19 crisis.
Getting interactive with art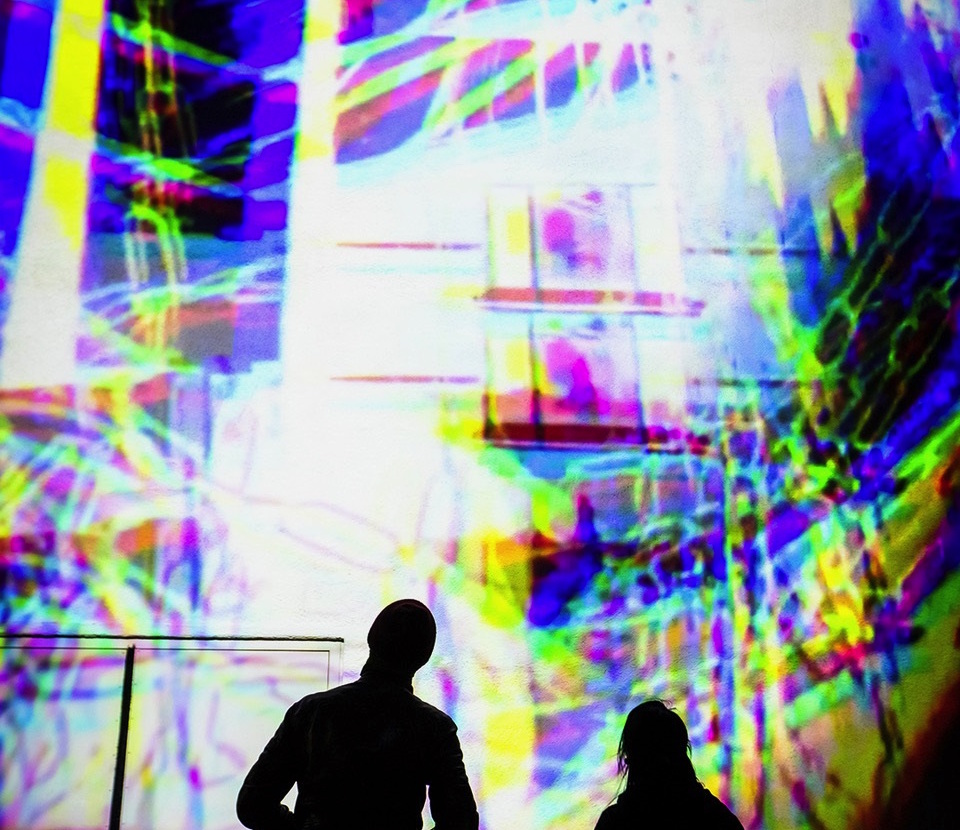 Caption: Image courtesy of BrightSign

Designer: Various
Description: BrightSign partnered with MASARY Studios for an interactive art installation at the Canal Convergence festival in Scottsdale, Arizona. People were able to upload compilations via an app, with BrightSign HD media players and Epson projectors displaying the work at three locations around Scottsdale.
Standing tall in China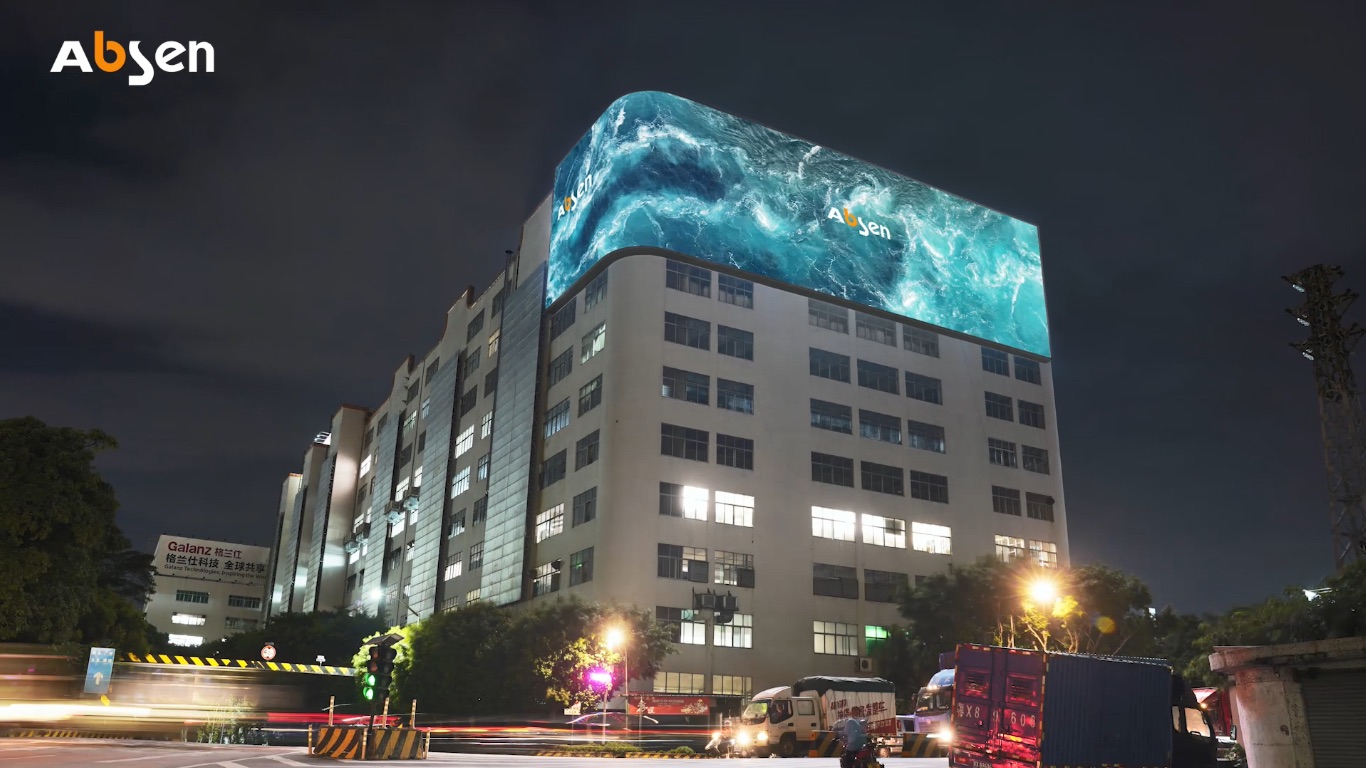 Caption: Image courtesy of Absen

Designer: Absen
Description: Absen makes the list again for this impressive project in China, where it delivered almost 1,000sq m of indoor and outdoor displays. The highlight of the development was an 800sq m outward-curved display video wall, which is used to play brand and custom 3D content.
Somewhere over the rainbow…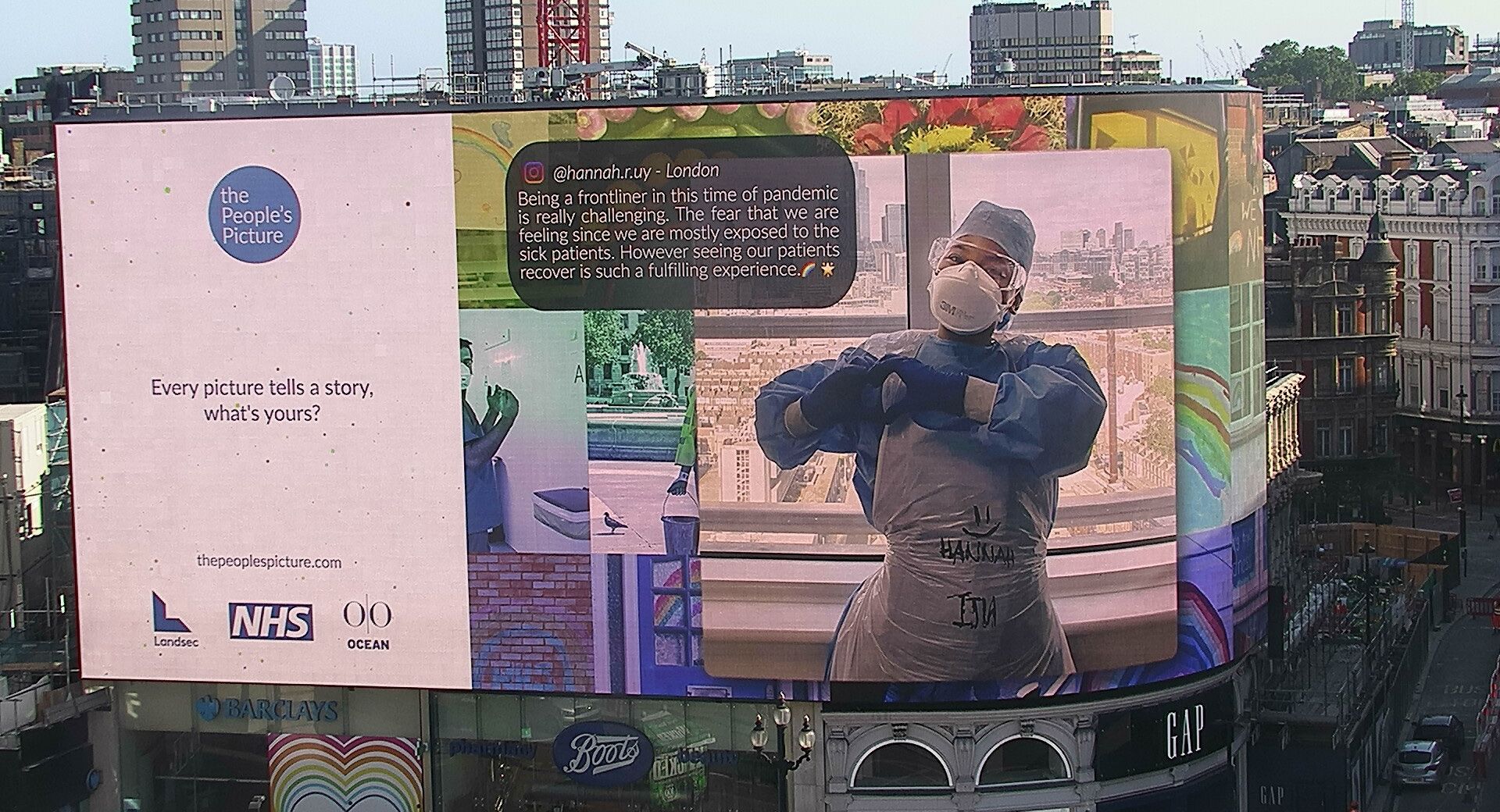 Caption: Image courtesy of Ocean Outdoor

Designer: Landsec / Ocean Outdoor
Description: Finishing our Top 20 with a tribute to the heroes of 2020, our many key workers. Landsec and Ocean Outdoor transformed Piccadilly Lights into giant rainbow, featuring images of thousands of NHS staff, key workers and carers. The rainbow became symbol of thanks and hopes for millions during the pandemic.

Looking at these many wonderful examples of digital signage, it is clear that innovation and creativity in this sector shows no signs of slowing down.

The European Sign Expo 2021, Europe dedicated non-printed signage and visual communications exhibitons will take place from 12th - 15th October at the RAI exhibition centre in Amsterdam. Network with professionals from across the industry to learn more about the latest advancements with this technology, as well as speak with experts about how to enhance their own work. Register your interest now.

Interested in joining our community?
Enquire today about joining your local FESPA Association or FESPA Direct