Features
Top 20 car wrap designs of 2017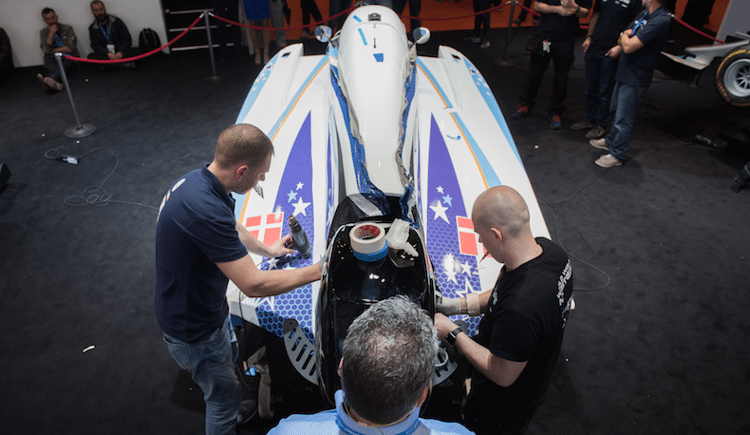 FESPA picks out some of the best examples of vehicle wraps and graphics work from the past 12 months.
One of the main reasons for ongoing growth in a particular sector of the industry is the level of creativity and innovation among companies involved with the type of work. Vehicle wrapping and graphics is one of the best examples of this areas, with the market having come on leaps and bounds in recent years.
From championship motor-racing cars that are seen by millions of fans around the world, through to jumbo jet planes that carry tens of thousands of people each year; vehicle wraps and graphics come in all sorts of wonderful shapes and sizes.
Here, FESPA looks back over the past year in this section of the market and highlights some of the standout projects that not only captured headlines in our own industry, but also the mainstream, global media.
1. PressOn aims for World Record with Bloodhound SSC wrap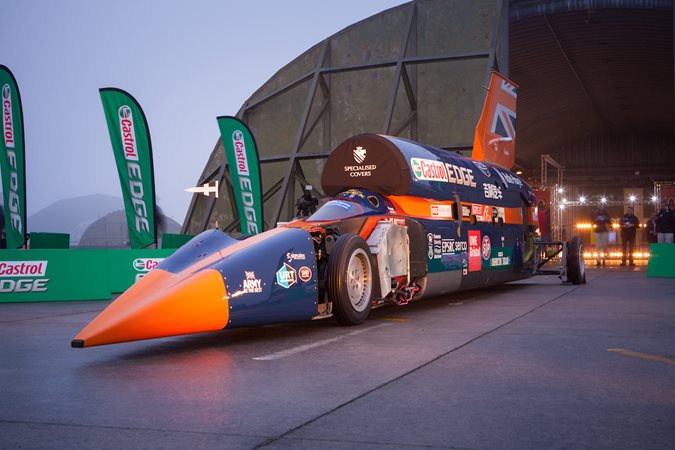 Designer: PressOn
Description: "If at first you don't succeed; try, try, try again". PressOn followed this advice this year by continuing its partnership with the Bloodhound SSC team to attempt to break the land speed record. PressOn wrapped the supersonic car in a striking Union Jack flag design, which was printed using a HP Latex 570 and applied to Avery MPI 1104EA cast white vinyl self-adhesive cast film.
Picture: Courtesy of Stefan Marjoram
2. I predict a car wrap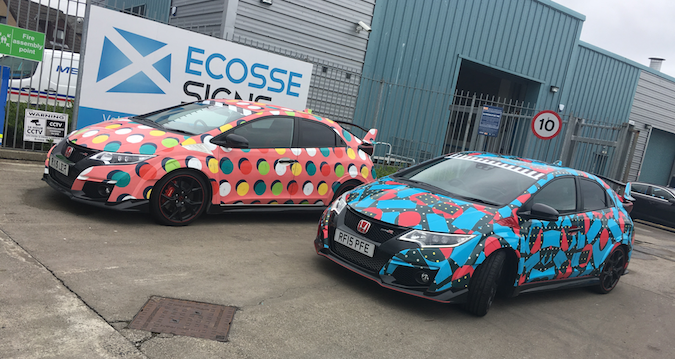 Designer: Ecosse Signs
Description: Such is the popularity of vehicle wraps that musicians and bands are featuring them in their music videos. This year, English group the Kaizer Chiefs used two decorated Honda Civic Type R track cars in a video to promote its new single, 'Hole in my Soul'. Scottish company Ecosse Signs designed, digitally printed and applied the wraps using Scotchcal Graphic film from 3M.
Picture: Courtesy of 3M
3. Ohio sheriff looks pretty in pink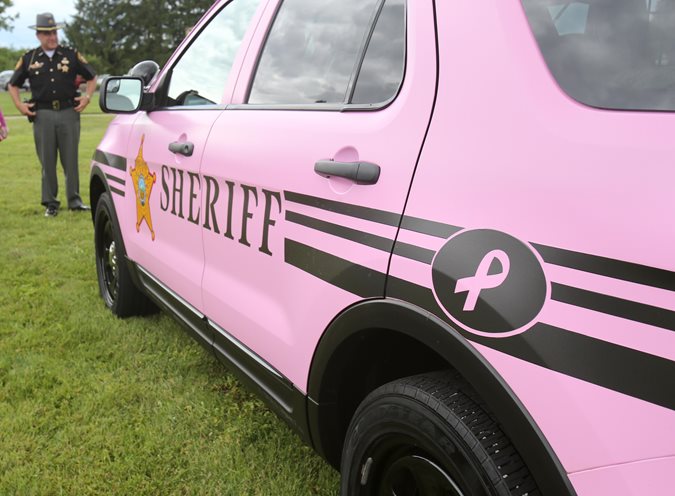 Designer: Brand Installers
Description: Stark County Sheriff's Office in Ohio, US, this year used a decorated cruiser to help raise awareness about breast cancer. Avery Dennison donated Satin Bubblegum Pink and Satin Nero Supreme Wrapping Films for the project, while Brand Installers carried out the installation. The design features the famous pink breast cancer ribbons and, as a bonus, criminals picked up by the cruiser are greeted with a message on the inside that reads: "Look on the bright side…you're helping raise breast cancer awareness".
Picture: Courtesy of CantonRep.com / Scott Heckell
4. Take a flight with the stars of Real Madrid

Designer: Real Madrid / Emirates
Description: Emirates, the main shirt sponsor of famous Spanish LaLiga football club Real Madrid since 2013, decorated one of its A380 plans with a giant vinyl sticker featuring players from the club. Although details of the printing process are being kept under wraps (no pun intended), it was revealed that the sticker covers an area of more than 500sq m.
Picture: Courtesy of Real Madrid
5. Race down the aisle with Maro Engel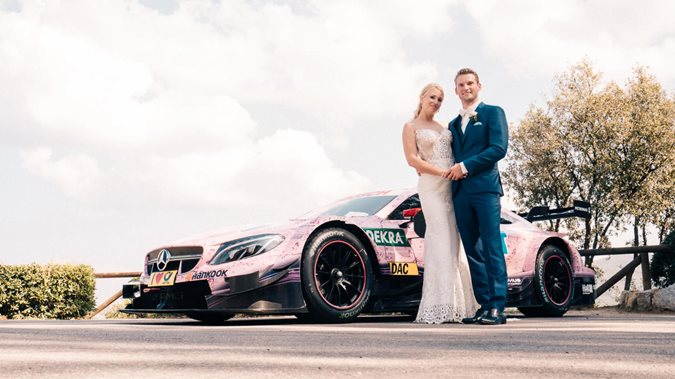 Designer: Mercedes-AMG
Description: Professional racing driver Maro Engel enjoyed a special present on his wedding day this year, courtesy of the Mercedes-AMG team. Engel and his now-wife Steffi drove away from church in a Mercedes-AMG C63 DTM, complete with wedding day graphics.
Picture: Courtesy of Mercedes-Benz
6. Exploring the deep with Boaty McBoatface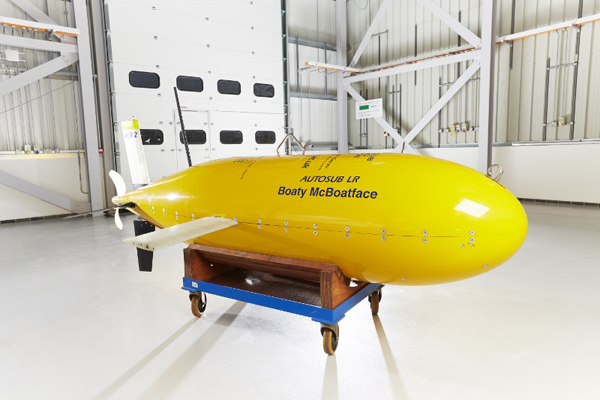 Designer: Signs Express Southampton
Description: Although perhaps not the most colourful of examples, this piece of work by the team at Signs Express Southampton forms part of a news story that captured the attention of the world's media. A vote to name a new submarine concluded with the vessel being titled 'Boaty McBoatface', and Signs Express Southampton was on hand to apply the graphics for its maiden voyage in the Southern Ocean.
Picture: Courtesy of Signs Express Southampton
7. Tesla gets the cartoon treatment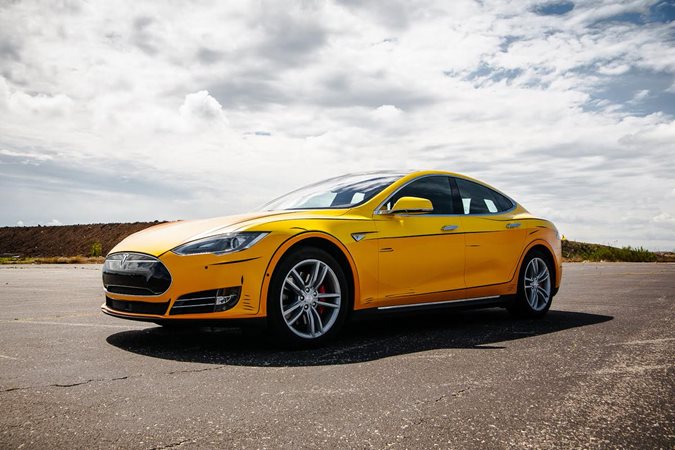 Designer: Burnie Burns / Graphics Guys
Description: Burnie Burns, founder of US television production company Rooster Teeth, was able to transform his Tesla P90D into a cartoon version with the help of a specially designed wrap. Burns worked with Texas-based Graphics Guys on the project, with the end result being a car that looks like a real-world cartoon.
Picture: Courtesy of Burnie Burns
8. Canadian artist takes his work on the road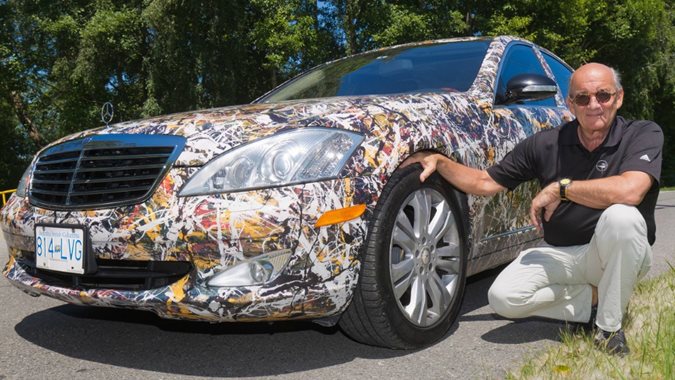 Designer: Jeroen Vermeulen
Description: Canadian artist Jeroen Vermeulen came up with an inventive and cost-effective way to showcase his work to the masses by wrapping one of his large, abstract paintings around his S450 Mercedes. Fashion photographer Lilian Tan took images of the original painting and the images were then transferred to wrapping materials and applied to the car.
Picture: Courtesy of Jeroen Vermeulen
9. Dorset Police supports UK Poppy Appeal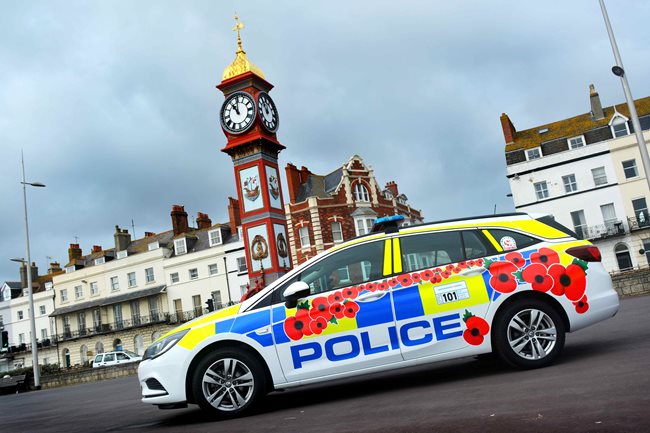 Designer: Dorset Police
Description: In England, Dorset Police joined forces with a local sign company to decorate one of its cars to support this year's Poppy Appeal. The vehicle led the Weymouth Remembrance Sunday parade and carried the design for a further three weeks.
Picture: Courtesy of Dorset Police
10. BJR backs equality with rainbow livery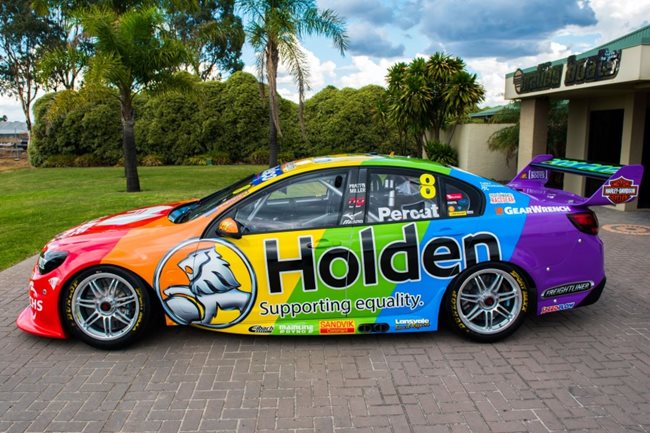 Designer: Brad Jones Racing Holden
Description: The Brad Jones Racing Holden team from the Australian Supercars series showed its support for equality with this vehicle wrap. The colourful design features primary branding from Holden and followed the company's sponsorship of the Sydney Gay and Lesbian Mardi Gras.
Picture: Courtesy of Supercars
11. Super Disney fan reveals spooky car wrap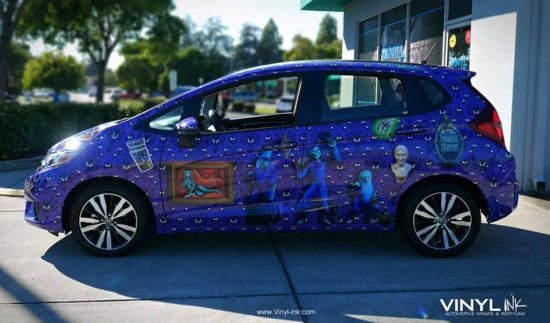 Designer: Miss Mortis / Vinyl Ink
Description: How far would you go to display your love for a film? This year, big Disney fan Miss Mortis wrapped her car in a design themed on hit film 'Haunted Mansion'. The wrap was printed and applied by California-based Vinyl Ink.
Picture: Courtesy of Vinyl Ink
12. Freshly wrapped supercar excites Lamborghini fans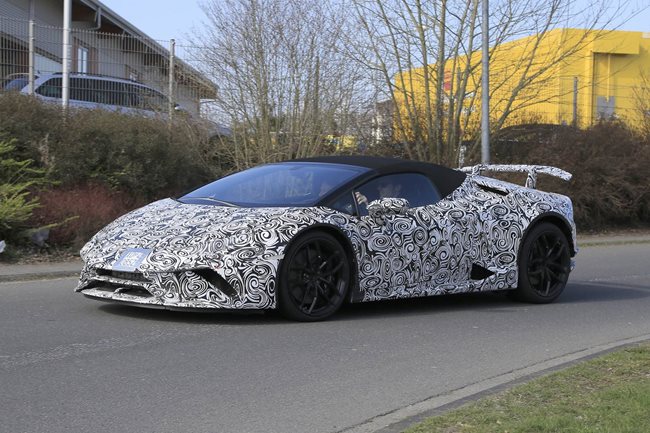 Designer: Unknown
Description: In April, car fanatics had their first glimpse of the new Lamborghini Huracan Performante Spyder, which was snapped while out on a test run at the famous Nurburgring in Germany. And if one of the first public outings of the new car was not enough to excite fans, the black and white wrap that covered the car also got people talking.
Picture: Courtesy of GT Spirit
13. Spaghetti BMW – an acquired taste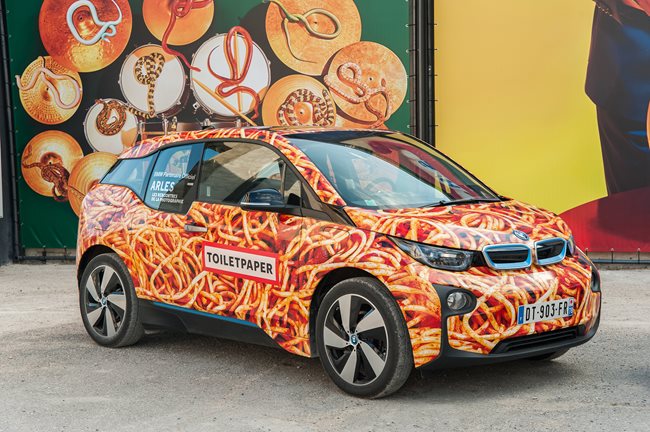 Designer: Maurizio Cattelan / Pierpaolo Ferrari
Description: From the sublime to the slightly confusing. Earlier this year, a Swiss collector spent €100,000 on a BMW i3 decorated with a 'spaghetti' wrap. The unusual design on the electric vehicle is the result of a collaboration between satirical Italian artist Maurizio Cattelan and photographer Pierpaolo Ferrari – an art partnership known as 'TOILETPAPER'. Funds raised from the sale went to the Leonardo DiCaprio Foundation.
Picture: Courtesy of BMW
14. Keeping the new Jaguar under wraps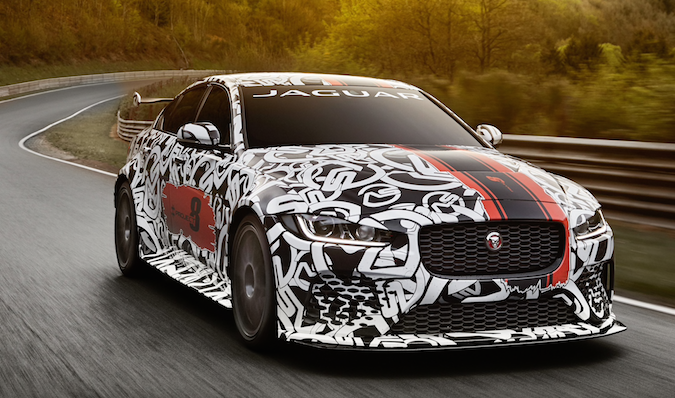 Designer: Unknown
Description: Wraps are usually applied to a car to improve its look, but Jaguar opted to use this striking wrap to add to the mystery, and indeed excitement, over the new XE SV Project 8. The Telegraph reports that this specially designed wrap was meant to hide its exact appearance so as not to reveal too much about the new car during its initial outing in May.
Picture: Courtesy of Patrick Gosling / Beadyeye
15. Flying the rainbow flag for Brighton Pride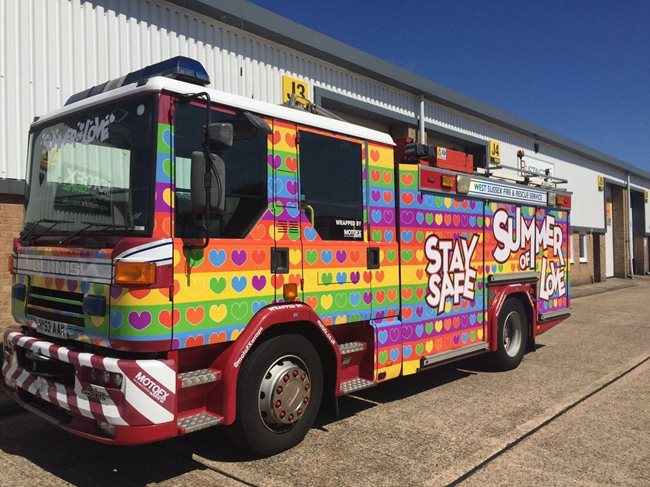 Designer: West Sussex Fire and Rescue Service / MotoFX
Description: To mark this year's edition of the famous Brighton Pride LGBTQ event, West Sussex Fire and Rescue Service wrapped one of its fire engines in this colourful design. Work was carried out by MotoFX.
Picture: Courtesy of Solent
16. Luxury wrap for billionaire's son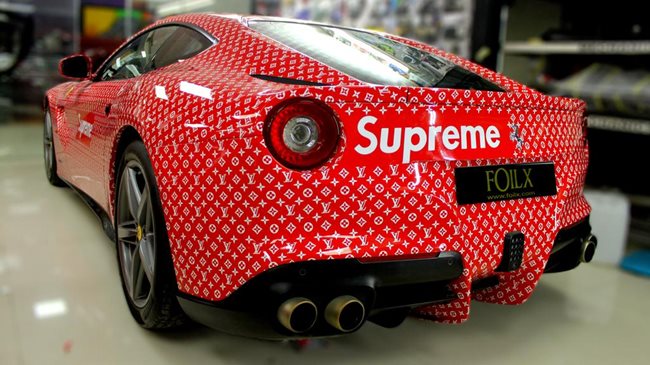 Designer: FoilX
Description: What's the perfect gift for the 15-year-old who has everything? How about a Ferrari F12berlinetta supercar wrapped with the logos of Louis Vuitton and Supreme? Dubai-based car-wrap workshop FoilX took on the job for Emirati Rashed Belhasa, son of billionaire businessman Saif Ahmed Belhasa, and socialite and fashion entrepreneur, Sarah Belhasa.
Picture: Courtesy of FoilX
17. Take the McCoo by the horns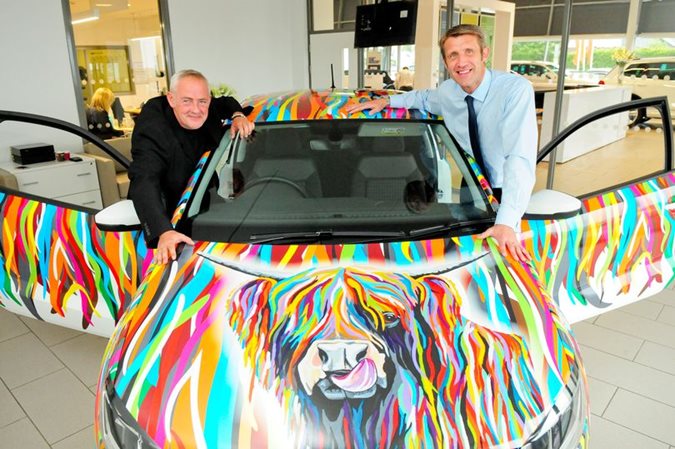 Designer: Steven Brown
Description: Steven Brown, the Scottish artist behind the famous 'McCoo' brand, joined forces with a local Volkswagen dealer to produce this striking car wrap for a VW Polo. The car was offered through a competition, but after the initiative attracted so much interest, the Volkswagen dealership opted to launch its own 'McCoo' car.
Picture: Courtesy of Daily Record
18. Tonka truck goes life-size with Toyota Australia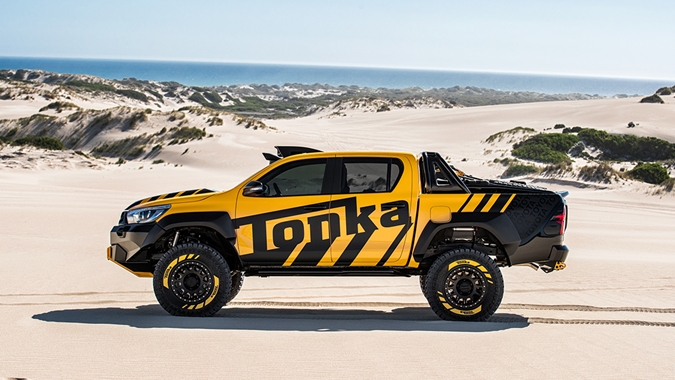 Designer: Toyota Australia
Description: Many of us will have memories of playing with toy cars and trucks when we were children, and this year, Toyota Australia gave adults the chance to try out one of their childhood toys for real. The HiLux Tonka Concept is based on the famous 'Tonka' truck toys and features a matching wrap to make big kids feel like they are behind the wheel of their very own 'toy'.
Picture: Courtesy of Toyota
19. Patriotic taxi driver goes all out to celebrate Malaysia Day
Designer: M. Krishnan
Description: Malaysia taxi driver M. Krishnan celebrated the country's National Day in style this year by wrapping his cab in iconic images from the nation's past. The black-and-white wrap was accompanied by other décor, including the flags of all 14 states of the country. Krishnan spent RM5,500 (€1,123/£1,000) on the unique design.
Picture: Courtesy of The Star
20. Sjöström clinches showpiece award at World Wrap Master 2017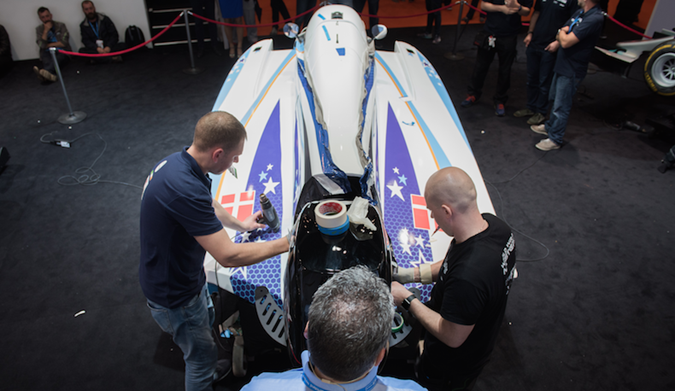 Designer: Patrick Charrier, Bazoon Studio
Description: Patrick Charrier of Bazoom Studio, France was the winner of the 2017 FESPA World Wrap Masters Design Competition. The winning design was applied, by the world's best vinyl installers in the Wrap Master Finals in Hamburg, to a speedboat used by the Haugaard Racing Team in the 2017 World Formula 4 UIM Powerboat Championship.
Jonas Sjöström from Sweden held off competition from wrapping experts around the world to clinch this year's FESPA World Wrap Masters Series, in what the organisation described as one of the tightest-run editions in the history of the competition.
Picture: Courtesy of FESPA
FESPA offers wrap specialists from around the world to showcase their talents in the annual World Wrap Masters, a series of regional competitions that culminate with a final event at the main FESPA global print expo, which is taking place from 15-18 May 2018 in Berlin, Germany.
The contest attracts a wide range of entrants, each vying to be crowned the FESPA World Wrap Master. For more information on the competition, find out about upcoming events and to see the lucky winners from last year's series, visit the official FESPA World Wrap Masters.
Interested in joining our community?
Enquire today about joining your local FESPA Association or FESPA Direct