Features
The Ultimate Laminating Guide: Films and applications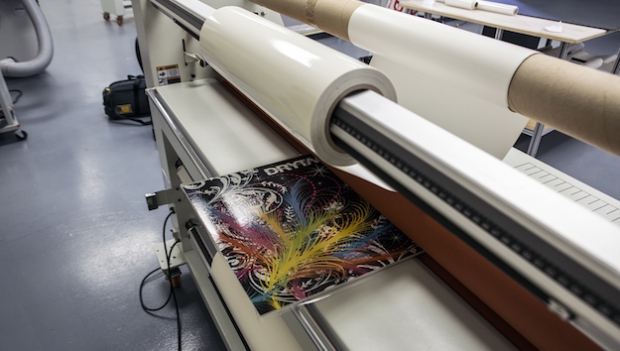 What are the different types of laminating films available and what are the advantages and disadvantages of each? Simon Eccles finds out more.
Lamination film is available to serve a variety of purposes, often a mixture of protection and enhanced appearance. Over laminate film is usually between about 24 and 100 microns in thickness.
There's a choice of cold, "heat-assist" and thermal adhesives for laminates. Cold adhesive is pressure-sensitive and used over media that is likely to be heat-sensitive, such as vehicle wrap vinyl. Heat assist operates with at least one heated roller in the laminator running at around 60˚C.
It is used for general single-sided lamination onto paper, board, Dibond and the like. Normally pressure-sensitive laminate adhesive can also be used with heat, which softens it and helps it adhere to uneven surfaces with less chance of silvering due to air bubbles. The bubbles will often disappear over 48 hours or so as the air works its way through the laminate.
The "Thermal" term is strictly speaking for double-sided encapsulation running at 130˚C. However, many people call any heated laminate process thermal.
A lot of over-lamination film today is made from a plastic called Bi-axially Oriented Polypropylene (BOPP). BOPP is basically polypropylene that has been stretched in two directions, which improves strength, water-resistance and sometimes clarity.
PVC (vinyl) is also commonly used in clear laminating films as well as for the white media commonly used for decals. It's often used over printed white vinyl for vehicle wraps – the extra clear layer give extra durability and resists the fading effect of UV light on print or coloured media.
PVC may be listed as monomeric or polymeric vinyl, referring to the type of plasticiser additive. The two have slightly different properties, with monomeric being less flexible and having a shorter outdoor life.
Another material sometimes used is polyester (or PET), which is often used for encapsulation, where thicker film (typically 75 to 250 microns) is used on both sides of the sheet for high durability.
If the clear film is larger than the item it covers then the edges are sealed and waterproof, so suitable for outdoor use on noticeboards and similar. Edges can be trimmed flush to the enclosed item, but water can get in and delaminate the item.
Some films are intended to be outdoor-durable, in which case UV-resistance is important. Even for indoor use, characteristics such as scratch-resistance may be needed.
Thick plastics for floor graphics can be laminated, although increasingly they are printed directly on the underside by UV inkjet. There are anti-bacterial films intended for book covers and similar frequently handled items hospitals, schools, restaurants etc, though they don't seem to be widely used so far.
Special effects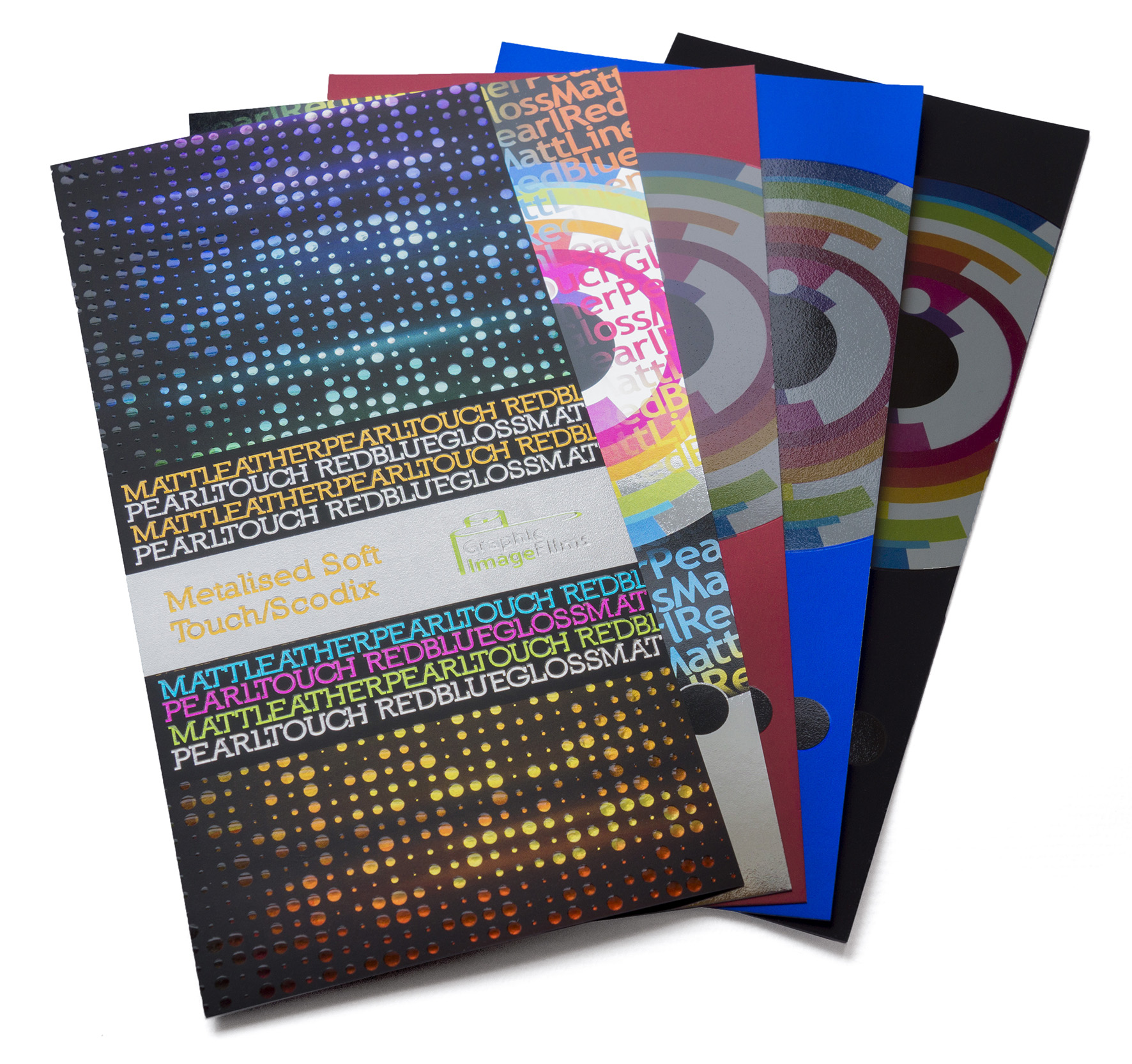 Derprosa's clear Pearl and Soft Touch films give a distinctive feel to laminated items.
Lamination films are by no means all clear gloss. Clear matt and silk finishes are popular (especially for book covers) if the underlying print needs to show through. Some films are intended for their tactile characteristics as well as appearance. There are embossed, textured clear films with finishes such as linen, sand, canvas and brushed aluminium.
Soft Touch films (pioneered by Derprosa though now with some competitors) have a very matt appearance with a velvet feel if you hold it. They are intended for book covers, brochures, menus, luxury packaging and the like – things that people pick up and hold.
They are available in clear films but also colours including metallics. Derprosa's metallics have the unusual characteristic that if you print over them with a gloss spot varnish, they take on a near-mirror reflective finish in those areas.
Solid films may apply an overall colour, or a metallic, glitter, diffraction or holographic pattern to the whole target media. There are also clear effects films, that give a diffraction, glitter or holographic effect while allowing the underlying print to show through.
Some laminators can be supplied with adjustable feeders for hot foil, which typically gives a coloured or plain metallic, diffraction dry toner-based digital printing (typically a solid black, as it absorbs the most heat), then you can get "spot foil" over just the print areas.
If you need to mix full-colour print with foiling you can first put a toner receptive laminate over the print, then runs the sheets though a toner press to add a black image, and foil on top of that.
Double-sided adhesives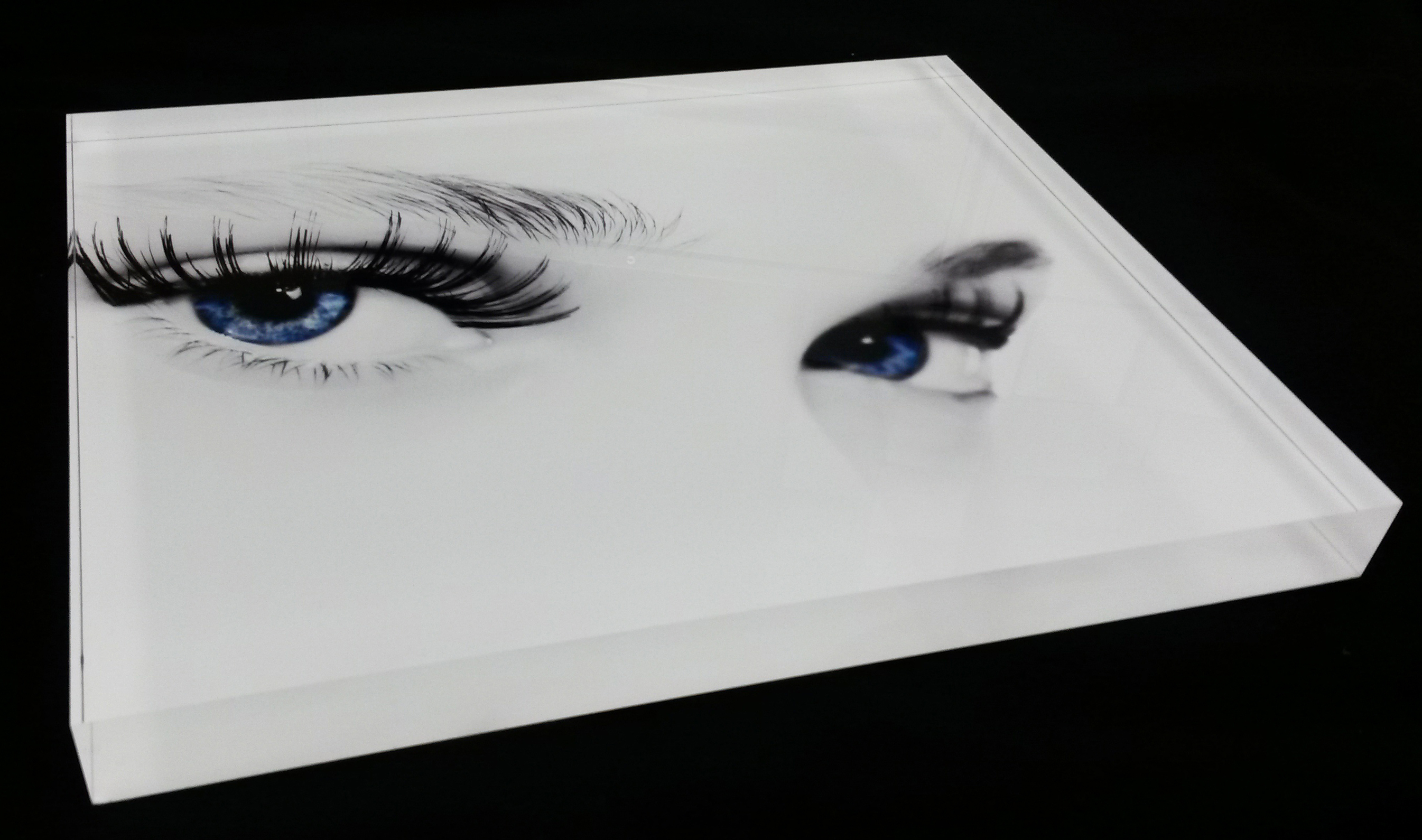 Here the photograph has been mounted under the acrylic block using a very clear double-sided adhesive film from Drytac
Double-sided adhesive films open up the range of applications and let you use printed or other media that isn't self-adhesive to begin with. This is usually a two-stage process. If you want to mount print or other media to a sheet of card, for instance, you might be able to use a card that already has an adhesive surface. If not, you need to use double-sided adhesive.
Here you first laminate the self-adhesive onto the plain board, then use the laminator to smooth the top print onto the adhesive-coated board.
You can use the same procedure for thicker solids such as wood or aluminium composite material (ie Dibond and rivals). Mounting images behind clear Perspex sheet or thick acrylic blocks is popular too, which is the same procedure except you'll need a special optically clear double-sided adhesive and the print goes face-down onto the read of the block.
Recycling
Recycling is a bit of a problem with laminated materials. Unused or waste BOPP can be recycled, but as soon as it is laminated onto printed media it becomes a lot more complicated, as the adhesive, ink and underlying substrate all have to be treated differently. PVC is not easily recycled at all. PET is easily recycled, but again there are the issues of what it has been attached to.
Terminology
Finally, it's worth noting that the term lamination can be a little inexact. We've used it here as a description of what is done for signage, book covers, vehicle wraps and the like. However it was originally used for the practise of building up layers of materials to form a composite such as plywood.
It is also the term used for gluing a thin veneer of expensive wood, or later a printed representation of wood or another material, onto much cheaper bulk material for furniture, flooring, kitchen and bathroom surfaces etc.
There is also "liquid lamination," which is the practise of applying a liquid protective layer onto printed paper or other media, using a roller. It will then dry to a clear matt, gloss or silk finish. "Coating" is another term for basically the same thing. The liquid is cheaper than laminating film, but generally not as durable.
FESPA 2017 exhibitors have lamination covered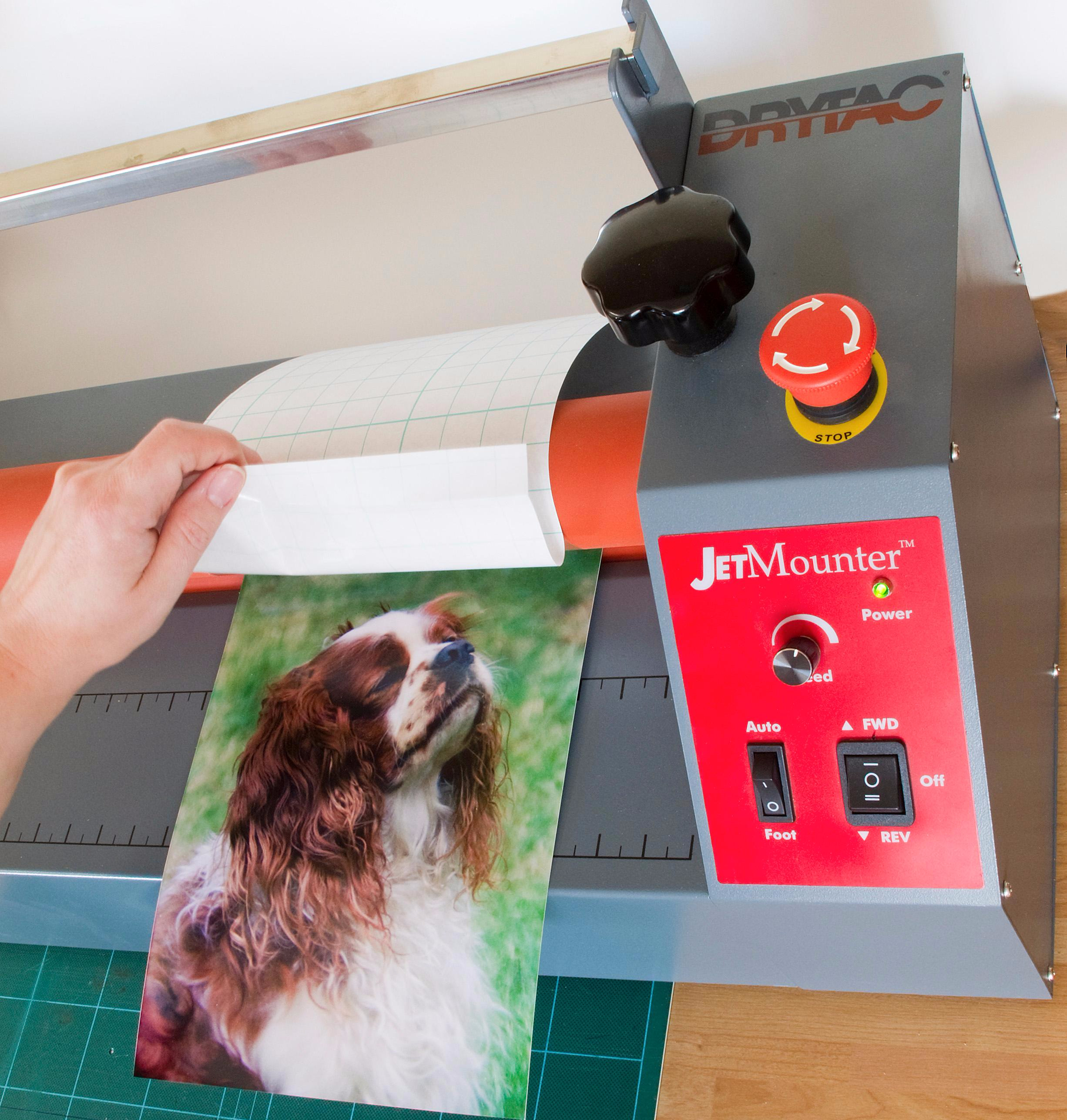 Clear gloss BOPP film being used to protect an inkjet photograph.
FESPA 2017 will once again pay tribute to this part of the print finishing process, with a host of companies due to attend and show off latest products in lamination.
One such company will be the aptly named Drytac, a company specialised in adhesive coating that will be place on Stand G3 in Hall B7. The firm offers the Jetmounter range of roller laminators, which it said are suited to a host of applications across the print and wide-format print sectors.
Aside from actual laminating machines, Drytac also offer a host of laminating films used throughout this part of the finishing process. The Dynamic range includes gloss, matte and sandgrain options, while the Interlam range also has a host of solutions on offer for lamination.
On the subject of applicators, giant manufacturer Rollsroller will also have a major presence at the show on Stand C11, Hall B5. The company will unveil the new Roll-X multipurpose applicator specifically designed to improve profitability for signmakers.
The Rollsroller portfolio includes entry-level, regular and premium flatbed laminators which are used for applying all types of self-adhesive materials and laminates to flexible and rigid materials up to 6cm thick.
To find more about FESPA 2017, the companies that will exhibit and to sign up to attend as a visitor, please visit: www.fespa2017.com.
Delegates can save 70€ entry fee to the exhibition by registering via the website and quoting reference code: FESG702. Discover how a visit to FESPA 2017 can benefit your business and register today.
Interested in joining our community?
Enquire today about joining your local FESPA Association or FESPA Direct