Features
The Sustainable Development Goals and Climate Change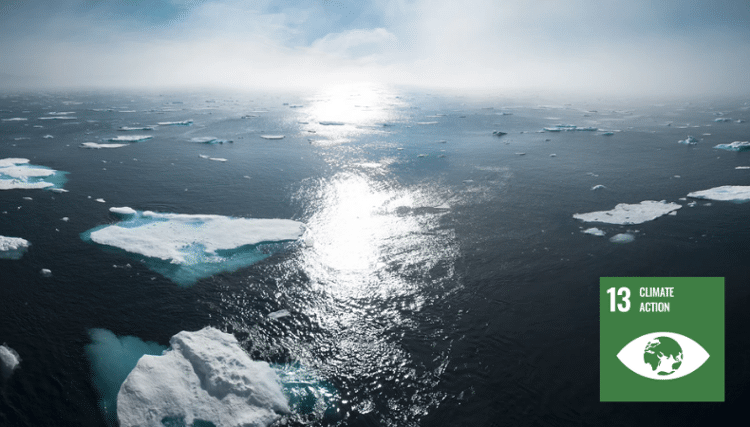 Clare Taylor discusses how climate change is affecting business worldwide and the need for them to embrace the UN Sustainable Development Goal 13 that encourages businesses to take urgent action to combat climate change and its impacts.
Climate change is affecting us already, disrupting communities and businesses worldwide, and this will continue. Therefore, as well as reducing greenhouse gas emissions, we need to be prepared for change; we need to build resilience into our society and our businesses. UN Sustainable Development Goal 13 is Take urgent action to combat climate change and its impacts.

The current pandemic has caused a drop in global emissions, but in ways that are only temporary and clearly not desirable. Urgent action is still needed. We have an unprecedented opportunity for business and society to use changed business models in their recovery from the economic effects of lockdown, and this green recovery has already started in many parts of the world, with programmes focused on a low-carbon future, and grants or loans with 'green strings'. This will trickle down the value chain.
Reducing emissions
The climate emergency is, of course, an issue requiring leadership at global level to drive it: like viruses, it doesn't stop at country boundaries. However, to work within Goal 13, individuals and businesses need to take responsibility themselves. Doing so is good business, with such outcomes as reduced energy costs and responding to customer and investor demand.

This may seem a lot to take on in the current downturn, and for many investing to reduce will be a challenge too far just yet. But there is still much that businesses can do.

Videoconferencing is now commonplace, making it easier to reduce business travel. Localisation in the supply chain, where practical, effective logistics and vehicle selection and management also help reduce transport emissions. If you can work in partnership with customers and suppliers for emissions reductions, you can usually achieve more.

Many no-cost ways of making savings within the production environment are simply sound business sense anyway: ensuring effective management, mistake-proofing workflows for 'right first time', reducing the wasted energy of mistakes; preventive maintenance, which doesn't just prevent breakdowns but saves energy, especially for heating, air conditioning and compressed air lines. Energy-saving actions taken to shade and insulate your building also help lessen the impact of heat waves, protecting your ability to work.

The best way to find savings, whether simple actions or sound investment opportunities, is to undertake a systematic energy audit, identifying your energy usage patterns, your biggest uses and savings to be made. You can do this yourself, and there are many guides available, but may benefit from help from an energy auditor. For larger companies in many countries, there is a legal requirement to carry out regular energy audits.

As with any business programme, measuring is key to successful management so that you can check what's working and what isn't.
Targets and measurement
This is tricky this year for those who already have energy performance indicators based on productivity or turnover. For those new to this: such indicators measure changes in energy use per unit of production or of turnover, the 'baseline' being your starting point, with reduction targets set for the years ahead. This takes into account company growth, so is often used instead of an absolute reduction target. In circumstances such as we have now, these figures may be skewed. If your building is open for business it will use energy even if you are not manufacturing; when production is low, the energy used for it is a smaller proportion of your overall consumption, making energy per unit of production or turnover higher than when running at normal levels. For those just starting out, a previous year may be a better baseline, using historical figures.
Being prepared
Preparing for the impacts of climate change is a business resilience and financial measure. Many buyers demand it to address their own business continuity planning; insurers and lenders want to protect their investments. One of the targets of Goal 13 is to Strengthen resilience and adaptive capacity to climate-related hazards and natural disasters in all countries. This makes a good business target.

The specific risks will depend on your location, but events increasing each year are heatwaves, storms with extreme high winds, floods and wildfires. Last year broke records across the world for highest temperatures and windspeeds, and this year is on course to be even hotter. Covid-19 has also been linked to climate change and air quality. For some hazards, you can reduce the risk to your business with advance planning. For others, you can maybe do little more than check your insurance coverage.

The climate-related natural hazards likely to affect the greatest number of businesses are heatwaves and flooding.

To prepare for heatwaves, think about how your staff, plant and your servers will cope – can you keep them cool enough to function properly and be safe? Is it possible to switch to working during the cooler hours during a heatwave, with a long break in the hottest part of the day? Could office staff work remotely to avoid hot public transport? Your suppliers, customers and outsource contractors should be involved in discussions, so you know what plans they have and how you could work together.

For flooding, you may need a flood plan and to take physical measures to safeguard your building, so first check your risk. Many areas now have flood hazard maps available on the internet, though they may take a little finding - it's worth spending some time researching. This link to the UK Environment Agency shows the type of information to look for: https://www.gov.uk/check-flood-risk . Floods arise not only from the sea or rivers, but also from surface water during periods of severe rainfall. Knowing the likelihood and extent of flooding will help inform your planning.

Even if your factory is not in a flood-prone area, a plan should form part of your business continuity. Staff, suppliers or outsource contractors may be affected, or customers cut off from your locality, so make checks and plan workarounds. It may be that for key customers you need to come to a reciprocal arrangement with another PSP with matching equipment in a different location to temporarily take on your work to ensure the customer has continuity of service.

The next article looks at the UN Global Goals for resource use, strongly linked to energy consumption in many ways as well as to reducing bottom-line costs.

Clare Taylor MSc CEnv MIEMA EA FRSA ESOS
Clare Taylor is an independent environmental consultant and writer with many years in print.
She started Clare Taylor Consulting over 20 years ago and prior to that worked for agencies and major corporates managing print, paper and environmental performance across the supply chain. Since setting up her consultancy she has worked with a wide variety of printers, paper companies, equipment manufacturers and end users in areas related to print, paper and publishing.
With an established track record as consultant, she is well known in the industry and has spoken at many conferences on print, paper and related environmental issues, both in the UK and mainland Europe.
A Chartered Environmentalist, Member of the Institute of Environmental Management and Assessment, a Registered Environmental Auditor and ESOS Lead Assessor and Fellow of the RSA, her environmental disciplines are broad ranging but focused on working within industry, helping businesses build sustainable futures.
Interested in joining our community?
Enquire today about joining your local FESPA Association or FESPA Direct