Features
The push to digitally printed packaging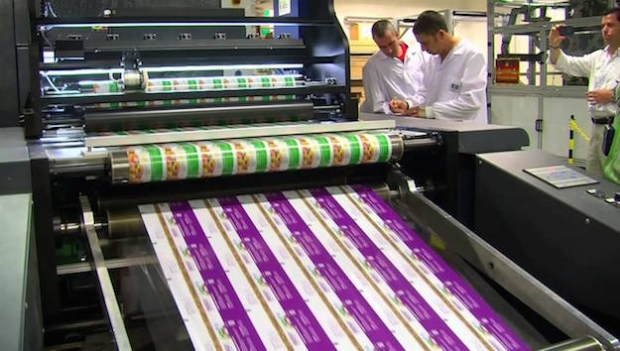 A massive jump in the use of digital printing technology for packaging has encouraged some very creative thinking in packaging applications.
The job of a package is manifold and yet very simple. A package must protect contents from damage, and provide a barrier between what's inside and what's not inside. The contents must stay in the package at all costs and must not become corrupted or otherwise spoiled within it.
Ideally, the package should extend the shelf life of its contents and maintain its own integrity in terms of structure and appearance over time. The materials from which it is made should also be recyclable or biodegradable. And it must also be possible to print on packaging surfaces in a way that minimises waste in the supply chain.
Clearly for printers considering a move into the digitally printed packaging business, there is much to think about besides which digital press to buy.
The format and type of packaging product will determine where to start with the investment process, for instance if the printed material is for flexible or rigid plastic packaging, for folding cartons, corrugated materials or containers printed direct to shape.
Whatever the print product, environmental considerations should also be part of the investment planning. For digital printing technology, there are plenty of reasons to go with this short run option, but success depends on getting the business plan right.
Environmental considerations begin with the materials and inks, and their recyclability or potential for reuse. Fortunately, the packaging materials suppliers have been focusing on improving the environmental impact of their products for years.
Digital press manufacturers are working hard to make sure they can print these materials and that that their inks and toners perform to spec.
The massive jump in the use of digital printing technology for packaging has also encouraged some very creative thinking in packaging applications, particularly for specialised and short-run work. The environmental benefits are substantial for this type of application because digital processes dramatically cut supply chain complexity.
Digitally printing packages close to their point of use means that only what is required for a particular store, shopping complex, town or geography gets produced. This cuts waste and transportation costs, and shortens time to market.
Besides the environmental benefits of such a model, brand owners benefit from fast turnarounds and product customisation. Digital printing gives brands the flexibility to run new product trials more frequently.
If they get their workflows right, they also have the advantage of personalised packaging design variations. Innovative combinations of labels, packaging, signage and brochures help reinforce brands and products across media channels.
It's a commercial and an environmental conversation, and workflow is where the narrative begins.
---
FESPA 2017 to target digital corrugated packaging
According to Smithers Pira's "The Future of Digital Print for Packaging to 2018" report (in 2013), the conversion of corrugated board was expected to increase by over 22 million tonnes between 2014 and 2019, with almost 70% of this increase likely to be in flexo printed materials and a 22% in litho printed applications.
However, the highest growth rate will be in digital printing, which was predicted to improve at an annual average of 7.4% from 2014 to 2019. This follows a historical growth of 13.5% annually from 2009 to 2012.
The potential of digital print is broadening, and packaging companies are only just beginning to realise the benefits on offer in terms of personalisation, customer engagement and integration with online campaigns.
The move into packaging is also being aided by the development of faster flatbed inkjet machines both from existing suppliers like HP Scitex, Inca, Durst and EFI Vutek and new entrants like Bobst and Barberan from Spain.
If you are keen to learn more about this area as well as the many solutions on offer from the biggest manufacturers, you should visit FESPA 2017.
Taking place from May 8-12 at the Hamburg Messe, in Hamburg, Germany, the exhibition will play host to many major brands from across the global print market.
For more information on FESPA 2017, the companies that will exhibit and to sign up to attend as a visitor, please visit: www.fespa2017.com
Delegates can save 70€ entry fee to the exhibition by registering via the website and quoting reference code: FESG702. Discover how a visit to FESPA 2017 can benefit your business and register today.
Interested in joining our community?
Enquire today about joining your local FESPA Association or FESPA Direct