Features
The Next Challenge for Digital Textile Printing – A review of FESPA keynote at TPS 2022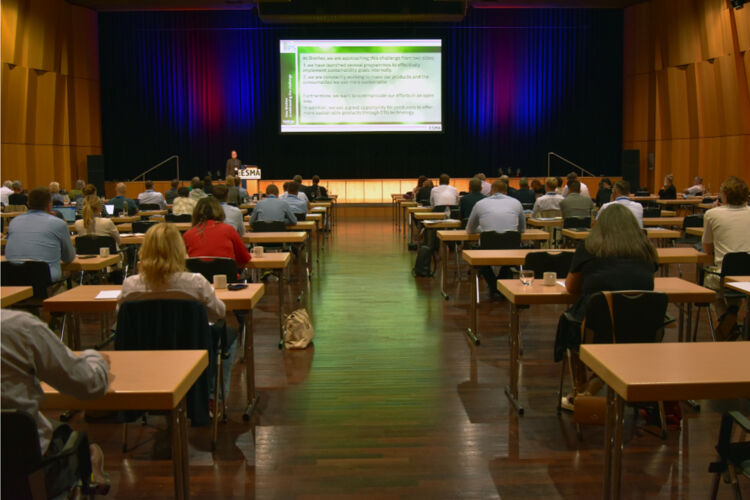 Debbie McKeegan shares key trends and market shifts that were featured in her presentation at the Digital Textile Printing and Sustainability 2022 conference held in Dusseldorf. Debbie details the importance for the print industry to incorporate sustainability into their business.
Bringing the industry together to discuss Digital Textile Printing and Sustainability in Dusseldorf, the ESMA two-day conference focussed on the action, innovations, certifications, and the technology/chemistry required to ensure that as an industry, we can deliver the change required to re-equip the textile manufacturing sector.

As part of the speaker program FESPA were asked to present a keynote summarising the trends and market shifts which now define the future.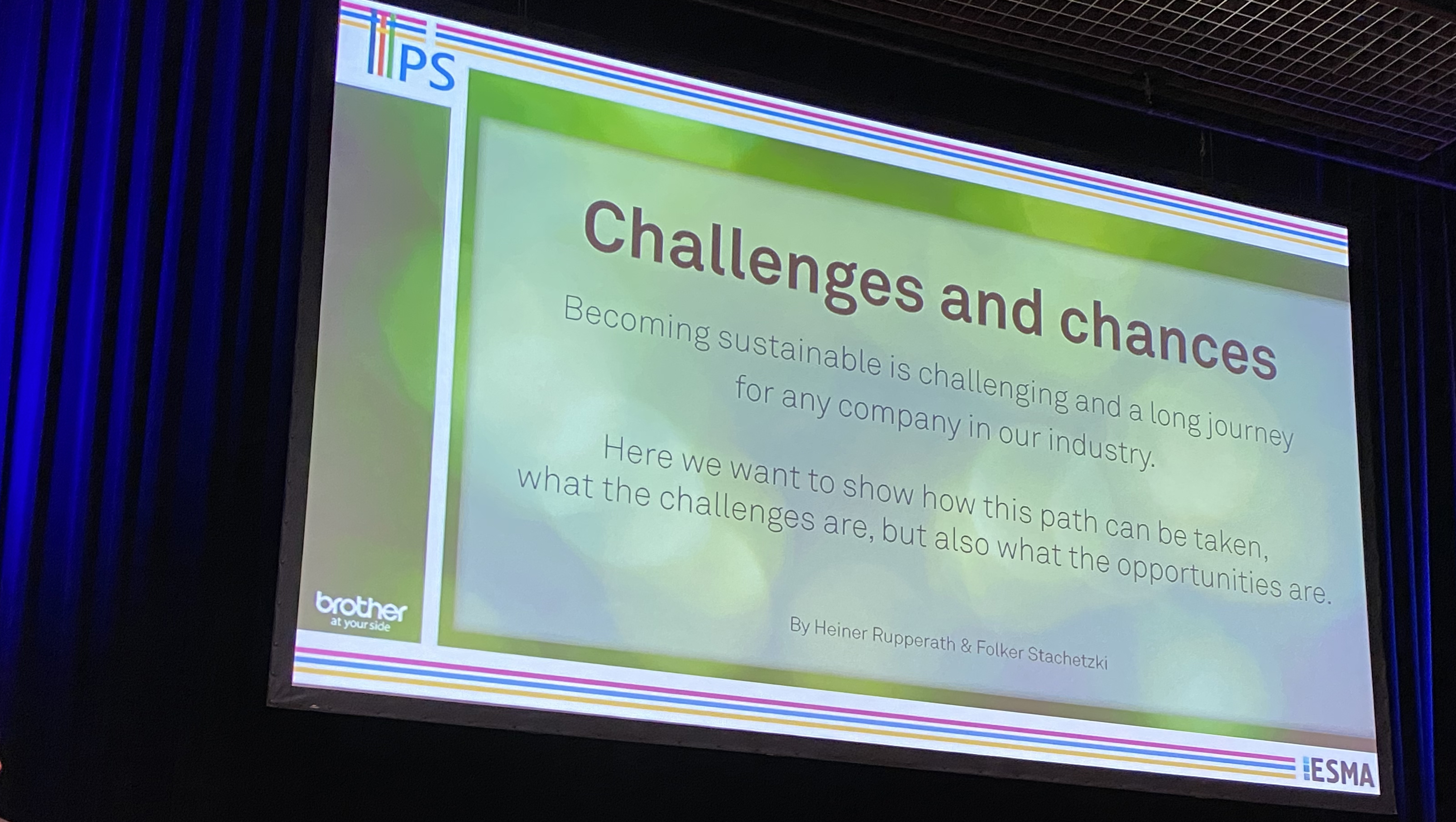 We are all familiar with the slogans of digital textile print manufacturers: "On-Demand", "Low Cost Entry-Level", "Instant Expert Printing" And "Cutting-Edge Technology for Entry Level Printing". All are familiar catchphrases to everyone who follows the industry, so the observer could be forgiven for thinking that digital textile printing is solely aimed at SME's and one-man bands. Nothing could be further from the truth, for, across the sector digital textile printing is aiming, unequivocally at the industrial print sector.

Here, substantial progress is being made, as speeds increase and price per printing metre reduces. Yet this remains a substantial hill to climb for the rotary screen-printing machine still dominates the sector.

The competition is fierce, so imagine a smart textile mill where one machine that costs less than $500,000 which can turn out over 100,000 linear metres each day. The value of this production at mill prices would be over $80,000 a day, or $20 million per annum. As such digital production represents a unique opportunity for the traditional textile printing industry to switch to digital technologies. A once in a lifetime opportunity for global disruption.

Is this meterage fiction? Definitely not, for this is the daily production norm for a rotary screen-printing machine, across the globe, from companies like Zimmer or Stork (SPG prints). These workhorses of the textile industry are the main contributors (over 87% - Research & Markets) to the world output of printed textiles which is predicted to reach 29 billion metres a year by 2028.

In the vast Global Textile Market of over $1.4 trillion, printed textiles currently account for about $270 billion, produced using rotary screen-printing machines.

Currently global digital printed textile production is predicted to reach about $9 billion by 2028, a miserly 6-8% of the total.

However, commentators say that this imbalance represents an unrivalled opportunity for Digital Textile Printers, as a combination of market forces, genuine innovation and plant obsolescence forces traditional textile printers to consider changing their production system from analogue to digital.

Driving this titanic sea change is the customer, who now requires speed of delivery combined with an almost infinite variety of patterns, that overnight has made the mass production systems of the past almost an anachronism.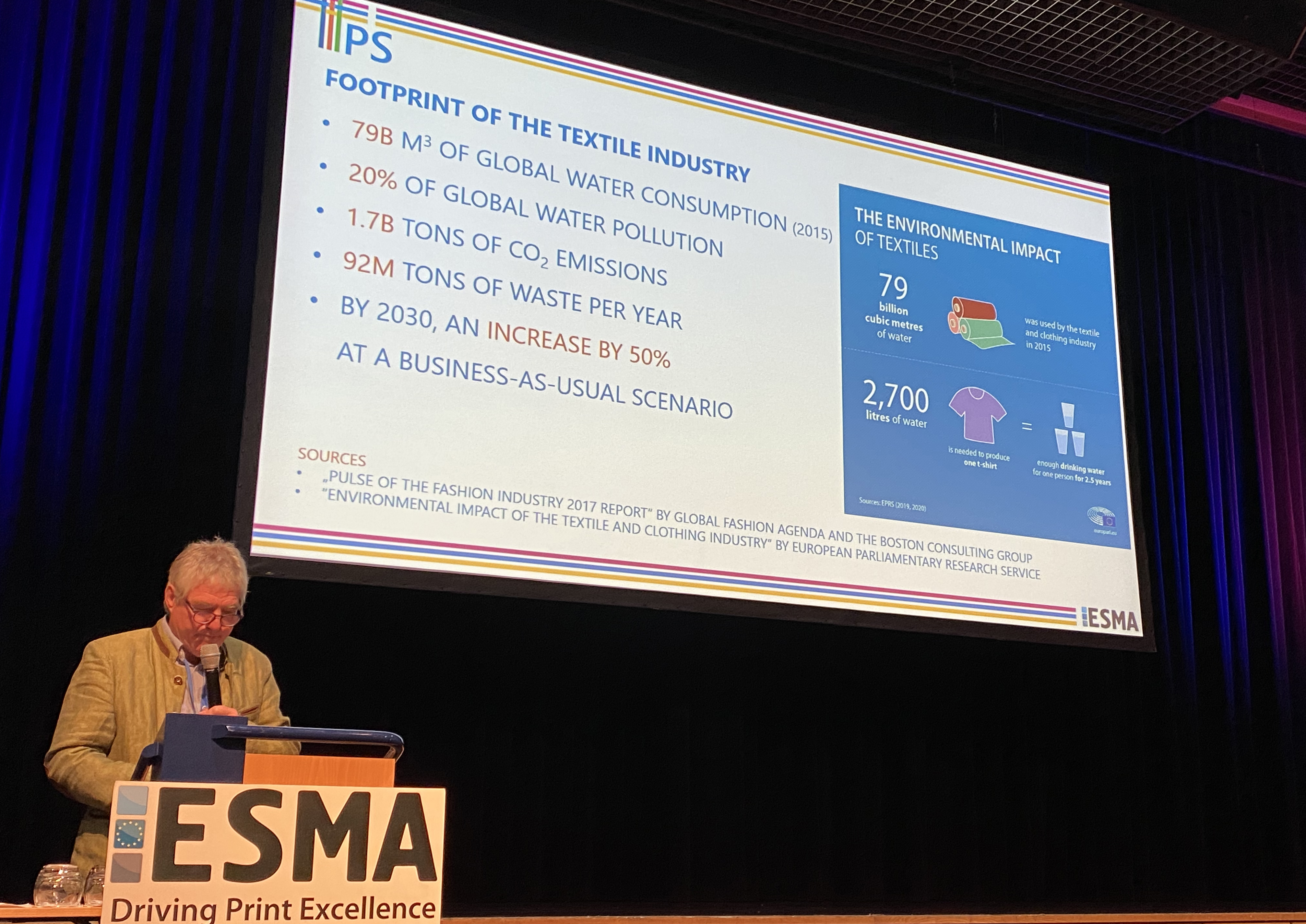 Short production runs are now the order of the day, and even though economies of scale have been lost, forcing the production price up, yet the Industrial Printer balances that against warehouses full of unsold printed fabric that are cheap, but that nobody wants.

It is because of these reasons that Digital Textile printing has gained so much ground with its production value predicted to quadruple between 2019 and 2027.

The rotary screen printer however still has factors that are in its favour such as, speed of production, cost of machinery, cost of inks and cost of spares.

However Digital Textile Printing has in its favour, ease of workflow, economy of space and power, water saving, speed of response and suitability for short run production with multiples design changes, thus providing a perfect fit with the modern market.

Across the sector examples of Digital printing making industrial inroads abound. As per the report published by Allied Market Research, the global digital textile printing market garnered $2.2 billion in 2019, and is anticipated to reach $8.8 billion by 2027, registering a CAGR of 19.1% from 2020 to 2027.

Future Fashion of Pakistan, who purchased the EFI Reggiani Bolt in 2019 commented: "Future Fashion itself is based on Sustainability. The vision behind the emergence of Future Fashion was to provide high quality textile printing and processing services to the brands of Pakistan. The new company will also encourage new business. We have installed the latest technology and offer the market a sustainable solution that's kind to the environment and our local eco-system." - Rana Muhammad Imran Afzal, General Manager of Future Fashion.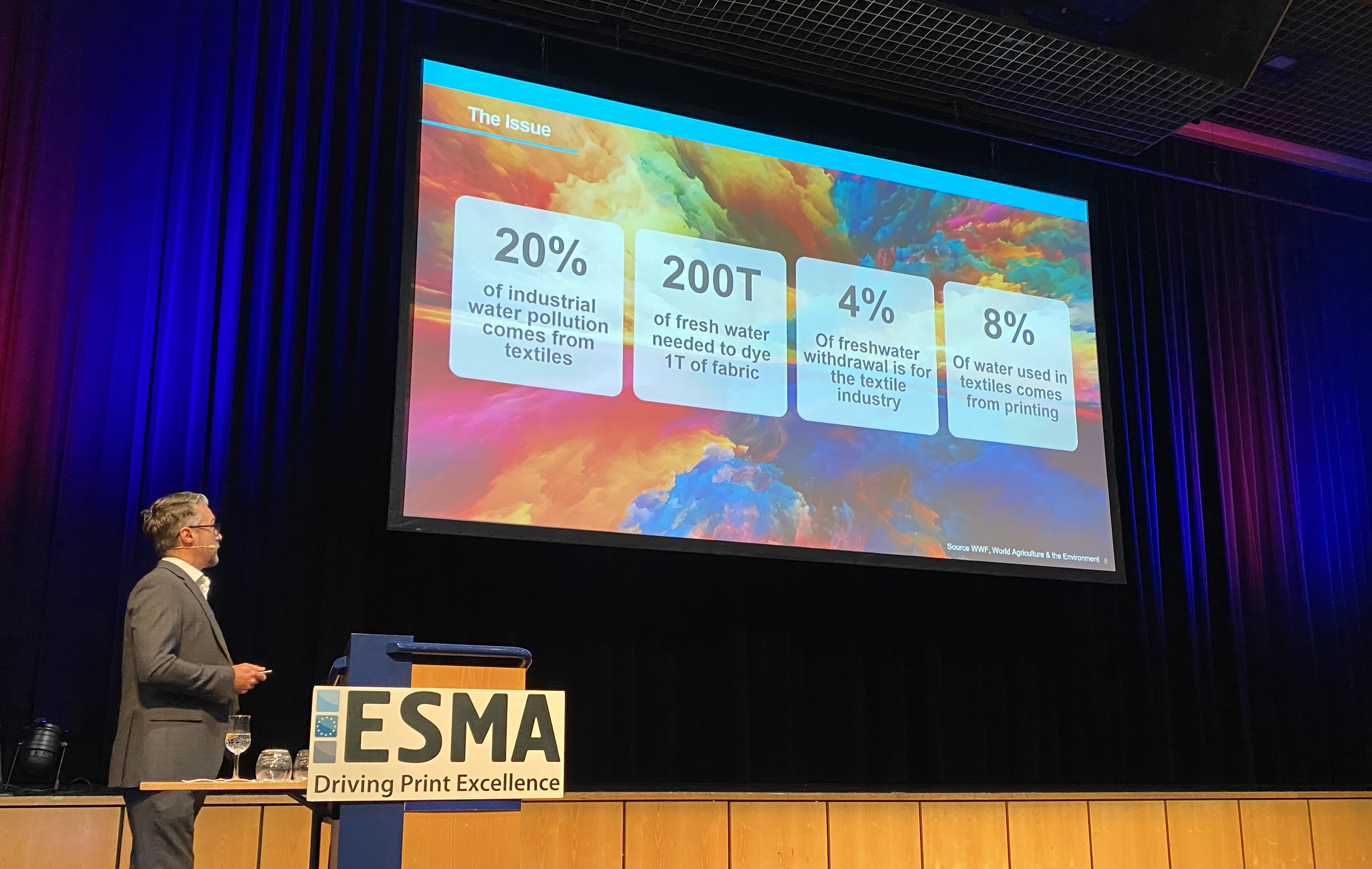 "With the industry's top speed and now the delivery of even higher print quality, the EFI Reggiani BOLT can help spur a revolution in textile printing, migrating more production to digital technology, ensuring the fastest return on investment on high-volume work thanks to superior throughput and unmatched reliability and uptime," said EFI Reggiani Senior Vice President and General Manager Adele Genoni.

So, in a the global textile printing machinery market said to to reach $13.9 Billion by 2025 (Research & Markets), unsurprisingly, digital textile printing equipment is estimated to grow to over $4.0 billion in the same period (Persistence Market Research)

With such a global market share in prospect, small wonder that manufacturers from Kornit Digital to Durst and from EFI Reggiani to Epson are concentrating their efforts and targeting the volume industrial textile printing market.

Here, models such as the Reggiani Bolt, the Kornit Presto, the Durst P5 and the Epson Monna Lisa Evo Tre, provide ample food for thought for the industrial textile printers who are contemplating vital re-equipment issues over the next few years.

The ESMA conference presented a strong message. Sustainability is driving change for every stakeholder in the value chain. Environmentally secure technologies and chemistry must continue in their development to encourage the industry to re-equip.

In doing so companies that invest in digital manufacturing ensure that they too are primed to address market shifts as they continue to develop. Legislation across the globe continues to strengthen, as a result, environmental manufacturing and its accessibility for all stake holders regardless of volume must be now achieved on a global scale.
Interested in joining our community?
Enquire today about joining your local FESPA Association or FESPA Direct