Features
The most common digital cutting tables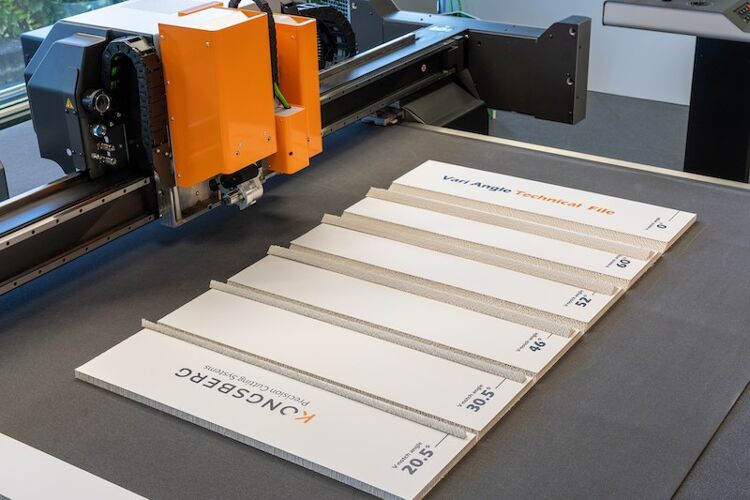 Digital cutting tables are an essential bit of kit for most wide format printers but there are quite a few options to choose from.
As every print service provider knows, the printing is only half of the game; the printed media still has to be finished - converted into a product - before it can be sold. And of all the various types of finishing equipment that's available, the digital cutting table is amongst the most versatile. They're not cheap, but as with anything, you get what you pay for and a good quality cutting table will outlast most printers, and should be able to handle the output from several printers.
Most cutting tables can cope with a broad range of applications. Wide format users started buying cutting tables twenty years ago when the first flatbed printers appeared, in order to cut rigid boards for display graphics uses. But nowadays these tables are also used for short run packaging as well as for cutting textiles for garments and home decor applications.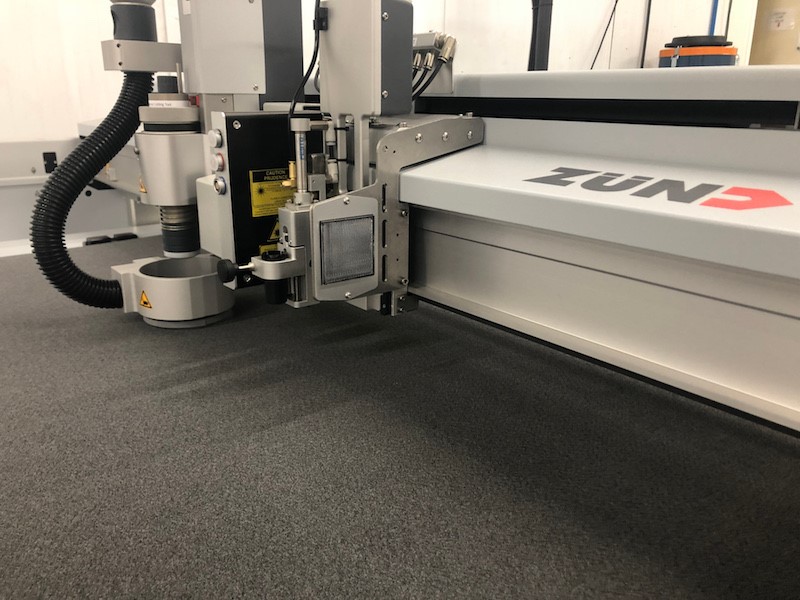 Caption: Zund's G3 cutting table can be used with a wide range of materials.
At its simplest, these tables consist of a flatbed to hold the media, with a gantry that traverses the length of the bed and supports a cutting head that moves across the width. However, there are a number of things to consider before deciding which one to invest in. The most obvious is the bed size, which must be big enough to cope with the jobs you are doing now, and the type of work you want to do in the future.
Obviously, a bigger bed will require a wider gantry, and the cutting heads will have to move across a bigger area and this will put more pressure on the drive system. Some of the simpler tables will use a belt to drive the gantry movements but a rack and pinion drive will be more accurate and the bigger tables will benefit from a linear magnetic motor drive for more precise cutting. Also, the faster the drive system can move the head, the more productive the table will be.
Most vendors will offer a choice of cutting heads but at the very least there should be one head capable of holding multiple tools and able to switch automatically between tools to save the operator from having to do this. The head must be powerful enough to handle all the substrates that you might want to cut. The denser the material, the more power you will need. Most tables should be able to handle plastic sheets, foamcore and corrugated boards but may slow down for wood and composite aluminium.
Most vendors will also offer a good range of different tools, which should include tools for creasing and perforating, as well as a routing tool for dealing with some of the denser materials. Besides a basic cutting knife, there should also be a tangential knife and tools for specific types of cut, such as v-cut and kiss-cut.
Also, just as inkjet printers have become faster, so the cutting tables have had to keep up. Thus most vendors also offer automated loading and unloading options similar to those that we covered last month for the printers. This includes palette loaders for rigid materials, as well as winders for handling roll-fed substrates though there's quite a variation between different vendors.
Wide choice
There are a lot of flatbed digital cutting tables available, far too many to mention them all here. But a brief survey of some of the most common should give some idea of what sort of options are available.
Kongsberg, which is now a standalone company, has split its range into three different platforms. The most basic of these is the XE, which can handle media up to 1x1.5 metres and is meant mainly for prototypes and short run packaging. Then there's the larger X-series, which is suitable for display graphics and packaging applications. Top of the range is the C-series, with more heavy-duty tables and faster cutting speeds.
In addition, there's a choice of cutting tools, including a recently launched VariAngle tool that can cut notches between 0º and 60º without operator intervention. Kongsberg also sells various options for automatically loading and unloading media from the cutting tables, including feeders and stackers as well as a robotic material handler, plus a motorised roll feeder for textiles and flexible media.
The Swiss company Zund has two main platforms, including the G3, with a choice of five widths, each available in several lengths from 1.3 x 1.6m up to 3.2 x 3.2m. For higher productivity, Zund sells the D3, which features two independent cutting beams.
There's a more economical option, the S3, available in six sizes from 1.3 x 0.8m up to 2.2 x 1.2m In addition, Zund offers the L3 cutting table which has been designed specifically for working with leather.
As well as the cutting tables, Zund has a very wide range of cutting tools, including a router and a laser cutter, as well as tools for creasing, perforating and various specialised types of cutting. There are also automatic loading systems for handling rigid boards and winding systems for flexible materials available for both the G3 and D3 series.
Elitron produces a number of fairly heavy duty cutting tables, such as the Kombo SD, available in sizes from 1.6x2m or 3.1x2m and cutting at speeds of up to 102m/min. There are options to add a camera, including a Seeker System option that can recognise printed images and automatically choose the correct cutting path file. There's also a version with a conveyor belt, the Kombo SDC, which allows for greater automation. In additon, there are further options for automatic loading and unloading of substrates.
The South Korean company DYSS has produced its X-series of flatbed cutting tables. This includes the X5, designed primarily for prototyping and short run production. Dyss' main workhorse is the X7, available in 11 sizes from 1.35 x 2.55m up to 3.25x3m. There's also an automatic roll feeder and conveyor option so that it can cut boards that are bigger than the table size. Top of the Dyss range is the X9, available in sizes from 1.6x2.45m to 3.2x3m. This is similar to the X7 series but with a more accurate motion control system.
In addition, Dyss sells a number of cutting tools, such as a tangential knife, kiss cut tool and router. There's a choice of heads, including the Super Head, which can hold two tools and a router and a Triple head that can take three tools. Dyss also sells a Vision module that uses a camera to guide the cutting tool. The K-cut software can recalculate the cut paths to take into account distortions in the media. There's also an automatic sheet feeder available.
Summa makes the F-series of flatbed cutters, including the most recent, the F1432, which was introduced at the end of last year. This can take 137cm wide rolls as well as boards up to 129 x 305cm and the bed can be split into six zones. There are four other models, ranging in size from 1.6x1.2m up to 3.2x3.27m. They offer a cutting speed of up to 1000 mm/sec. Summa recently updated the safety system on the F-series, which features multiple sensors that can quickly detect human movement close to the machine and is now mounted on the top beam.
In conclusion, these tables are generally built to last so its important to consider the future needs of your business when looking through the specifications. And with so many options available, it's obviously worth taking the time to go through all the suppliers to find the right combination of features and pricing.

Discover the latest innovations in cutting at the Global Print Expo 2021, Europe's leading exhibition for screen and digital wide format print, textile printing and signage. Discover the latest products, network with like-minded individuals and explore new business opportunites. Register now and use promo code FESH101 ​to receive a discount of 30 euros.
Interested in joining our community?
Enquire today about joining your local FESPA Association or FESPA Direct