Features
The Evolution of High Production Digital Textile Printers and Single Pass Printing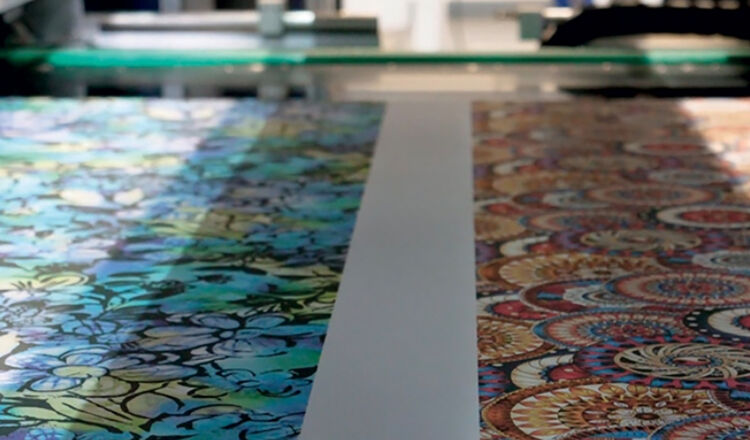 Debbie McKeegan looks at the history of digital textile printing and the currrent digital textile techologies available today.
Let's take a recap – We often forget how far the digital textile industry has travelled in our quest for speed alongside high quality printing. We also forget that the technologies that we have at our fingertips today, have evolved in tandem with the textile industry, as it flexes to meet the needs of an everchanging marketplace. Who would have thought that we would, some twenty years later, live in an on-demand world, where instant gratification, customisation and personalisation is a factor of every day production?

In the early 2000's with digital textile print speeds for scanning multi-pass machines struggling to exceed 50 linear metres per hour, rotary screen printing reigned supreme for volume textile print businesses that wanted to print over 3 million metres a year. It was some ten years later before we began to see the future of high-speed production, and as a new decade dawned it was 2010 when printing and ink technologies began to converge, and the real productivity revolution began.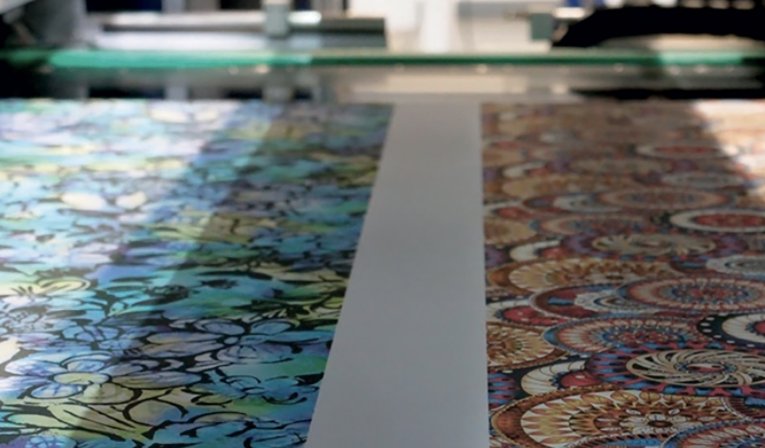 Caption: The Lario, single pass textile printer was launched by MS in 2012. Image credit: MS Lario.

The Single-Pass textile printer came to market in 2012, where the only moving part was the fabric itself, and not the fabric and the printheads. Launched by MS, the Lario set the stage for a new era of technology, running at previously unparalleled speeds for high volume textile production. This first single-pass digital textile printing machine in the world to make its debut, changing the paradigm of digital textile printing forever.

It challenged the world of rotary-printing machines by reaching a production speed of 75 metres per minute, with few of the downsides of screen printing. This ground-breaking development was followed over the next few years by single-pass machines from other major digital print manufacturers.

In 2015 From Konica-Minolta came the 1.85m-wide Nassenger SP-1 which prints at between 1,500 and 6,000 linear metres per hour, depending on resolution. Its 1.6m-wide printhead modules use Konica Minolta's proprietary ink ejection control technology, which allows for small, medium or large drop sizes so that printers can opt for a higher resolution for fine patterns or colour gradients.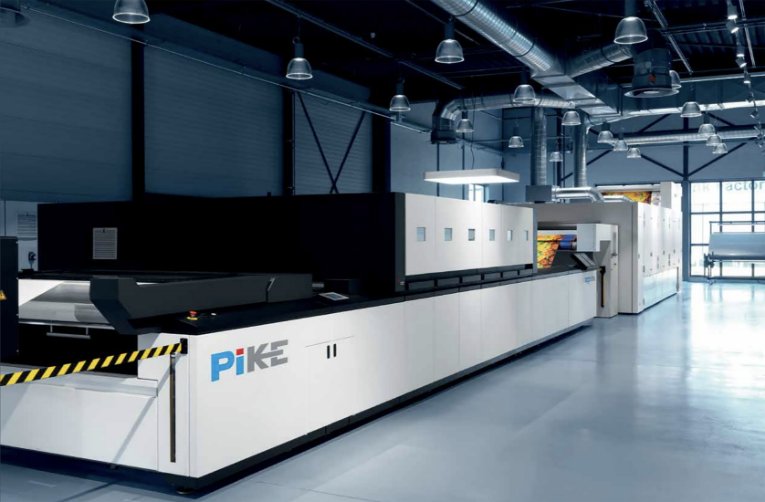 Caption: SPGPrints introduced PIKE in 2015, a single pass inkjet printer. Image credit: SPGPrints.

Also, in 2015 from SPGPrints came the PIKE – setting a new performance standard for high-speed single-pass digital textile printing. The PIKE is based on a full-width array of 43 print heads which guarantee the highest net productivity available.These digital printing heads are incorporated in a highly accurate but user-friendly print-bar technology, including specialized electronics as well as the Archer® technology: an ink conditioning and delivery system. The PIKE is optimized for the use of using SPGPrints - PIKE inks, a new range of high-performance inks that were specifically developed for maximum quality and performance.
And finally, in 2015 came the Atexco Vega one from China. Atexco's single pass Vega One high-speed printer can print 80 m/min for production capacity of 8,000 to 10,000 meters per day. The high precision printhead nozzles can print with up to 1,900 pixels per inch.

As the years have passed each of the technologies mentioned above have evolved to increase efficiency and variance in available ink technologies.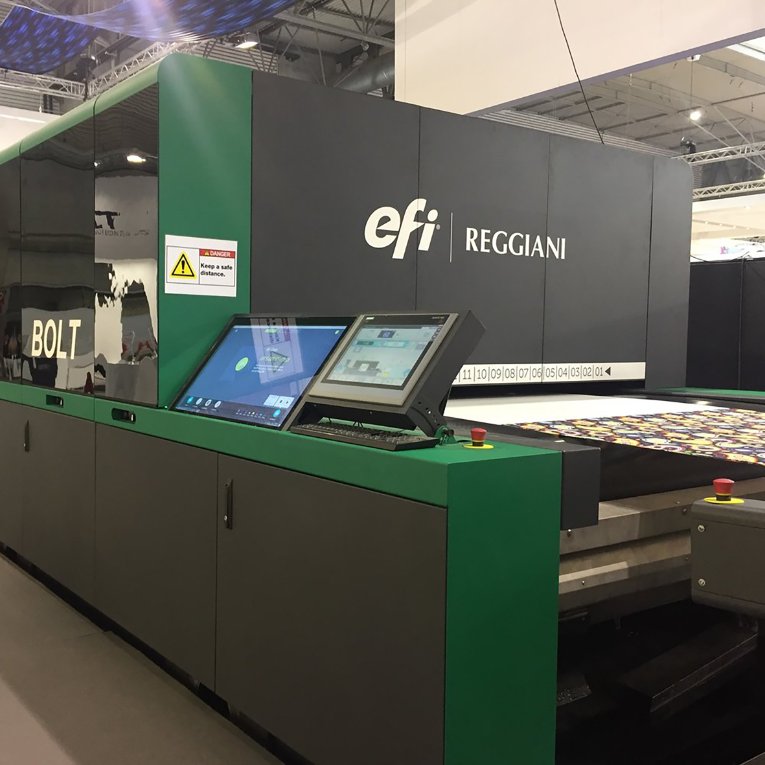 Caption: The EFI Reggiani BOLT received the Intertech award in 2020. Image credit: EFI-Reggiani.

Then in 2018 came the EFI Reggiani BOLT, said to be at the cutting-edge of technology: boosting production uptime and reliability, with high performance throughout, unparalleled printing uniformity and accuracy, in addition to superior print head life and minimal maintenance needs. With production speeds in excess of 90 metres per minute, the BOLT received the 2020 Intertech award, where the judges believed this single-pass inkjet textile printer has the potential to revolutionize the world of printed fabrics.

Yet, during this time scanning machines made progress too, with speeds increasing to over 800 metres per hour, and the judgement call became far more nuanced as to which technology should be chosen. Against Rotary screen printing the main saving was in screen engraving and screen storage, as well as speed of turnround to feed an ever more demanding customer base.

When compared with scanning machines where speed of design change and production was similar, the judgement call, as to which technology to choose, became a greater consideration. In order to evaluate best use, the starting point in any business model has to be predicted annual metreage and run length.

It's now widely accepted that single pass should only be chosen for businesses that want to print in excess of 4 million metres per year, and although scanning machines are competitive up to 1,000 metres in run length, after that amount, single-pass machines become more and more cost-effective.

One of the biggest costs within a single pass machines construction is the number of printheads, this is still seen as a main drawback, both in terms of the cost of replacement for faults, wear and tear, and general maintenance. The singular cost of printheads being a considerable factor both financially and operationally in the overall value offered by the machine. All of which must be considered when looking into the application and costs incurred when choosing single-pass machines. By their very nature they use literally hundreds of expensive printheads, whereas a scanning machine may use at little as four heads.

This drives the cost of the single pass machine above and beyond even the cost of a rotary machinery, and often requires maximum efficiency, where running machines on 24-hour's shifts is forced upon the printer in order to recover their investment.

Yet in spite of this, single pass machines have made significant progress in the volume textile printing market as it moves through its re-equipment cycle whilst also adapting to the new requirements of clients – speed of delivery, design diversity and eco-friendly process.

At ITMA 2019, where all five of the single-pass machines were exhibited, EFI announced that the Bolt had over 30 installations world-wide, and MS said that its Lario printers had now achieved 'dozens of installations' throughout the world, and by February 2021 MS said that over 725 million metres had now been printed on their machines.

A significant achievement for machines whose costs are counted in the millions of dollars each. In the last ten years, the evolution and maturity of the single-pass digital print machine has come to pass, with viable offerings being taken up by volume textile printers in every continent.

Single pass does offer the textile industry an industrial solution for high volume digital textile printing. Will single pass overtake rotary production? The textile printing industry is looking forward to a rosy single-pass future - if we can innovate to ensure that printheads become cheaper and more reliable. Digital ink costs also have to reduce if single pass is to truly become comparable with rotary production and continue to disrupt the analogue marketplace.

Discover the latest in digital textile printing at the Global Print Expo 2021, Europe's leading exhibition for screen and digital wide format print, textile printing and signage. Discover the latest products, network with like-minded individuals and explore new business opportunites. Register your interest here.

Interested in joining our community?
Enquire today about joining your local FESPA Association or FESPA Direct