Features
The Art of Small Print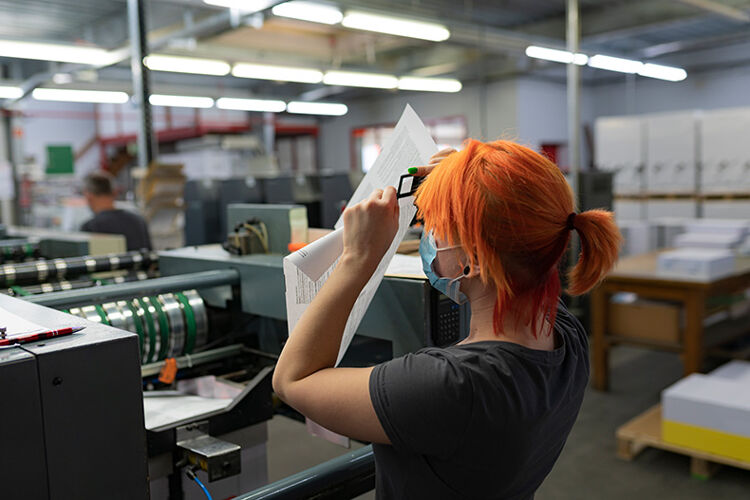 Sonja Angerer discusses a specific print speciality, package inserts. Sonja speaks to Ann-Kathrin Engel, Managing Director of Druckhaus Engel, a family-owned printer that specialises in package inserts and manuals.
Regardless of what package or product you open, usually there will be package inserts inside. Ann-Kathrin Engel, Managing Director of Druckhaus Engel says: "most package inserts are discarded as soon as the box is opened." The family-owned printing house specialises in package inserts and manuals.

12 years ago, the printing company began to focus on package inserts. Since then, the business from Bad Schwartau has gradually expanded their business to produce leaflets, package inserts and manuals, mainly printed in sheetfed and web offset. For shorter runs and product development, they also have a Canon, black and white digital printer, and another four-colour printing machine with a banner feed uptake system.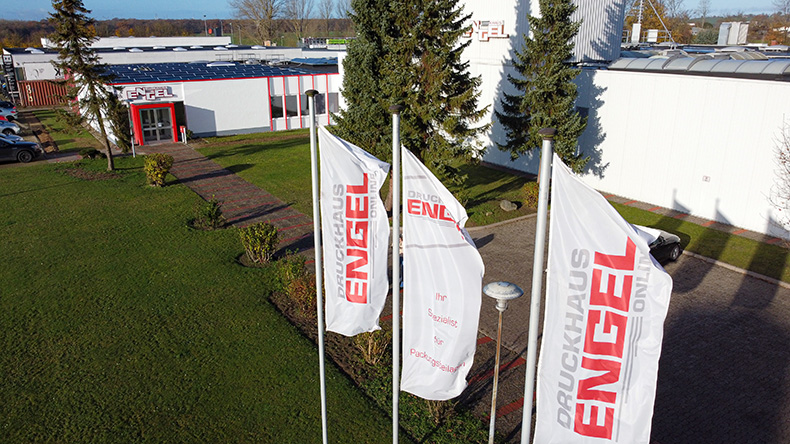 CAPTION: Druckhaus Engel in Bad Schwartau specialised in printing package inserts about a decade ago. Photo Credit: Druckhaus Engel
Small Sheet, Big Regulations: The Package Insert
The pharmaceutical industry is the main customer for package inserts, as they are required for medicine boxes and for all kinds of medical devices and supplies for everyday use in hospitals and surgeries.

Manuals and operating instructions for private households are highly regulated in Germany, for example with the "Maschinendirektive" set of laws, as well as the Product Safety Act. In addition, many other consumer goods require printed manuals in the buyer´s country´s official language(s) to be included in the package. As a result, even pacifiers or teapots can no longer be sold without an instructional leaflet in the European Union.

For pharma package inserts, there are even more extensive legal regulations at German national level are in place. In addition, there are usually more requirements imposed by the pharmaceutical industry demanding certifications from all their suppliers. "Every audit takes about 2 - 3 working days", says Engel. "Of course, we also have to meet standard requirements like ISO 9001 quality check or FSC certification."

When it comes to safety and quality control, package inserts and manuals need to be printed even more carefully than any commercial print application. Illegible or poorly trimmed sheets could trigger potentially lethal errors. Therefore, Druckhaus Engel, like most of its competitors, is increasingly using automated camera systems for quality control for every single page printed.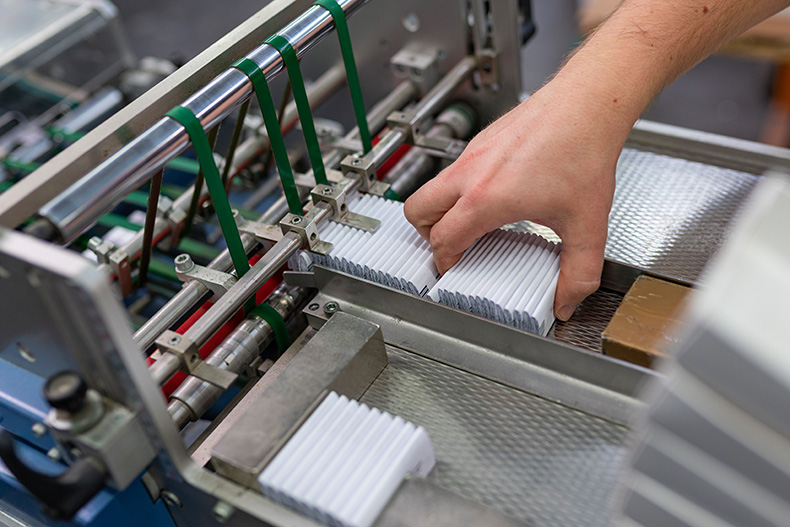 CAPTION: A medicine box package insert might be creased up to 13 times at Druckhaus Engel. Photo: Druckhaus Engel
Taking a Closer Look
Usually, an order for a Pharma package insert is sent over by the customer as a PDF and routinely undergoes flight check at the PSP. In the EU, package inserts are usually about 65-70 cm wide and around 1 metre long, but there are no legal limits to size. The maximum printable space for package inserts at Druckhaus Engel is 72 x 104 cm.

Package inserts are printed in several columns for better readability. Specialised designers ensure that the distances between the columns coincide as much as possible with the subsequent crease, so that readability will not be compromised later in the folding machine.
Package inserts are printed on special pharmaceutical light-weight paper that are between 40 and 50 gsm. With a special coating, manufacturers make sure that the print does not shine through to the other side of the paper.

Many customers, especially from the pharmaceutical industry, have adopted a planet-friendly policy where they print on FSC paper, this is standard for package inserts. As a rule, only water-based printing inks with up-to-date safety data sheets may be used. For critical applications, for example when the print might touch the actual product in the box, Druckhaus Engel switches to inks for food or toys for safety reasons.
The Folding Champions
When it comes to package inserts and manuals, finishing is as important as printing. The company has a total of seven folding machines, including two special pharmaceutical models. This enables up to 13 creases per page with a minimum height of 15 mm.

This is hardly more than a finger´s width, and quite difficult, as the paper must not break or get crushed at edges. The folded pack also needs to be super-flat and remain closed under any circumstances. So, Druckhaus Engel needs highly trained and specialized staff to accomplish this.

For pharma package inserts, these are the 4 most common finishings:
plano
pre-creased
creased
Outsert
Plano as well as pre-creased package pages are printed to the specifications of a customer's packaging line. This means the paper may be creased or creased again in a next step.

Creased and Outsert products are added manually or automatically as a small, compact package during the final packaging process. Because modern high-speed packaging lines might affect the lightweight paper, Druckhaus Engel has recently been concentrating Outsert products. A small dot of adhesive makes sure that the Outsert package does not open and block the packaging line.

End consumers still need to be able to easily open the folded-up leaflet. The adhesive needs to be placed very carefully to make sure it does not obscure any important information. "Printing package inserts and manuals is mainly only black and white copy with a few pictures. This seems an easy task, but there are quite a few complicated details to pay attention to," explains the manager.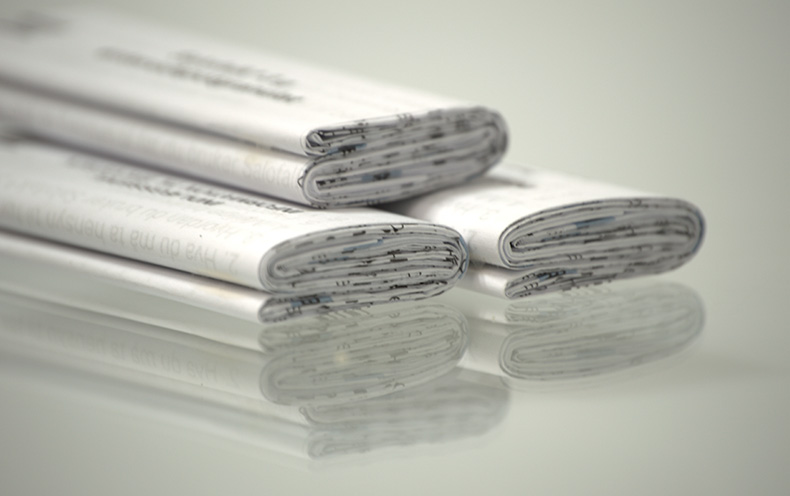 CAPTION: Druckhaus Engel´s speciality is Outsert leaflets with an adhesive dot. Photo Credit: Druckhaus Engel
Business Opportunities in the Package Inserts Industry
Today, package inserts and manuals are mainly very large analogue print runs. Sometimes different variants are designed to cover geographical areas or jurisdictions. While printing smaller batches with digital devices fine-tuned to single countries or even the individual user, would not be much of a challenge, "but large packaging lines, especially for mass production goods cannot be easily retrofitted", explains Engel.

That is why end consumers will still often find a whole batch of manuals in different languages in the box with a his or her latest gadget. "It is our customers who have to set a direction here", Engel emphasizes. When it comes to sustainability, many of their clients already choose the climate-neutral option the company is offering, so there is hope. "Our line of business is profitable, and we expect many more interesting products in the future", the manager says. However, getting into this very special printing niche requires quite some effort and time: "It took use several years", remembers Ann-Kathrin Engel.
Interested in joining our community?
Enquire today about joining your local FESPA Association or FESPA Direct