Features
Supporting the next generation and nurturing sustainable Product Design with GREEN GRADS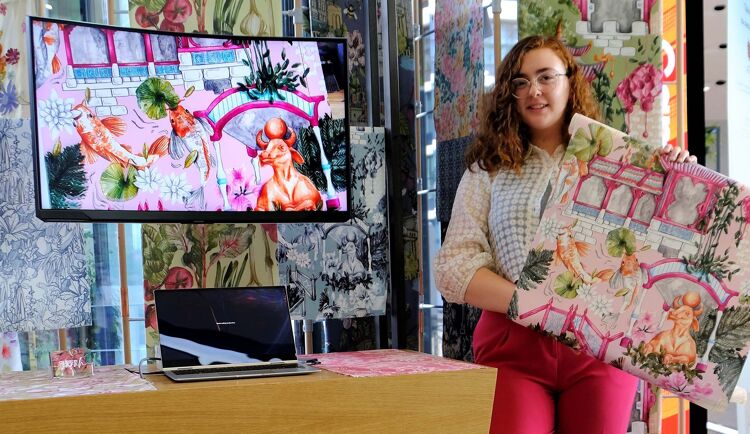 Founded in 2021, GREEN GRADS is a not-for-profit initiative targeted at the next generation. Following on from its immediate success last year, the GREEN GRADS story continues to build momentum as the team work diligently to deliver an evolving platform for innovative, sustainable product design. The platform is the brainchild of Barbara Chandler, a renown journalist and lifelong champion of the creative community. For many decades she has supported, encouraged and nurtured design talent.
Founded in 2021, GREEN GRADS is a not-for-profit initiative targeted at the next generation. Following on from its immediate success last year, the GREEN GRADS story continues to build momentum as the team work diligently to deliver an evolving platform for innovative, sustainable product design. The platform is the brainchild of Barbara Chandler, a renown journalist and lifelong champion of the creative community. For many decades she has supported, encouraged and nurtured design talent.

Barbara is respected and adored by the design industry, and rightly so. I met Barbara in 2005 when she spotted my work in Birmingham, giving our company the RIBA "Best New Product" Award for our Andy Warhol fabric collection. Its worthy of note that this was the first digitally printed fabric collection to be manufactured using digital printing technology in the UK. Over the years we have worked on many projects together and it was an honour to be asked to help with the GREEN GRADS – ECO STORIES category for this year's GG events.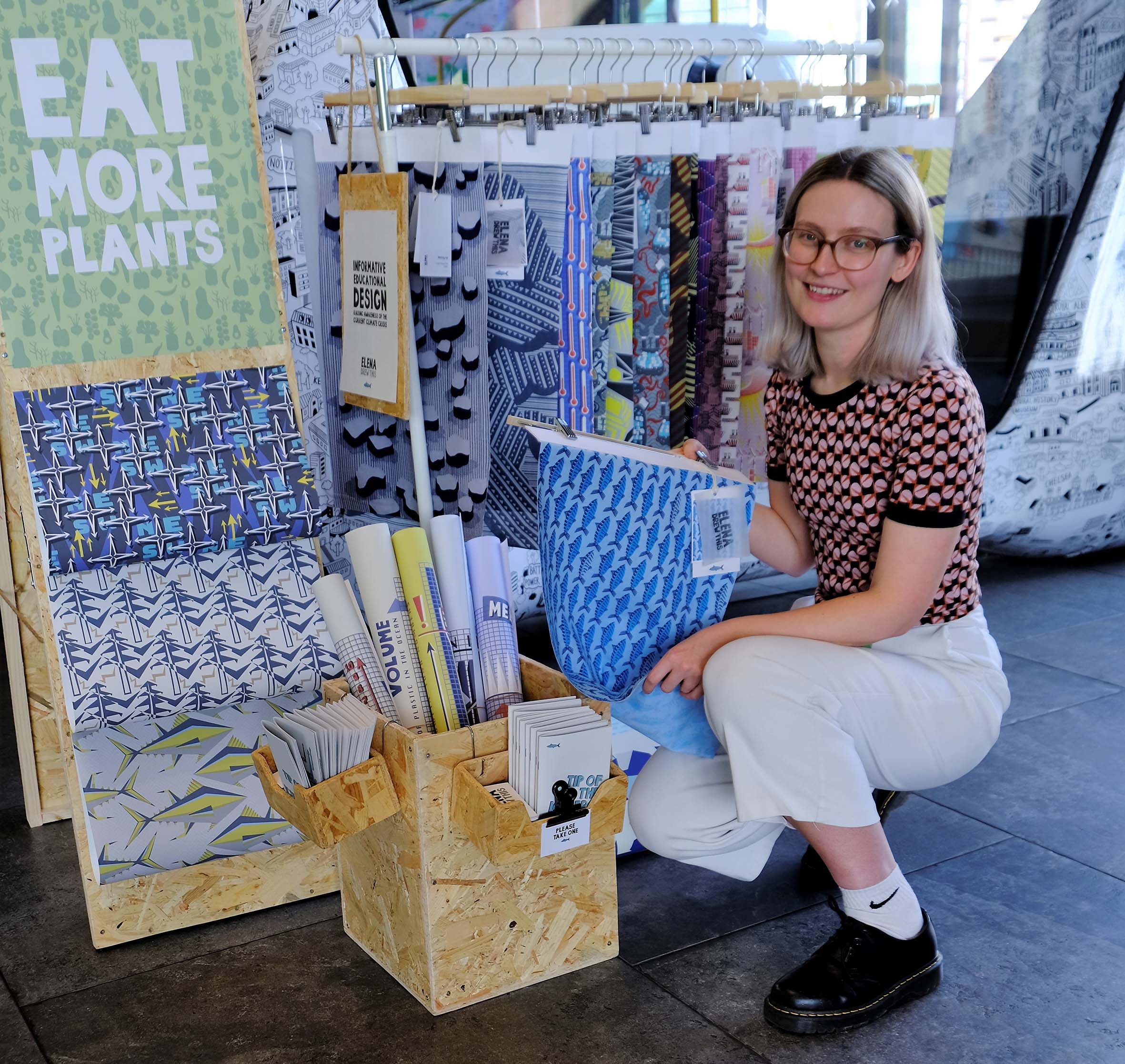 Barbara explained "I set up GREEN GRADS initially in response to COVID and the cancellation of degree shows, in particular New Designers, the group show in Islington (running now for 37 years), which was cancelled two years in a row: 2020 and 2021.

My work as specialist design writer/editor had taken me to New Designers regularly over many years, and it seemed so cruel to me that two batches of graduates were being in effect marginalised. During mid-summer of 2021 lockdown had been lifted, I had been double jabbed and felt pretty confident about travelling.

So, I decided to go out and see the graduates on their home territory. The project rapidly gathered steam and I visited Plymouth, Manchester, Loughborough, Leicester, Stoke, Kingston, Brighton, and numerous shows around London, many put on by the graduates themselves.

The work was stunning – innovative, inspirational, professional and in many cases ready to go, so I decided to use my long-standing contacts to try and organise a national platform.

My original theme was #greatgrads and then I met Deborah Spencer, co-founder and director of Planted, a new design show for sustainability. She was enthusiastic, and during brainstorming, we realised the value of switching the focus to GREEN GRADS to reflect the values of her show. Like all the best ideas, once you have it, it seems obvious. I call it the double-whammy – we're platforming new talent and supporting the environment at the same time.

The project has snowballed. We did our initial show at the Samsung Experience Space in King's Cross in September 2021, as part of Planted and the London Design Festival. We featured around 30 graduates On the back of that we were invited to fill a 15 metre run of stand over nine days during Grand Designs Live at ExCel in May, and then to take a film profiling our project to the Milan Furniture Fair in June. Then we did Samsung again in September this year (50 graduates), and hard on the back of that we installed a giant "bricks" mobile at GRAND DESIGNS LIVE in Birmingham made from carpet waste salvaged from the May show. Then more of less immediately we took a contingent of 20 GREEN GRADS to the Great Northern Design Fair in Manchester a few weeks ago. We've set up a website, and a YouTube channel.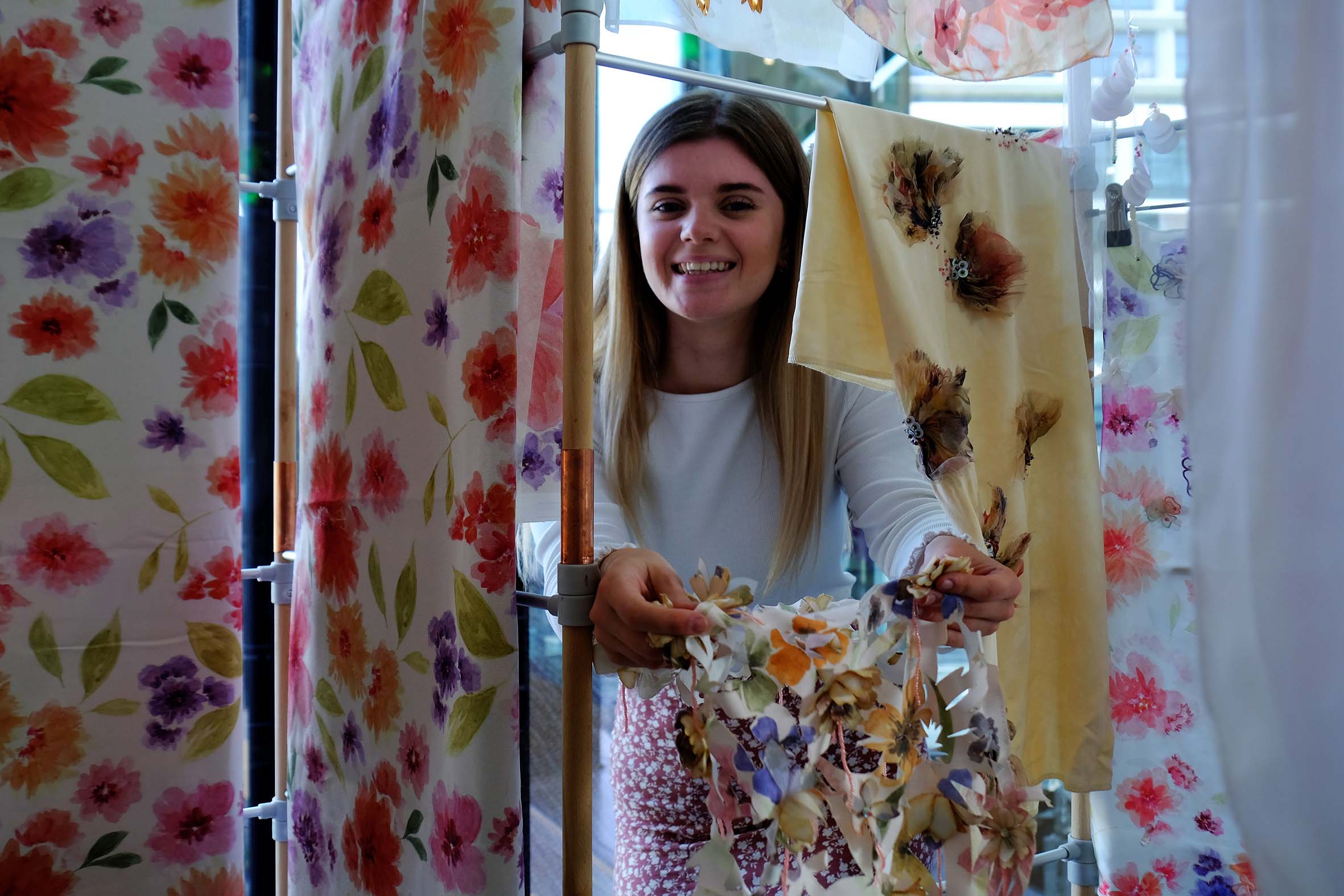 We have a team so skeletal you can see the bones, as so far professionals involved in GREEN GRADS are taking no fees, only expenses – and to tell the truth often we don't get even those. We are motivated by ideals, commitment, and the desire to do things in the very best way we can.

Michael Czerzinski, my co-director from the outset, does all the heavy lifting, organising the shows and seeing they run with exemplary clockwork. He has brilliant "previous," pioneering pop-ups for designer makers, and then working for many years for The Design Museum. He is co-founder of the Illustrators Fair. He has an unlimited input of ideas and we're a pretty powerful partnership.

It was Michael's initiative to push the GREEN GRADS to make films to fill the huge screen we have at the Samsung venue - and this venture truly lifts us into a different league from other design shows.

Which bring me to the third member of our team. We invited Debbie McKeegan to join us specifically to head up a project of mine called ECO STORIES. This evolved from a couple of textile collections we featured in GREEN GRADS 2021 where the designers were inspired by eco issues – the one by the "rewilding" of the Knepp Estate in West Sussex, and the other by the plight of endangered species.

We extended this idea and set final-year students throughout the UK the GREEN GRADS TEXTILE CHALLENGE: to create a pattern on cloth expressing an individual concern about/commitment to the environment, whether simply to foster nature, or to promote, say, energy saving. The project has been an outstanding success and I'll hand over to Debbie to fill in the details. Sufficient to say that she grew the idea into a marvellous maturity using her extensive experience in the textile industry, and in particular digital printing, underpinned by a passionate commitment to expanding sustainability within the textile industry. Debbie is now a treasured member of the team.

I must say a word about our sponsors, as they are fundamental to the exercise. We were well into organising our first show when I realised (naively late) that we needed some money, not least for the Awards we wanted to build into the whole exercise. I tentatively approached some brands I'd known for decades and asked for £500 to £1,000 to back GREEN GRADS. I said that for years the UK design industry had fed off emerging talent and wasn't it time to put something back.

I got mostly immediately responsive with many of Britain's best loved furnishing labels now backing us for the second time one plus several more. We are spending this money not only on the Awards, but also on the running costs of our shows, buying in help, materials, transport and so on, and also providing small bursaries to graduates not yet in work.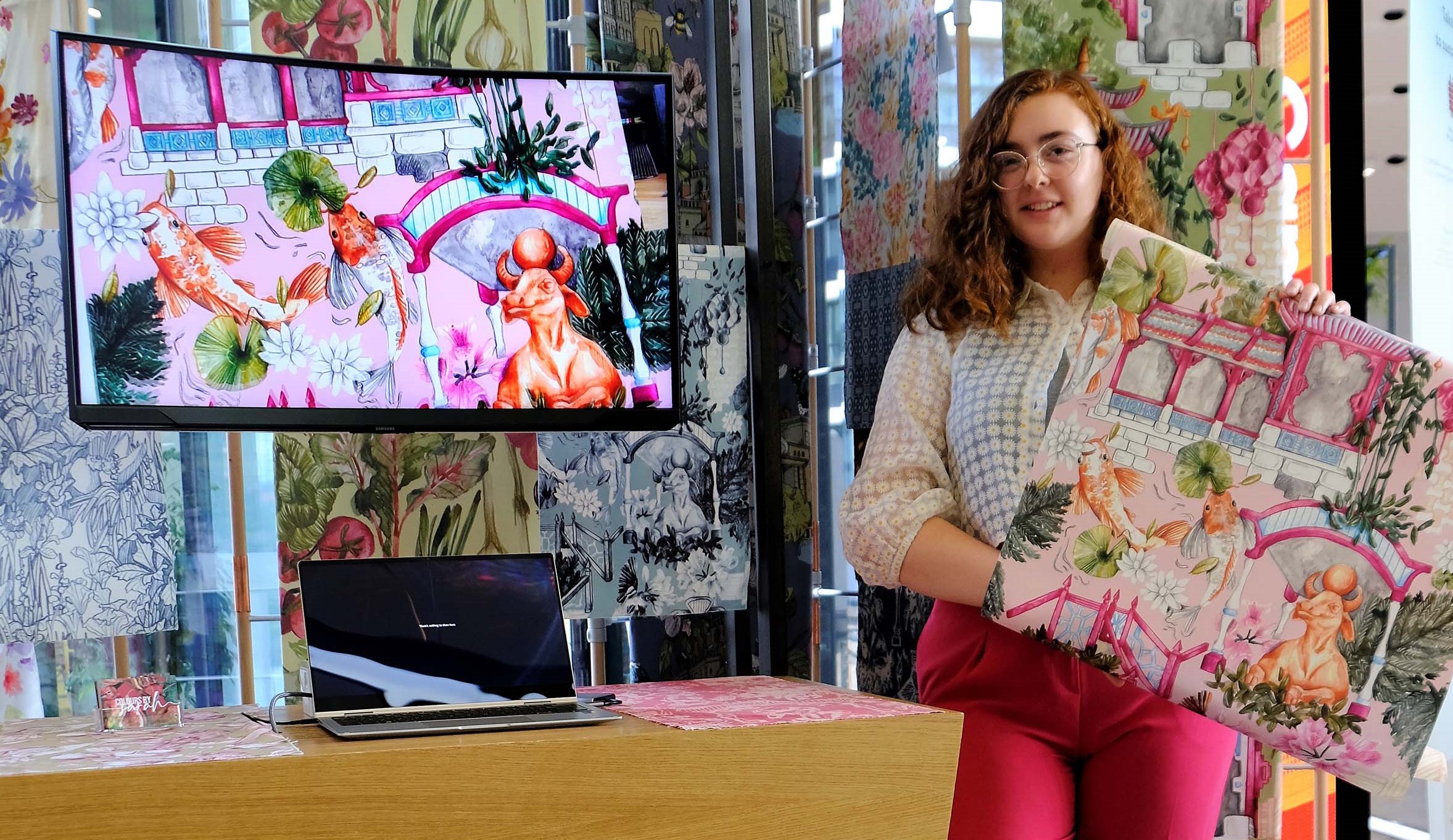 We are not saying that all the projects and ideas we show will be commercially viable, or indeed possible right now in the 'real world' but they are seeds to nurture and grow, the results of in-depth research and dedicated hours in studios and workshops. Their inventors are the talent we so sorely need to help solve our eco-crises".

GREEN GRADS is unique: "Once a GG always a GREENGRAD". Every designer participating is a GG forever, it's a badge of honour, in recognition of their creative talent and passion for sustainable design.

It has been a great pleasure to support this powerful project in my capacity as the FESPA textile Ambassador alongside the GREEN GRADS team. The story continues and new pop-up events and collaborations are planned for the near future.

This year's ECO STORIES Award winners were:

Eco Stories GOLD AWARD for The Bateman Collection.
Sarah Thorley
University of Bolton
Inspired by the National Trust Victorian treasure Biddulph Grange Gardens (1840), Sarah's richly-detailed designs exude her passion for nature, conservation, restoration, and history.
@colours_by_sarah
Sarah commented: "I've painted with watercolours and drawn with fine liners on recycled papers for artwork, then printed onto linen and re-upholstered vintage chairs from charity shop. My collection highlights nature and the fantastic conservation work of the National Trust."

Eco Stories SILVER AWARD for Silken Bloom.
Rhiannon Weaver
De Montfort University
Rhiannon looked to the 1970's hippie movement and found early eco-fashion in hemp and bamboo. Fast forward and she is using hemp linen and bamboo silk. These alternative fibres enable luxury and couture, with sustainability and zero waste at the core of her embellishments.
@rhiannoneleanortextiles
Rhiannon added: "I hope that my collection emphasises that couture and luxury textiles can still be produced, by carefully considering and researching alternative fibres and materials. This Eco Story has allowed me to experiment with new techniques, challenge my knowledge of sustainability issues, and push myself to create a collection that showcases my versatility as a textile designer".

Eco Stories BRONZE AWARD for Home Grown.
Rebekah Longland
Birmingham City University
Starting as collaged motifs, these vibrant vegetable designs were digitally printed using eco-friendly colours and inks. They ask you to consider where your food comes from and how it is grown. Produce from gardens and allotments contrasts with industrialised production and food miles.
@rebekah.longland
Rebekah explained: "Homegrown vegetables and our connection to the planet
This is a project inspired by vegetable gardens and the idea of self-sufficiency. Expressing the pride of growing your own food and embracing nature. This collection of designs for interiors shows the vibrant, colourful, and intriguing inspiration vegetables have to offer. I created my samples using digital and sublimation printing which minimises the amount of waste produced to create my samples and the number of prosses needed to create them. Another way that this process could be made more sustainable is by using recycled polyester and mixed materials as due to this process of using sublimation polyester is the type of material need to achieve the best results".

GREEN GRADS also supports Designers of Note and this year invited: Daniel Embleton, Natasha Seaward and Elena Branch to join GREEN GRADS in London and Manchester to exhibit their flourishing designer brands.

GREEN GRADS wouldn't be possible without our sponsors. I'd like to personally thank:
FESPA, EPSON, Prinfab and ImageCo for their kind efforts and generous contributions.

GREEN GRADS is collaborative not-for-profit platform for new UK graduates with ideas to heal the planet. We do shows, films, events, social media and salons. We nurture our GREEN GRADS and help them grow. We could not happen without the willing and unstinting sponsorship of our industry partners.
Thank you to the generous brands who step up to make GREEN GRADS happen.
No arm-twisting needed.
Headline sponsor: Design Centre Chelsea Harbour @designcentrech
Amara @amaraliving
Anglepoise @anglepoise
Benchmark @madebybenchmark
Epson @epsonUK sponsoring ECO STORIES
Ercol @ercol_uk
FESPA @fespagram
Heal's @heals_furniture
Imageco @imagecoprint
Little Red Rooster PR partner @littleredroosterhq
LSA International @lsainternational
Neptune @neptunehomeofficial
Nick Munro @nickmunrodesigner
PriestmanGoode @priestmangoode
SCP @scpltd
Thank you Prinfab for textile digital printing @prinfab
Thank you to Sabine Zetteler and Melissa Byrne for altruistic PR support
@_zetteler_ @byrnecomms
Interested in joining our community?
Enquire today about joining your local FESPA Association or FESPA Direct