Features
Superhero garments win special effects FESPA award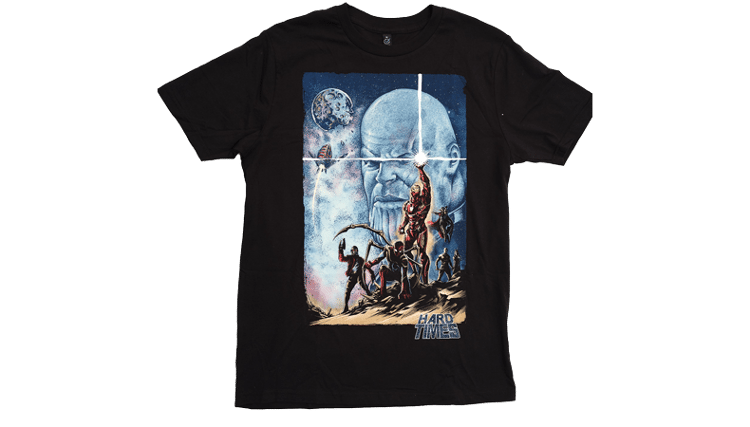 Monster Press blends two separate fantasy worlds to create eye-catching t-shirt.
A FESPA Award win is always cause for celebration, but winning Gold is something else.

"Winning a FESPA award is a significant achievement," said Monster Press, which won Gold in the Special Effects category at the 2023 Awards. "It serves as a testament to the dedication, skill, and hard work of our entire team. We see it as a validation that we're on the right track – our efforts are making an impact, and our commitment to quality is recognised. It's certainly a morale boost for us, encouraging us to strive for even greater heights in our industry.

The firm's winning entry was an Avengers and Star Wars "mash-up" t-shirt, based on the first Star Wars poster designed and painted by Tom Jung in 1977, it was designed by Indonesian artist Megan Mushi for Hard Times Clothing. This is a seven-colour screen print with a discharge underbase, which helps the halftones blend and provide a soft and vibrant finish through a 90 mesh with Magna water-based discharge and Wilflex MX Pantone colours. It was printed on continental EP01 organic cotton T-shirts on a MHM S-Type Xtreme 10 colour with Calmatech Quartz flashes.

"We decided to print the entry on EarthPositive classic tees as we have found them to be one of the most consistent shirts to print with discharge ink," said Monster Press. "We chose to go for a discharge underbase with Wilflex MX plastisol top colours. This combination allows us to strike an optimal balance between colour accuracy and softness. It also enables smoother blending of the inks into the base and shirt than using a plastisol underbase."

Access FESPA's member only content, Club FESPA Online, that offers practical, engaging and thought leadership advice that will help to drive your business forward. This premium content is available in 36 languages and features a monthly email newsletter. To read the full article and access over 200 articles that features industry experts that offer business advice, how to guides and future trends become a FESPA member here. If there is not a FESPA Association in your country you can become a FESPA Direct member. Once you are a FESPA member you will receive many member benefits including full access to Club FESPA Online as well as special member discounts to FESPA events.

Interested in joining our community?
Enquire today about joining your local FESPA Association or FESPA Direct