Features
Sportswear: Puma and Williams Racing in Formula 1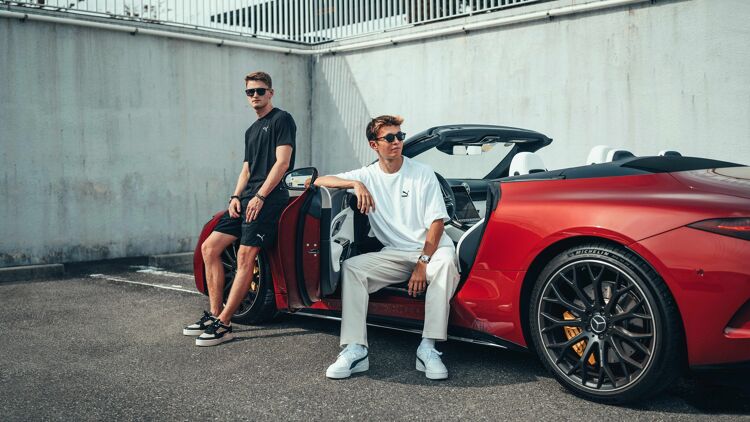 Opportunities for growth in the sportswear have been well documented in recent years, with many major brands striking up partnerships with sports properties around the world. Rob Fletcher discusses the new partnership between Puma and Williams Racing.
Among the most recent examples of such a relationship is Puma, a global giant within the sportswear sector, and Williams Racing, one of the longest-running teams in the Formula 1 motor-racing series.

Just a few weeks ago, the two parties entered into a multi-year global partnership, under which Puma will provide the Williams Racing F1 team with a wide range of clothing. This covers official racewear for Williams Racing drivers – Thailand's Alexander Albon and Logan Sargeant of the US – as well as official team kit for pit crew and other Williams staff.

While this arrangement would be impressive at just this, the following section of the deal is where both Puma and Williams Racing will really see the commercial Williams Racing: the manufacture and distribution of replica apparel and accessories.

Puma-manufactured clothing such as t-shirts, shirts and hoodies will be made available to purchase at F1 events and in regions around the world, including at Puma stores and outlets. On top of this, fans can purchase related accessories including official team caps – widely regarded a must-have for any fans attending F1 races.
Building on a legacy
Puma has long and rich history of working with teams and properties within the motorsport market, with such partnerships stretching back more than two decades. Not to mention that it has huge expertise in other sports markets, ranging from football to athletics.

Such is its reputation in the sportswear market that its apparel meets strict standards for fire protection set by the Fédération Internationale de l'Automobile (FIA), the professional body that governs F1. This is particularly important for the part of the deal that will see Puma provide full teamwear service to Williams, including all driver technical apparel and team kit.

Swinging back to the wider commercial side of the partnership, Puma's 'stichd' subsidiary will play a key fulfilment role in this. stichd will leverage its global rights to design, produce, and distribute a range of Williams Racing replica apparel and accessories for fans.
Heritage meets innovation
"Williams Racing is honoured to welcome Puma as an official partner," Williams Racing chief revenue officer Paul Asencio said. "Puma's dedication to excellence and performance in motorsport perfectly complements our team's values.

"We look forward to bringing the thrill of Formula 1 closer to fans worldwide through an exciting new range of apparel and accessories from 2024 and beyond."

Johan Adamsson, global director of sports marketing and sports licensing at Puma, also spoke about the importance of the deal. He said it suits the heritage of both Puma and Williams Racing within the motor-racing world.

"We are excited to start this new collaboration which is a perfect fit for Puma with Williams Racing long-lasting and successful legacy in Formula One," Adamsson said. "The iconic and prestigious attitude of Williams Racing supports and fosters Puma's visibility and approach to be the number one sports brand in motorsport.

"We will supply the best standards of race gear and teamwear to the drivers and team and together with our subsidiary stichd we will offer replica and fanwear to the avid Williams Racing fans, consumers and Motorsport enthusiasts from 2024 onwards."
Story so far for Williams Racing
The Williams Racing name is synonymous with the F1 world. Since the team first raced back in 1977, Williams Racing has won some 16 Formula 1 World Championship titles. Its drivers have clocked up 114 race wins and claimed 128 podium finishes along the way.

While Williams Racing is not currently challenging for the F1 Drivers World Championship or World Constructors' Championship, due to the ongoing dominance of Max Verstappen and the Red Bull team, it has managed to clock a respectable points tally in the 2023 season.

Albon currently has 27 points to his name and sits 13th in the F1 Drivers World Championship after recording several top-10 finishes – at the time of writing. Teammate Sargeant has one point in the 2023 season.

As for the F1 World Constructors' Championship, Williams Racing sits seventh out of 10 teams with 28 points.

Sportswear Pro will be launching at The RAI Amsterdam, taking place on 19 - 22 March 2024. Sportswear Pro will showcase the very latest technologies and solutions for on-demand and customised sportswear production. From sample design and automated digital workflows, to innovative materials and integrated wearable technologies, the exhibition and visionary trend forum will present sustainable, faster and leaner production solutions to sports and activewear brands and manufacturers. Register your interest to visit here.
Interested in joining our community?
Enquire today about joining your local FESPA Association or FESPA Direct