Features
Smart investment with large-format cutting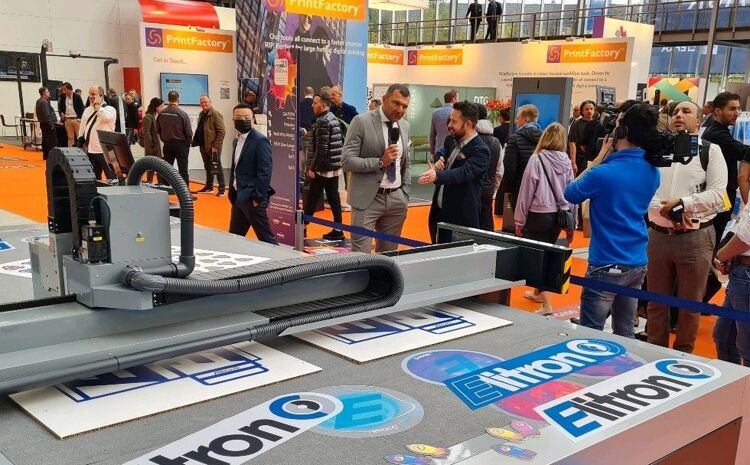 High-quality finishing is absolutely critical to the success of any sort of project in the signage and wide-format print market. If an application is not accurately cut to size, or the cutting is of poor quality and does not look the part, this could put the whole application at risk.
For this reason, investment in quality and reliable cutting machines should be of paramount importance to sign-makers and wide-format print companies. Solid investment here can help users save a significant amount of time during production, as well as cut down on any unnecessary waste created from inaccurate cutting and save on costs related to material use.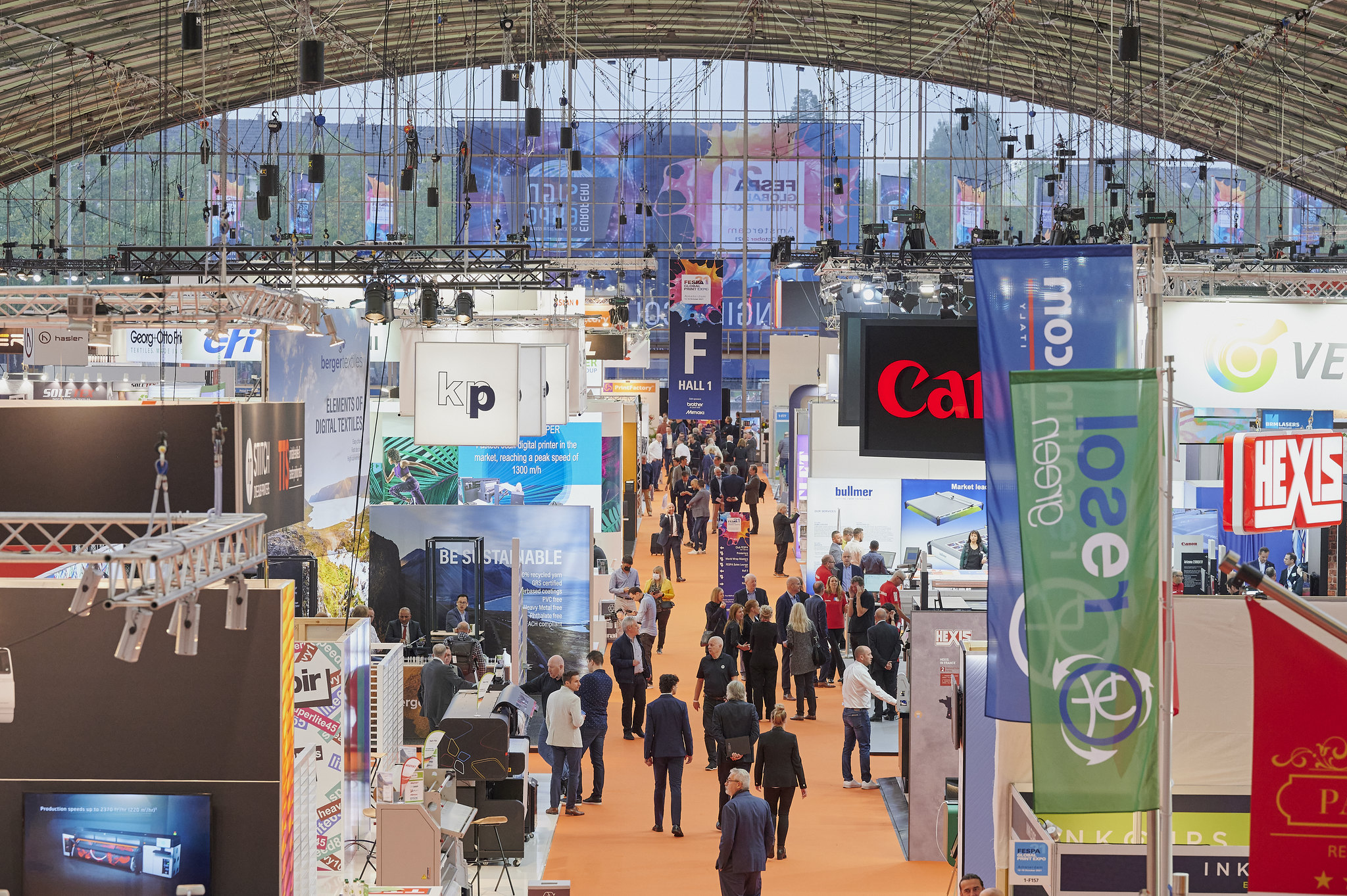 Caption: FESPA Global Print Expo 2021

Here, FESPA.com takes a closer look at some of the latest large-format cutting solutions that are now available to print companies and sign-makers and examine the benefits that this kit can offer to users.
Guarantee return on investment
One of the manufacturers that is an expert in cutting equipment for the signage and wide-format print sector is Elitron, which specialises in robotic cutting and automation. Caroline Anne Bell, marketing coordinator at Elitron, said that the business strives for maximum precision, productivity and efficiency, working closely with customers to ensure they are at the forefront in terms of production technology.

"A quality investment in cutting equipment will withstand the test of time and guarantee return on investment," Bell said. "Investing in the latest technology means our customers are at the forefront of their business, able to offer their customers the widest range of products and solutions in the shortest production timeframe.

"More than ever, just-in-time production is key to securing existing and new business. Job runs are becoming more personalised and shorter, and flexibility and reactivity are key, so digital large- format cutting is a must."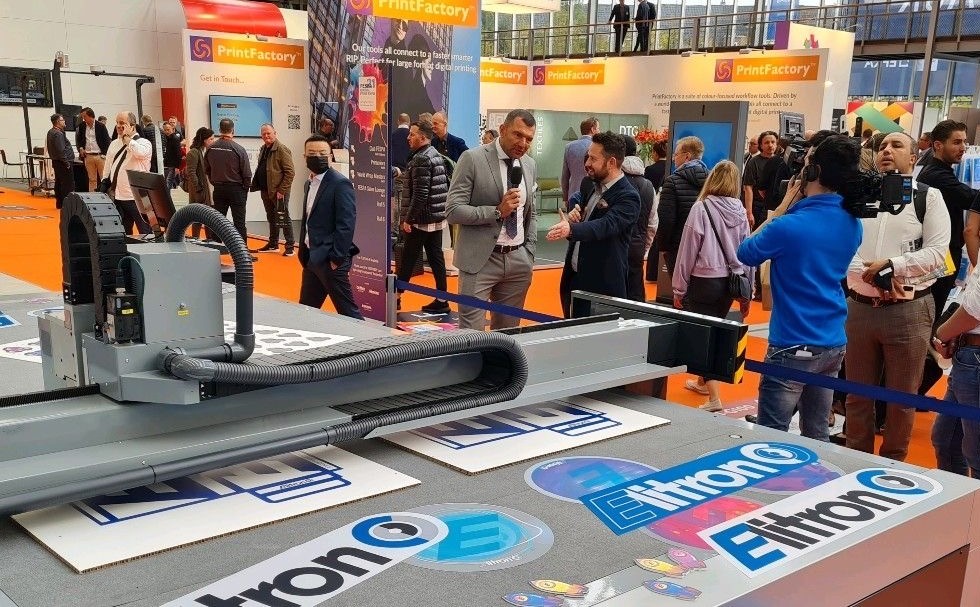 Caption: Elitron was in attendance at the recent FESPA Global Print Expo to showcase its latest cutting solutions.

For customers approaching digital large-format cutting for the first time, Bell said that they generally have a good idea of what they want the systems to do. However, Bell added that once they have installed an Elitron, often they discover that thanks to the multi-function cutting and milling possibilities, they are able to offer their customers new materials and new designs that were not previously possible.

"If customers invest in a fully automatic large-format cutting system they are then able to produce around the clock, 24/7, totally unmanned," Bell said. "This includes input pallet or stack logistics, automatic sheet loading, image detection, cutting and creasing, unloading, facilitated stripping and output pallet or stack logistics.

"This then allows them to compete for jobs where time to market is of the essence. Another benefit would be the cost saving in terms of operator intervention that is required with the manual loading or unloading systems."

Elitron has a range of large-format cutting systems to suit different production needs, such as fixed and conveyor working areas, and fully automatic systems. Bell said that from an automation perspective, Elitron's Heleva sheet loader and Reversa, the stand-alone or inline sheet turner, make light work of large-format logistics.

Bell added that Elitron's latest fully automatic cutting system, the Kombo TAV V2, has been engineered to offer maximum flexibility in terms of loading and unloading. According to Bell, this is the only fully automatic digital cutting system able to load stacks of material up to 1,555mm.

"In many production plants, space is of the essence and often an in-line system just won't fit in or offer enough flexibility," Bell said. "The Kombo TAV V2, in addition to the stack height, offers both front and side loading and unloading, or a mix of both, so the overall system footprint can be reduced and tailored to meet individual customer requirements."
Important process in production
Another leading specialist in cutting equipment is Fotoba, which was also in attendance at the recent FESPA Global Print Expo, meeting with visitors and showing off its latest cutting technology. Fotoba can provide X/Y high speed cross cutting solutions in line and offline for applications such as standard outdoor display paper, all the way through to high precision wallpaper trimming for butt-joint applications.

"Cutting is quite an important process in production as a high percentage of material must be trimmed," said Valter Maddalon, chief executive of Fotoba. "Giving trust to this high responsibility device requires high standards of long-lasting reliability, speed and easy use, with timing support in case of need provided by an excellent network of distributors as only Fotoba can offer.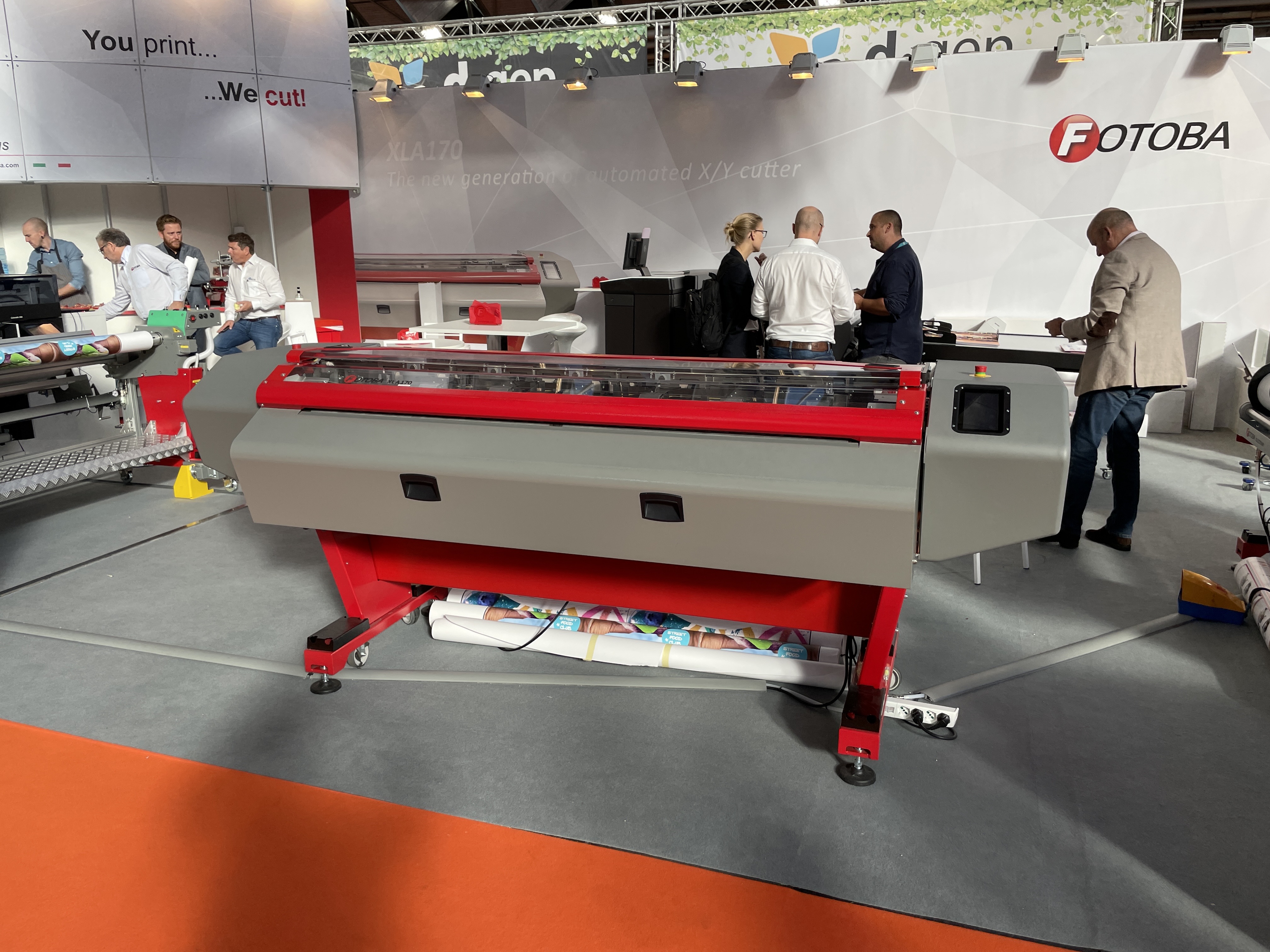 Caption: Visitors at the FESPA Global Print Expo were able to see the new Fotoba XLA 170 in action.

"Sure and fast delivery are the key factors in the printing industry; getting a Fotoba finishing device helps in matching the customer's deadlines. A happy customer means guaranteed, long-term loyalty from them."

Casting an eye over the latest products available from Fotoba and Maddalon pointed to the new XLA 170, which he said is opening new opportunities within the variable size printing market.

The XLA 170 has the ability to read a barcode printed on the media and automatically adjust the position of the vertical blades, while together with the X/Y blades image tracking, Fotoba said it is the world's first fully automatic X/Y cutter capable of unattended trimming with precision random sizes in the same roll.

Other features include the ability for users to easily set standard sizes, while the machine can handle most flexible media up to a maximum thickness of 1mm such as polycarbonate, photo paper, vinyl, self-adhesive vinyl, PVC, film, duratrans, TDF, canvas and, laminated or encapsulated prints and much more.

"This new device has the capability to fully automatise the cutting process with random sizes," Maddalon said. "The web-to-print workflow is the best application for this device as when used in line with the printer, provides the shortest delivery time with the right sequence of incoming orders."
Economical solutions
The FESPA Global Print Expo also saw a range of other large-format cutting kit showcased to the market. Zünd was in attendance to demo its latest third generation cutters, including the S3, G3 and D3 models.

Billed as "compact, flexible, and economical" by the manufacturer, the S3 Zünd system has modular tool and material-handling systems, which Zünd said allows users to tailor their cutting machine to their own specific requirements.

Also on display was the G3 Zünd system, a precision machine that also has modular tool and material-handling systems, with the ability for users to customise their cutting machine in order to meet specific production requirements.

In addition, the D3 Zünd system has two beams that operate independently, which Zünd said, depending on the job, can double a user's productivity. An intelligent cutter controller allocates the work optimally to each of the two beams to maximise performance.

"With its innovative dual-beam system, the D3 sets new standards in performance," the manufacturer said. "The two beams can each be equipped with up to three different modules, instantly doubling the throughput. The cutter controller optimally allocates the jobs to each of the two beams, ensuring maximum productivity."

Expanding on this, Zünd chief executive Oliver Zünd explained that the modular nature of the cutters makes them versatile, which will benefit users.

"They are readily adaptable to changing demands and, because of their open platform, are easy to integrate in digital production workflows," Zünd said. "This is also why Zünd cutters can be used in so many different applications—in graphics, for instance, or in packaging production.

"Especially in these areas, digital production and automation are widespread. Flexibility and easy adaptability to individual requirements are a must for any kind of production equipment these days, and we also put a great deal of effort into other important factors such as longevity and, of course, productivity.

"The modularity of Zünd cutting and tooling systems is what makes them multifunctional. Through the course of many years, we have been able to develop the most extensive and comprehensive offering for cutting, drawing/plotting, routing, creasing, perforating, punching, engraving, laser-cutting, and more.

"Because of their modularity, existing cutter configurations can easily be modified and upgraded. They can be continually adapted to changing needs, which further helps extend their longevity."

It is clear that innovation is alive and well within this area of the market, with a whole host of new solutions available and work ongoing on new technologies. Careful investment will allow you and your business to make the most of these forward-thinking developments and take on new work from across a range of markets.


Interested in joining our community?
Enquire today about joining your local FESPA Association or FESPA Direct