Features
Signworks speeds up with HP Latex 315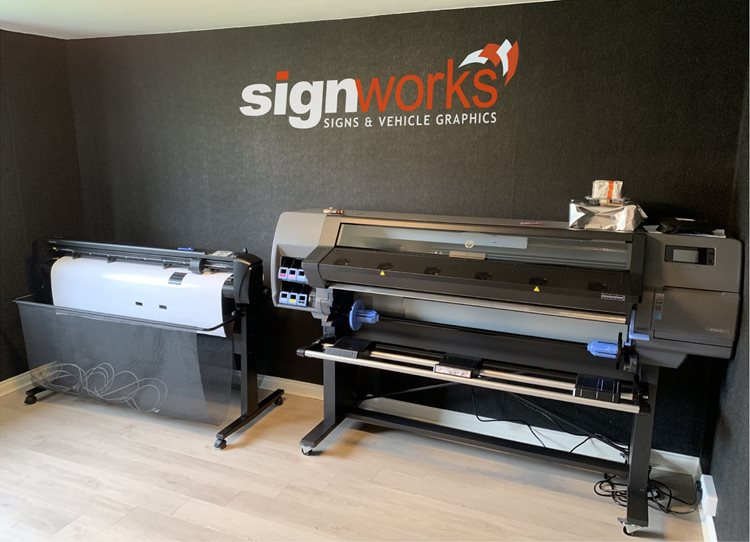 Scottish signs and vehicle graphics business Signworks has paid tribute to the impact that a HP Latex 315 has had on business, saying the combination print and cut solution has helped to increase production speed.
Purchased from Papergraphics and installed in August, the HP Latex 315 can handle materials up to 1.37m wide and produce work at a resolution of up to 1200 x 1200dpi.

The device boasts a print speed of 48sq m/hr in billboard two-pass mode, as well as 16sq m/hr working in outdoor mode and 12sq m/hr in indoor mode. Other features include a pre-installed RIP, as well as online training for the user.

Speaking to FESPA.com about why Signworks invested in the machine, Cameron Philson, owner of the company, said that Latex was the best technology option for the business.

"Using water-based latex inks, I can leave the HP Latex 315 dormant for weeks on end and be able to use it straight away with an extremely small amount of maintenance," Philson said.

"I like the fact that it is straightforward to use; the printheads are an end-user consumable and can be replaced very easily. Also, the fact that there is very little maintenance allows me to get on with my day, rather than performing test prints and cleaning very critical and fragile components all the time."

The HP Latex 315 has been up and running at the Signworks Moray site for a few months now and, in this relatively short period of time, Philson said he has seen a significant improvement in production.

"It's helped with production speed mainly," he said. "I can send a job to print, have another print laminating and another one cutting on the Latex 54" cutter.

"I love it when you get days like that, all machines running simultaneously. We even have a CNC machine in house, so we have the full complement of sign-making equipment to carry out pretty much a full and diversified range of signage."

Such has been the impact of the HP Latex 315 that Signworks has been able to move into new market and expand its service offering as a result.

"With separate stand-alone cutting features using the HP printed barcode system on the HP latex 54" cutter, it's allowed us to expand into the perforated/cut-out sticker market," Philson said. "It wasn't a great feature on my last printer, so I never used it, but now I find I can't do without it.

"Further down the line, I may look at doing poster printing and maybe wallpaper printing, but I'll probably stick to sign-making as that is where my heart is."

Interested in joining our community?
Enquire today about joining your local FESPA Association or FESPA Direct