Features
Setting screen printing trends with textiles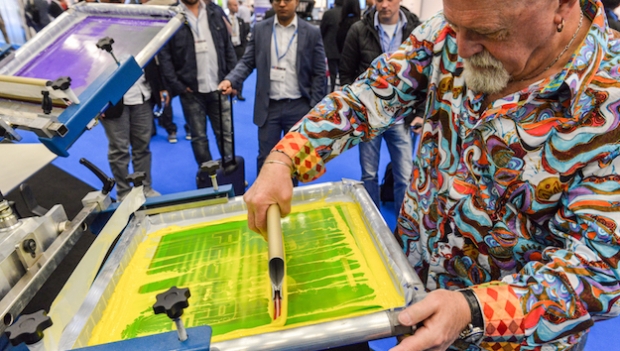 Textile print is one of the main growth areas in the industry at present and there are a number of technologies on offer to those in this sector.
While a digital print machine may be the weapon of choice for many in the textile print market, screen printing is another popular method, and is in use in many print rooms. Both technologies offer their own advantages and visitors to this year's FESPA 2017 exhibition will be able to learn more about these benefits.
Taking place from May 8-12 in Hamburg, Germany, FESPA 2017, along with the co-located Printeriors and the European Sign Expo, will offer attendees access to information about various markets within the print industry.
Exhibitors will be showing off their latest innovations and educating visitors about developments, while the ongoing seminar programme throughout the show will give attendees an insight into key issues in the industry.
For those on the hunt for screen printing technology relevant to the textile print sector, a number of manufacturers and suppliers will be in attendance. One such company is M&R, which, based on Stand B30 in Hall B6, will be on hand to talk visitors through its textile screen printing solutions.
Products on offer include the StrykerAutomatic Oval Screen Printing Press, which has a 10-station base module that can be expanded in six-station increments to create 16, 22, 28, 34, 40, 46, and 52-station configurations.
In addition, the Challenger III Automatic Screen Printing Press has an indexer that enables double indexing in an uninterrupted motion, which in turn increases production speed for oversize work by eliminating the pause between indexes.
Also exhibiting at FESPA 2017 is ROQ International, a manufacturer of automatic screen printing machines. Based on Stand D80 in Hall B6, the company has a host of options on offer, such as the ROQ Hybrid, a digital textile printer that will have its trade show debut at FESPA 2017 in May. The ROQ Hybrid has been designed to work in conjunction with an automatic screen printing machine.
Also on show at the ROQ stand at FESPA 2017 will be the Oval Evolution with 20 pallets and 10 printheads. With the Oval Evolution, ROQ will show the ROQpress foil, ROQpress Iron, ROQ flock, ROQ Asp and ROQ cool - all of which offer various benefits to users during production.
Aside from manufacturers of textile screen print machines, visitors will also be able to find out about the consumables available in this sector. On Stand C31 in Hall A4, Epta Nova will be able to talk attendees through its range of inks, which include water-based products, traditional plastisol inks, plastisol PVC-free inks and silicone inks.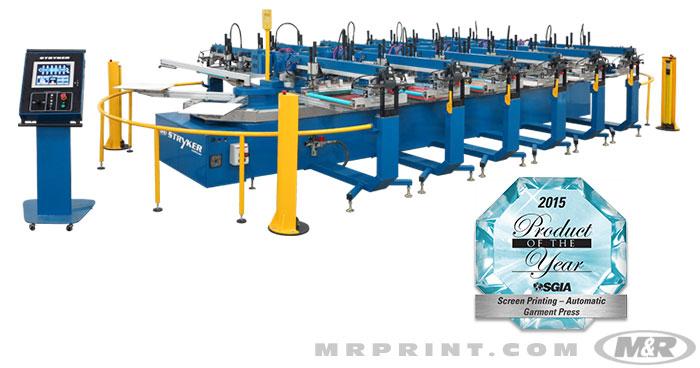 The Stryker Automatic Oval Screen Printing Press from M&R has a 10-station base module that can be expanded in six-station increments to create larger configurations.
In a statement on its website, Epta Nova said: "This formulations variety, as well as the constant attention to innovation and creativity, allows us to satisfy all the customers necessity and requirements, to provide an effective solution for every need."
Away from the show floor, FESPA will be hosting a series of informative seminar sessions, some of which will be relevant to screen printing in the textile sector.
At 3pm on the opening day, Sonja Angerer, editor of Rrrabbitproductions, will lead a panel session about the future of textile print, with contributors to discuss where the market is heading and what technologies are likely to take the lead.
Register today to attend FESPA 2017 and save 70€ entry fee
Industry members that are keen to learn more about the latest solutions and technologies for screen printing should visit
FESPA 2017
.
Taking place from May 8-12 at the Hamburg Messe, in Hamburg, Germany, the exhibition will play host to many major brands from across the global market.
For more information on FESPA 2017, the companies that will exhibit and to sign up to attend as a visitor, please visit: www.fespa2017.com
Delegates can save 70€ entry fee to the exhibition by registering via the website and quoting reference code: FESG702. Discover how a visit to FESPA 2017 can benefit your business and register today.
Interested in joining our community?
Enquire today about joining your local FESPA Association or FESPA Direct