Features
Screen Printing - is it still applicable in today's digital age?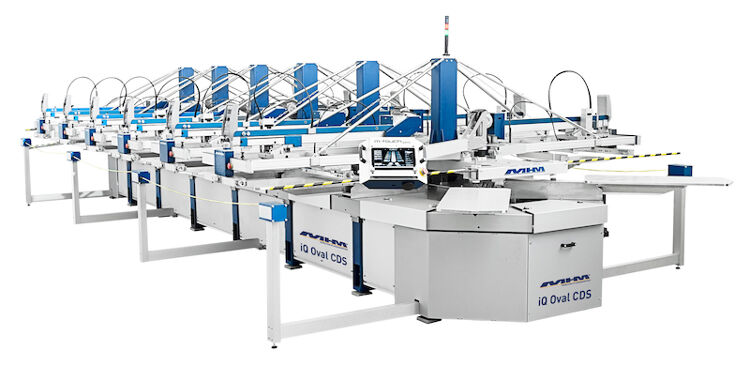 Nessan Cleary discusses screen printing and if this technique is still relevant with the presence of digital printing and technology.
Screen printing is hardly a new technique, having originated in China in the tenth century and then become growing steadily in popularity in the West from the eighteenth century onwards, thanks firstly to advances in the screening material and then in the inks used. So is there still room for such an old technology in today's print shops, given the advent of digital technology and the changes in modern tastes?

Screen printing is an extremely versatile process and can cope with many different substrates, including plastic, metal and glass. Screen printing is still widely used for industrial printing, including applications such as printed electronics and circuit boards.

The technique is based around a mesh screen, which is made up with a negative of the required image blocking that part of the mesh. The ink is then forced through the rest of the mesh onto the substrate. Each mesh can only print one colour so more colours mean more cost and time. The prints have very good longevity so that its suitable for applications such as flags.

Screen printing mostly uses plastisol ink, in which polymer particles such as PVC are suspended in a plasticising emulsion. When printed, the ink sits on the surface of the substrate and bonds with the material when cured. These inks will work with a wide range of materials, and give very good colour consistency. They can produce a heavier handle, which some people find too plasticky, though others appreciate the texture. There are some water-based inks available, which are seen as better for the environment. They do offer a lighter handle to fabrics but they work with a more limited range of materials.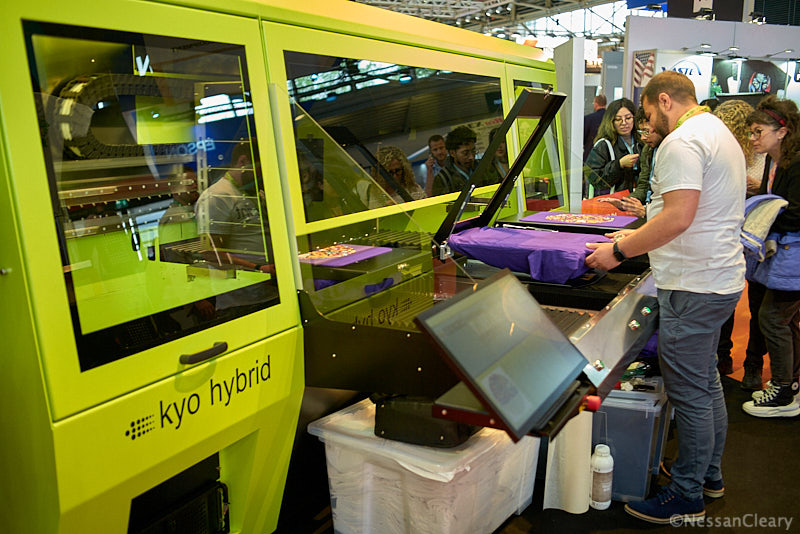 Caption: Aeoon's Kyo Hybrid DtG machine combines screen printing with digital printing.

Screen printing onto garments does offer some advantages over digital printing. It works with a wider range of materials, including polyester. Also, it can produce more vibrant colours, particularly on darker materials, because the ink is much thicker when applied to the fabric. It's relatively easy to add in special effects such as glitter through the choice of inks.

Naturally as an analogue technique it's better suited to longer print runs where the cost of producing the screens can be more easily absorbed. Manual screen printers can't really compete against today's DtG and DtF printers but there are plenty of automated screen printing presses that can produce garments at a volume far in excess of their digital counterparts.

MHM, for example, which is based in Austria, supplies a number of screen printers for the textile market including the top of the range Synchroprint 5000, which features a tablet for its main control with online software updates. This has a carousel design with a choice in the number of pallets from 8 to 20 with up to 18 print stations. Less pallets means more choice in the sizing, with machines with up to 12 pallets offering print areas of up to 80 x 110cm, as opposed to the standard 50x70cm print area. Depending on the variation, the SP5000 can produce up to 1400 pieces per hour.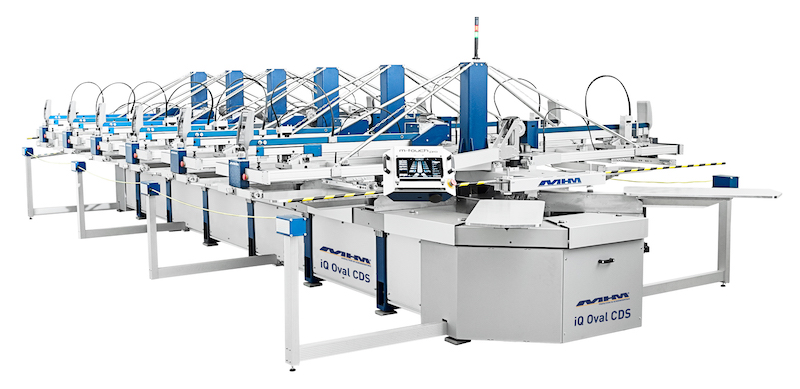 Caption: MHM has developed this iQ Oval CDS automatic screen printing press.

There's also the iQ Oval CDS, which was first introduced at the beginning of 2021 and has been designed to offer high productivity with low cost. This uses a servo-driven belt drive system that's been adapted from the SP5000 as well as a touch screen control panel with WiFi. It has a modular design so users can add more pallets as the business grows. It will take up to 60 pallets and up to 29 print stations, with print sizes ranging from 50x70cm to 80 x 110cm.

Anatol makes a range of screen printing equipment including automatic and manual presses as well as dryers and flash curing units. Its latest automatic screen printer is the Infinity Oval, which is fully servo driven with touchscreen control panels on each printhead so that all settings can be saved and reused to save on set-up times. There are a number of configurations to choose from, ranging from 16 stations and up to 10 colours, all the way up to 48 stations and 42 colours.

The American company M&R makes a number of automatic screen printing presses. It's most recent machine is the Gauntlet 4, which has a carousel design with a belt-driven indexer. It's available in two versions, one with a maximum image area of 51x51cm and the other with an image area of 51x71cm. They can be configured with between 16 and 20 stations and with 14 to 18 colours. There are several options, including one to detect empty pallets and prevent printing, as well as various palettes and platens.

Adelco is a British company with a manufacturing base in Shanghai, China, that makes dryers, digital printers and screen printers, all for the garment market. This includes the Matrix Oval, which has a modular design and can be configured with up to 66 pallets and print stations. There's a choice of three print formats, with 45x60cm, 50x70cm and 60x80cm. It can produce up to 900 prints per hour. Last year Adelco introduced a variant on this machine, the All over Oval, which can print on every part of a shirt including the sleeves.

Last year Adelco also introduced a hybrid digital device. This is a digital printer that has been designed so that it can fit with a screen printer, such as the Matrix Oval, in place of one of its print stations. It uses Ricoh print heads with resolution of 600 x 1800 dpi. There's a choice between a four or six colour version, with CMYK plus red and green, using a pigment ink. It will print to a range of materials, including cotten, nylon and polyester. It can cover a print area of 600 x 800mm and can produce up to 350 items per hour.

Aeoon has developed the Kyo Hybrid, now in its third generation. From the front, this is essentially an inkjet DtG printer but with a screen printing station at the back. This makes for a very flexible solution that can handle a wide range of different fabrics, including cotton, polyester and viscose. The screen printing and digital parts can be used separately or combined either to produce interesting effects or to save ink on longer runs. The digital side of it uses a pretreatment but only lays this down on the areas to be printed. There are three print stations. It can be configured with eight printheads for two sets of CMYK or 12 heads to include four channels of white with resolution up to 600 x 2400 dpi. It has a print image of 40x20cm.

In conclusion, digital printing has become increasingly common in recent yars, particularly during the pandemic where it allowed companies to scale up quickly to meet rising e-commerce demand. But screen printing still has much to offer. It can enable longer runs, which is essential to satisfy the demand from brands. Screen printing can cope with a wide range of materials and can create special effects and very vibrant colours, all reasons why there are still plenty of screen printers around.
Interested in joining our community?
Enquire today about joining your local FESPA Association or FESPA Direct