Features
Screen printing, going stronger than ever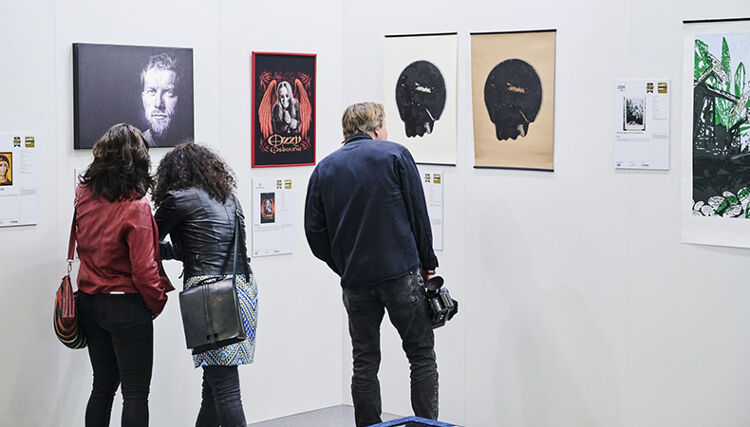 Screen printing still has a strong presence in the graphic arts and other industries. Sonja Angerer shares a brief history of this fascinating sector as well as providing an insight to its future.
Digital printing has become the mainstream printing technology in many developed countries. However, this does not mean that other printing methods are no longer used. In fact, in some market segments these methods are doing better than ever. The most prominent example being screen (or silkscreen) printing.
Within this article, we look at:
The history of screen printing
Today´s main niches in fine art, high-end finishing, textile printing and industrial print
The future of screen printing.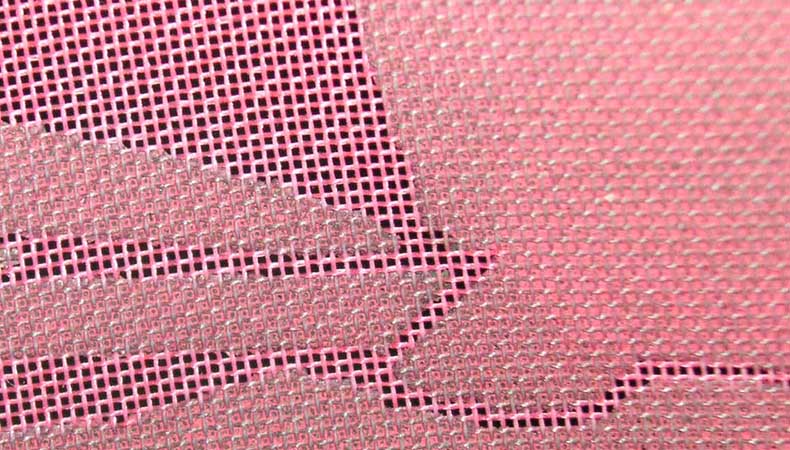 CAPTION: Mesh made from the polyester fibre is quite commonly used in many screen printing companies. Image credit: Janke at the
English-language Wikipedia
, CC BY-SA 3.0
The history of silkscreen printing
Screen printing is a process of printing that uses a screen of fine mesh to transfer ink onto a substrate, such as paper, fabric, or plastic. Although mesh from the polyester fibre is quite commonly used in many companies, silk mesh has been more widely used. Therefore, it's still known as "silkscreen printing".
Some historians trace the printing method back to medieval Asia. This is down to the stencil method of printmaking in which a design is imposed on a screen, with blank areas coated with an impermeable substance. Ink is then ink forced through the mesh openings by pressing the screen against the substrate. During the Chinese Song Dynasty (960-1279 AD) a similar process was first recorded, it was then brought to Europe by missionaries and travellers during the late fifteenth century.
The method was not as commonly used in Europe at first as fine silk screens were not available. Europe also lacked profitable market niches. However, stencil-based painting methods have been used for artworks and lettering across many countries all over the world.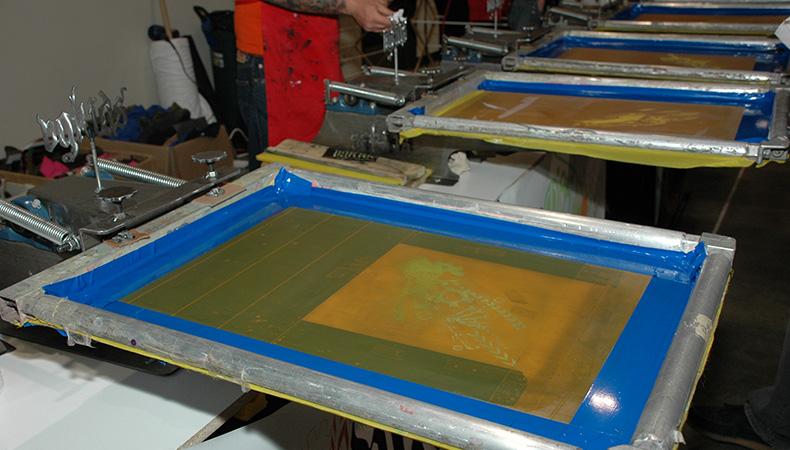 CAPTION: Screen with exposed image ready to be printed. Image credit: Jon 'ShakataGaNai' Davis,
CC BY 3.0
Contemporary Silkscreen
Modern screen printing started in the 1900s when several printers began to experiment with photo-reactive chemicals to create stencils on the screens. The method was used by artists and artisans to reproduce and create original art. During the 1930s the New-York-based National Serigraph Society coined the term "serigraphy" to differentiate the artistic application of screen printing from the industrial use of the process.
While silkscreen technology was widely used in the US to produce flyers and posters as well as military equipment like camo nets used in WW2. During the early 1950s, modern screen printing appeared in Europe. Screen printing became widely recognised when artists like Roy Liechtenstein and Andy Warhol began to use the method in the early 1960s.
Michel Caza
, master screen printer and one of FESPA´s founding members, worked with Warhol and other famous artists like Hundertwasser and Dali.
In the 1980s, screen printing began to be used for producing sports apparel and other consumer goods. During the 1990s, screen printing started to be used for the production of T-shirts, apparel as well as a wide range of standard print application such as decals, signs and displays, balloons and inflatables.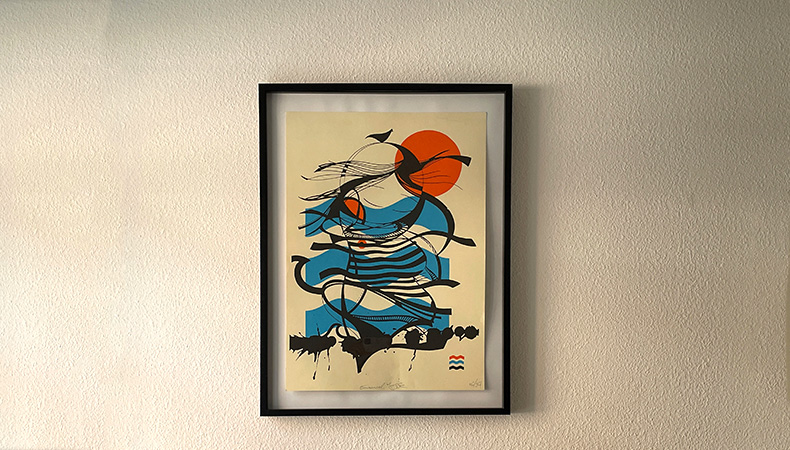 CAPTION: Serigraphy by Munich artist Emmanuel Jesse. Image credit: S. Angerer
Silkscreen and digital printing
From the 1995s, the first wide-format printers became available on the market. This quickly had an impact into certain segments that were previously a staple of screen printing. Applications on sheet and roll substrates with smaller run lengths were printed more easily as they have a much quicker lead time.
Even though, in the early days the quality of digital printing was not quite on par with screen printing, the introduction of flatbed digital printing featuring UV-curing inks removed the print volume of screen printing.
Today, screen printing and digital printing often complement each other for many graphic arts and apparel printing applications. Increasingly, white underprint, special lacquer, and neon designs are a combination of both technologies.
Even though such applications could also be fully digitally printed, it is usually cheaper and more efficient to use existing screen print equipment for certain aspects of the job. Digital printing technology is most commonly used.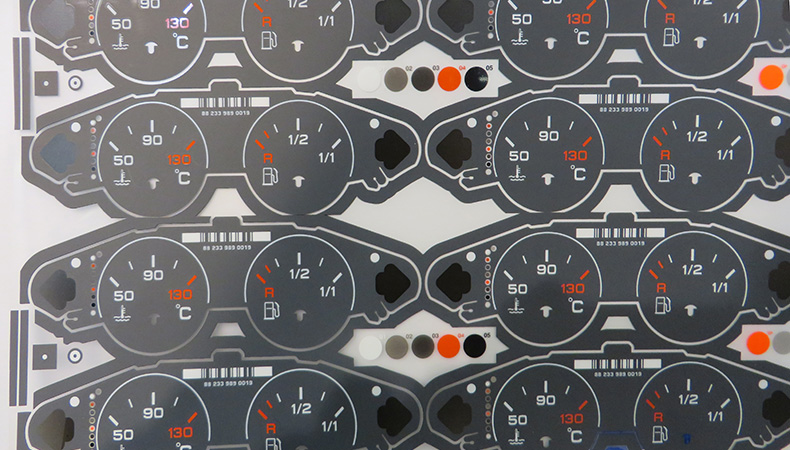 CAPTION: In industrial applications like printed electronics or speedometers, screen printing is stronger than ever. Image credit: S. Angerer
Screen printing outside the graphic arts industry
Screen printing has been used for decades for special applications across various industries. Some of these include coating, priming, and applying a wide range of fluids. While modern inkjet print-heads have considerably caught up in speed and versatility in industrial printing, screen printing technology has made an unexpected return in printed electronics. Examples of this include circuit board printing, speedometers and printing for medical applications.

With high-tech printing applications becoming an integral part of advanced industrial production, screen printing in this niche market often move from printers to industry in-house printing operations.
The future of screen printing
Screen printing has a long and celebrated history, the printing method was one of the earliest adopters of digital printing technology. In recent years, although screen printing may have become a less popular method due to digital printing, it still plays an important role in various industrial applications. With new advances in technology, we can expect screen printing to continue to play an important role in advanced industrial production for years to come.
Interested in joining our community?
Enquire today about joining your local FESPA Association or FESPA Direct