Features
Ricoh targets sign and display with latex launches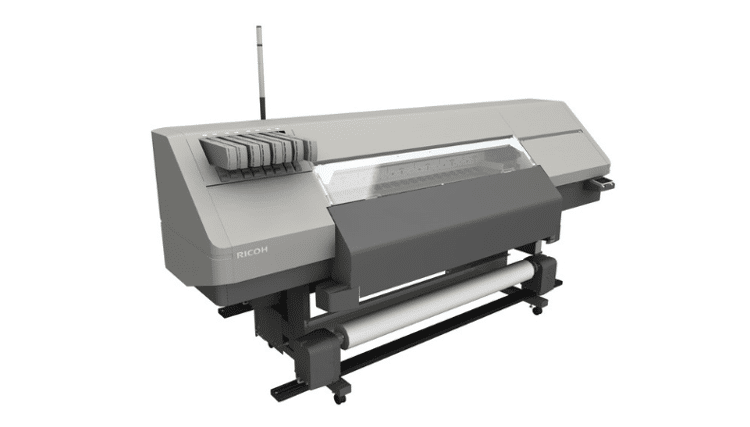 Rob Fletcher speaks to Ricoh about the launch of their two new latex roll-to-roll printers, the next generation Ricoh Pro L5130 and L5160.
Ricoh has expanded its range of solutions with the launch of two new latex roll-to-roll printers it said will provide "reliable and versatile" solutions to companies active in the sign and display market.

Due for launch early next year, the next generation Ricoh Pro L5130 and L5160 can run at speeds of up to 44sq m/hr in outdoor standard mode and 25sq m/hr in indoor standard mode.

Users will benefit from output quality of up to 1,200 x 1,200dpi as well as other features such as automated maintenance, Ricoh's certified 'Greenguard' latex inks and industrial-grade Ricoh printheads.

Both devices, which were previewed at FESPA 2018, are also available CMYK and CMYK plus white options, with users able to print on media up to 64 inches wide.

Speaking to FESPA.com about the double launch, Stewart Cobby, inkjet sales manager for industrial print at Ricoh UK, said the new machines are primarily targeted at sign and display businesses that want to expand their offering and take the next step in using industrial devices.

"We wanted to approach the sign and display market with reliable and versatile solutions that can print at segment-leading speeds," Cobby said. "The solutions are designed to be able to print a low print temperature versus main latex competitors, as well as print on sensitive media.

"The printers offer a new user-friendly solution which is totally automated. A new auto cleaning system and colour metric Ricoh Sensor are able to maintain the colour gamut."

Although Cobby admits that Ricoh will have to compete with a host of other top manufacturers in this market, he is confident that the technical specifications of the new Ricoh Pro L5130 and L5160 will help the company, and its customers, succeed in sign and display.

Cobby said: "Our business is built on bringing innovation to the forefront, and we've achieved this in the Pro L5130/ L5160 latex roll-to-roll printers.

"A key technological development that sets this apart from the market is its automation functions for maintenance and auto cleaning. The technology results in a significant reduction in energy consumption, with the printing temperature down to 50 or 60 degrees –half of the previous model.

"We've also invested heavily in our ink capabilities over the last few years, and this also applies to the Pro L5130/ L5160 latex roll-to-roll printers. These include our white and CMYK capabilities.

"This, combined with the aforementioned, as well as our service, really can empower sign and display businesses to take the next step in what they can offer to customers."
Interested in joining our community?
Enquire today about joining your local FESPA Association or FESPA Direct