Features
Printed clothing trend talk: supply chain transparency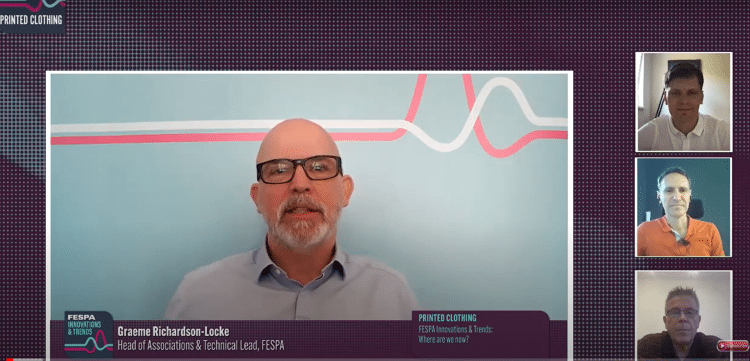 In our recent FESPA Innovations & Trends (FIT) virtual event we brought together three printers from across the world to discuss the latest trends in garment decoration and the future of the sector.
The host: Graeme Richardson-Locke: Head of Associations and Technical Lead, FESPA. With 35 years' experience in the industry, Graeme began as an apprentice and progressed through several directorships before joining FESPA in his current role. He is also a member of the Academy of Screen and Digital Printing Technologies.

The experts: Samir Sadikoglu, Owner and General Manager of BirSifir Tekstil AS in Turkey. After 24 years with the family business, ETF Tekstil, Samir's new venture is a contract screen printer for sportswear and fashion manufacturers. He also owns the Grit3.com e-commerce brand.

Raitis Purins, Head of Marketing at Printful, Latvia, an on-demand fulfilment specialist offering e-commerce warehousing, custom print, embroidery and product drop-shipping for online retailers.

Mark Gervais, Director of Screen Print at Ningbo Shenzhou Knitting Company, Shenzhou, China. Mark has worked in screen printing since 1977 and has managed Ningbo's huge capacity (up to 850,000 pieces a day) since 2009. He is also a member of the Academy of Screen and Digital Printing Technologies.
Most blank garments are manufactured in low-cost economies. How is your customers' behaviour influencing the need for transparency? Is there a move away from the lowest cost being customers' first objective?
Raitis: Price is still the number one factor — I believe everyone else will agree. That's for all customers, and also for me as a buyer. Customers are probably looking for things like locally-made garments. But it's not easy to make a switch at the moment because of many factors — price and availability, stock and so on.

One thing that we are doing is, we want to be as transparent as possible. That means making sure we showcase where the garment is made. Who's the company, what's the process? And we list that on our product catalogue on the Printful website. That's something we launched a while ago, and just to increase the transparency. And it's super challenging to do because your suppliers and partners can say whatever they want, but you must go to those contacts, check and see. The main goal is to be transparent, so customers can go to the website and see what's happening there. That the factories are legitimate.

Samir: With the new technology, with the digital possibilities, such as blockchain technology, everything can easily be followed back to the roots. It's impossible without that, and especially after the accident in Bangladesh at the Rana factory, everyone is more concerned about it. We called it sustainability. Actually, human welfare is another part of sustainability. Everyone is concerned about it.

Mark: We try to balance everything. The brands continue to push on price, and they move production into different countries and things like that. They move that around, but at the end of the day, they're very concerned about the operators' health and welfare and safety, and everything else. As we have operations in Vietnam and Cambodia as well as China, the key is transparency, and being above the line and just continuing to maintain the quality — the quality of the people, and the quality of the product.

You can see the whole conversations here, and for more information on the first day of the FESPA Innovations and Trends Printed Clothing event, visit here.

Discover the latest innovations in garemnt printing at the Global Print Expo 2021, Europe's leading exhibition for screen and digital wide format print, textile printing and signage. Discover the latest products, network with like-minded individuals and explore new business opportunites. Register now and use promo code FESH101 ​to receive a discount of 30 euros.
Interested in joining our community?
Enquire today about joining your local FESPA Association or FESPA Direct