Features
Packaging is everywhere but how can wide format printers use this to their advantage?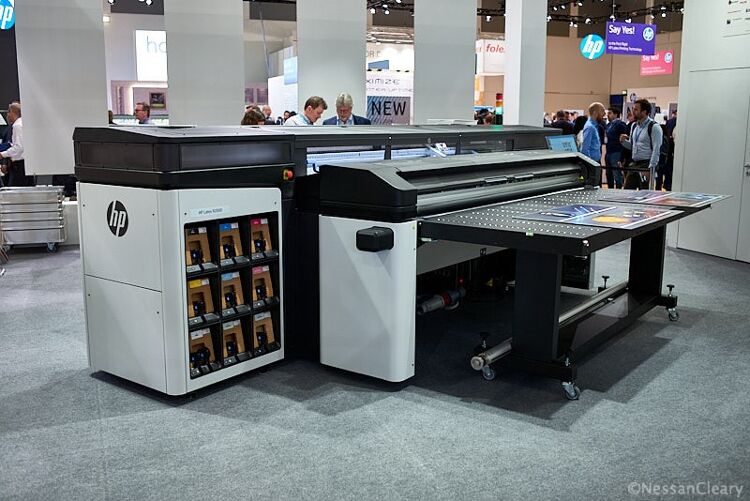 Packaging is generally seen as a high volume business with long print runs that's better suited to flexo than wide format inkjet printing. But there are plenty of opportunities, mostly around short run uses such as versioning to tie in with seasonal or local campaigns as well as for some level of personalisation.
And there are many small manufacturers with relatively low production runs who don't need much volume but may prefer to deal with a local print service provider.

There are many forms of packaging but the main opportunities for large format printers lie in corrugated cardboard and folding carton board for boxes. This could also include point of sale displays that will have to be colour matched to tie in with the packaging on the shelf. Many brands want to enhance their packaging to improve their engagement with their customers, which can include adding full colour graphics to exterior packaging, or even some degree of personalisation with a customer's name.

Most flatbed or hybrid wide format printers can print to corrugated boards but given the volumes involved with most packaging, this is particularly suited to the bigger, most productive printers such as the Inca Digital Onset or EFI H5. Ideally, some level of automated loading and unloading for the boards is needed to maximise the productivity. In addition, you will also need a digital cutting system to convert the sheets that's fast enough to keep up with the printer.

However, it's worth noting that several printer vendors have developed single pass inkjet presses specifically for the packaging market. This includes EFI, which sells the UV LED Nozomi, as well as HP, which has developed the C550 press and Agfa, which now owns Inca Digital, and is finalising the SpeedSet press.
Food compliant inks
Although UV-curable inks are capable of printing to many packaging materials, they can give off an odour and there is a risk of the ink migrating through the packaging, which could cause health and safety issues for food products.

Consequently, any packaging for food products does have to be printed with food-safety compliant inks unless the packaging also includes some kind of barrier like a plastic bag inside the outer box. This only affects a small percentage of the total packaging market though there is an argument for using such inks where possible so as not to limit the type of packaging work that you can take on.

There are a number of wide format printers that use water-based inks that are suitable in varying degrees for use with food packaging as well as being suitable for recycling. However, the water-based inks do not cure to the same tough finish that UV inks can achieve and are not suitable for outdoor displays so these printers cannot double up to produce signage applications. As usual, there is a balance between the cheaper, low volume printers and the faster but more expensive machines.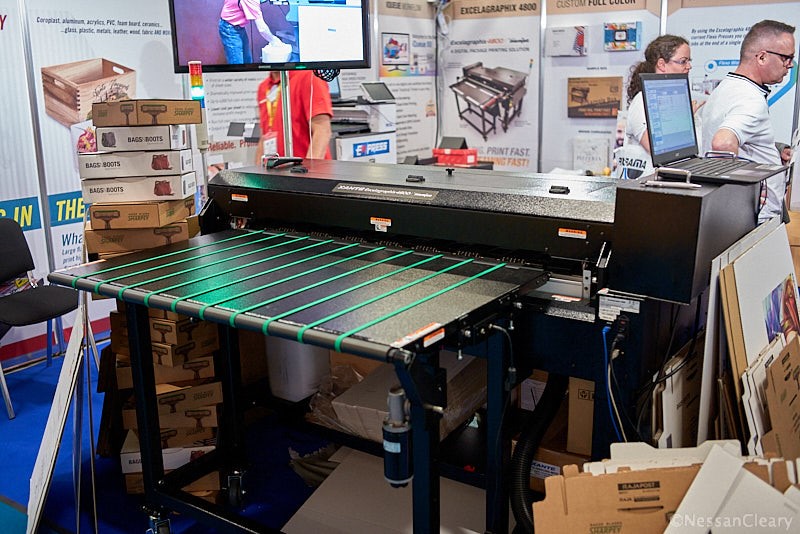 Caption: Xante's Excelagraphix 4800 uses Memjet printheads and inks to print full colour graphics to boxes. Image credit: Nessan Cleary

Xante sells the Excelagraphix 4800, which specifically targets the low volume box printing market. It uses Memjet's 1600 dpi Versapass printheads and dye-based aqueous CMYK inks. It will take corrugated sheets up to 1.2 m wide and 2.4m long. It's not particularly fast but is compact and is a very affordable way of producing good quality full colour boxes.

The Portuguese company Mtex New Solutions has also developed a Memjet-based printer, the NS Multi+, specifically to address the packaging market. This uses the same Versapass printheads as the Xante machine and can produce 1600×1600 dpi resolution at 9mpm, or 1600×800 dpi at 18 mpm. Again, it uses water-based Memjet inks, which will print to uncoated substrates though the results will be better with coated media. Nonetheless, it's suitable for printing full colour graphics to paper-based substrates such as corrugated card and board, pre-cut folding boxes and craft cartons. This same printer has also been rebadged by Konica Minolta as the PKG-675i.

HP has developed the R-series of flatbed printers, which is a step up in terms of productivity from the Memjet machines. There's a choice between two sizes: the R1000 takes boards up to 1.6m wide and can print up to 28 sqm/hr or 7 boards per hour; the R2000 has a 2.5m print width and can run at 43 sqm/hr or 14 boards per hour. They will take boards up to 5cm thick. These printers use HP's proven aqueous latex ink and have print resolution of 1200 x 1200 dpi. They have six colours - CMYK plus light cyan and light magenta, as well as white, which is handy to have when printing packaging but does slow the printing down. In addition, they also lay down an optimiser - essentially a primer - that ensures the inks adhere to most substrates as well as an overcoat that gives the ink a reasonably tough finish to prevent any mechanical scratching from damaging the prints.

It's worth noting that both HP and Memjet use thermal printheads, which helps to keep the price of the printers down but means that the heads are a consumable item.

Durst sells the P5 250 WT, which combines the established P5 series of mid-volume hybrid printers with Durst's WT water-based inks. This inkset includes CMYK plus light cyan and light magenta. These inks are completely odourless and comply with all standard food safety certifications so there's no need for any hazardous labelling. The printer is primarily designed for printing to corrugated boards and folding carton for packaging and display applications. It takes substrates up to 250cm wide and can produce up to 345 sqm/hr with a maximum resolution of 1000 dpi. It's not cheap but does produce very high quality images, similar to offset, thanks partly to the very thin ink layer that the WT inks produce.

In conclusion, most press vendors are developing printers of one type or another to address packaging, which suggests that there is a huge market opportunity for digital printing. The main consideration in packaging is the run lengths but choosing a printer that uses inks that comply with food safety regulations can also open up some useful opportunities.
Interested in joining our community?
Enquire today about joining your local FESPA Association or FESPA Direct