Features
New skills: Learn how to wrap vehicles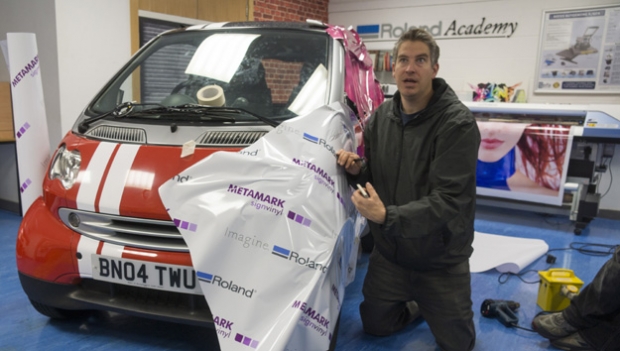 Simon Eccles went to Roland's Wrap Academy to explore the benefits of vehicle wrapping skills to printers and sign companies wishing to expand.
Over the past couple of decades, wrapping vehicles in printed vinyl film has become a popular alternative to signwriting. While most of this work is van, trucks and similar commercial vehicles, the process is also attracting car owners who can change their car's colour several times in its lifetime, if they want to pay.
Applying the self-adhesive film is a skill that has to be learned. A lot of installers learn on the job, with results that rather depend on who's teaching them. In the UK some printer and media dealers offer applications courses, at least one offering accreditation.
A long established example is the two-day, £350 Vehicle Wrap course held once a month by the Roland DG Academy. To see what was covered, Roland DG's Academy and Creative Centre manager Joe Wigzell and course tutor and wrap expert James Deacon agreed to let me sit in on a recent course.
Most Roland territories worldwide offer learning facilities. The UK Roland DG Academy has a setup at the Roland DG headquarters in Clevedon as well as occupying a modern wing of Walsall College, a largely vocational training establishment located in the West Midlands of England, part of the conurbation around Birmingham.
The Academy area has several classrooms, and computer rooms, plus a workshop area dedicated to printing, laminating and vehicle wrapping. It offers a range of short practical courses on various print-related themes, mostly relevant to the Roland's own inkjet printers, but not exclusively centred on the equipment itself. Not everybody on the wrap course I attended worked with Roland printer output.
Current courses include the one-day Introduction to Digital Print and Intermediate Digital Print courses; Basic Application and Finishing, which concerns sign making; a basic-one day Introduction to Wrap and the more detailed two-day Vehicle Wrap courses. It also runs a range of printer or market-specific half day "better business boot camp" pre-sales introduction courses, with previous sessions including the Roland VersaStudio BN-20, a small eco solvent inkjet, and the LEF-20, an A3 flatbed UV machine. These last two are held at Roland DG UK's headquarters near Bristol. Walsall College itself offers a series of apprenticeships and diplomas in sign-making, sometimes using the Academy's facilities when class work is needed.
Deacon has been taking the two wrap courses for the past seven years. He's been wrapping for about 12 years and now runs his own business, Bigger Stickers, based in Buckingham. He also does nationwide consultancy work.
Over the years, some 2,500 people have attended the two wrap courses, Deacon says. The vast majority are men, in about a 20:1 ratio with women, he says. "Signage is often seen as a fairly physical job, with heavy lifting," he says. "However, apart from handling the largest sheets, there's not a lot of strength actually needed for wrapping itself. So anybody can wrap. Wrapping needs attention to detail and patience, and women are often particularly good at those."
On the course I sat in on there were five attendees, with a range of experience levels: one with a couple of weeks; two with a few weeks' experience in wrapping who had moved over from more general signage work; and another with ten years' experience in wrapping who wanted to improve his technique.
Deacon started by setting out the aims of the course. "We focus on the use of digital machines and getting the best out of the Roland printers and the industry in general," he said. Printing is barely touched upon in the course, though there's some discussion of artwork preparation and print widths. "It's practical and theory, not just application work. We cover how to sell, customer care and up-skilling people who have been doing wrapping for a long time and may have picked up some bad habits, so we try to fix those as well.
"Practise is needed too - you build up muscle memory that way. If you only wrap one car every six months, you'll forget how it's done. Wrapping isn't just used for vehicles, it can work with almost any non-porous solid and a lot of porous media can be sealed and wrapped too."
A set of bound course notes is also given to each attendee, which expands on some of the points made in the classes.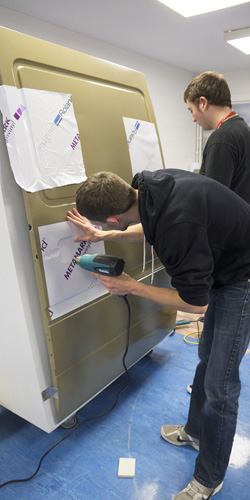 The first morning was mainly classroom based, with Deacon ranging through sales arguments that can be used with customers who may only be used to the costs of sign writing. He explained that a wrapped van is equivalent to a mobile billboard and in a typical town it may be seen by perhaps 20,000 people every day. He urged wrappers to research the cost of billboards, leaflet drops and press advertising in their areas, then multiply these for three years and compare these to say £1,500 to wrap a Transit van. "£1,500 over three years is about £1.30 per day, for 20,000 visual impressions," he pointed out.
The promotional value is only one aspect of wrapping, he added. Another is that a full wrap covers and protects the underlying paintwork from fading and stone chips. Thus you can buy a popular colour (white for vans, silver for cars) and wrap it in the colour or design of your choice. When the time comes to sell the vehicle, the wrap is removed and the original finish should be pristine, boosting the resale value by several hundred pounds. So that greater resale price can be offset against the original cost of the wrap.
Colour changes on cars tend to be more fashion-oriented, he said, and they are usually compared with the costs of a paint respray. Both paint and vinyl can do things that the other cannot, but vinyl has a protective role that paint doesn't and it's easier to return the car to its original colour for resale.
Deacon covered the types of vinyl and their adhesives on the market and urged wrappers to research what is best for the job, not just to accept what the printer wants to run. The Roland Academy works with vinyl supplier Metamark who sponsor the wrapping courses, so its materials are used in the practical parts of the course.
He explained best practises in ordering, storing and acclimatising the media, plus the desirability of a heated workroom. Also the preparation of the vehicles prior to wrapping, including removal of trim and cleaning.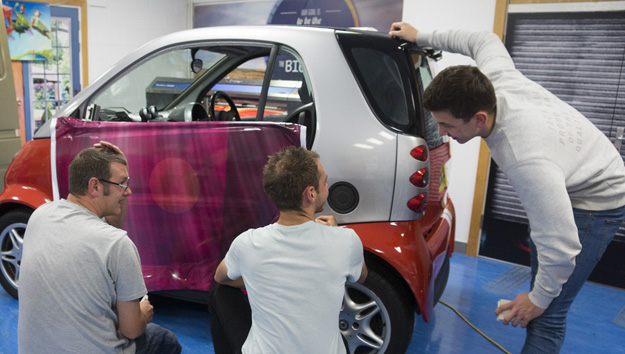 The first day's practical session involved simple application of vinyl to almost flat panels. The Academy workroom has a ten year old, bright red Smart car ("Red is one of the hardest colours to wrap," said Deacon) and a couple of van side door panels mounted on a frame. These have been wrapped and unwrapped constantly by attendees over the years. Deacon had already explained some best practise techniques for getting the vinyl into the deep channels in the van panels.
A lot of his explanations about difficult areas involved the need to understand that adhesive stretches with the vinyl and so starts to lose its effectiveness. "Vinyl has a memory and will return to its original shape if you heat it to between 50 and 60 Degrees C," he said. He showed that it's best to pre-stretch the vinyl and then use a heat gun to shrink it back around tight curves and edges, to retain maximum adhesive density.
The first day ended with video examples of hydrographics, ie water-floated transfers that can be applied to "impossible" shapes such as grilles or alloy wheels. The course didn't cover these directly, but the possibilities seemed to inspire the attendees.
Part of the second day looked at artwork preparation and file handling. "Even people who just do installation need to know the full process and communicate back with colleagues," Deacon said. Most of the design topics centred on Adobe's Creative Cloud suite, with Deacon offering tips and sources for finding fonts, clipart and vehicle plans online. He advised wrap companies to make an artwork charge for initial roughs, which is then waived if an order is placed. This discourages customers from taking your ideas to other printers, he said, while ensuring that you still get a little money even if they do.
The second day's practical session took up most of the afternoon and concentrated on teaching and practising techniques to deal with the Smart car's highly curvaceous front wings, headlamp and rear lamp panels.
All the attendees said that they'd leaned things of use to their jobs. Andy Rimmell, who works at OBR Graphics near Oswestry, has been doing some vehicle wraps for 12 years, most recently for show bikes. He's worked in the sign sector since he left school. "I'm 39 now," he says. "I started with screen print and film, and vehicle work was traditional signwriting. It's changed a lot over the years!"
He doesn't do wrapping work all the time, he says, mixing it with other work. "I came on the course because I was having some vinyl failures," he says. "I know now where it was failing. It's changed the way I'm going to work, with technique and organisation. Previously I'd have stretched the vinyl more than I'm doing it now, and I'm using less heat. You don't actually think of the stretch and how it affects the adhesive."
Chris Payne works at Signtech in Kings Lynn. He hadn't done wrapping before and came on the course because he wanted to find out how to do it. "I've worked with flat printing so far, and this is what I want to move into. I've learned a lot here."
Gary Jeffery and Josh Walker work together at Motor Mode in Maidstone, a vehicle graphics specialist. Both had moved into wrapping a few weeks before the course. "We've learned a lot of new techniques and different ways of working with vinyl," said Jeffery. "As fitters we usually just get a list of jobs at the beginning of the day, with no time to learn new things. It's good to learn the techniques here."
Deacon said: "I'm on the side of a good wrap here, and I'll always back our students if this is queried. We favour best practise over short cuts."
What I took away from the course was an appreciation that wrap application is a set of skills that have to be learned, and that there's far more to it than blowing hot air onto vinyl to keep the bubbles out.
Interested in joining our community?
Enquire today about joining your local FESPA Association or FESPA Direct
Recent news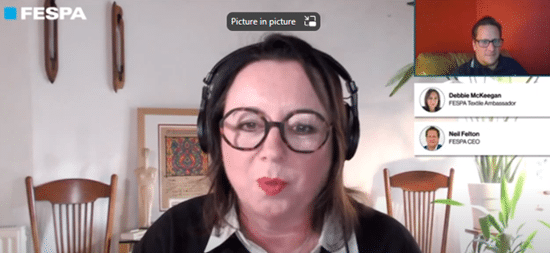 Videos
7:50
Neil Felton on investing into the print community via FESPA Associations
FESPA's CEO, Neil Felton speaks to Debbie McKeegan about the important or reinvesting and supporting the print community. FESPA achieves this by investing into its 37 global Associations.
29-11-2023
Neil Felton on investing into the print community via FESPA Associations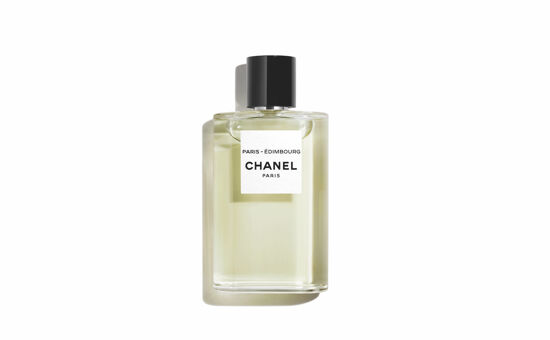 Features
What are the key trends in sustainable packaging?
Rob Fletcher looks at 2 key trends and finds out more about how working with sustainable materials will help you capitalise on rising demand for environmentally friendly packaging.
24-11-2023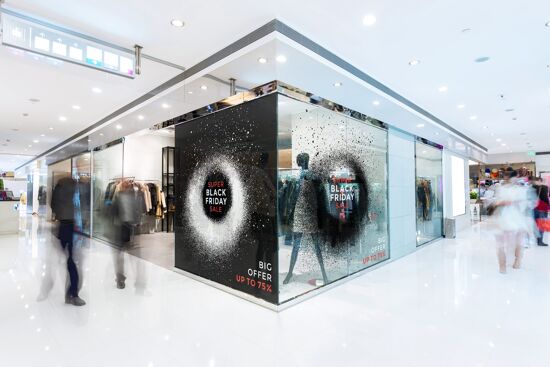 Features
Get into the spirit with seasonal wall and floor graphics
With the festive period now very much in full swing, Rob Fletcher takes a look at what sort of opportunities there are for print companies in wall and floor graphics during major seasonal events throughout the year.
23-11-2023