Features
Metallic inks - coming to a wide-format digital printer near you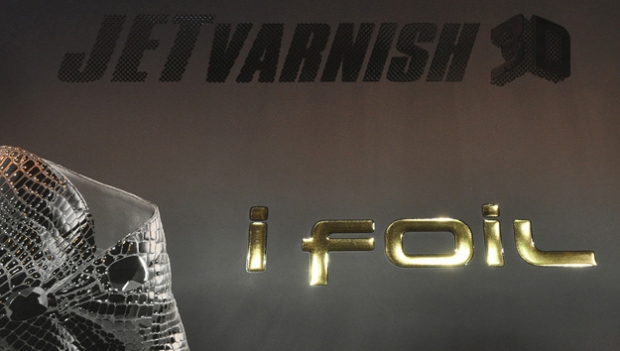 Metallic effects are eye-catching and used to add a sense of higher value to all sorts of printing, from book covers to drinks labels to posters.
Yet metallics is one of the areas where screen printing so far can still do it better than digital. To make metallic inks highly reflective takes large flakes of abrasive-edged metal, and these don't mix well with the small diameter, easily damaged nozzles of inkjet printheads. Screen meshes have larger holes so can cope with large pigment particles, and they don't cost much.
The same is true for white inks, which are usually based on titanium metal flakes, with much the same challenges. Before inkjet manufacturers cracked the issue of reasonably opaque whites, it was common to use screen presses to put down a white base layer on clear or coloured media and them to run that through a digital printer.
Whites actually appeared a few years before metallic inkjet inks, which were first demonstrated by Eckart in 2008, which went on to commercialise it as Jetfluid, currently available in solvent and UV formulations.
Metallics were then launched as part of standard eco-sol inksets by Mimaki and Roland in 2010 (rumour says it's the same ink in both, made by Epson). A couple of years later Epson itself launched a metallic ink for its GS printers (which Epson insists don't use solvent inks even if they work the same way).
"It works with any medium that works with eco-sol inks," says Phil McMullin, UK sales manager for Pro Graphics at Epson. "The better the quality of the medium, the better the metallic result. However with metallics you're usually charging a premium for the job anyway, so you'll be able to afford the better media."
So far all inkjet metallic inks are in effect silver coloured. If you want gold you can overprint with yellow-red inks, or other colours to get virtually any shade you want. Generally the Rips and software supplied with metallic-capable printer will include a large range of pre-defined metallic colours. For instance, John De La Roche, national sales manager at Mimaki's UK distributor Hybrid Services, says: "Mimaki has a colour chart that you can print to create a sample swatch set to show to customers. It can also be exported as a plug-in for programs like Illustrator."
Alternatively the US developer Color-Logic, which specialises in colour palette software for metallic effects, offers site licenses for its system that will work with a range of processes including digital with either metallic inks or a metallised substrate.
Early inkjet metallic inks were a bit disappointing, certainly compared to screen print or metallised media. They seemed more like a very shiny grey than anything mirror-like, though the quality of the effect depends somewhat on the media and the viewing conditions. It's hard to define and measure a metallic effect, although you know it when you see it. Mirror and near-mirror reflectance is obvious, but other metallics seem to be perceived partly through the brightness of the reflectance but also through the amount the highlights and contrast of the reflectance vary as you move your viewpoint.
Eckart's current Jetfluid solvent metallic appears significantly brighter and more contrasty than the early Mimaki, Roland and Epson inks. Now Mimaki has announced a metallic ink in its SS21 series to go with the recently launched CJV300, its flagship printer-cutter. SS21, a full solvent ink (rather than eco-solvent) is already available for the existing CJV30 and JV33 printers, but so far the company has only mentioned the new silver being available for the CJV300. We've yet to see printed samples in Europe but the company claims that it is 1.67x as bright as its earlier ink and claims this will produce "stunning mirror effect results."
John De La Roche, national sales manager at the UK Mimaki distributor Hybrid Services, says: 'In the past we had metallic with our ES3 eco sol inks. The existing SS21solvent inks have proved popular, as they are brighter than eco-sol, and they dry faster.'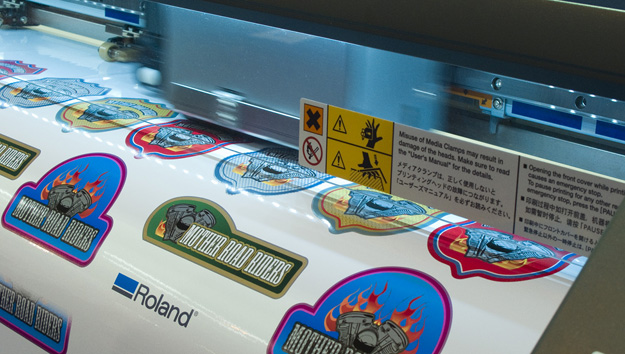 Roland and Mimaki started shipping eco solvent metallic inks in 2010. Here Roland demonstrates metallic effects at a UK trade show.
Samples we've seen of UV metallic inks have been grainier and duller than solvent inks. According to Mark Alexander, head of marketing at inkjet maker Xaar, this isn't due to particle size or head limitations, but due to the ink. "Because UK ink is thicker after it cures, the metal particles don't all lie flat against the substrate," he says. "They face in all sorts of directions, so they scatter the light randomly." This also explains why UV inks work fine for white inks, where you want a scattered reflectance.
Printing onto metallised media can give brighter and more diverse effects than using silver inks, though the consumables cost is higher. Metallic media are available with inkjet coatings for aqueous inks, while solvent and UV inks should be able to stick to most uncoated media.
If you print colours over a silver medium it makes everything look metallic and shiny, although the colour contrast is somewhat reduced compared to printing on white.
Printing a black or white reversed image with "holes" to let the metallic media show through looks much the same as putting down a foil image, without the expense of a metal die stamp. If you have a white ink printer you can get an even wider range of effects, as you can mix metallic elements in with "normal" images printed over the white. Printing coloured inks over a silver metallic medium can give very eye-catching results too. You may need several layers of black or white to get complete opacity, so you'll need a printer and digital front end that allow this (it's common for white, less so for black).
Celloglas' Mirri metallised boards have sold well, with a range of effects from mirror-reflectance or matt in a variety of colours, through holographic 'rainbow,' iridescent and pastel, plus a glitter effect that's suited to UV printing and offset, but not solvent inks so far. Celloglas also offers a sheeting service where printers can supply their own grade of paper or board, which is then laminated with the Mirri foil. The service can accept sheets from 320x450mm (SRA3) to 1000x1,400mm.
An alternative is to use your own laminator, putting a metallic film onto your own choice of media, and printing over that. For instance Derprosa in Spain has developed a range of metallic lamination films, mostly in silver-metallic but also including metallic colours - red blue and black so far but with others planned. These include conventional high gloss, but also matt and a 'soft touch' matt that has a distinctive feel.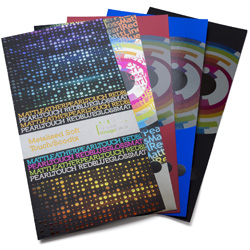 We visited Graphic Image Films (GS), which is exclusive distributor of the Derprosa films in the UK. So far the company has concentrated on commercial print processes for the Soft Touch films, mainly for offset and HP Indigo digital. However the medium should work with solvent or UV large format inks.
Right: Samples of Derprosa's Soft Touch laminates produced by Graphic Image Films. The top sample is Metalised Soft Touch with colour printing and black masking, plus Scodix raised gloss varnish to create highly reflective metallic details.
GIS has also worked with Scodix, the developer of a digital high gloss UV varnisher that uses an inkjet process to build up raised and textured images similar to embossing. By printing the gloss layer over the metallic Soft Touch laminated media, a very reflective metallic effect is produced. The effect works with conventional gloss varnish, but the Scodix raised varnish gives the effect of foil embossing, but with no need for dies and with the potential for variable imaging on every sheet. MGI's recently launched JetVarnish 3D inkjet would give similar results. The effect can be combined with coloured printing and white-out masking to give some very attractive results.
It's also possible to apply true metallic foils by hybrid digital techniques. These can be mirror finishes, or a range of other effects such as holofoils, glitters and special colours. It's long been possible to do this with digital dry toner prints at low capital costs for small quantities. Here heat is applied to a pre-printed sheet, causing black toner images to heat up more than the paper of card, after which adhesive-backed "hot foil" is pressed into contact with the sheet then peeled away: the foil adheres only to the black toner areas.
We're just starting to see digital methods of "cold foil," where a UV-curable glue-like varnish is applied to the print, and foil is brought into contact with it. UV light is shone on top, passing through the thin foil and curing the glue. Alternatively a heat-activated glue is used. The foil is peeled off and only adheres to the glued areas.
UK based I-Sub Digital has produced a foiling system for the small A3+ and A2+ Mimaki UJF-3042 and 6042 flatbeds (which cost in the €20,000 to €30,000 range. A special glue is printed and the foil is applied to that as a post-print stage.
MGI has also developed iFOIL, a similar concept for its JetVarnish 3D sheet-fed digital UV varnishing inkjet, capable of printing up to 3,000 B2 sheets per hour. In this case the printer can produce raised and textured effects with the UV-cured varnish, so when used with the iFOIL process it closely resembles foil blocked embossing.
In conclusion, metallic inks are available for wide format inkjets, and are likely to get better over time, though the limitation at present is in the print heads rather than the inks. Reverse-printing onto metallized media gives excellent effects if you have a suitable printer and can live with the relatively high consumables costs.
UV-based cold foil techniques can closely replicate die-stamped foils, but today's systems are relatively small format and in the case of the sophisticated Scodix or MGI inkjet varnishers, pretty expensive too.
Interested in joining our community?
Enquire today about joining your local FESPA Association or FESPA Direct